On Saturday I rented a bike from HERN bikes and rode it with Steve Senn, (my nephew who kicked my butt)  from Ashville up to the top of Mt Mitchell – the highest Mountain in the East coast @ 6,700 feet.  We traveled about 70 plus round trip miles on the Blue Ridge Parkway passing Wild Turkey, flowering azaleas rhododendrons and Mountain Laurel. I took along a camera so I could share some of that ride with you.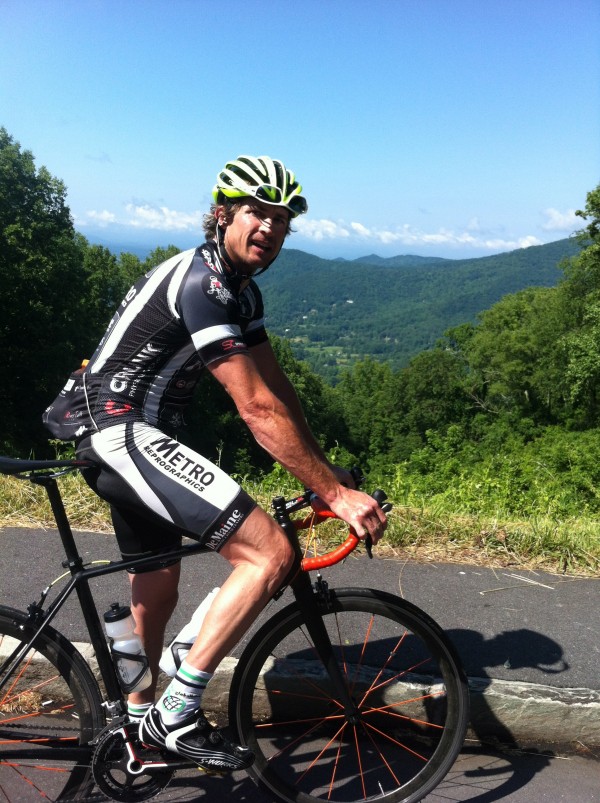 Leaving the Beaufort House, we got lost riding through the residential parts of Asheville.  Wow it was hilly just on Sunset, Cherokee, Town Mountain Road and Patton Mountain Road was dirt and I was thinking of a flat but it never happened.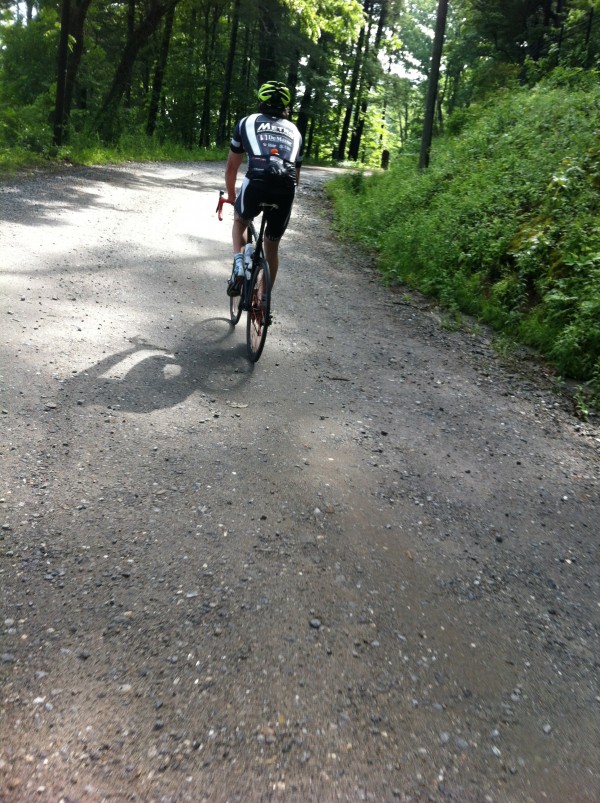 This was the good part of the lost road we were on!!!
Getting lost probably added another 6 miles and more than 1500 feet of vertical.  The  roads climbs mostly at 6% or so with a few sections approaching a 15% grade so I was smoked before reaching the Sky line Drive before even starting the adventure – wow not good. We had a wicked cool down hill to get back down to the sky line drive wow dangerous at 40 MPH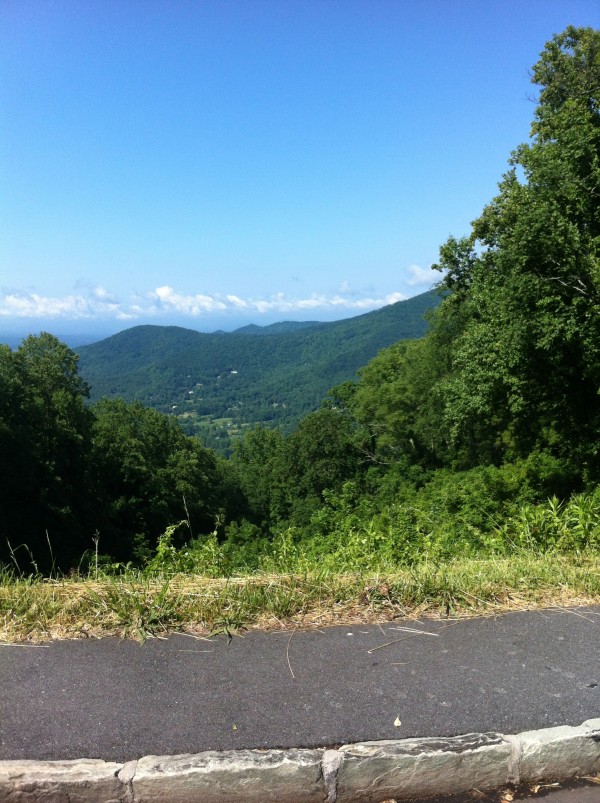 Above is a view looking down on Asheville . Just after the start of this climb you ride though a Tanbark Ridge Tunnel. There are two other short tunnels on this route, one on either side of Craggy Gardens, DUDE it is scary that is all I will say!!!  After the tunnel you are in for a pretty steady climb of about 2000 feet in the next 10 to 20  miles. Very pretty riding made even more interesting because it goes through several climatic zones with different vegetation.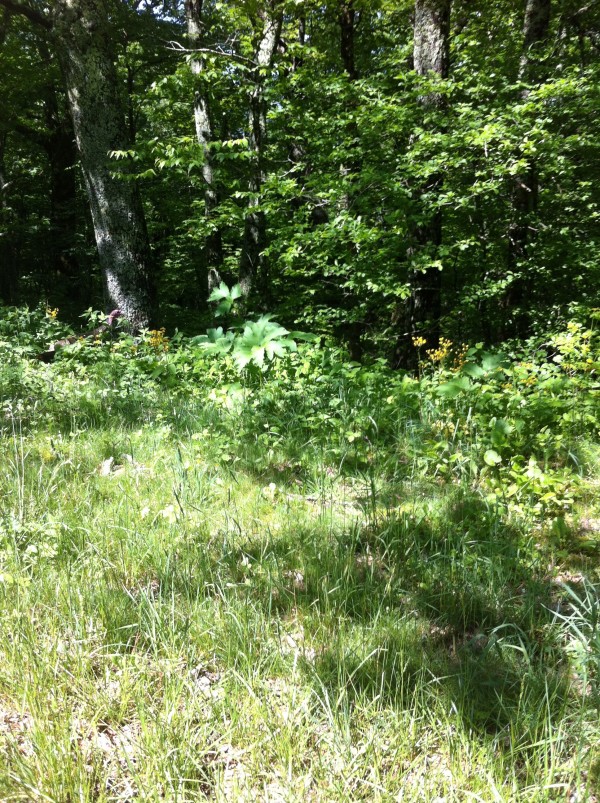 Wild Turkeys above on far left of screen – sorry they look small but are huge
The views are nice below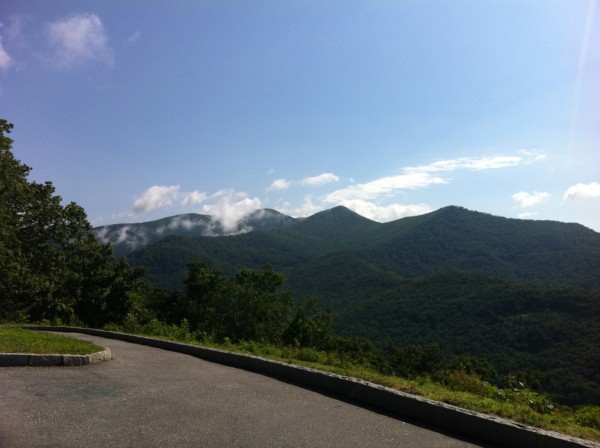 Here is a picture, taken a few miles beyond the tunnel, which shows the Parkway  half a dozen miles away. The next picture is of my bike with some pretty scenery in the background.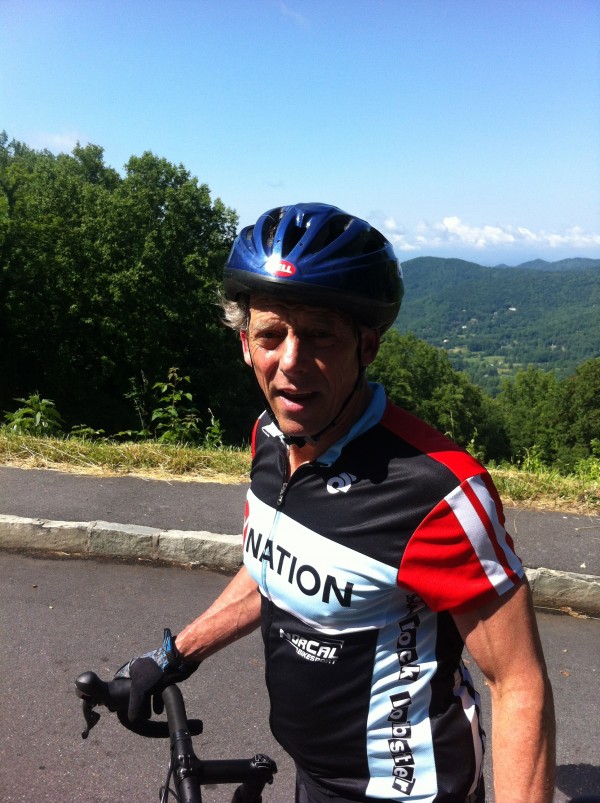 As we continue to climb, we sweep around a valley and pass the road to the Craggy Gardens picnic area. We are now at close to 5000 feet and, a mile or so past that road, we can look back on the way we've come and, on this rare clear day, see mountains 50 miles away. Looking the other way , we see the Parkway climbing past a wall of glistening rock covered in water. It is really pretty awesome to look up there and realize that you have ridden it.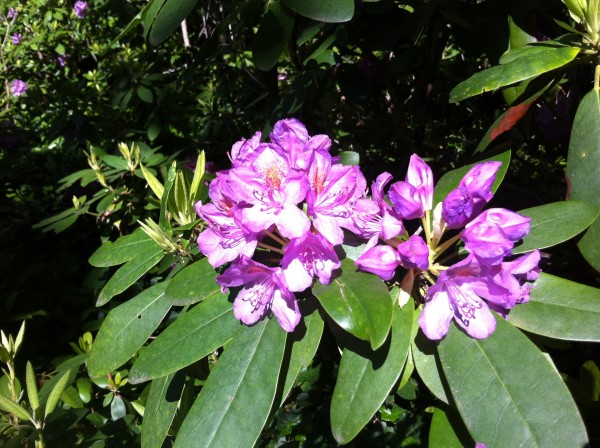 We had a 2 miles downhill to Balsam Gap and that brought on nagging thoughts about having to climb back up=  bummer I hate downhills. At the visitors center, we had come about 20+ miles and climbed about 4,000 feet. That is about a third of the round trip distance to the top of Mt Mitchell and about half of the climbing.  Climbing out of Balsam gap you actually reach the highest point on the Parkway north of Asheville at about 5700 fee- (not the top of Mt Mitchell). The view of the valley is incredible. Several thousand feet below and five miles or so away is North Fork Reservoir, which is the Asheville water supply.  Rt 128 which goes from the Parkway to the top of Mt Mitchell is 36 to 40 miles with about 5500 feet of climbing from the Beaufort House so now we were close. I have only a few photos as I concentrated on riding uphill. On Rt 128 you have less than 3 miles to go, with 1200 ft. of climbing, almost all of which is in a single 2 mile long hill before you reach Mt Mitchell State Park. The last half a mile is pretty steep. Here is a shot of the road near the top. This stretch of 128 maintains a pretty steady 10 % grade. It isn't fun for tired legs, it takes to cover that 3 miles. Here is a shot taken from the top.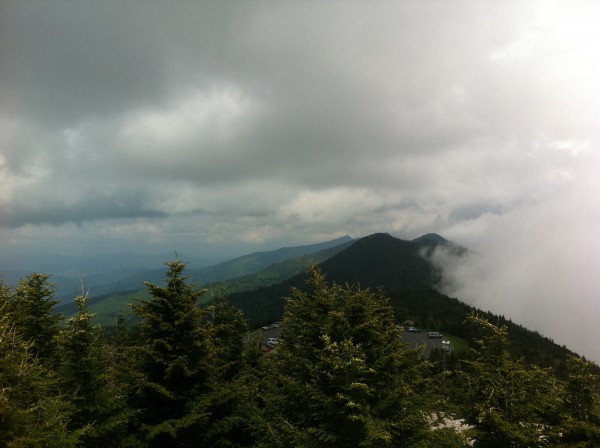 Nice view!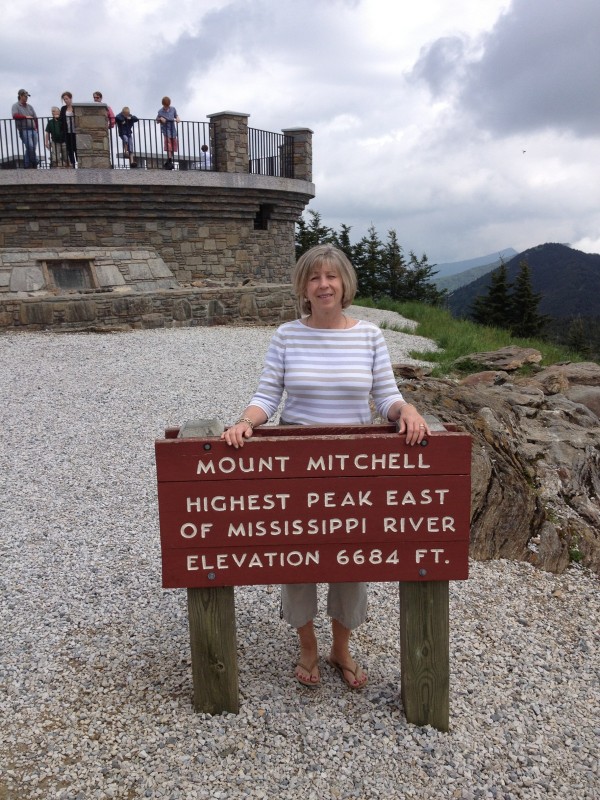 my long time friend Terry above at the top.  We had a great time at all the parties
The restaurant, at about 6300 ft., is several hundred feet below the top (about 6680 feet) on a saddle between Mt Clingman and Mt Mitchell. I went in for some Gatoraid and they had nothing for the bikers wow bummer.  Coming back down Mt Mitchell is a great experience if you like speed. It is twisty enough to be challenging at 45 mph and steep enough to make it possible for me to hit near 50 on the fast bits. The three mile road to the Sky Line Drive took like 5 minutes we were smoking it passing cars and so on = dangerous.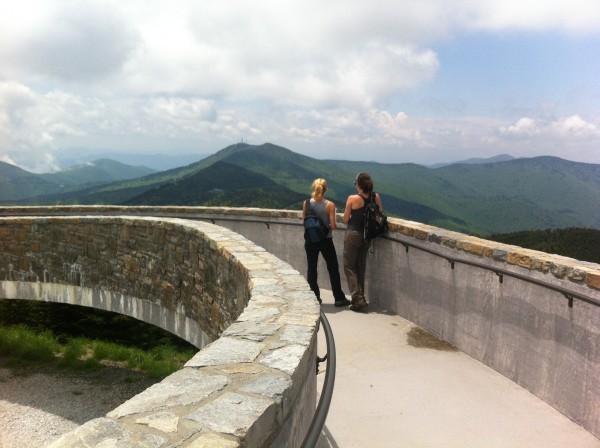 another shot at the top.
Once on the Parkway again, the reality of the ride home sets it. There is only 1500 feet of climbing on the way back and 1200 of that comes before you reach Craggy for a (total of 7000 feet for the day).  We were smoking it There is only one brief uphill section in the entire 10 miles and it was getting to be late in the afternoon so we had to fly to the wedding and it is almost all downhill to Asheville.  The sky line drive that took 3.5 hours to come up now took 1.5 hours to come down wow smoking dangerous at the speeds we were traveling.. We've come about 70 miles and climbed over 7500 feet.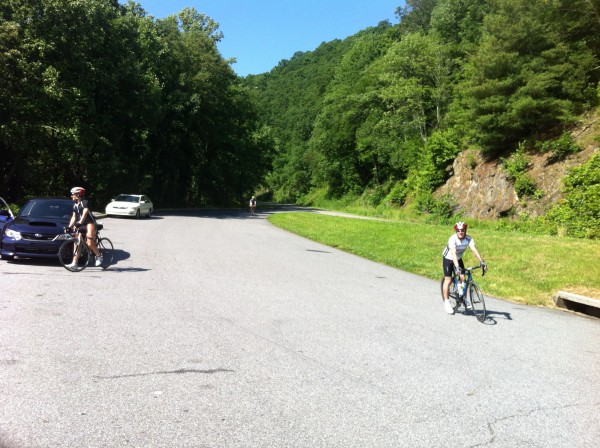 Time for a good supper and some oxycodone!
We also visited Ashville. The Asheville area, named a must–see destination by Frommer's, boasts a thriving arts community, diverse outdoor adventures, a vibrant and inviting downtown, numerous historic and architectural attractions, and unique shopping options. The Asheville arts scene is buzzing, featuring hundreds of fine artists, performing arts venues, mountain crafters, folk artists, hip arts neighborhoods, numerous art galleries and myriads of art events. Alternative rockers The Smashing Pumpkins made Asheville their temporary home with a nine-show residency in 2007 at the Orange Peel. And well-known artists such as Gladys Knight, Warren Haynes and David Wilcox have made Asheville their newfound home and drawn inspiration from the area. But it's just not nationally renowned artists that find musical inspiration in Asheville. You can find street musicians entertaining crowds on Friday evenings; drummers pounding out a rhythmic beat in Pritchard Park and nightly jam sessions in local pubs. Asheville's stunning natural beauty and artistic atmosphere fosters a creative, collaborative atmosphere ripe for great music.  It was a great long weekend.