This year 2009 was the first attempt at the Shenandoah 100.  I recently participated in the Shenandoah 100 mile Mountain bike race – It is a100 mile race of some of the naraliest and rockiest mountain biking with 14,000 feet of some of the steepest single track climbing all to be completed in one day.  This was one of the more difficult things I have done; it was smoking difficult to say the least.
This 100-mile mountain bike race is a major sanctioned event with the likes of Floyd Landis, Chris Estough, Jeff Sahalk and Chris Beck hailing from Baltimore participating.  Teams represented were: Voodoo, Trek VW, Land rover, and Giant USA to name a few. There are slightly more than 550 participants with about 15-20 individuals in the masters division (over 50). So the masters division represents about 3-4% of the racers and – (that is my age group).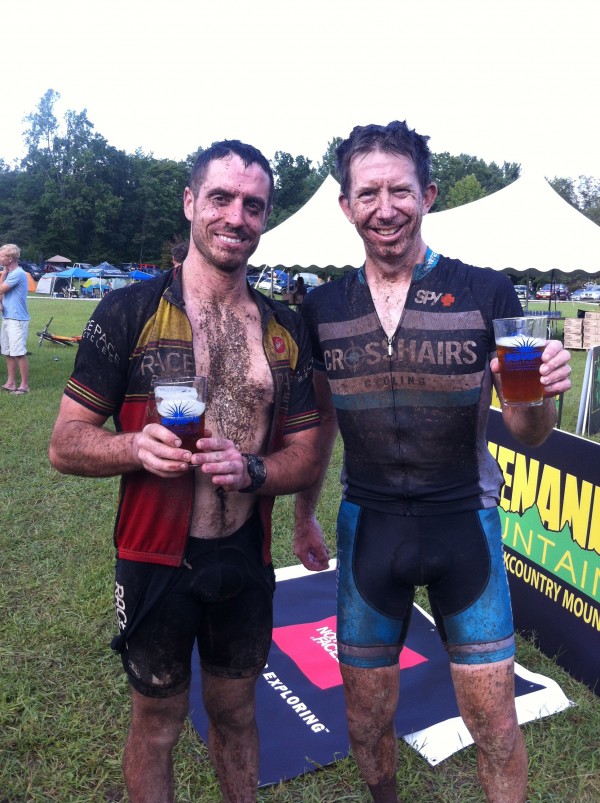 I showed up with a cylco-cross bike (purchasing it a few days before the race and having never ridden it before) = huge mistake.  They said to be riding a cross bike alone plus at my age was crazy. I was called one crazy, imbecilic, blankedy, blank old man = term of endearment.  Please understand, no one had ever attempted the race on a cyclo-cross. So I was to show them it could be done even at my age- yes I was crazy. So here is the story.
The ride started from the middle of lonely campground nestled deep in the thick green forests of the Shenandoah Mountains near Harrisonburg Virginia. It was from that lone campground we started out with dawn's leaden light before the sunrays extinguished the darkness.
It wasn't long before the sun cracked the night sky and its rays shown the way forward. Pedaling along the rolling jeep trails and loose stone roadways, I passed fields of green and yellow corn and waves of multi flora meadows blowing in the soft wind.  Majestic steeds frolicked in the pasturelands and the aged wooden farmhouses and barns took my mind back to times of moonshine and whiskey, known to be produced in the surrounding hills.
As we entered the National forests, we passed small rock strewn streams that flowed so very slowly due to the lack of rain but would rage during the spring thaw.  Wild rainbow trout run these streams and deep green mountain laurel line the banks and hillsides.  We rode and climbed through dense hardwood forests that were shrouded in a ruff skin of black, green and gray lichens, meadows of hip-high multi colored flowers, weeds and brush.  It was very serene seeing bikers ride through these fields of flowering plants. From the altitude of the high ridgelines we peered over the ancient mountains, which were painted in multi hues of purple – the scenery was incredible.
The single-track trails were technically very difficult and steep to say the least, both down and up hill.  As an example, there was an uphill climb of 1000 feet over a 1,500-foot draw that is about a 30% angle – I did this with my bike being carried on my back.
On the single track down hills, I had to navigate the old and hardened lichen covered rocks and scree which were treacherous and the steep drop offs, off camber tree roots and a host of other potentially deadly obstacles like trees, boulders and the steep slopes that fell away from the trails.  If you cascaded off the side you were airborne.
Riding the cross bike had its own problems – I had to mostly walk the single track down the hill sections – if not I would end-over because ones weight is so far forward.  So I received no benefit of downhill on the very steep.  On the steep declines, the mountain bikers smoked me as I had to walk it out but on the long uphill dirt roads, I pedaled past those same people. I also became somewhat of notoriety.
They would all say "there is that dude on the Cross-he is one sick dude".  When I came into the aid stations they would all gather around and say, " So you are the old crazy dude everyone is taking about and I can not believe that you made it this far" People would circle around and look at and touch the bike and bike mechanics would offer to help work on the bike.  Riders talked in hush tones behind my back like I was hallowed. It was pretty cool to be so talked about.  Even though I did not finish the race in full, they all begged me to go on, as no one ever had completed the race on a cross and they all said I was so close.  It was very cool.
I was mostly toward the end of the pack on purpose, so I saw all of the debris of both bike and human.  Busted parts like: frames, quick releases, speed sensors, broken axles, tubes and tires, these were the benefit of riding this race. My bike, after taking a beating from the jarring of hitting so many obstacles and enduring a few wipeouts and crashes, sounded like it was coming apart.  The frame sounded like it cracked –not good, the front fork started to vibrate and with brake usage—very bad and the tire started to rub so I had to dismantle my front brake- thank God it was not the rear brake – cross bike brakes aren't that great as compared to mountain bikes brakes anyway.
I came across injured humans on the sides of the trails.  I passed a female with a disjointed elbow earned from a fall into a boulder and she was in intense pain.  Normally I carry pain medication but not this time as I tried to eliminate every ounce from my pack.  I notified the next aid station for her removal and at that time two ambulances had arrived for others in need.  One for a serious crash, the other for exhaustion and this was only at mileage 34.  Last year a helicopter had to carry someone out!!
As I rode on, I was pulled deeper into the forest.  The canopy was dense and the sky leaden and it hung low, perfect riding conditions.  Being by myself at times, I thought how easily it would be to get lost and I thought a bear could appear and what I would do if either happened.   I listened to the birds sing and the locust and crickets chirp nestled and hidden deep in the forest canopy.  The peddling was constant like that of a metronome, it was harmonic and demonic. I was pulled deeper and deeper into the heart of darkness even though I felt like quitting, who knows why — we all had to be mentally sick!!
I met my friend John Mossmiller by mile 40 and he was strong but he was suffering with extremely bad cramping.  This cramping can be debilitating to say the least.  His foot, hamy and calves were all cramping plus he was injured with extreme rashes on his butt. John is the man, he is incredibly mentally and physically strong and he was not going to quit because of this pain and bloody suffering.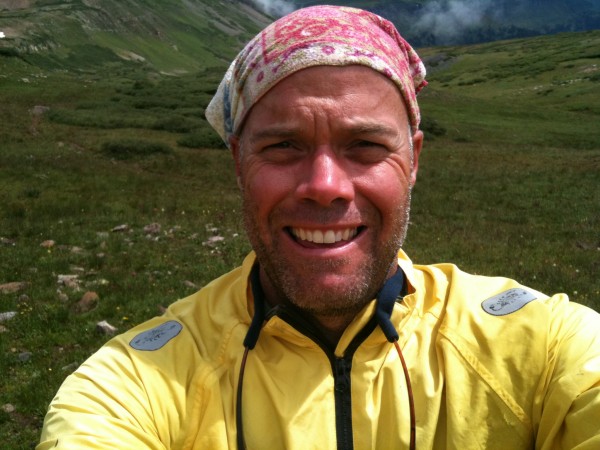 By check point 5, the 75-mile station – I knew it was time for me to quit- not necessarily from exhaustion but more from danger. I hate that term "QUIT" so let's say stop!!! I had already been riding for 7.5 hours and the next 7 miles was comprised of gonzo abusive down hills, drop offs and large rocks.  On the cross bike with terrine like that and because I was so totally beaten up, abused, mentally tired and physically exhausted, going forward was a disaster waiting to happen, so it was time to stop even though I wanted to press on.  However, I finished 65 miles when I stopped- I was congratulated for that being I rode the cross and my age.  For John he fought through his pain and bloody sores to the 100-mile end, completed in 12.5 hours.  Just think of that, being in the saddle for 12.5 hours – all congratulations go out to John Mossmiller – the man.