Irma Schenuit Hall Played for the King and Queen of England.  
Irma was the grand daughter of Alfons Schenuit and the daughter of (Harry Frederick Schenuit and Louisa Dambman) and the cousin to Frank Schenuit my mothers aunt (M.J. Travers) aunt and she is my great aunt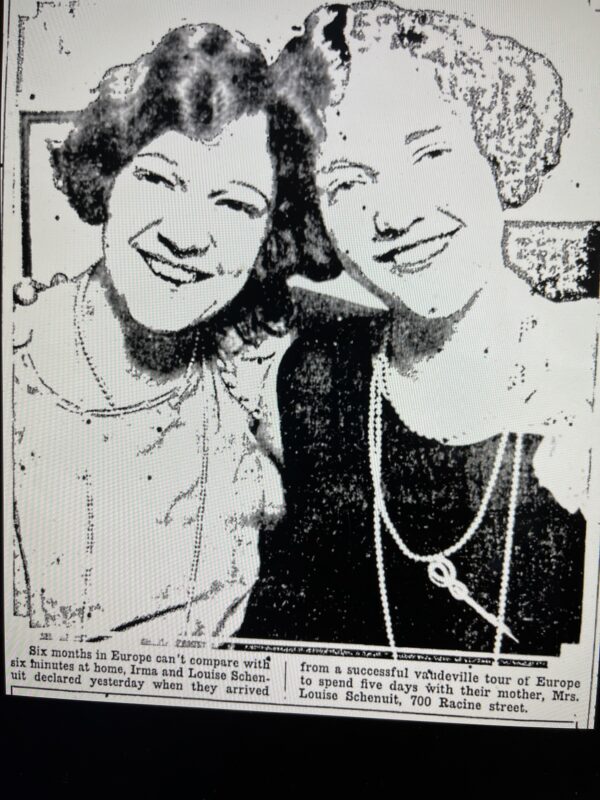 Irma was born August 27th 1900 in Baltimore and died March 9th 1989 in in Albuquerque New Mexico and she was 89 years old but lived in Milwaukee. 
 Irma was a famous and well known concert pianist. She was born in Maryland and moved to Milwaukee, Wi where  she married Ray Hall in 1921. Irma's parents were Henry F. and Louisa H. Schenuit. 
Her father, Harry Schenuit was an organist and voice teacher and founded the "Schenuit Conservatory of Music". Irma's mother was a pianist and Irma began to study with her mother at the age of 3. Irma (My mothers Aunt) was part of a musical family and she reportedly was considered a child piano prodigy at the age of 6.
She was a nationally known concert pianist, Milwaukee teacher, and lecturer and Irma, at the age of 7 gave her first concert tour as a professional and in 1918 she joined the Keith and Orpheum Vaudeville circut, where she met Ray Hall whom she later married. She and her husband took up residency in Milwaukee and Irma established her piano school and cultivated a career as a concert pianist.  At her Schenuit Hall's School at the fine arts building at 125 E. Wells Street, at the school's peak around 1960, the Schenuit School at the Fine Arts Building at 125 E. Wells St. had a staff of 5 and more than 200 students.  
She was president of "Milwaukee Music Teachers" from 1946 to 1948. Irma also taught music at Dominican College in Racine, WI during the 1960's. Irma played with the Racine Wisconsin Symphony Orchestra. She was the niece of Alfons William Schenuit who was ranked as the most distinguished and leading musicians not only of Baltimore but in this country as well, so his gift passed to Irma . Irma was invited and played before the King and Queen of England. 
Irma is buried in Wisconsin Memorial Park, 13235 W. Capitol Dr, Brookfield, WI.