Mary Jean Travers:  2/28/1932 – 9/5/2017
MJ was born in Baltimore, Frank Schenuit was her father and Hilda Koester her mother. Hilda was the daughter of the founders of Koester's bakery – recognized as the largest bakery east of the Mississippi at one time and Frank started Schenuit Tire company which became the 7th largest Tire company in the United States. Below is  Frank, Betty (mom's older sister) and mom .  The older lady I am not certain who it is.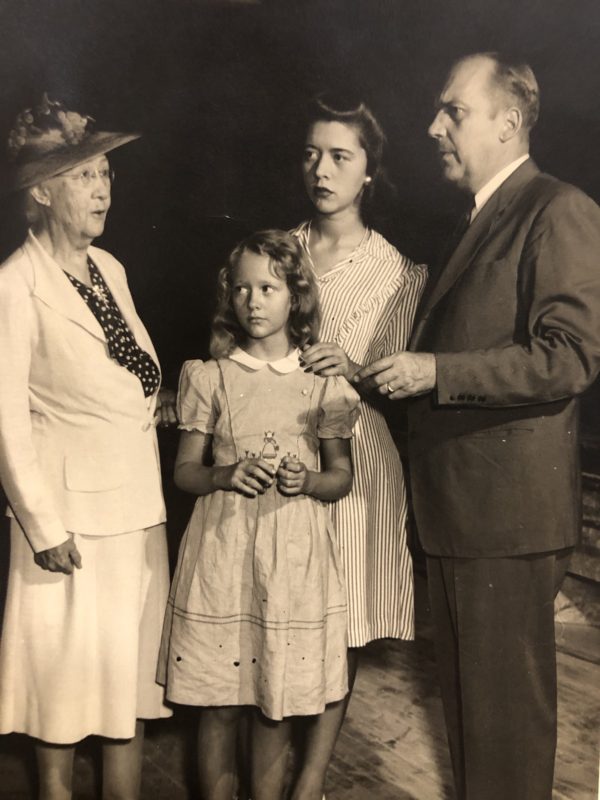 Known as "MJ,"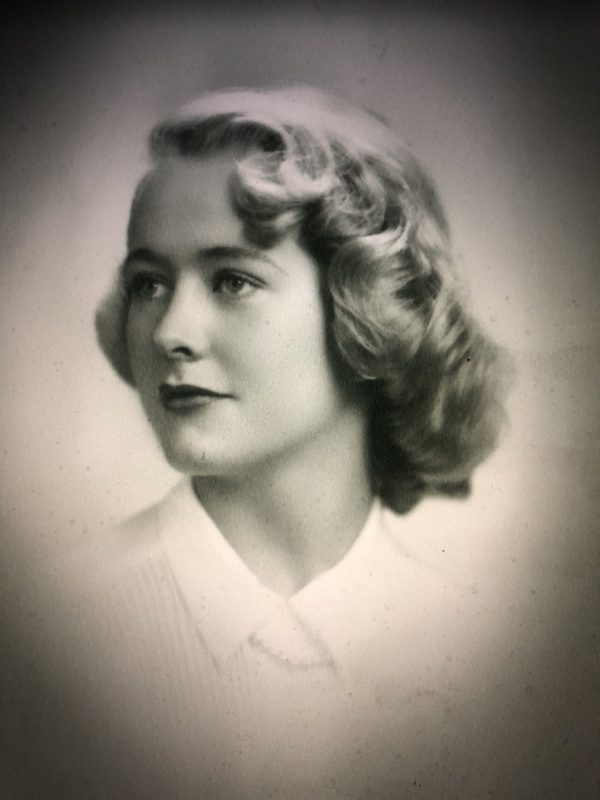 she was the daughter of Frank G. Schenuit, who founded Schenuit Tire Company which became the 7th largest tire manufacturer in the United States, and Hilda Koester, whose family founded a commercial bakery called Koester bakery which was one of the largest privately owned bakeries in the East Coast.  Both are featured with a kiosk at the Museum of Industry in Baltimore. (See Tabs Left). MJ is on the right the youngest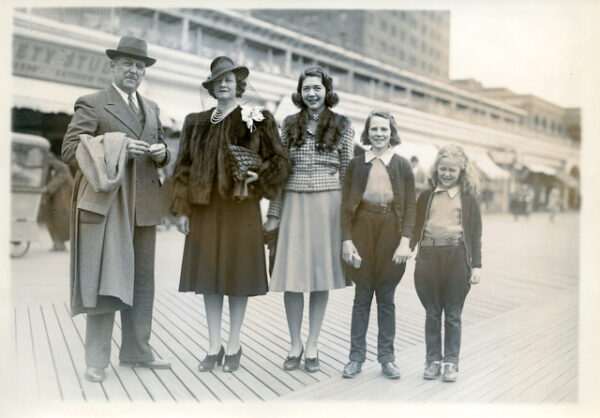 Frank Hilda, Betty, Nancy and MJ above
MJ was Raised in Guilford and during the summer MJ wold go to camp "Ken-Jocketee" in South Strafford Vermont back in the 1940's where she learned to compete in: diving,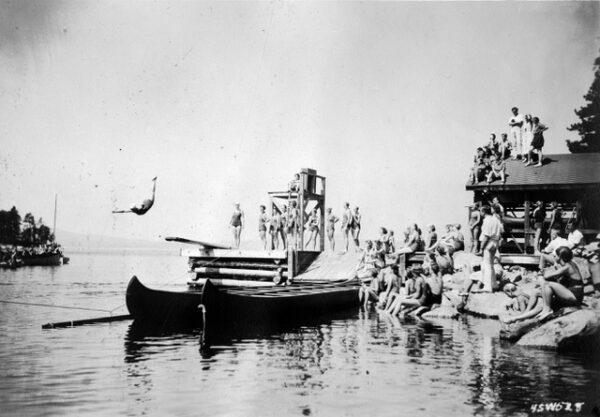 swimming , horseback riding and other sports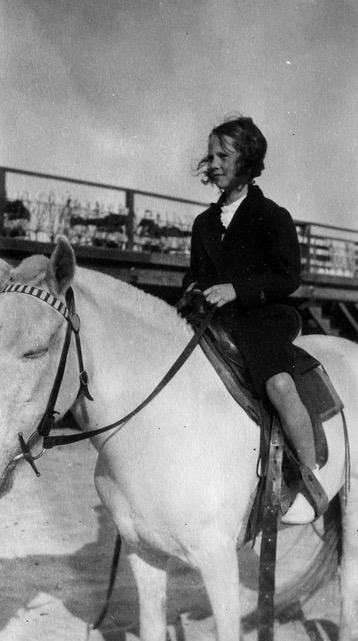 She was a 1950 graduate of Notre Dame Preparatory School and here she is early on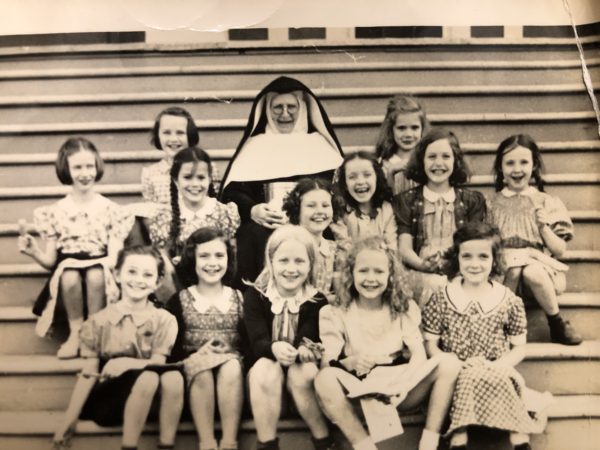 and below 50 years later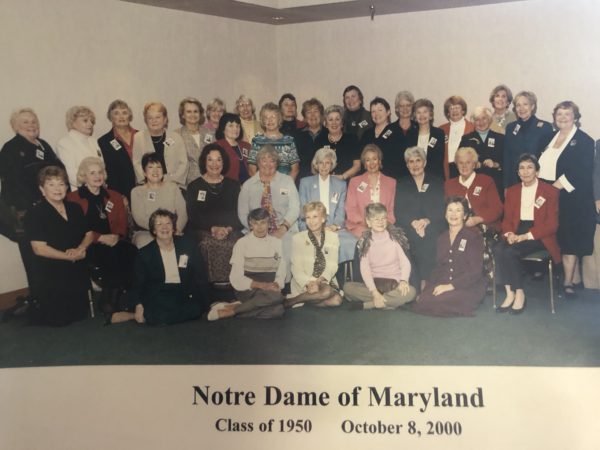 and she played on four varsity teams — field hockey, basketball, tennis and swimming .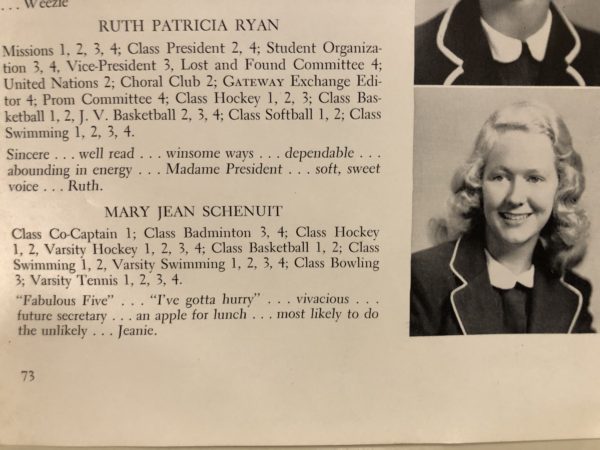 "We would sit in the balcony at LeClerc Hall and watch her do her high dives. She was courageous," said Susanne Nichols, a friend who recalled Mrs. Travers' exploits in the Notre Dame pool. "She was a natural. She had no fears."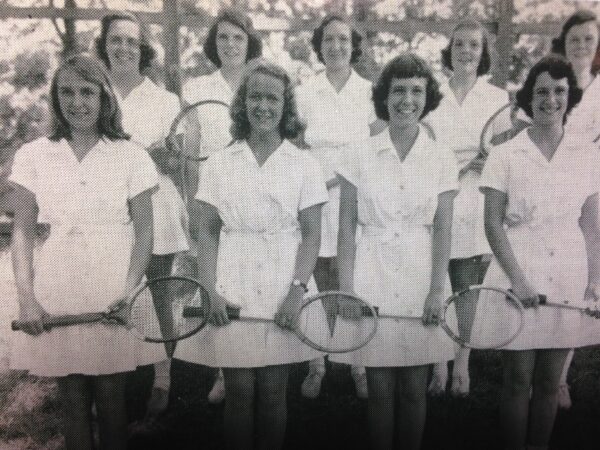 She later became the coach there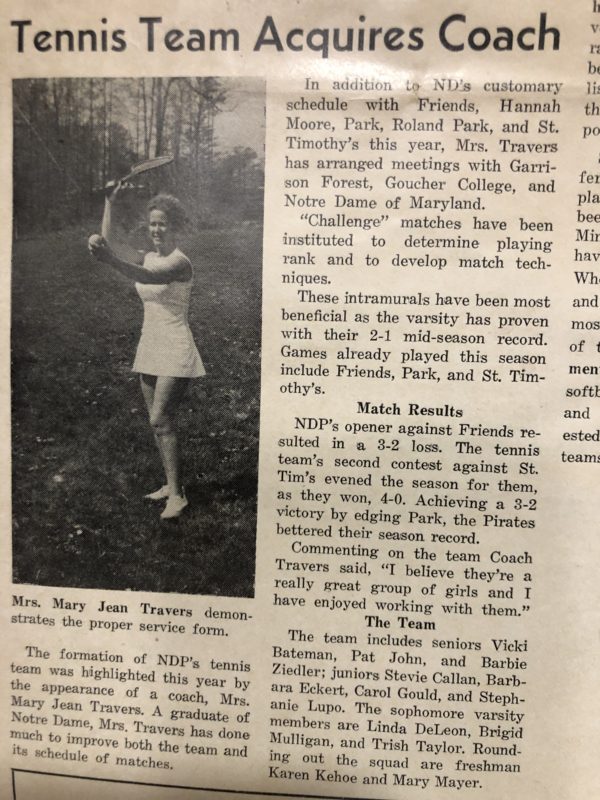 MJ 2nd from left above and below after the tennis courts were named after her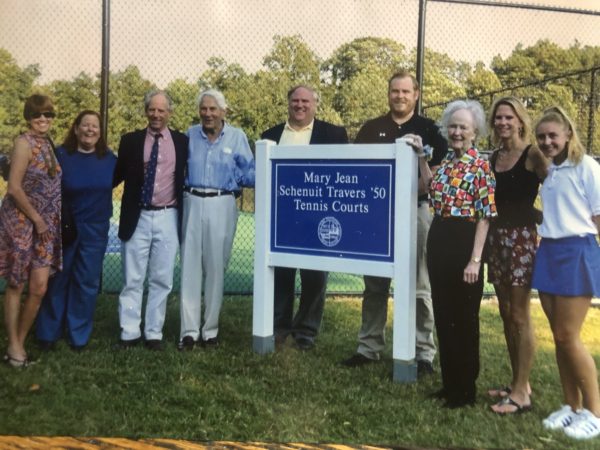 She competed in numerous swimming events and won ribbons in the diving category. She also competed at the Meadowbrook swimming club and at the Gibson Island Club and won many events there and her name appears on its record board at Gibson Island as winner. "Mary Jean Travers earned the admiration and respect of her teammates and all who met her," said Sister Patricia McCarron, Notre Dame headmistress. "It was not only because of her athletic success and success in life but because of how she played the game. … She was a great teammate." MJ went on to college and attended what is now Barry University in Florida.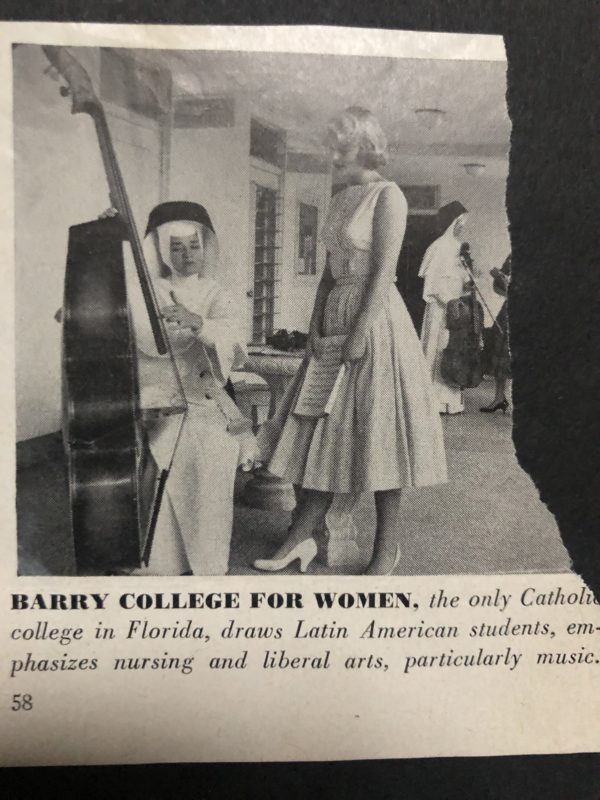 She spoke two languages and went on to become a professional model with the Loren Walters Academy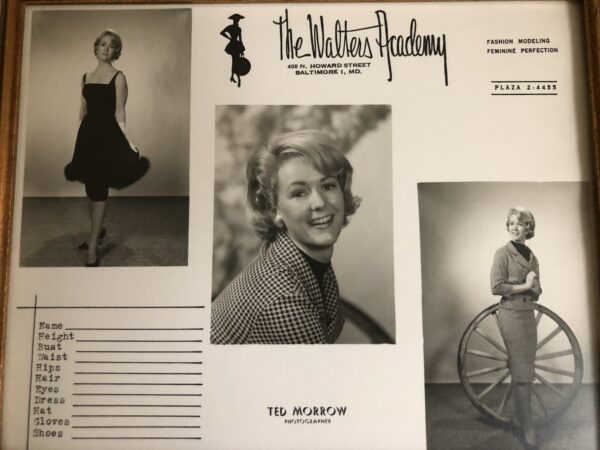 Mary Jean professional Model 
She was featured  in ads that appeared in Time and Newsweek magazines as well as a couple times on local Television stations.
In 2016 she was honored at Notre Dame Prep when the school's tennis courts were named for her. She had been an assistant tennis coach at the school and was inducted into its Athletic Hall of Fame in 2010 for four sports: Diving, field hockey, lacrosse and swimming. Mrs. Travers went on to compete in tennis at the Baltimore Country Club and the Island Country Club in Marco Island, Fla.
She met her future husband, Oliver Slater Travers Jr., while vacationing at Ocean City. The couple married in 1952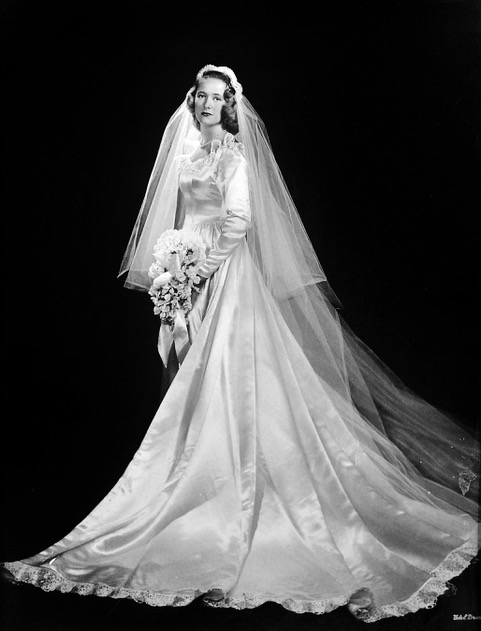 with a reception at the Baltimore Country Club.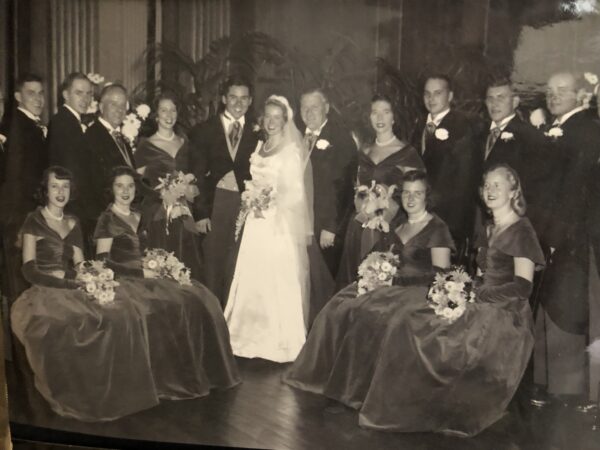 Ollie and MJ had four kids and we kids were blessed by them both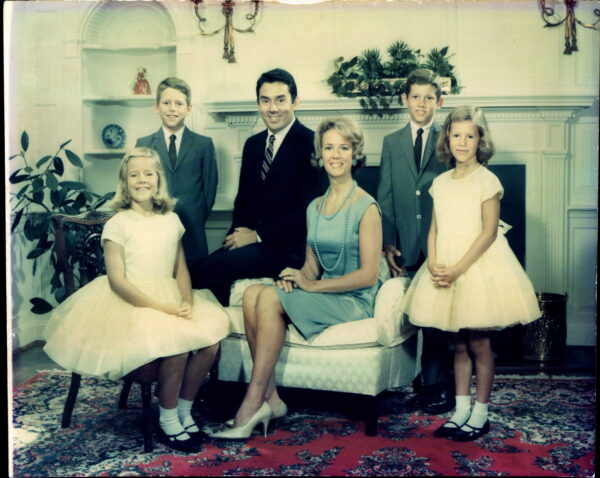 jean, Me on left and Tom and Joan on right
She and Dad hosted elegant parties from their home below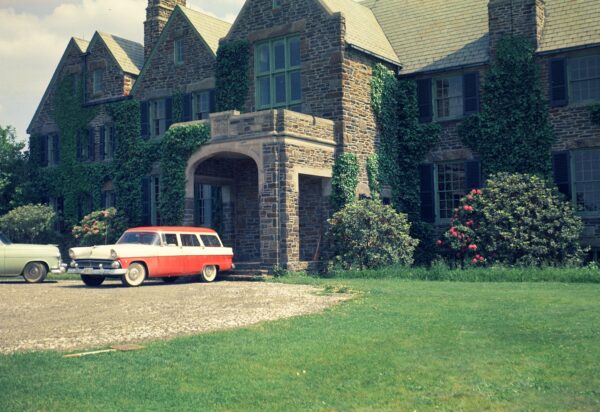 Awesome parties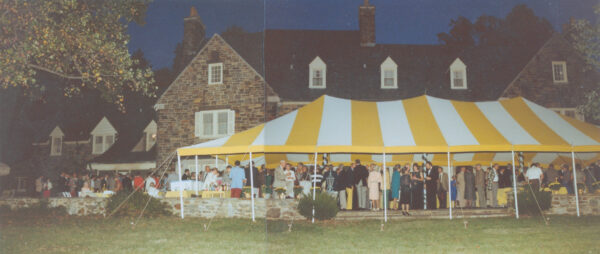 and we kids had great birthday parties as well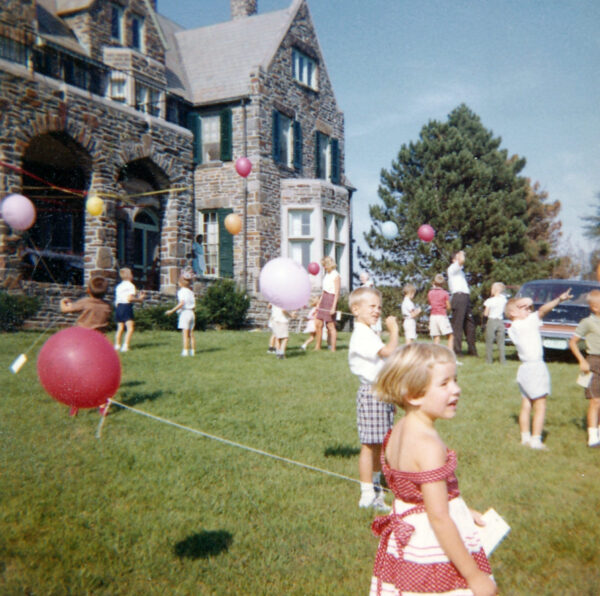 She was amazing for a lady from her era as she got her plane license learning how to fly – flying with here dad below and noted in a new paper article and her the photo in the middle is of them.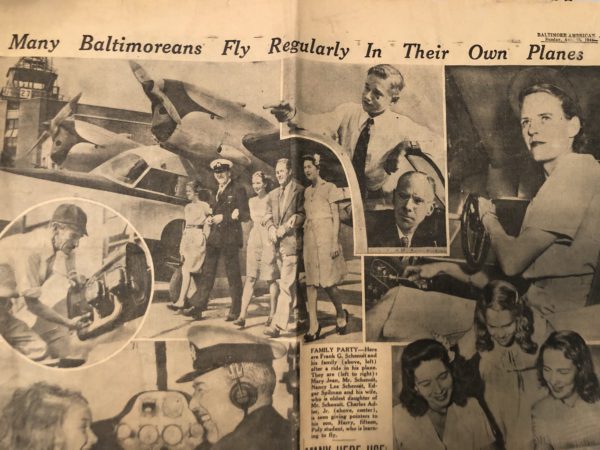 She quit after she almost totaled the plane landing on Assitigue island her below in the plane with her dad where she got her start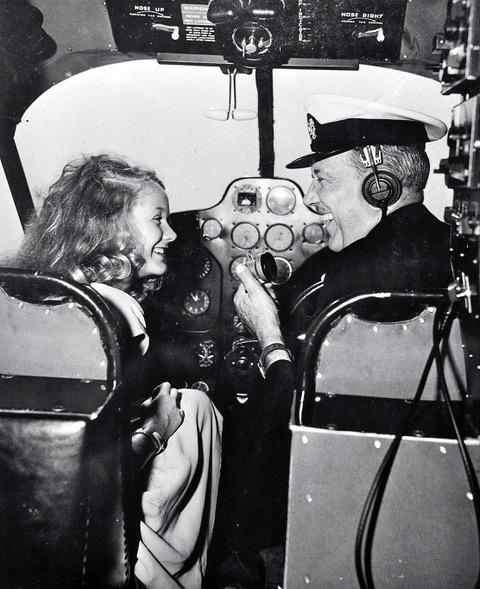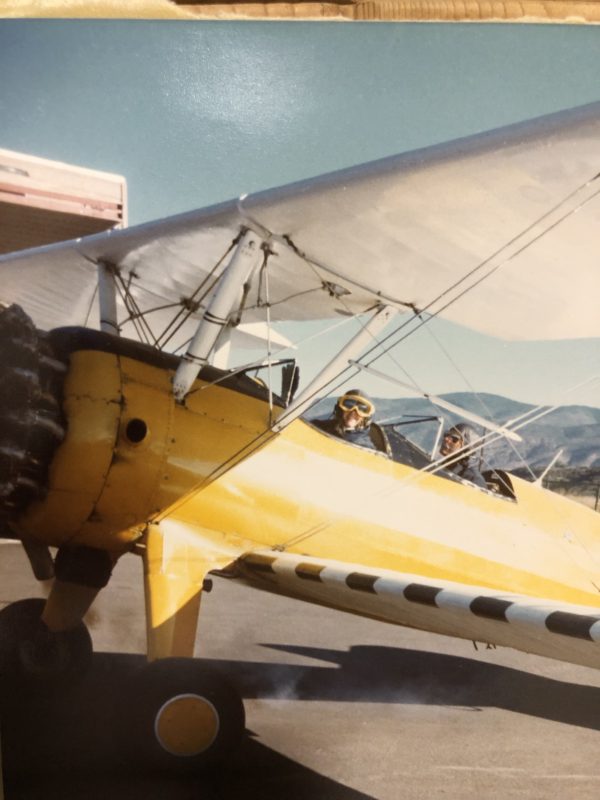 She was also a world traveler and began her travels in 1952 with a lengthy trip to South America including a trip to Cuba during the revolution  about 1959-60- mom always went to out there places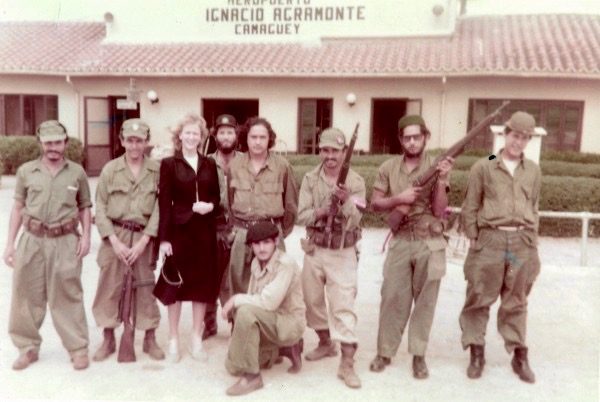 Cuba Above
"my mother was an adventurous lady. We as a family went skiing in Switzerland back in 1968 and visited England as well. Photo from Switzerland party up for New Years as well as skiing in Switzerland 1968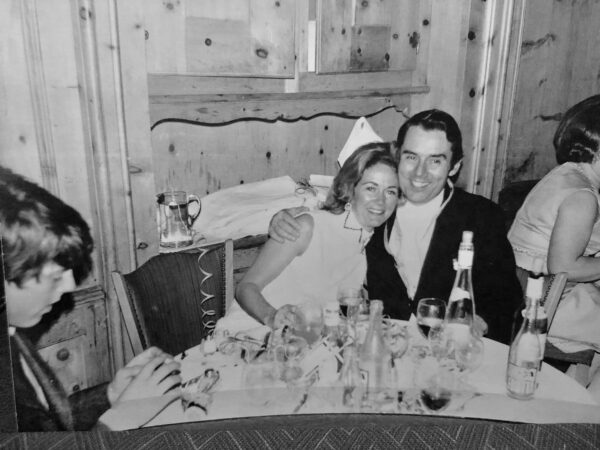 Switzerland above and NASTAR racing below she loved it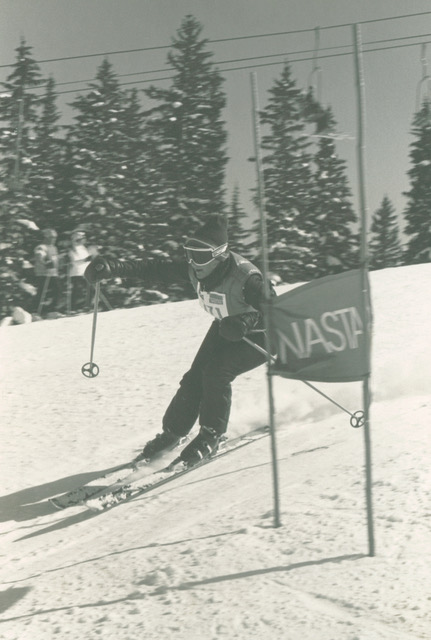 She was an accomplished skier and loved to race in NASTAR.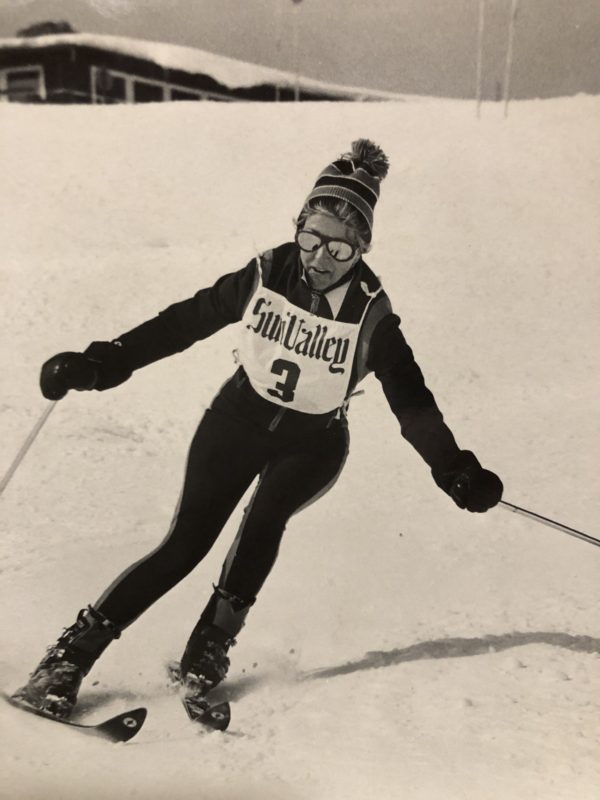 Mom above and she was always challenging you by said she would beat you to the bottom!!
She trekked in Nepal climbing 1,000 feet above the base camp of Mount Everest to 18,500 feet on Kala Patthar," below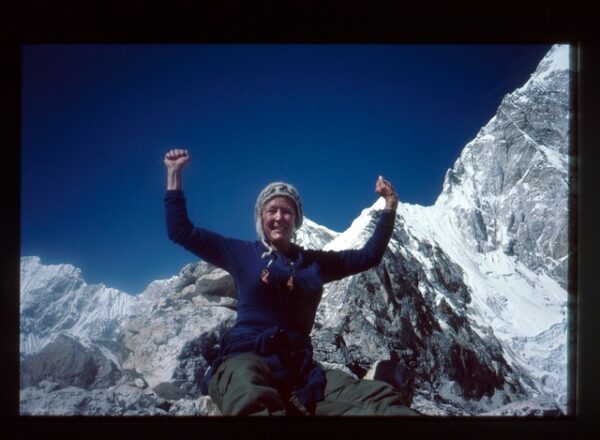 18,500 feet above and Everest is behind her 
She also traveled overland from India into Pakistan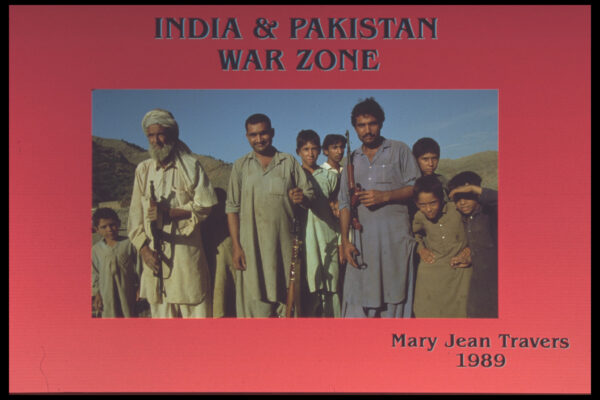 and fired fully automatic weapons with the taliban back in 1990.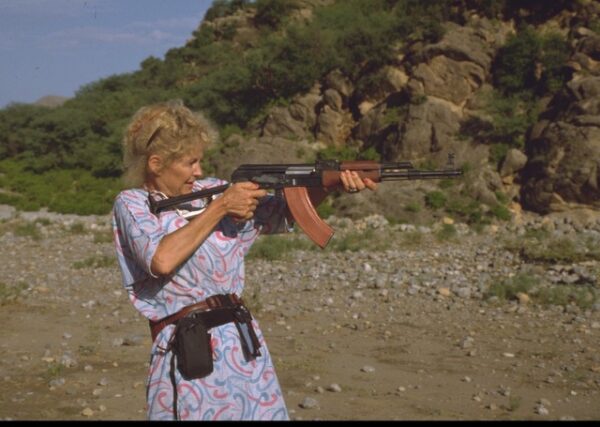 She lived on a house boat in Cashmire after crossing the highest pass in the world outside Ladhak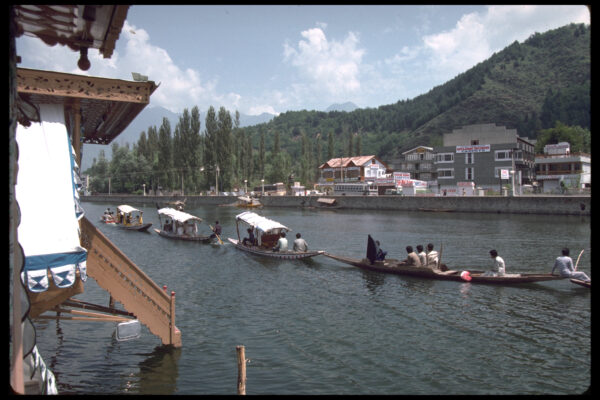 Kashmir above on the India side on Dahl lake  
She later spoke of her travels at local clubs.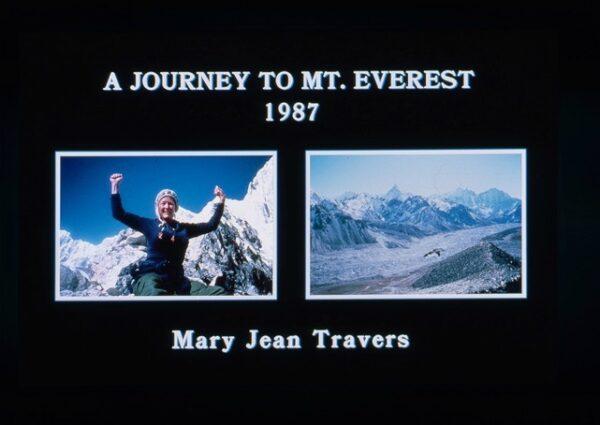 She also embraced many activities and canoed the boundary waters of Minnesota and Canada below and many other great rivers –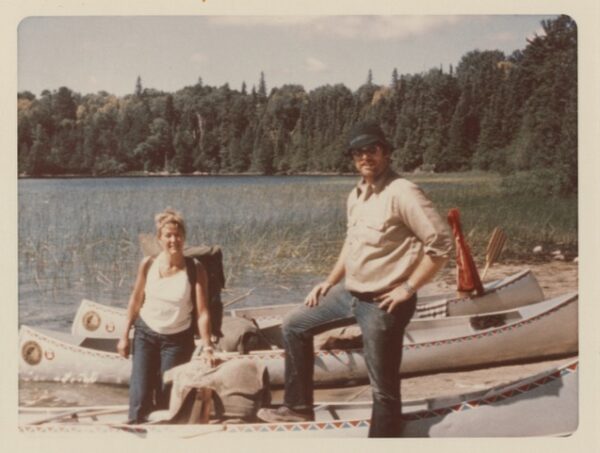 Colorado below, yes she was bad a–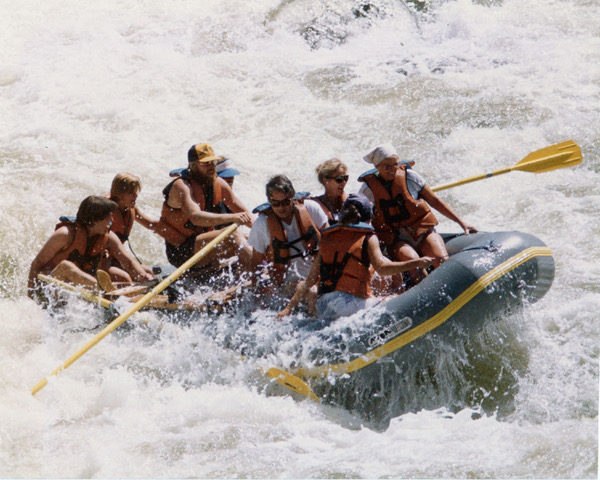 She was a certified scuba diver and made dives in the Caymans and the Great Barrier Reef to name a few Great Barrier below snorkeling after diving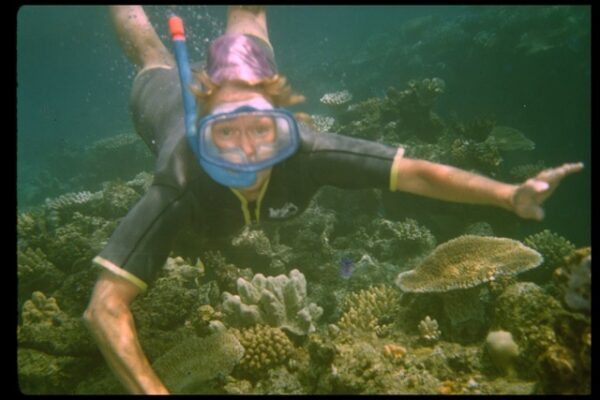 Snorkeling after diving on the Great Barrier Reef above 
She was also an accomplished skier and made to trips to Jackson Hole, Wyo., Taos, N.M., and Switzerland.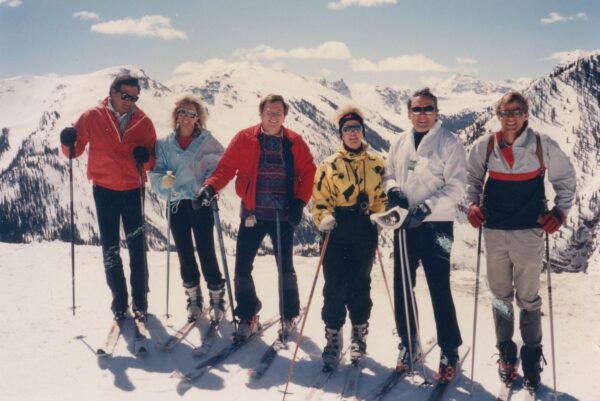 And she loved horseback riding and we grew up with horses and our horse was named "Sunbonnet"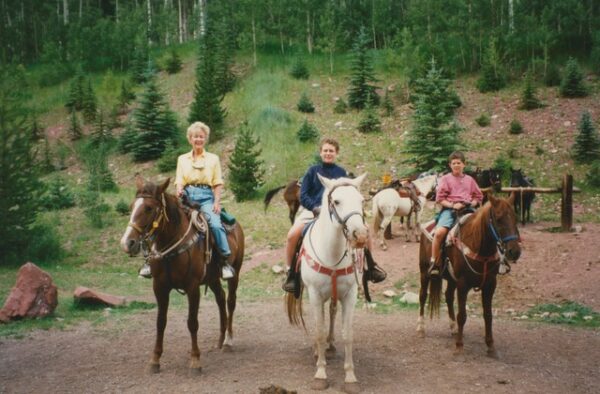 "She was also an accomplished bike rider. Shorty after China opened to the West in the 1980's, she bicycled more than +200 miles in that country. She also cycled through parts of New Zealand and Australia with Arden and I on our around-the-world trip. The NCR trail below not a big deal but one of the few photos I have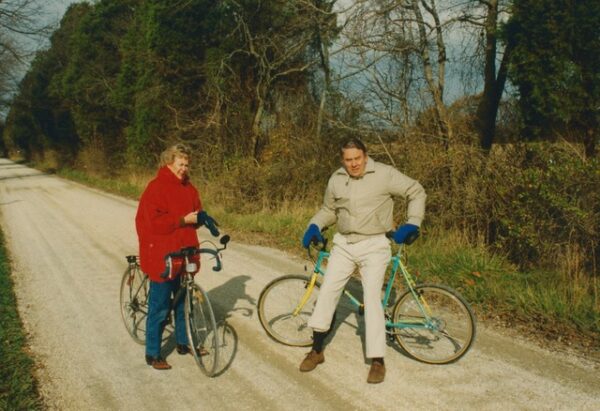 MJ was a founder of Baltimore's Clean Harbor Committee, and Mayor Kurt L. Schmoke honored her for her work on the environment.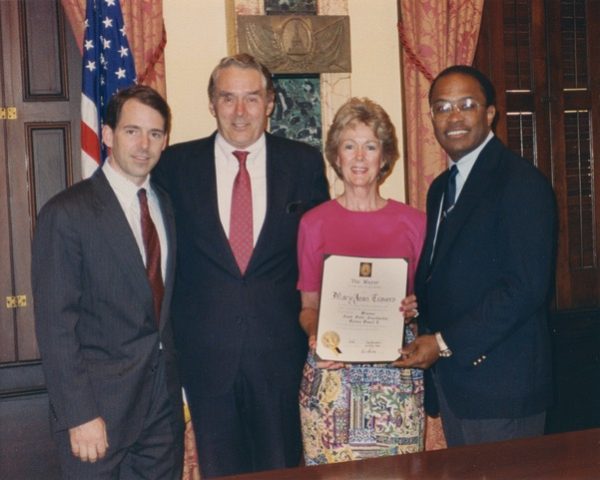 Mayor Kurt Smoke presenting MJ  an award for founding Clean Harbors
"My mother stressed to her children the need to seek to be the best in everything you engage in." MJ had this mantra: C.H.I.P.S. = Commitment,  Honesty and Integrity, Performance and Service back to ones family and Community . "She also said honesty and integrity are the highest qualities to exude. She said to give back to society is a duty, not an option." She and her husband Oliver established a family charitable trust, the Mary Jean and Oliver Travers Foundation, which distributes significant funds to help those that can not help themselves.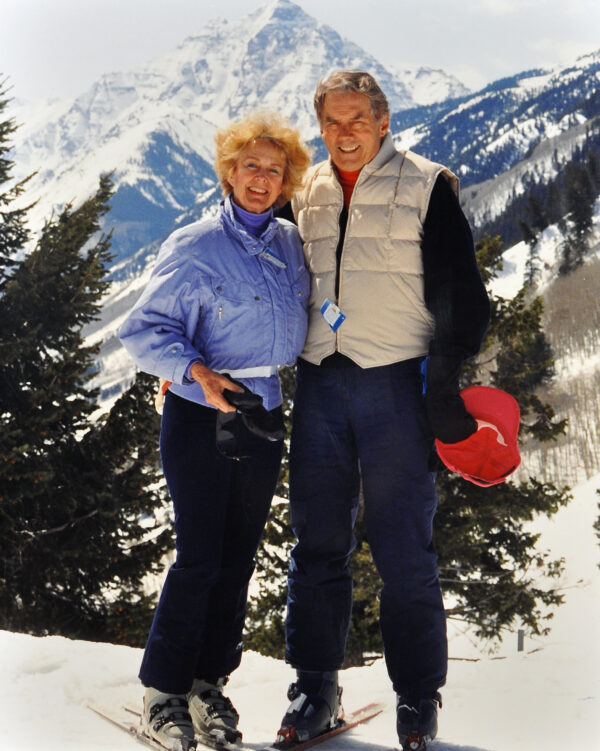 MJ and Dad above in Aspen and  few shots of her travels below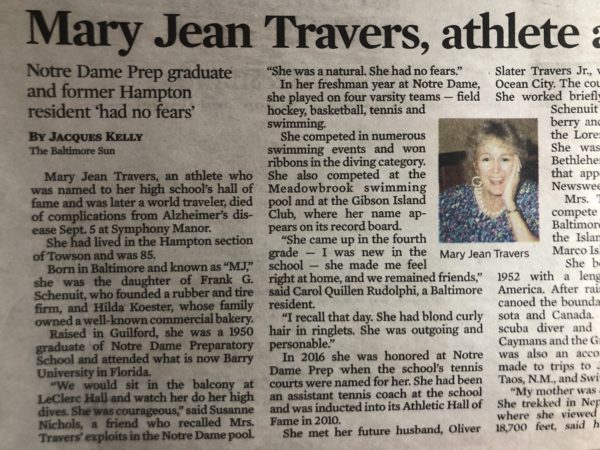 BELOW ARE ADDITIONAL SHOTS 
Wedding in the Cathedral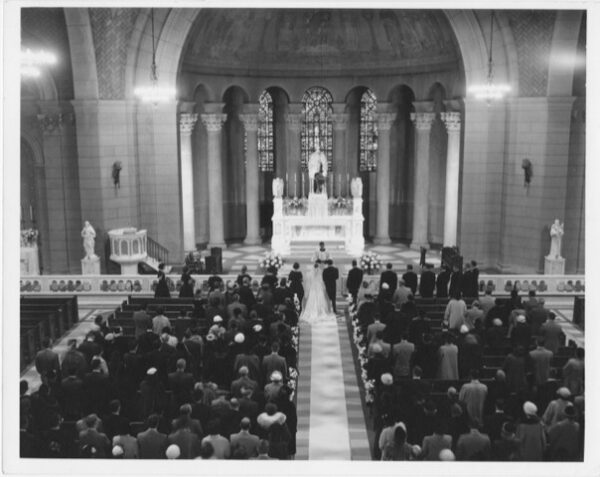 BELOW India Kashmir below after coming over the highest pass in world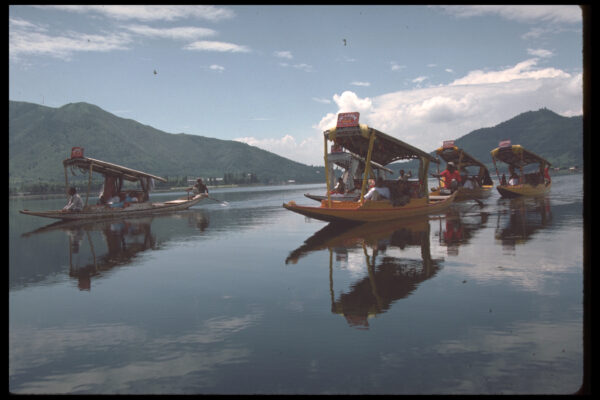 Kashmir above and Afghanistan-Pakistan Tribal area below 
Her team in Afghanistan below granting Pustunwali – yes she was crazy but why not engage life to the max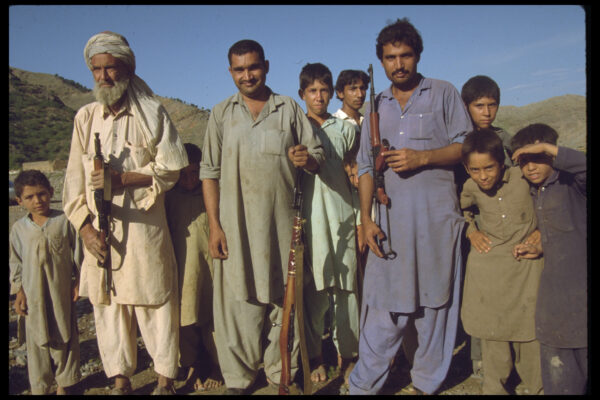 Pakistan above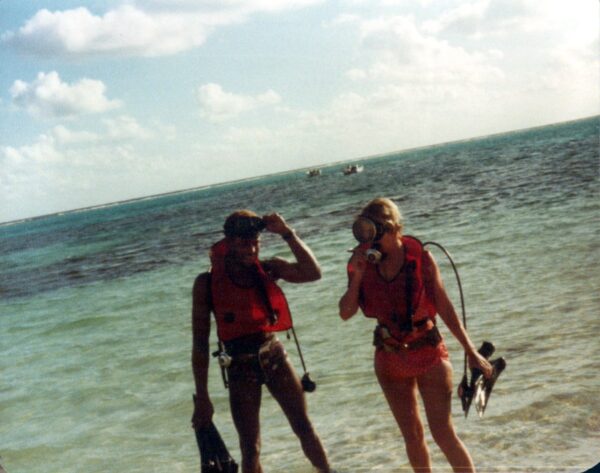 Diving in Cayman Island below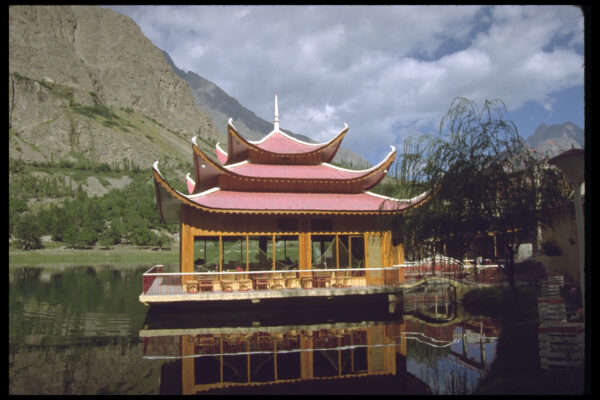 Pakistan border area with India above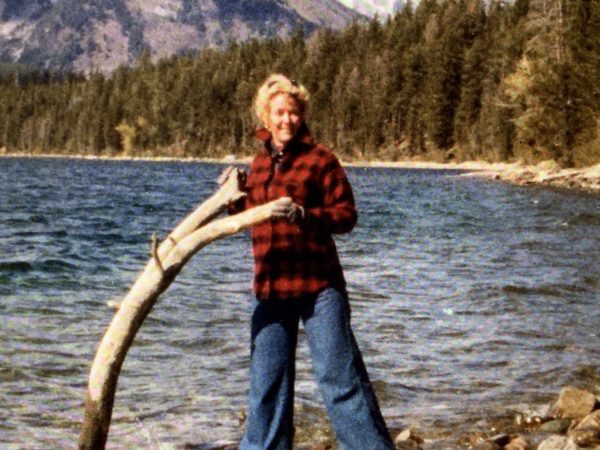 Why not go hiking after canoeing all day between Canada and the United States above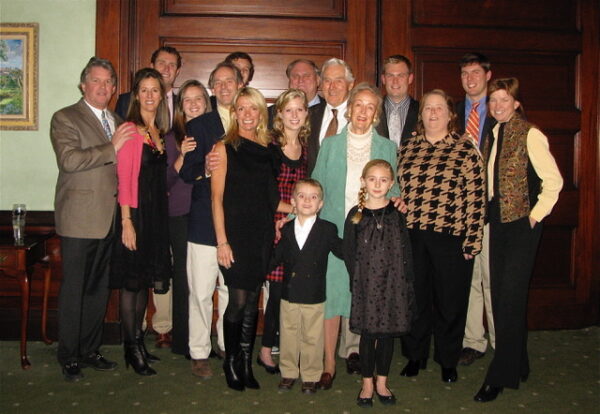 Some family shots 
MJ awards below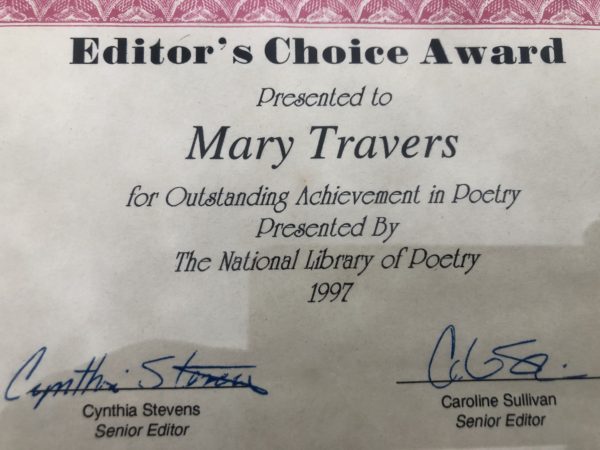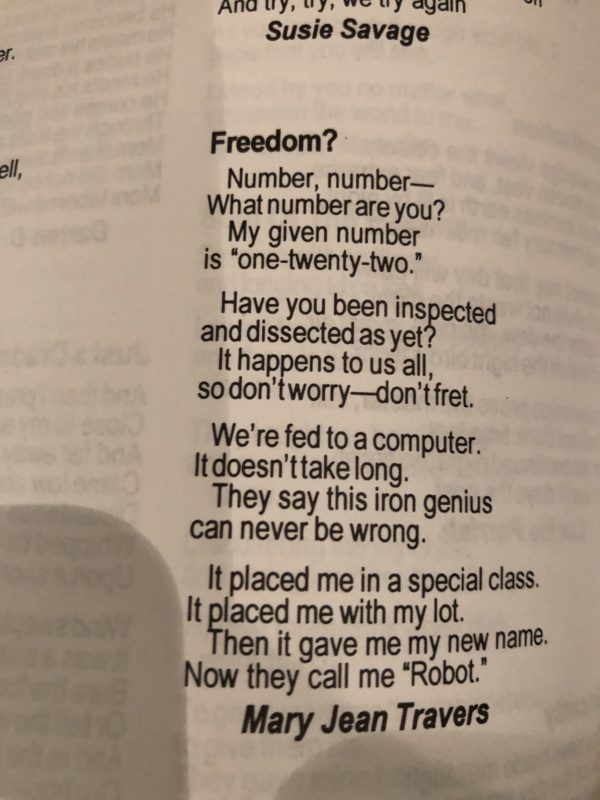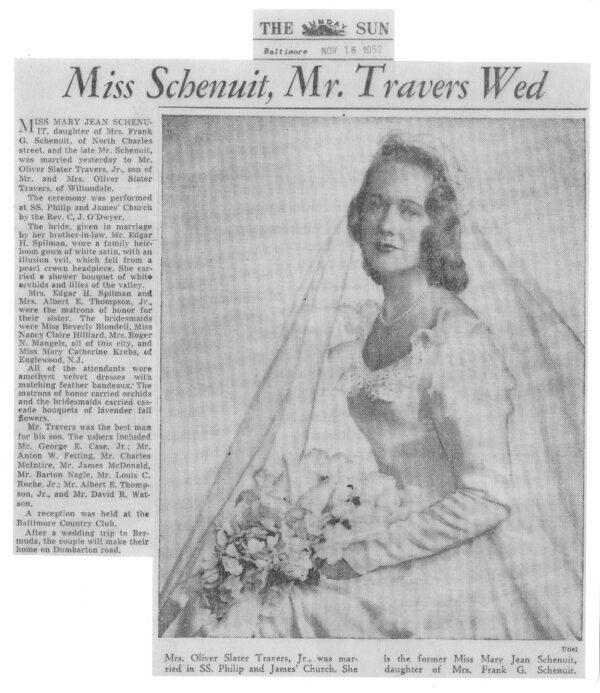 In addition to her son, she is survived by her husband of 65 years, the president of Schenuit Investments; two daughters, Jean Travers Goodwin and Joan Travers Ottenritter, both of Towson; eight grandchildren; and four great-granddchildren. A son, Thomas S.Travers, died in 2005. A few photos below of family and her amazing trips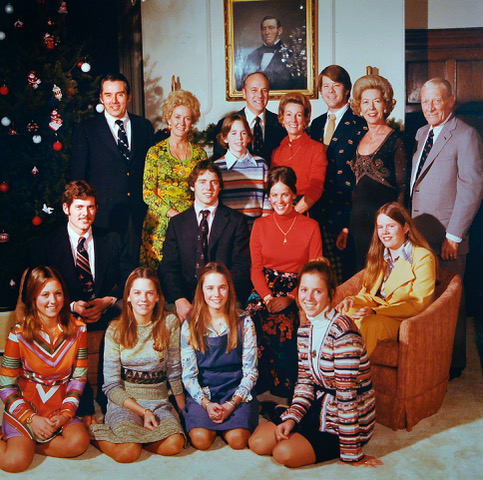 Below Bermuda below , biking, tennis and swimming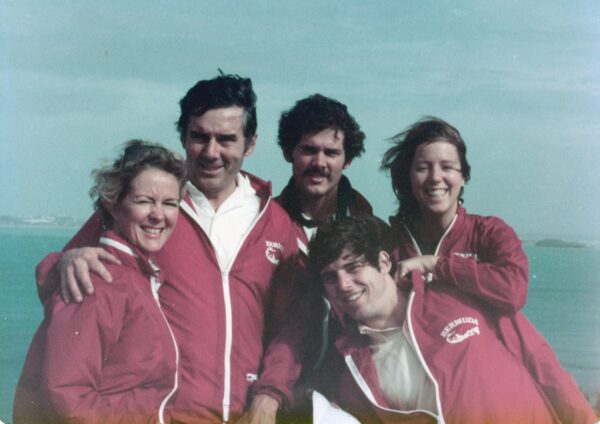 Thank you MJ and Ollie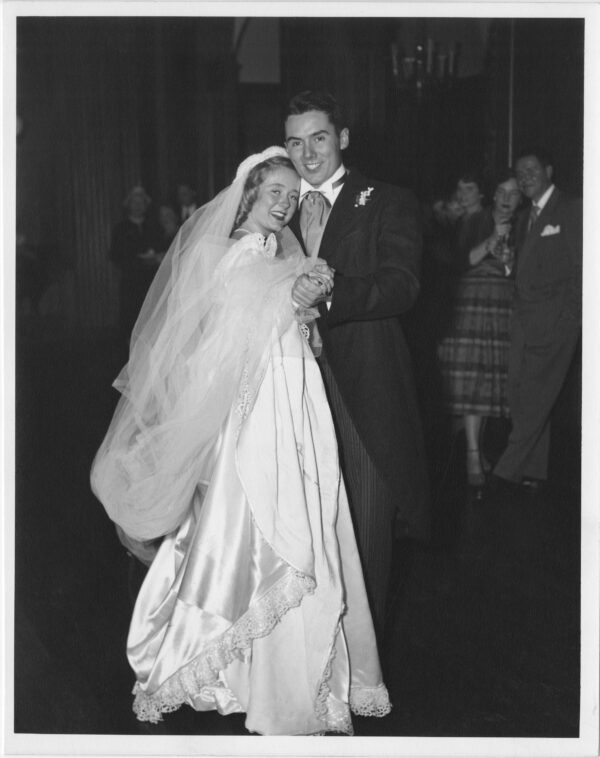 Other Photos below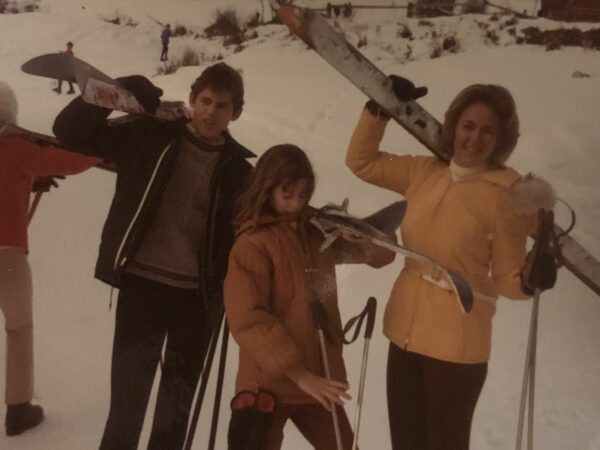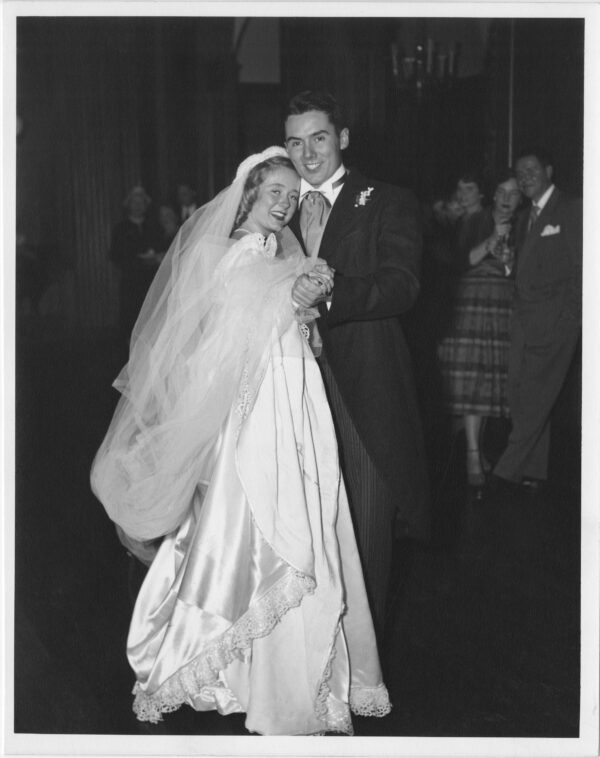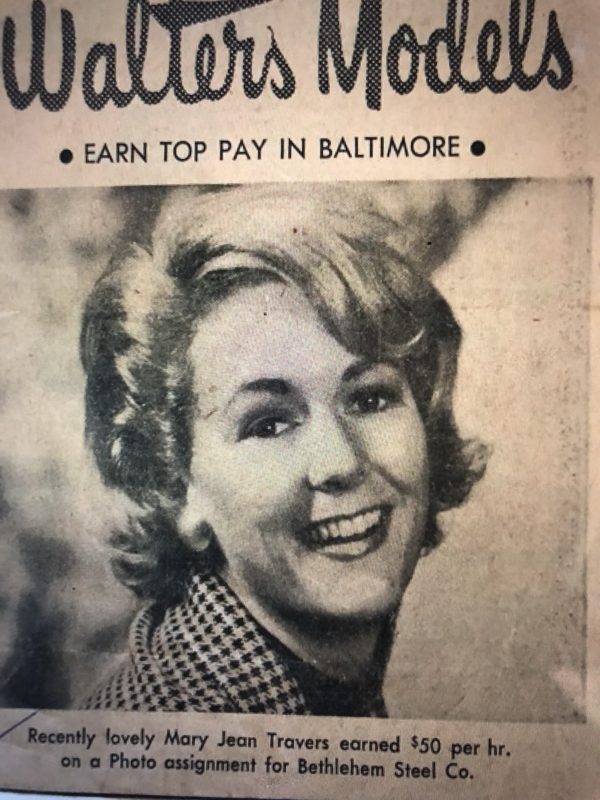 Boundary waters canoeing below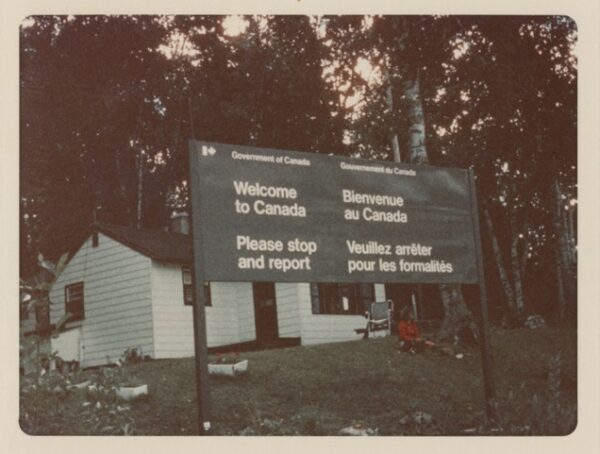 Mary Jean Elizabeth Rudolphi Schenuit Travers was the daughter of Frank Schenuit and Hilda Koester – (See tab to left about them).  She had two sisters: Betty Spilman, and Nancy Lee Schenuit and we were always close celebrating all the holidays together at Nancy else's home – one of the largest homes in Baltimore City located in homeland  
My mom "MJ" was an amazing lady especuially for a lady of her age group and I was blessed by her guidance. She graduated from Notre Dame Prep and she was inducted into the Hall of Fame for four sports: Lacrosss, tennis, diving, field hockey and basketball.  She was a top badminton player and bowler as well at Notre Dame.  You can find her name for swimming on the boards at Gibson island. She went on to Barry College the only all women Catholic college in Florida and she was elected into the "Alpha Beta Kappa of the National Honor society .  After College she started her travels by taking a 43 days South American cruise all the way down to Argentina. The She married my father and she became a mom.  Being a mom did not stop her accomplishments. During her life she: She visited Cub during the revolution, Climbed 1,000 feet beyond the base camp of MT. Everst at 52 years of age .  She rode her bike over a couple of hundred miles in China way back about 1982 and on another adventure drove over the highest pass in the world in India and then on a house boat in Kashmir. After that she traveled into the restricted areas and tribal areas of Pakistan and Afghanistan and fired fully automatic weapons with the guerrillas.   Taking after her father, she took up flying for period and when she almost wrecked the plane she stoped in the interest of the family. She was a top skier competing in the NASTAR events and a top tennis player playing the Baltimore Country Club team.  She and my dad (mostly my mothers money) started the Mary Jean and Oliver travers Foundation and that supports many non-profit program  in Baltimore.  MJ was very productive: she was a professional model featured in many magazines like Newsweek April 5 1965 and Time April 9th 1965. She was a graduated on the Broadcasting Institute and was on the radio.  She was and was on TV a few times.   She was also quite a good piano player and poet. MJ's poem was elected to be placed into "the Best Poems oof 1997" in the "national Library of Poetry" Mj was awarded a "Salute of Excellence" from and by the governor and MJ was award a disfigures service award from the City Council of baltimore for leadership of Clean Harbour being the CEO and Chairman. Mom at camp below