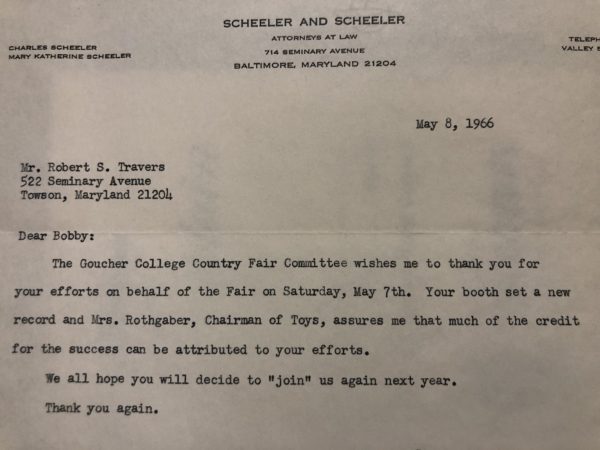 Arden and I believe that service is the most important and so will start with our embracing of Service non stop from about 1980 onward.
Tennis: about 1966 volunteer tennis coach: for a Baltimore County Tennis summer program at Ridgley 
Goucher College:  1966 : volunteer under Mrs Scheeler at Goucher White Elephant Sale 
Historic Hampton, Board member, about 1980 , for 4 years as head of Fundraising with mrs Scheeler
World Lacrosse Games 1982, Board member and Chairman of transportation 
Squash Committee about 1982 for the Baltimore Country Club 
Maryland State Squash 1984-90: Volunteer from helping run tournaments 
Towson State about 1984 a volunteer in the teaching lab for 2 semesters at Towson State 1986
Towson State about 1984, president Economic club Towson State
Catonsville Community College: about 1994  volunteer  teaching finance for adults 
Korean Church on Seminary about 1993: Teacher for after kids program for 1 or 2 semesters
Captain and volunteer manager of the Fitzgerald Cup for Ambassador William H. G. Fitzgerald representing the great State of Maryland from 1982 – 2012
President of the Maryland State Squash around 1998
Board member of Maryland State Squash from 1992 to current 
Towson YMCA Board member about 2000 
Leukemia Society: Team member with Arden to raise fund for the Leukemia Society with Bruce Clealand as our team leader. The skate race was 90 mile and the team (mostly from Bruce) raised about $1,000,000 yes about $1 million over those 8 years around 1998 to 2006
Mentor and advisor Volunteer for Gifted and Talented kids at Dulaney High School about 2012
Officer of the MSSRA and created with John and Bob the: Hall of Fame, Impact Award, and ran three United States National Squash Doubles Tournaments as co-chair 
Through Catholic Charities have help build homes in Africa through donations 
In Closing it is a gift from God to serve your fellow man, animals, the environment and whatever great causes are out there .