Although I was there, Passport Stamp to prove it, I was only there for 60 some hours and forgot to take pictures.  It was escape from Europe during the Volcano eruption.
The Trip below is provided by our very dear friends and adopted kids from Germany, Pierre Jinczek and his dear girl friend Franziska Frey.  They are amazing, young beautiful and full of life.  We met them in Cuzco Peru while we were hiking to Machu Picchu and they were traveling around the world for over one year.  They are an awesome couple and here is their story in both German and English.
Marokko Januar 2011 – 
Morocco in January 2011  
Als wir in der Wüste von Marokko zur Grenze von Algerien angekommen sind, 
When we arrived in the desert of Moroccor near the border with Algeria below,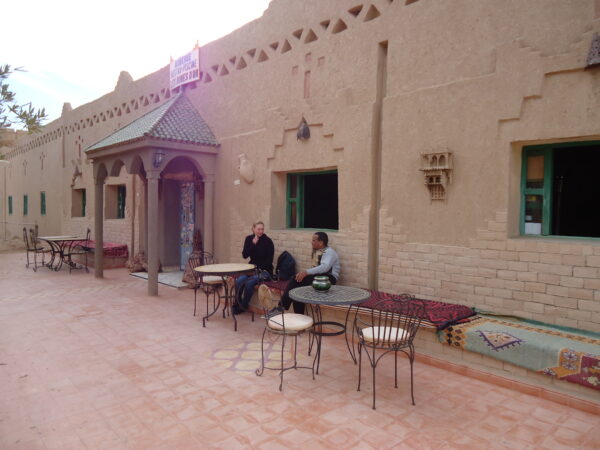 wurden die Kamele direkt gesattelt und zum Ausritt bereit gemacht.
the camels were saddled directly and get ready for the ride below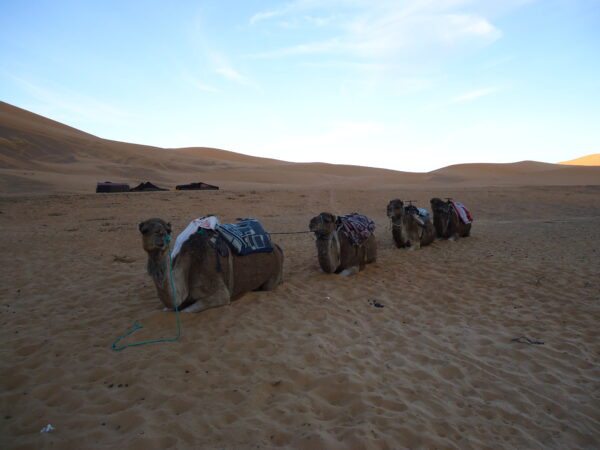 This is Pierre below about to saddle up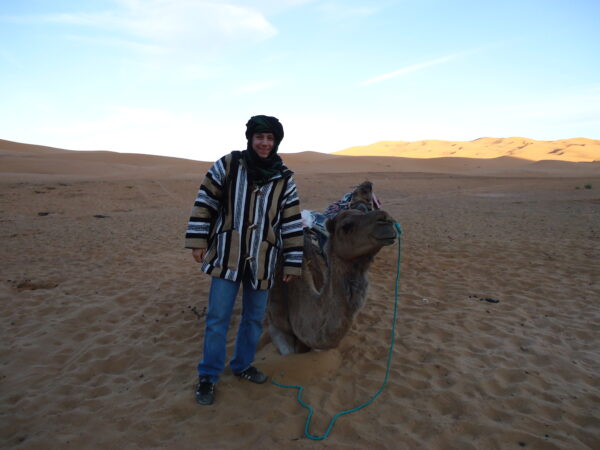 Ein Berber Kamelführer begleitete die Karavane durch das nichts der Wüste zu einer Nomadensiedlung. Der Ausritt dauerte 4 Stunden und die Sonne brannte auf den Rücken. Die Karavane bestand zu unserem Glück nur aus zwei Italienerinnen, uns und den Berber Kamelführer.
A Berber camel leaders accompanied the caravan through the desert nothing to a nomadic settlement. The ride took 4 hours and the sun beating down on your back. The caravan was for the better of only two Italian women, ourselves and the Berber camel drivers.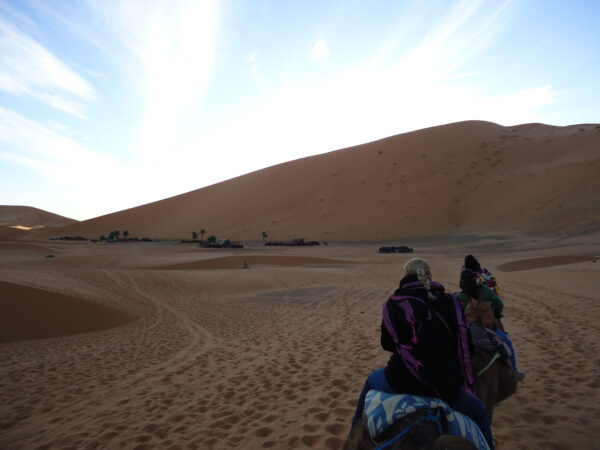 Nachdem wir in der Siedlung angekommen sind, zeigten uns die Einheimischen unser Schlafzelt. Anschließend stiegen wir auf eine sehr hohe Sanddüne, um den Sonnenuntergang zu genießen.
 After we arrived in the village, the locals showed us to our sleeping tent. Then we went to a very high sand dune to watch the sunset.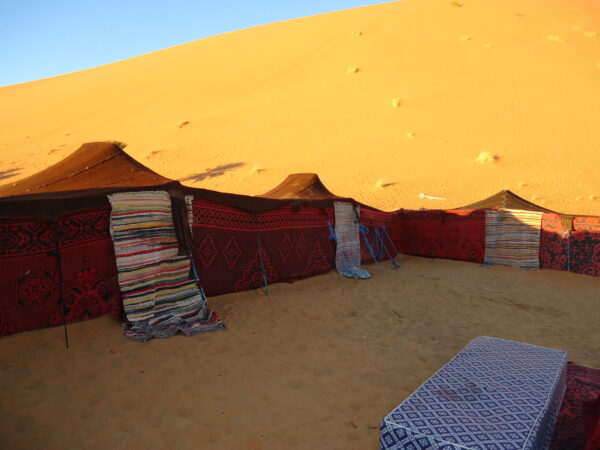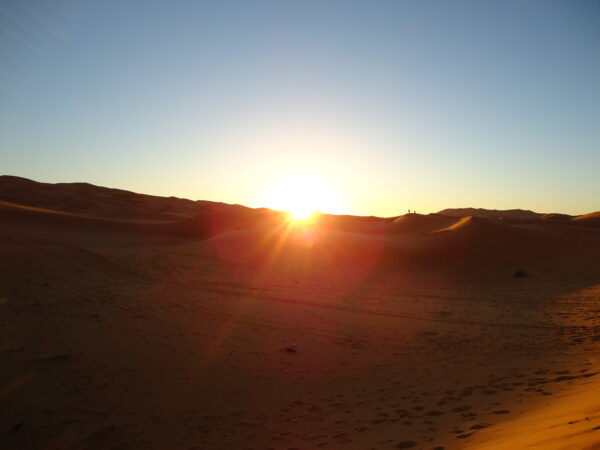 ei den Zelten wieder angekommen gab es ein traditionelles Abendessen namens "Tagine". Dies besteht aus einfachen Zutaten, wie Gemüse, Hühnchen und  Couscous, was zusammen in einem speziellem Tongefäß gebacken und serviert wird. Pierre wurde in der zwischen Zeit schon als Berber anerkannt, durch sein Aussehen und Verhalten. Beim Essen kam dies speziell zum Ausdruck.
 Arrived back at the tents, there was a traditional dinner called "Tagine". This consists of simple ingredients such as vegetables, chicken and couscous, which is baked and served together in a special clay pot. Pierre was already recognized as the Berbers in between time, by its appearance and behavior. When eating this was specifically expressed.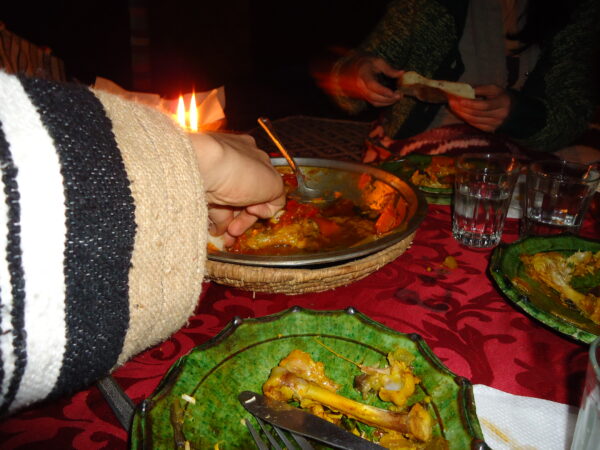 Nun war der Bauch voll, das Essen war sehr lecker und wir gesellten uns zu den Einheimischen ans Lagerfeuer. Am Lagerfeuer wurde Berbermusik gespielt, Rätsel gelöst und entspannt. Der Sternenhimmel lag direkt über uns und war einfach nur bezaubernd.
 Now, the stomach was full, the food was delicious and we joined the locals around the campfire. At the campfire Berber music was played, relaxed and solved puzzles. The starry sky was directly above us and was just adorable. 
Als es spät wurde gingen wir in unser Schlafzelt und wegen der extremen Kälte benötigten wir 5 Decken. Die Nacht war trotz den Decken erschreckend kalt, so dass wir kaum ein Auge zubekamen.
 As it was late we went to our tent and sleeping because of the extreme cold we needed 5 blankets. The night was shockingly cold in spite the blankets, so we didn´t get a wink of sleep.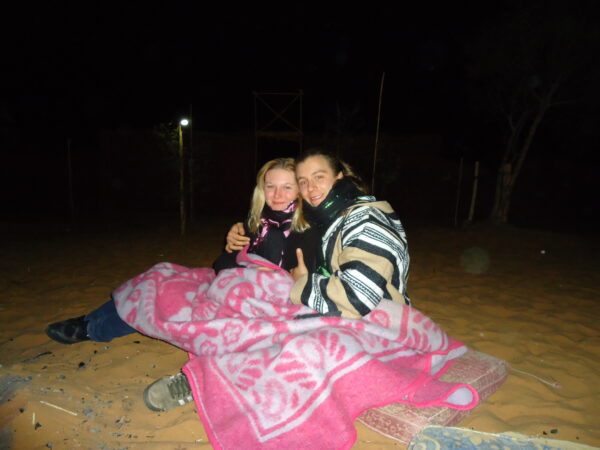 Am nächsten Morgen genossen wir den Sonnenaufgang und ein schmackhaftes Frühstück in Mitten der Wüste von Marokko.
The next morning we enjoyed the sunrise and enjoy a tasty breakfast in the middle of the desert of Morocco.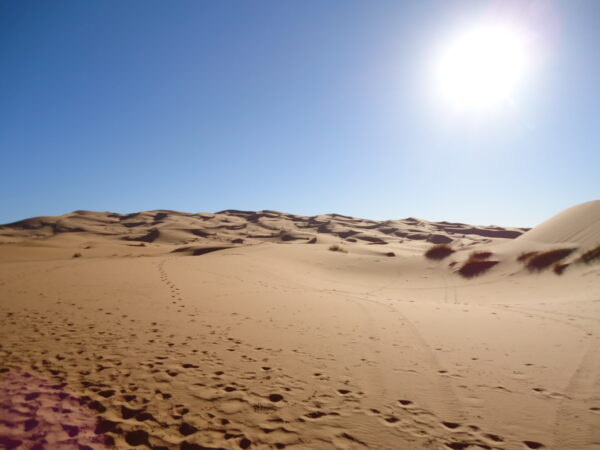 Bevor wir uns auf den Weg zurück machten, nutzen wir die Gelegenheit mit den Einheimischen ins Gespräch zu kommen. Diese Berber-Nomaden ziehen in der Wüste von Wasserstelle zu Wasserstelle. Wasser ist nicht selbstverständlich in Marokko und speziell in der Wüste schwer aufzufinden. Zudem sind die Lebensbedingungen erschwert, da die Menschen in Zelten leben, keine Elektrizität sowie Toiletten haben. Nutztiere werden zum Überleben benötigt und werden trotz der Umstände in der Wüste gehalten. Einkaufsmöglichkeiten gibt es nur ausserhalb der Wüste. Trotz des schwierigen Lebens wurden wir herzlich aufgenommen und die Menschen hinterließen einen glücklichen Eindruck.
 Before we made our way back, we take the opportunity with the locals to talk. This Berber nomads in the desert moved from waterhole to waterhole. Water is of course difficult to find in Morocco and especially in the desert. In addition, the living conditions are difficult because the people living in tents, have no electricity and toilets. Animals are needed to survive and be maintained in spite of the circumstances in the desert. There are shopping just outside the desert. Despite the difficult life we ​​were warmly welcomed and the people left a happy impression.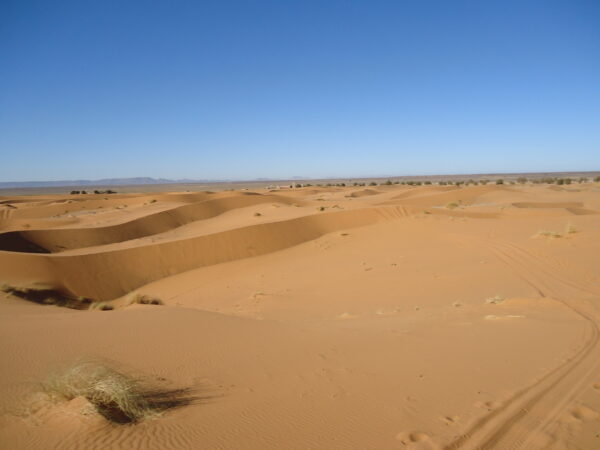 Gegen Nachmittag ritten wir mit unserer Kamel-Karavane in der extrem heißen Nachmittagssonne zurück in die Zivilisation.
 In the afternoon we rode our camel caravan in the extremely hot afternoon sun back to civilization.