We visited Charlottesville. It's home to the University of Virginia, with its core campus designed by Thomas Jefferson.  We also visited Thomas Jefferson's mountain-top plantation, Monticello. Another home, called "Highland" of President James Monroe is located here as well. They both retain many original furnishings. The city is also a gateway to Shenandoah National Park, along a section of the Blue Ridge Mountains and the famous Sky Line Drive which we rode on anther occasion on bicycles. (see that section for more details) and see photos from Mnticello below.
We were 6 couples so we stayed in two locations:  The Boars Head Inn and Farmington Country Club.
The Boars Head Inn (below) is steeped in history as Charlottesville, Virginia—home to U.S. presidents, witness of the ravages of the Civil War.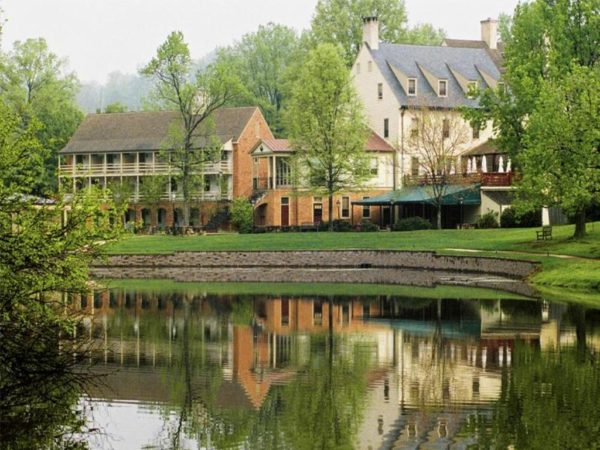 This is a remarkable 573-acre property with its fresh mountain air and stunning scenery with gracious hospitality, gourmet cuisine, and a sense of the past yet doesn't sacrifice a single modern amenity.  Following a year of historical research and an additional six months of renovations, the Boar's Head Resort's 175 guestrooms and suites are now highlighted with relevant historic décor as well as all the modern amenities one could ask for. The resort's championship golf course, on-site spa and expansive fitness center, 26 tennis courts, an extensive squash program. Also nearby are a fleet of activities—hiking, cycling, vineyard touring, hot air balloon rides. It was here we played squash in a tremendous facility of singles and doubles courts

Farmington Country Club (below) is an amazing facility. It is a traditional, family-oriented private club with a proud history, rich traditions and commitment to the customs of southern hospitality and gracious living. At the time of the American Revolution, the Commonwealth of Virginia confiscated the property from owner Francis Jerdone, who was a Tory, because of his political principles. Mr. Jerdone was able to regain the estate and then sold it to George Divers in 1785. Legend has it that Mr. Divers, who was in Philadelphia at the time of the sale, rode two horses to death in his dash south to claim the estate. It was under Mr. Diver's ownership that in 1803, Thomas Jefferson drew plans for an addition to the house, an octagonal addition with two rooms.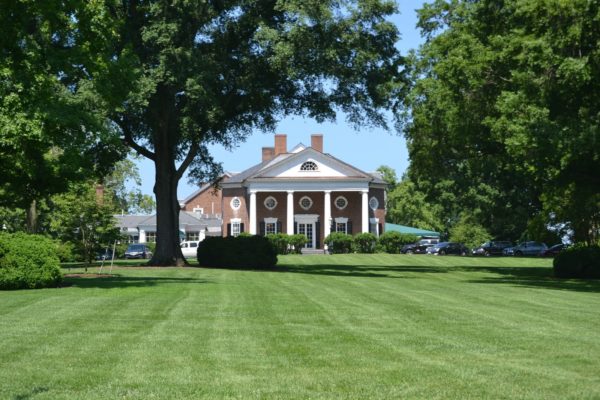 In the spring of 1927, an idea was conceived by local businessmen to develop a country club and residential community of a quality that would do justice to the historic atmosphere of Albemarle County. The plantation renovations begun in 1927 were completed in May of 1929, and the Club and grounds were formally opened on May 15, 1929, at which time Farmington Country Club became a reality. Today this great country club is one of the greatest in the United States and offers its members: fine dinning in an elegant atmosphere with more than one restaurant, 27 holes of incredible golf, tennis galore, one of the finest fitness centers, a great pool and members housing/rooms. All rooms are elegant and Farmington is  the premier, full-service private club in Central Virginia. It is very conducive to weddings.  We happened to be there for a wedding of a daughter of a Governor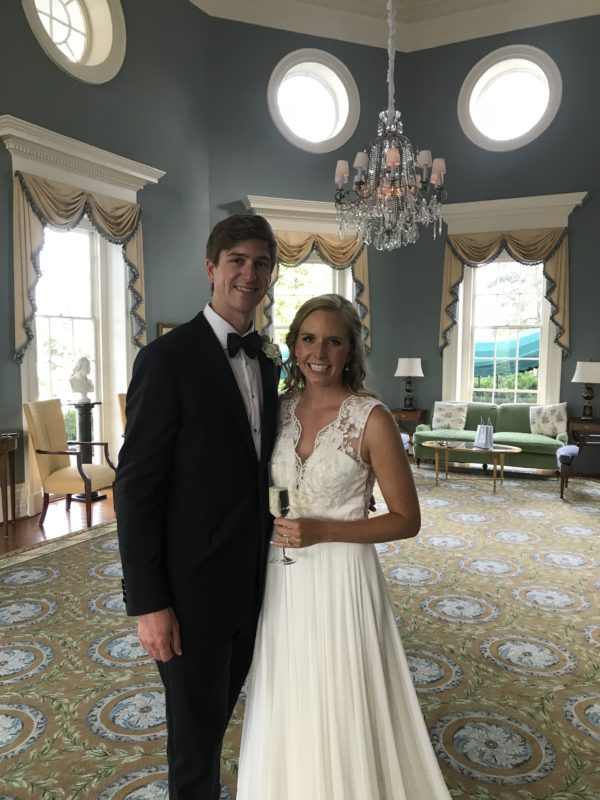 We had an incredible time dinning and tasting the fine wines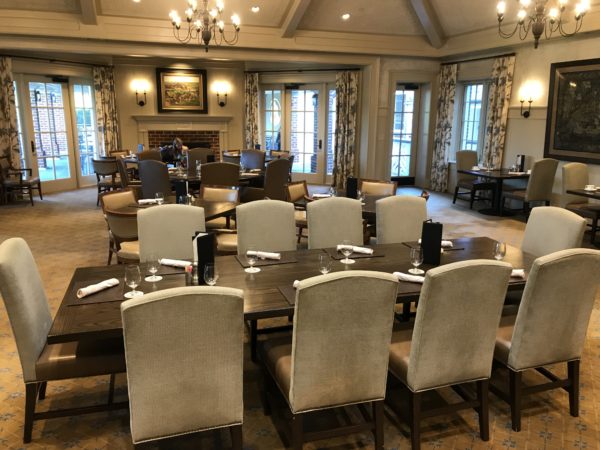 Fines wines and great beers after a hard day of tennis below
Great drinks after tennis, golf, pool or use of fitness center . Now how is that for a view on the golf course below tasting the good stuff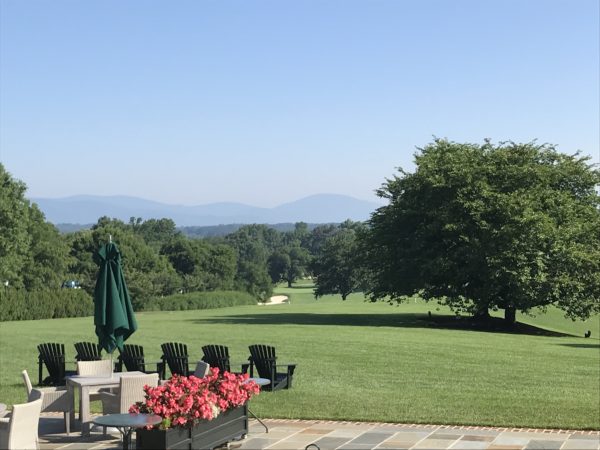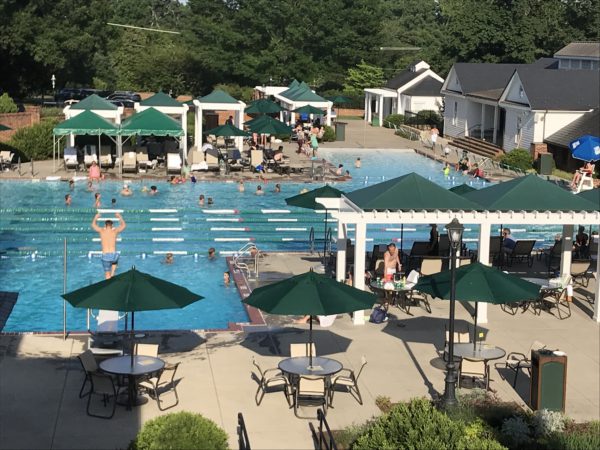 Great pool perfect for doing laps and awesome tennis courts below, har-tru at its best and the fitness center was to die for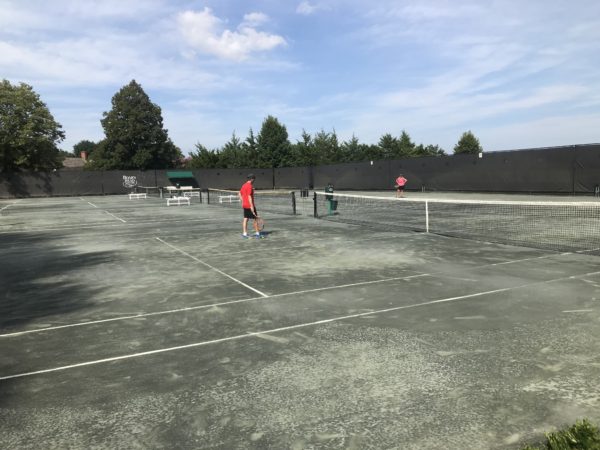 Tennis above and Fitness Center below. I loved the fitness center open for business and being in shape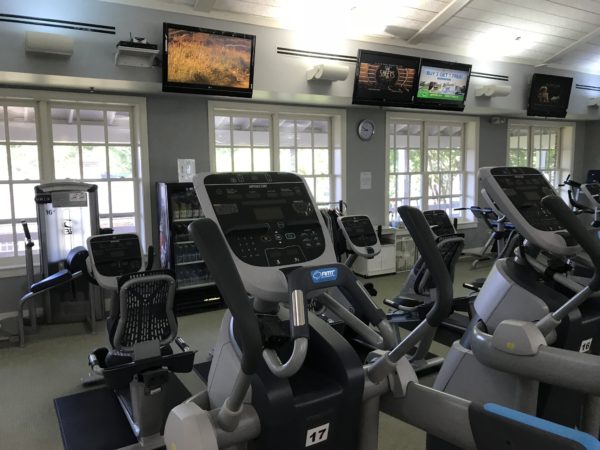 We all played doubles and singles squash at the Boar's Head Inn and it was over the top to say the least.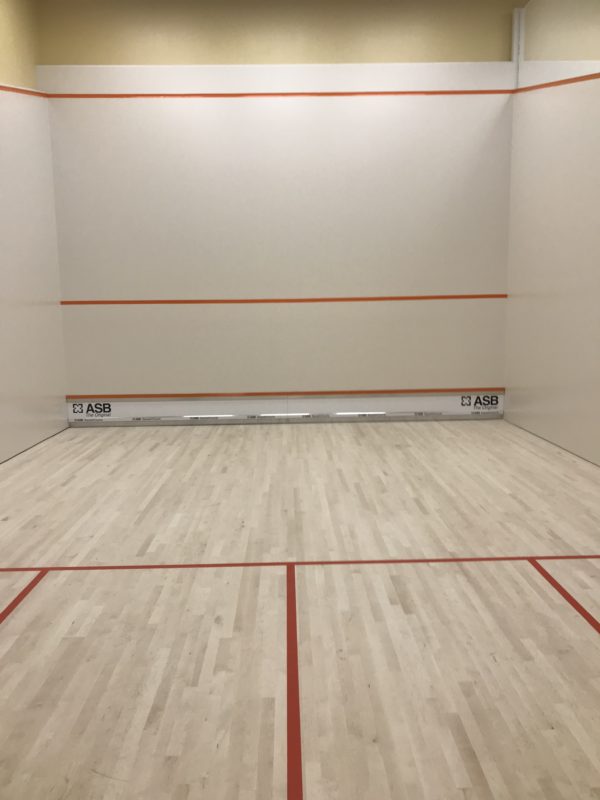 Oo day some of us went hiking on Ragged Mountain below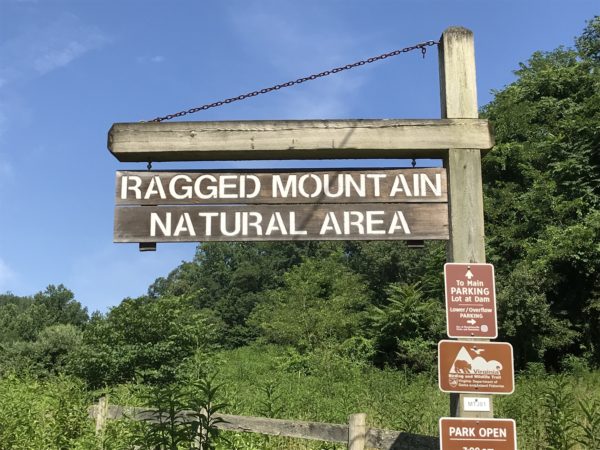 It is very similar to hiking around my home on Loch Raven as the hike on Ragged Mountain is also around a lake and here is a great map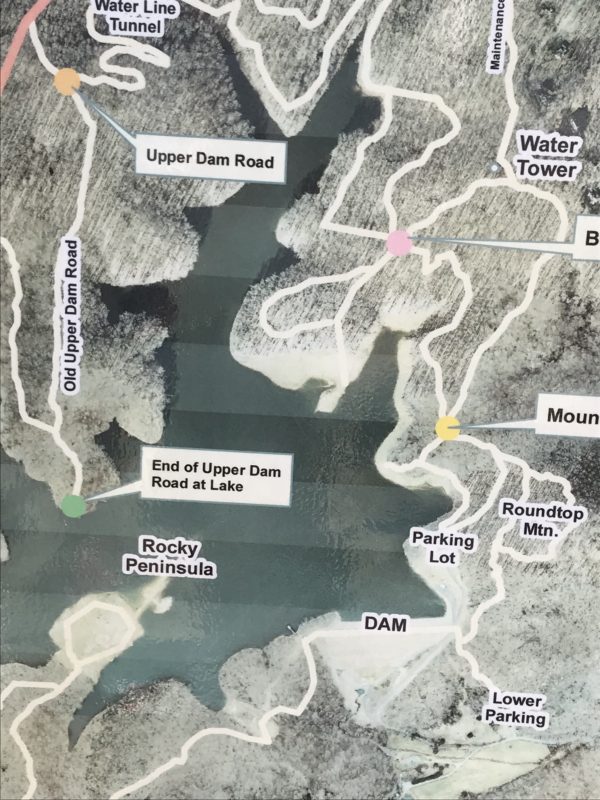 And here is the team below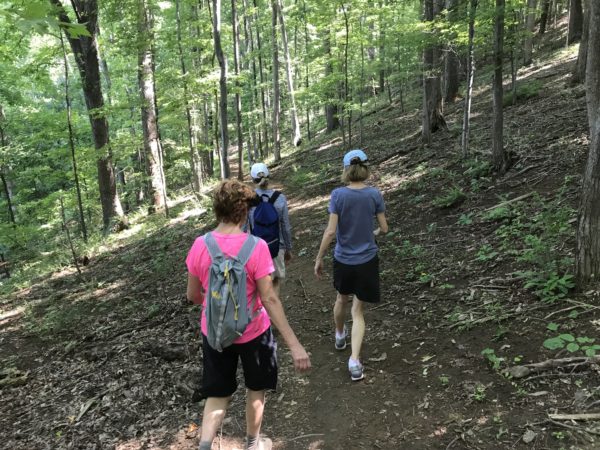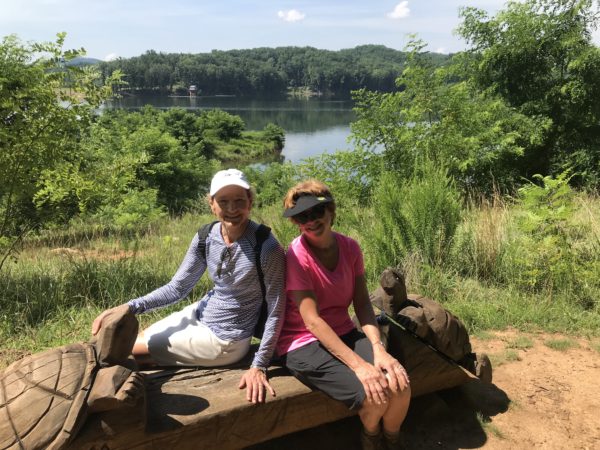 We also visited Monticello the home of Thomas Jefferson the third President of the United States.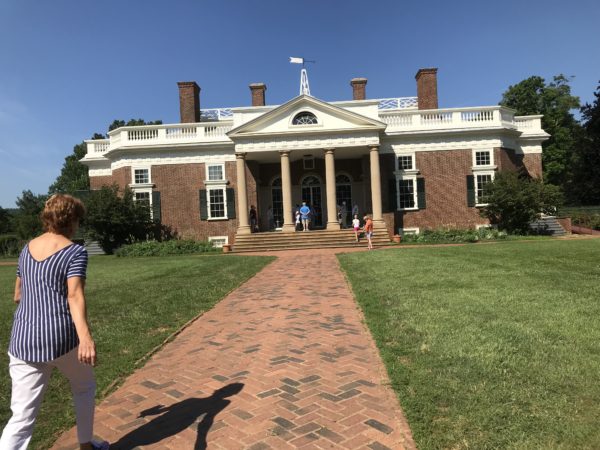 Arden above going into home. It is a great visit and we learned many things about his life and how he lived and here are a few photos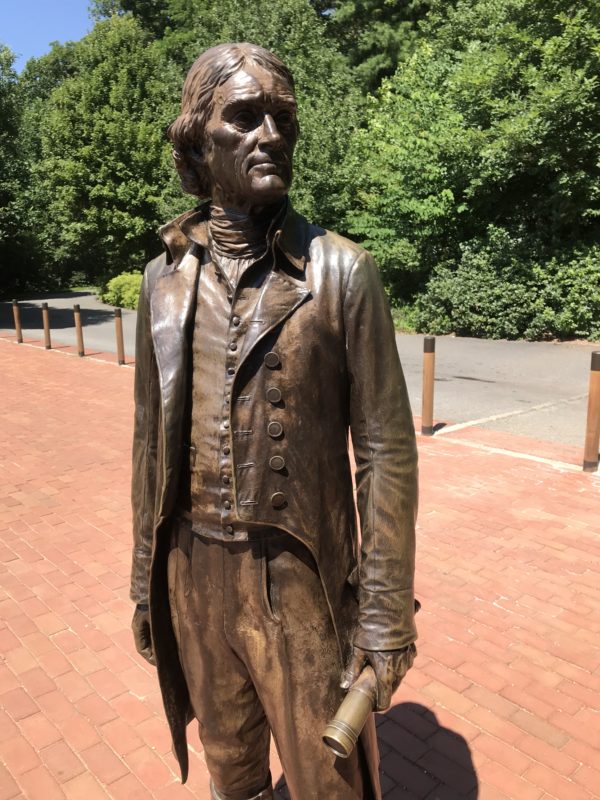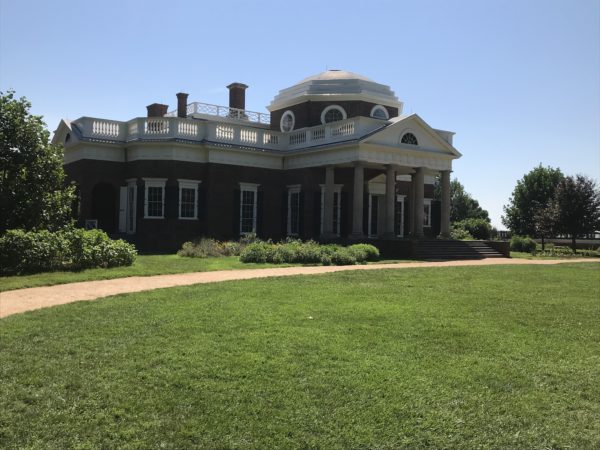 Various photos of the group "Partying Up"