The Great Allegheny Passage {(GAP) 150 miles} and (C&O canal 185 miles) combined are referred to as the GAPCO Trail with a total of 335 miles.  If you combine this with the Mt. Vernon and Rock Creek Trails in Washington, they offer the biker/hiker 385 miles of adventure. We have done most of the GAPCO, Mt. Vernon and Rock Creek Trails over the years.  This post is from our most recent two bike trips covering about 230 miles of the 335 miles of trails of GAPCO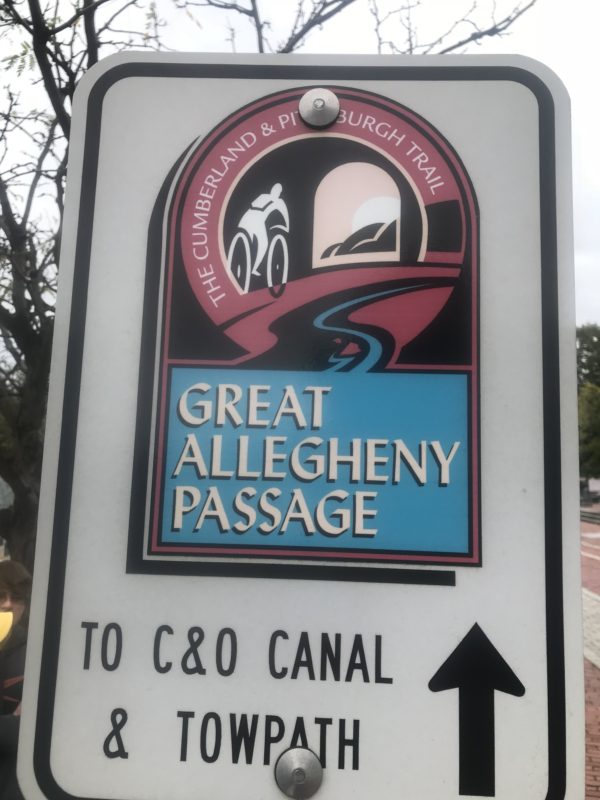 Combined the GAPCO covers (335 miles), they are the best "Rails to Trails" bike ride in the United States. This would be great for the intrepid bike traveler that loves to study history and visits museums and see the times of past generations.  The biker can camp as there are many camp sites along the way.  Or one can stay in B&B's or nice hotels. I stayed in both the nice hotels and great B&B's. Before we start here are my recommendations. When and how to go: I would do this in the spring before the crowds or before the leaves cover the ground in the fall. I would take the train to Pittsburgh and ride the bike toward Washington.  For the Biker/camper, I would look at averaging 25-30 miles per day due to gear weight.  For the biker staying in B&B, I would look to do about 40 miles per day allowing for time to take in the museums and sites.  Ok here is our story below
The ROUTE: It can take you through four (4) states: West Virginia, Virginia, Maryland and Pennsylvania!  The TRAIN:  There is train service including bike transport to and from:  Washington, Rockville, Harpers Ferry, Martinsburg, Cumberland, Connellsville and Pittsburgh allowing for many iterations of the adventure.  The train is awesome as they take bikes and we had great: drinks, food and seats.
We left Harpers Ferry on the train but before leaving we rode around the town visiting the many sites below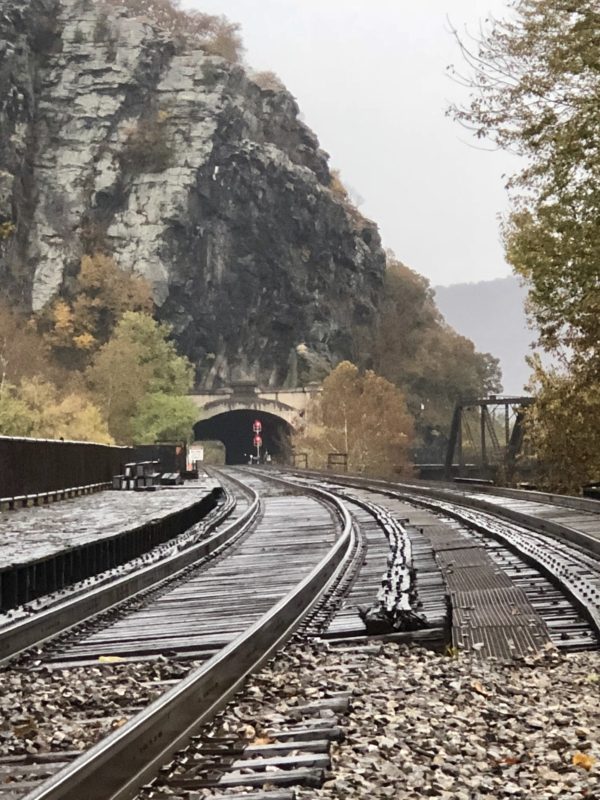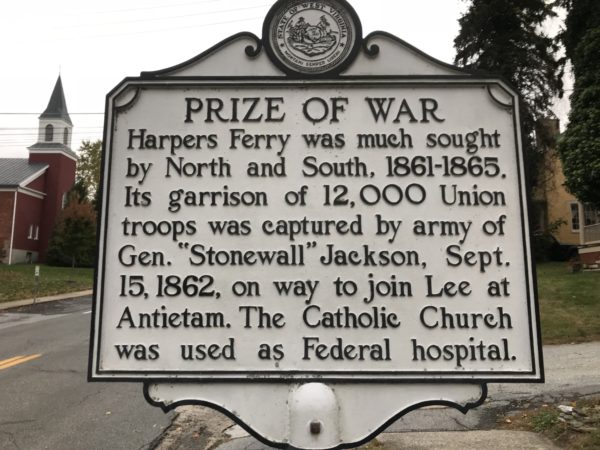 What a view
We visited the old Hill Top Hotel that I stayed in ages ago for a bike trip as well. The Hill Top Hotel below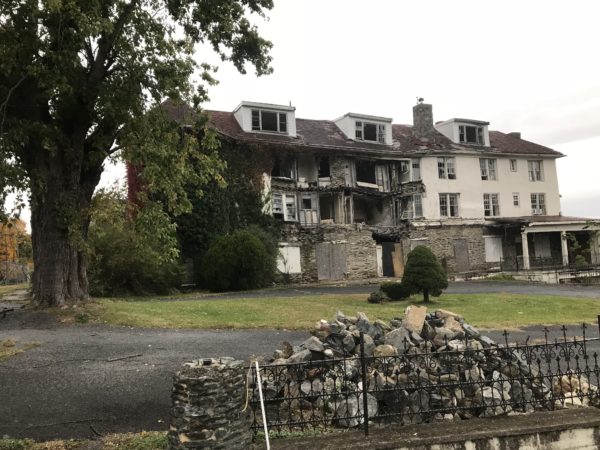 Boarding the train below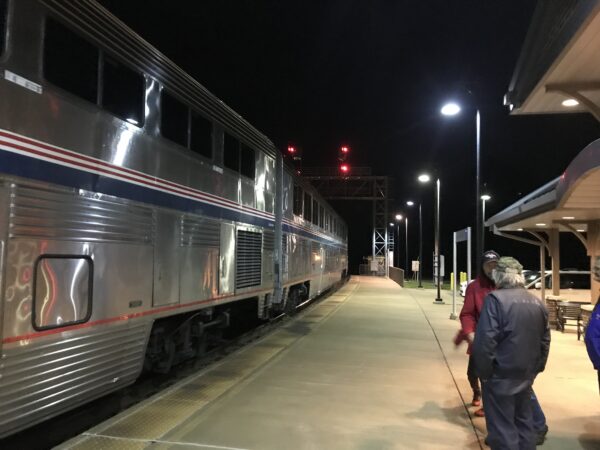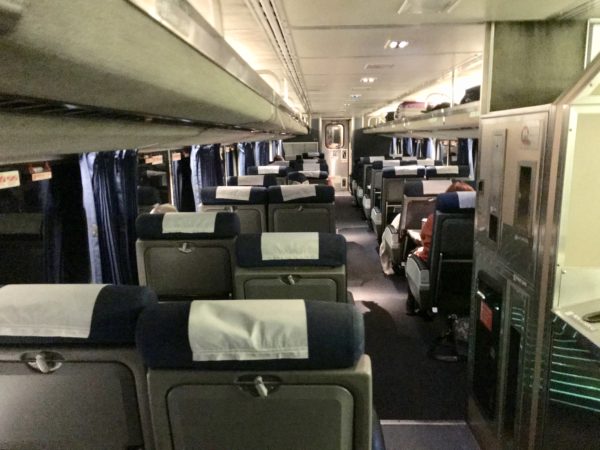 After Boarding the train we were going to travel to Pittsburgh but got off in  Connellsville due to rain. Connellsville became known at the "Coke Capital of the World" due to the amount and quality of coke produced in the city's many beehive ovens. During this time, Connellsville had more millionaires per capita than any other city in the United States and was the major source of employment and revenue during the 19th and 20th century. Also, Connellsville has the distinction of having been served at one time by five railroads: the B&O, PA, Western Maryland, Pittsburgh and Lake Erie and Norfolk Western Railroads.  
Upon arrival to Connellsville at about 10PM,  we then repacked our bikes with our panniers and rode to the "Fox Castle B&B."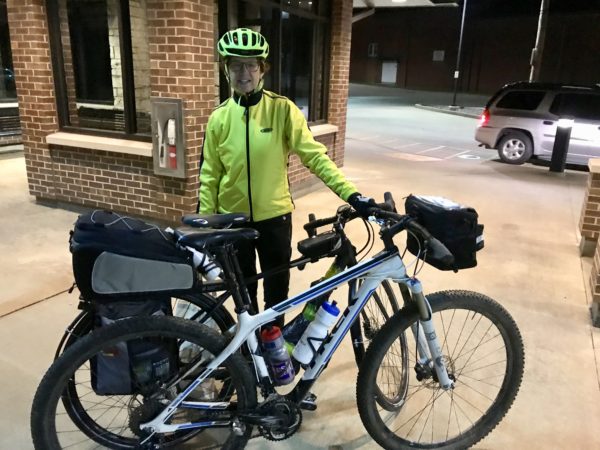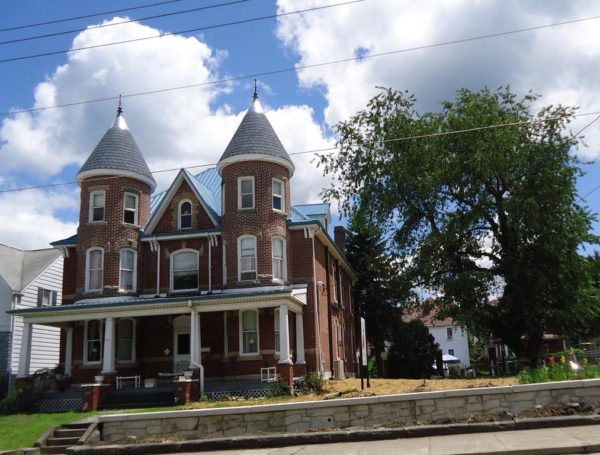 The Fox Castle B&B is a red-brick victorian residence dating from 1898. This informal bed-and-breakfast is in a residential area and features 2 turrets. It is close to: Falling Water, Kentuck Knob, the Fort Necessity National Battlefield as well as the train station.  We had very nice rooms with huge private bath and full breakfast in the morning.  The owners are awesome and all was great.  I would recommend the Fox Castle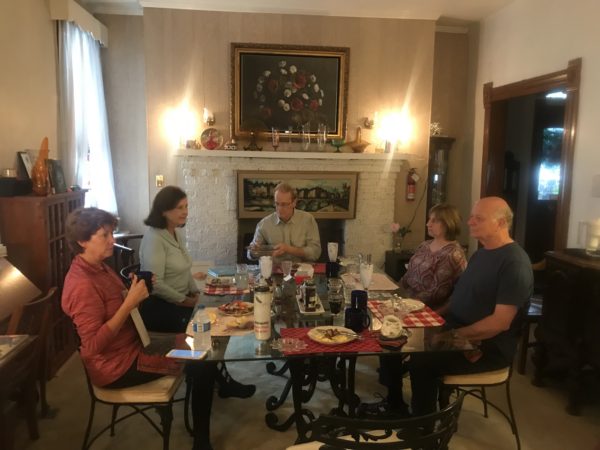 We tried to visit "Falling Water" and "Kentuck Knob", both are Frank Lloyd Wright designed houses,  but all tickets were sold out. We had visited them before as part of our bike trips from years ago and I would recommend visiting both. We started out the next day to ride to Rockport at about 10AM. We rode through Connellsville heading to the trail head and on our way we had hoped to go to church but it was closed.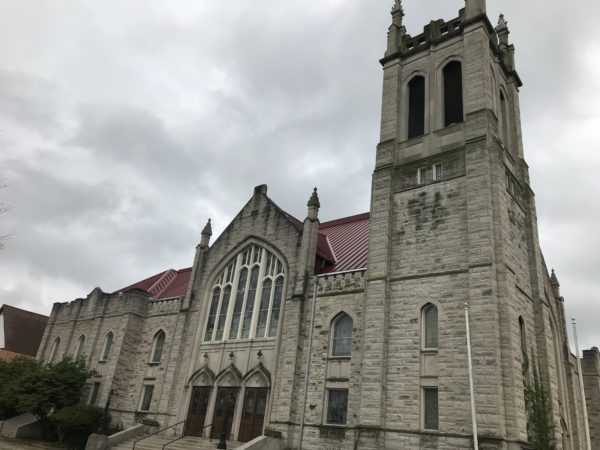 On our way to the trail head we rode around town looking at all the cool murals and professional graffiti.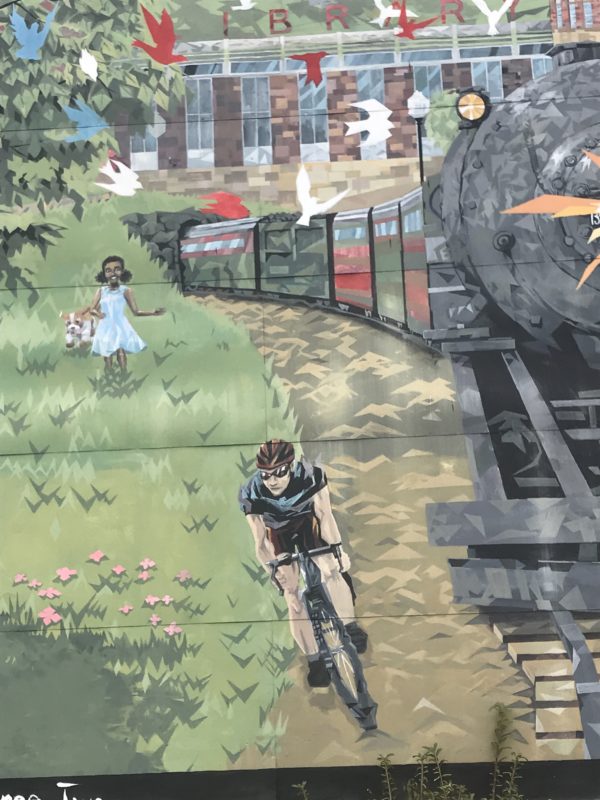 As we biked south on the GAP trail from Connellsville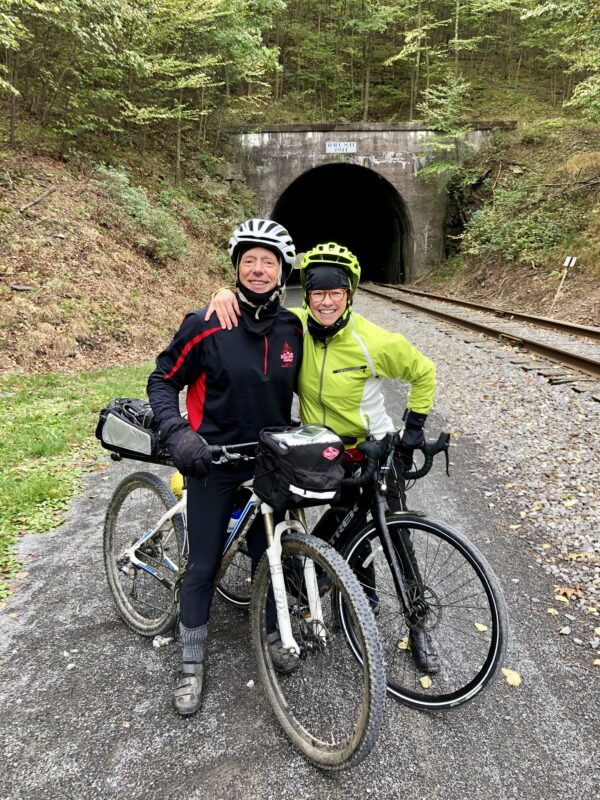 it soared over valleys,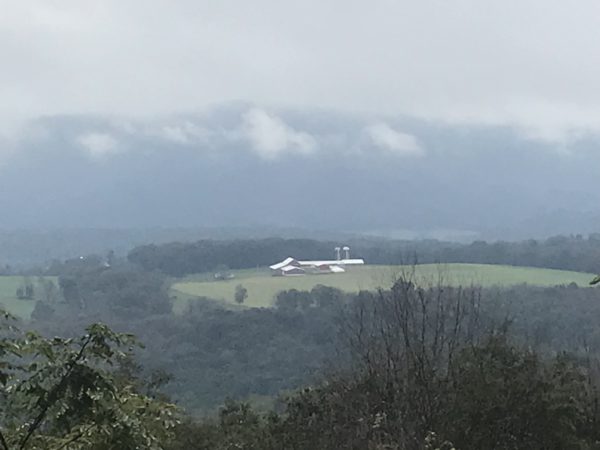 snaked around mountains, and skirted alongside three rivers: (The Casselman, Youghiogheny and Monongahela).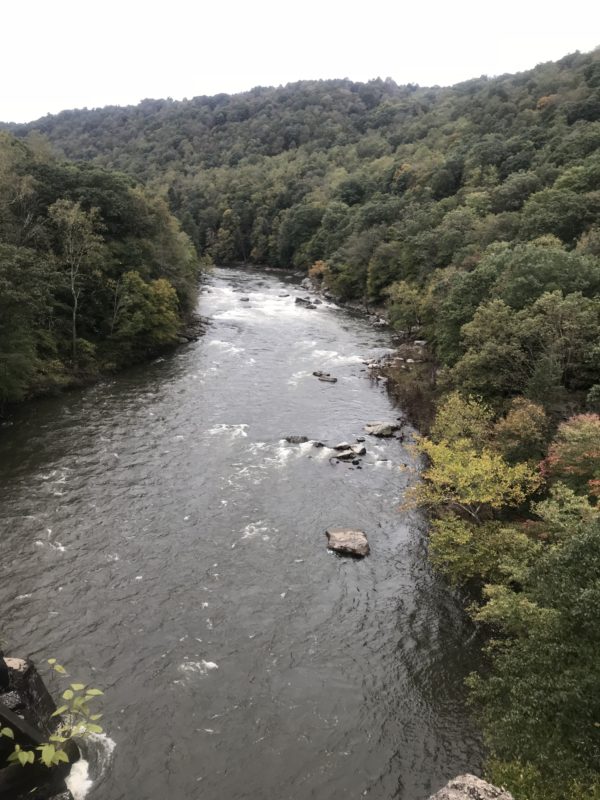 BT looking away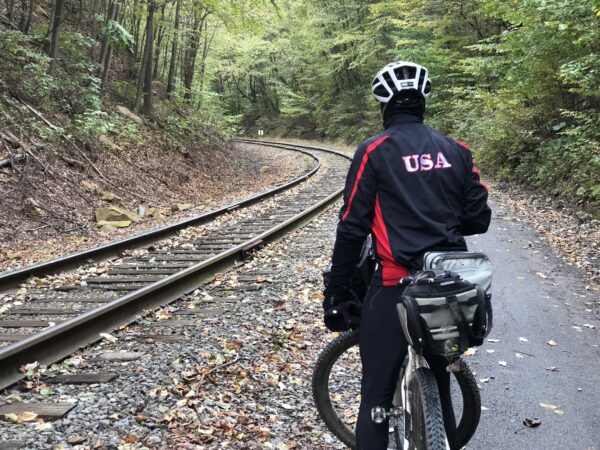 We biked about 100+ miles of the GAP which crossed through the Cumberland Narrows, the Mason Dixon Line and Eastern Continental Divide and through very old quaint mining and steel producing towns of years gone by.  The trail was well marked and all was great as we headed south toward Rockport.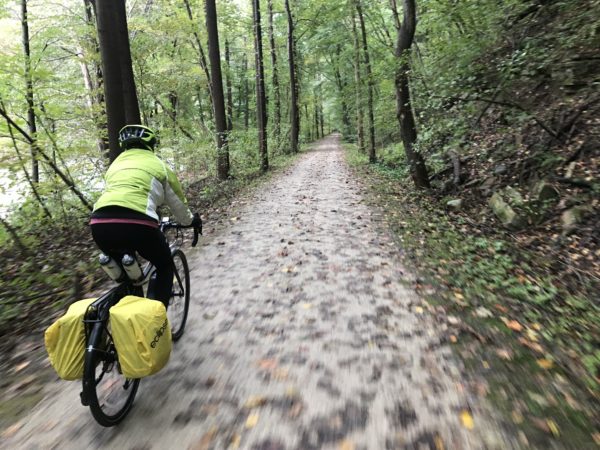 Some of the sights along the way were: an owl sailed by in silent grace, deer roamed around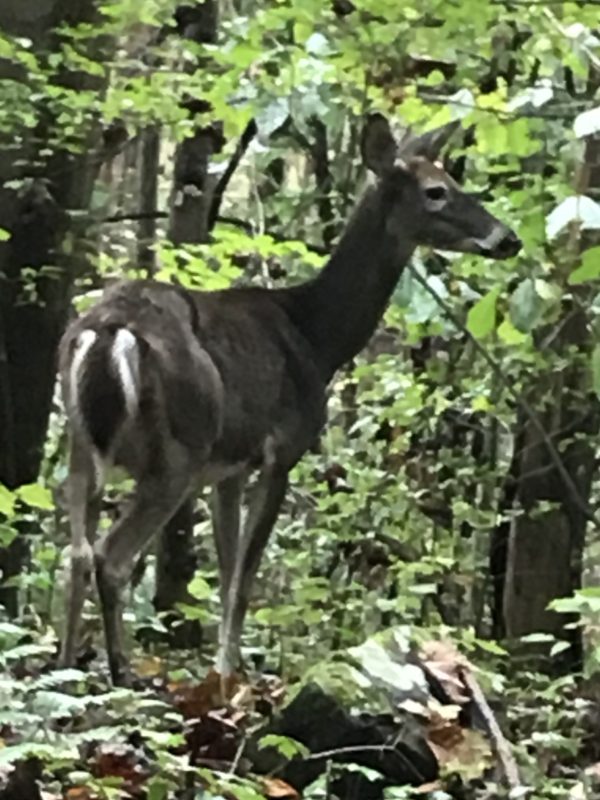 and I came upon a raccoon wandering the trail. We rode for about 15 miles towards Ohiopyle and we had great views and we almost had the trail to ourselves.  
We did pass a few people and only passed one or two groups riding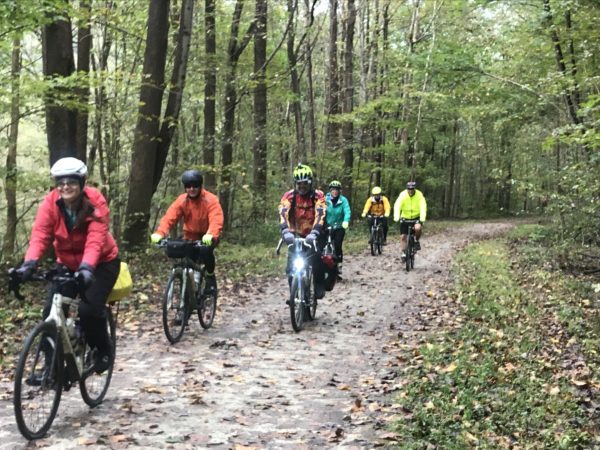 and all was great as we glided through the forests.  We passed many waterfalls along the way. We stopped at Ohiopyle and visited its museum and other sites,  it is a very cool town with raging rapids.  The town is bisected by the Youghiogheny and is one of the most popular whitewater destinations on the east coast. This is my photo from out west as we did not have time to river raft here but again I would recommend it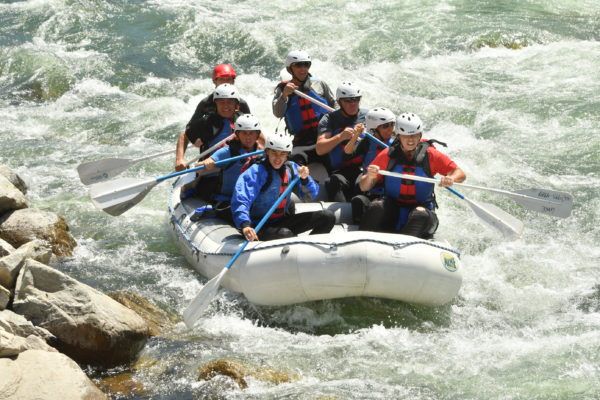 On our next trip we will spend a few days here to go: river rafting, fly fishing, horseback riding, hiking and Zip lining as well as visiting the historic places nearby.  We visited the Ohiopyle State Visitor center below and they were promoting the river sports From there we rode to Confluence and passed many farms with animal husbandry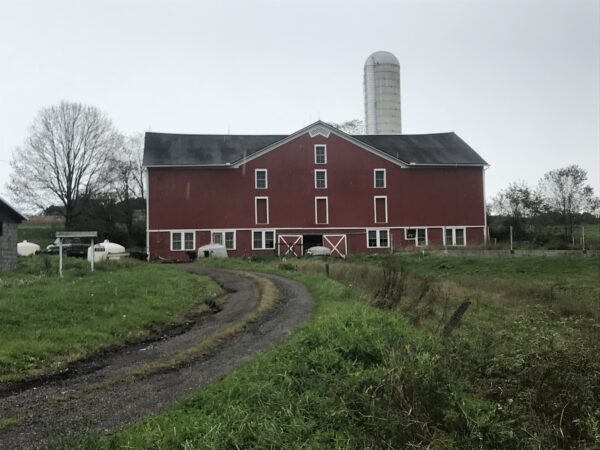 From here we ride to Rockwood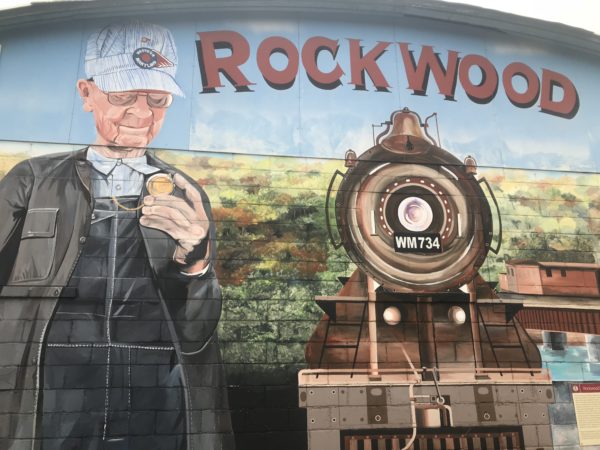 We spent the night in the "Rockwood Trail House B&B.  It is a great B&B and we met a local couple,  it was perfect.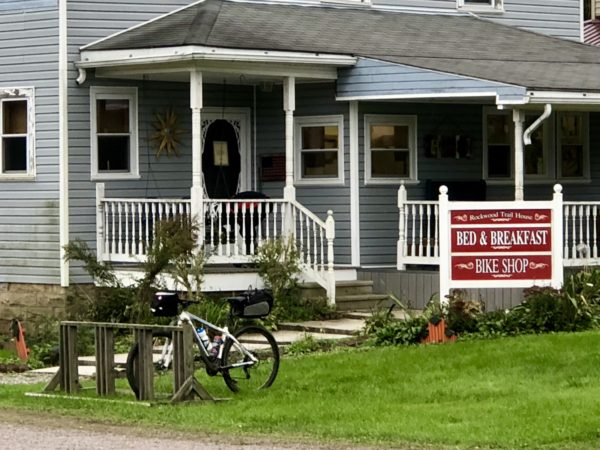 After dropping off our gear we went to explore the town. It is a quaint town and has an opera house.  We wanted to see a show but nothing was playing that night. So we continued to ride around town and  we found a cool place for dinner called the Rock – City Cafe.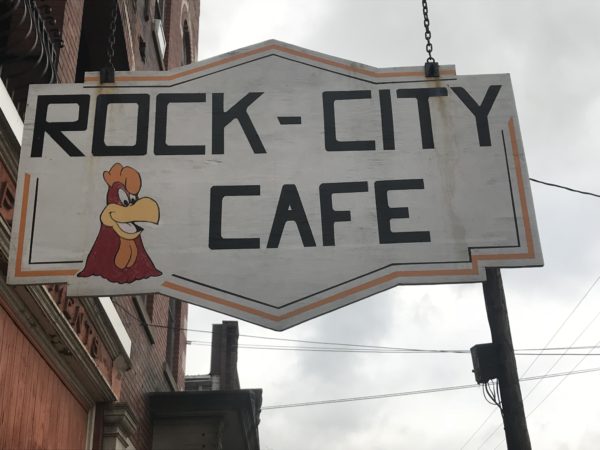 After dinner and way too many beers and wine we rode back in our B&B and fell into deep sleep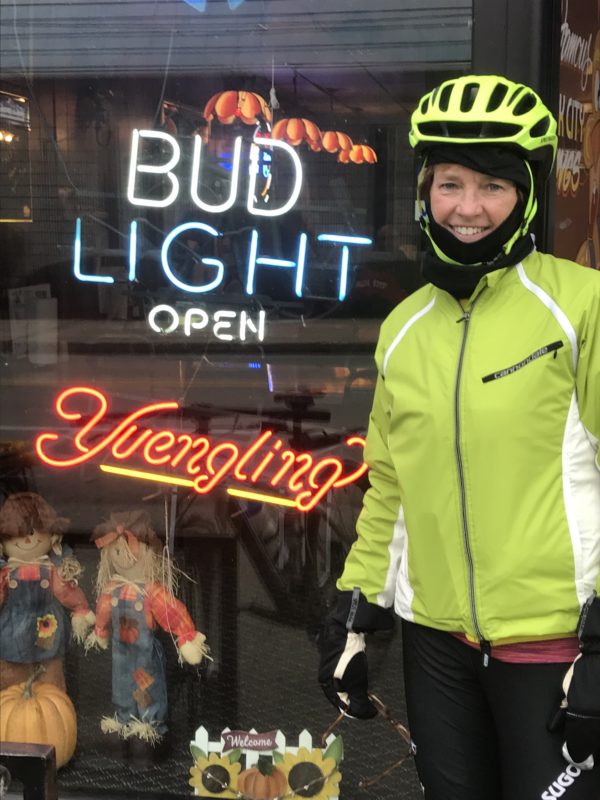 The next day after a nice breakfast and meeting the owner we took off for Cumberland.  Along the way we saw deer and listened to the sounds of silence as the trails were almost empty, it was spiritual. We stopped at Meyersdale to visit the Historical Train Museum. Train Mueseum below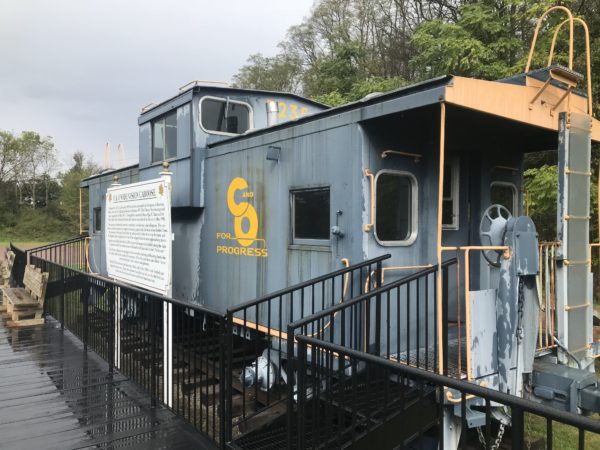 We also rode through the Bollman Truss Bridge one of the last two surviving cast-iron truss bridges in North America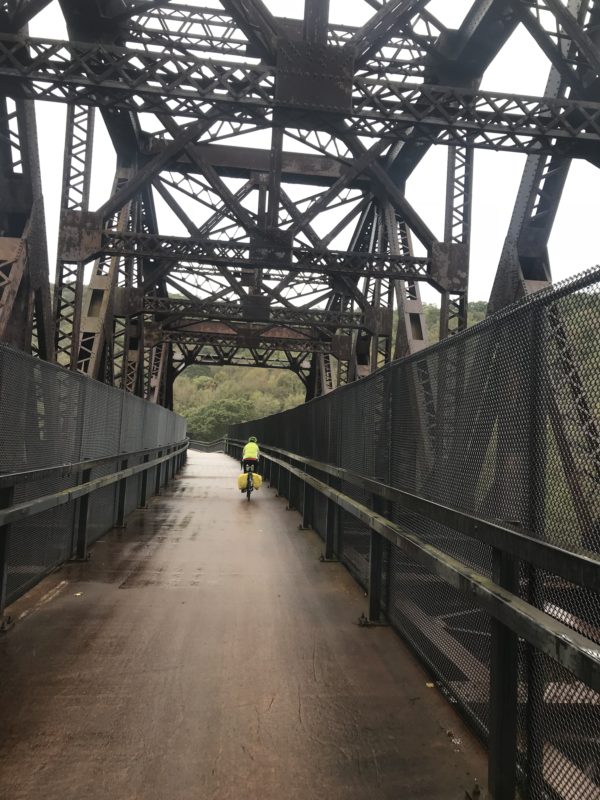 From here we crossed the Eastern Continental Divide at 2,392 feet which happens to be the highest point on the trail as one passes through Big Savage Tunnel with very cool murals and then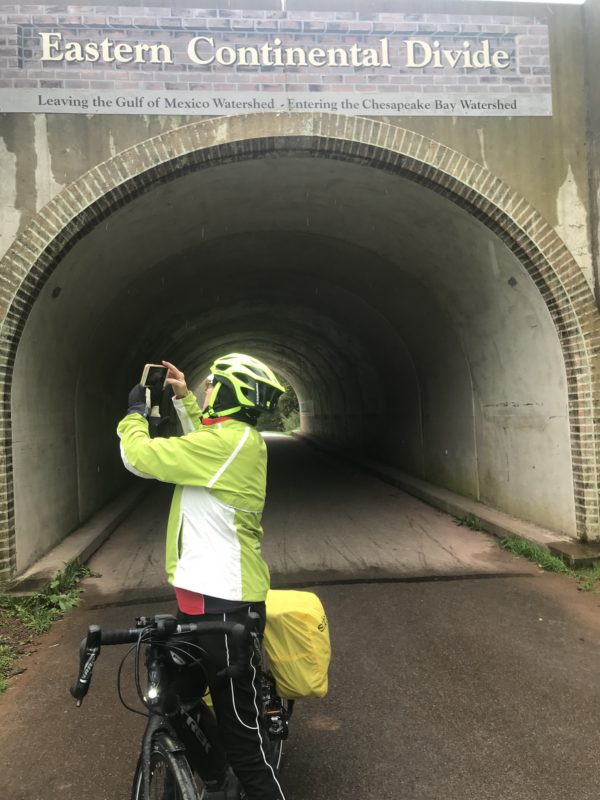 We then rode through Big Savage tunnel that is 3,295 feet long taking one through the Big Savage Mountain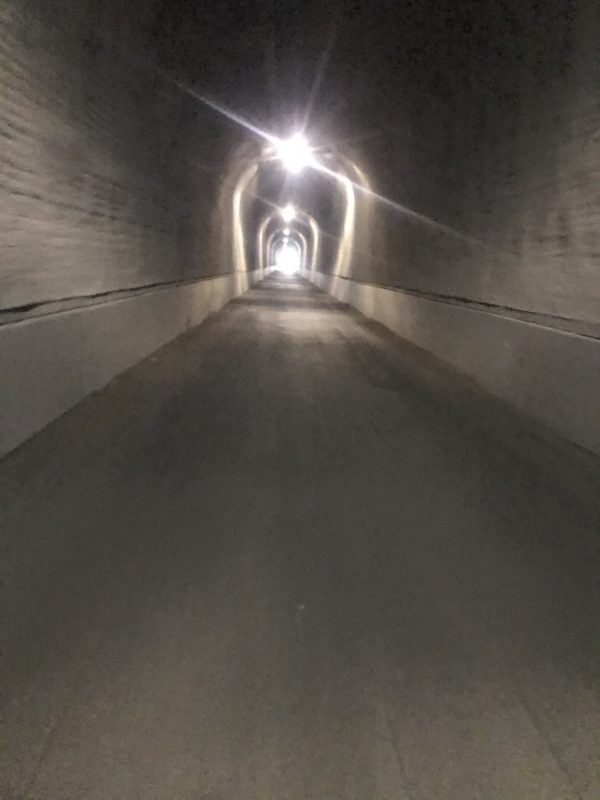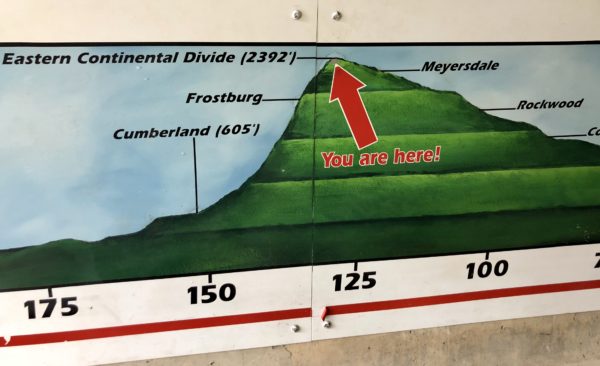 We finally reached and crossed the Mason Dixon Line.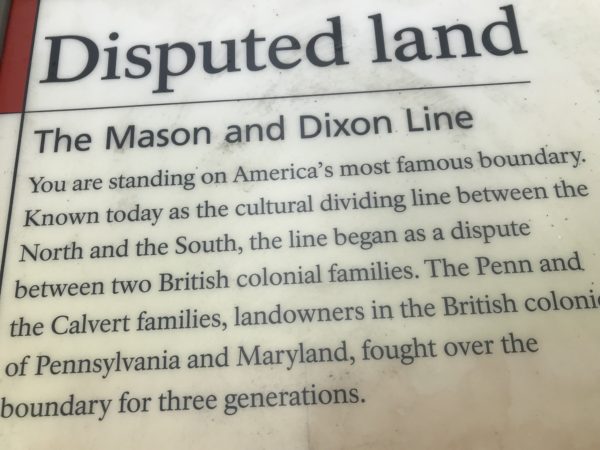 On the bike trip we went through many tunnels and with  at least 3 tunnels were more than 3 football fields and we crossed viaducts as long as 20 football fields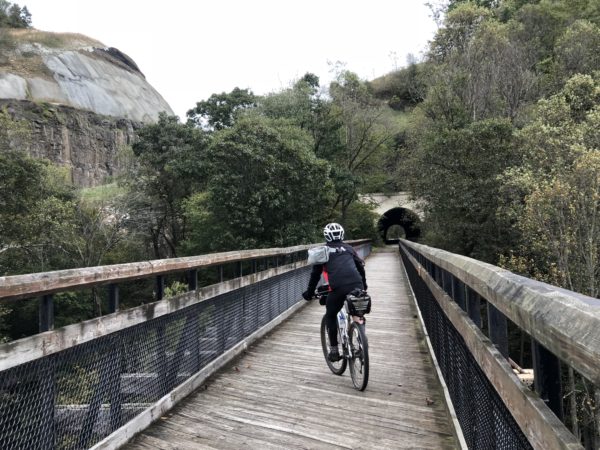 From the Mason Dixon Line we rode to Frostburg and visited the town and saw the Western Maryland Scenic Railroad and it is a working steam railroad operating between Cumberland and Frostburg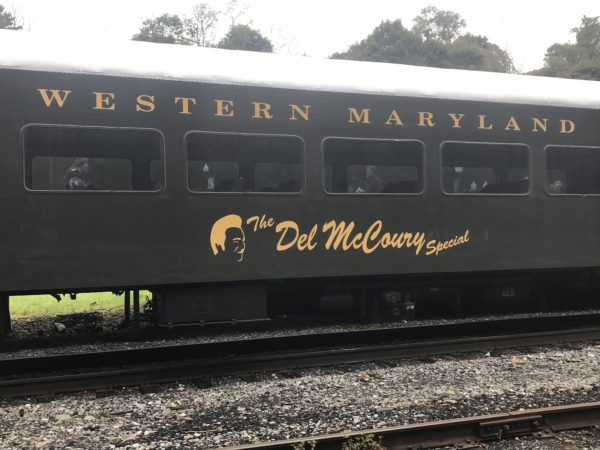 There is also a Carriage Museum as well with interesting art work with surrounding art work.    
Again we toured Frostburg and I would recommend staying here if one has the time at the historic "Gunter Hotel"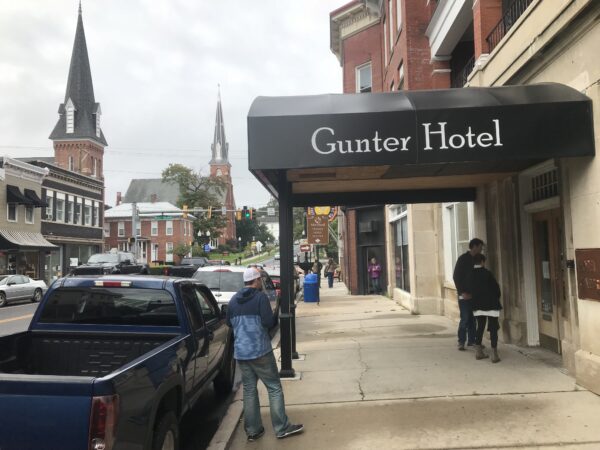 We dined at a great place called the "Clatter Coffee".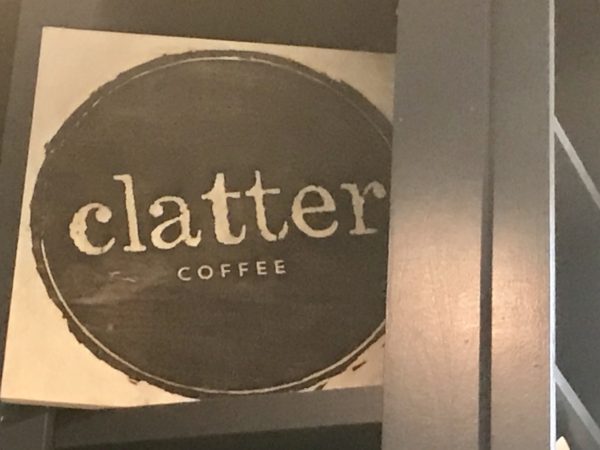 We eventually came into Cumberland and unfortunately did not visit the museum there called the Canal House and this is where the C&O meets the Western Maryland Railway.  After biking around town looking for mile "0" marker we found it and Arden collapsed
 In Cumberland we spent the night in the Fairfield Inn which I recommend and ate dinner at the crabby Pig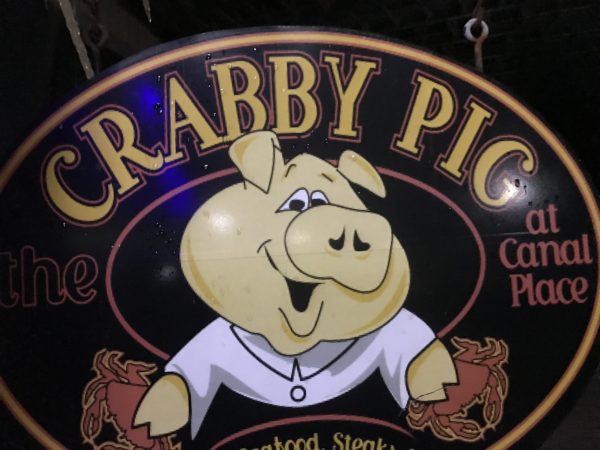 The next morning we toured Cumberland on bikes and visited the museum there before heading out for Hancock Maryland our next stop. The scenery was amazing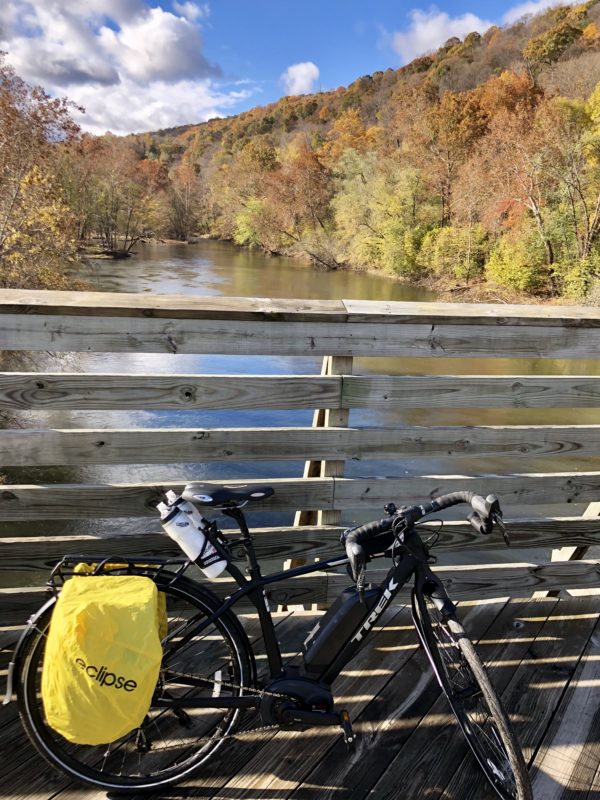 We passed alongside many locks along the way an they were all numbered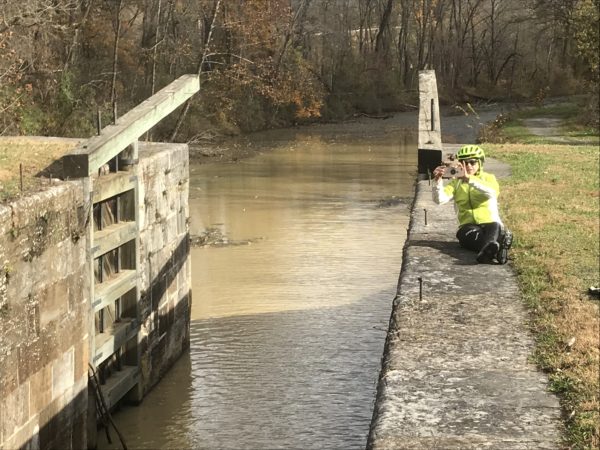 The trails we're great with all the rain but in a few spots we were redirected and other spots were muddy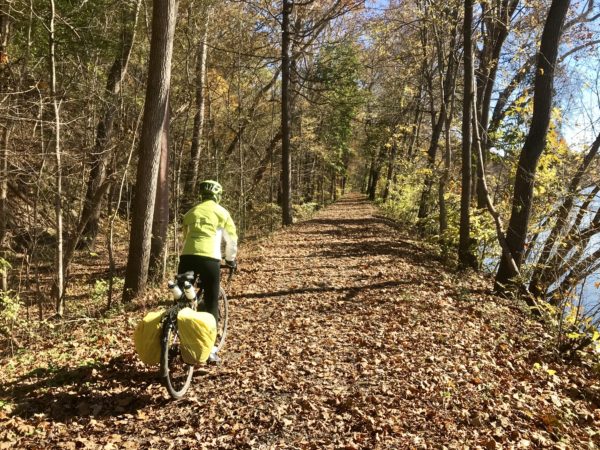 We met this very cool guy (Chris Bailey) that has biked and camped all over the United Staes.  On this trip he left Florida and was on his way to the Maine camping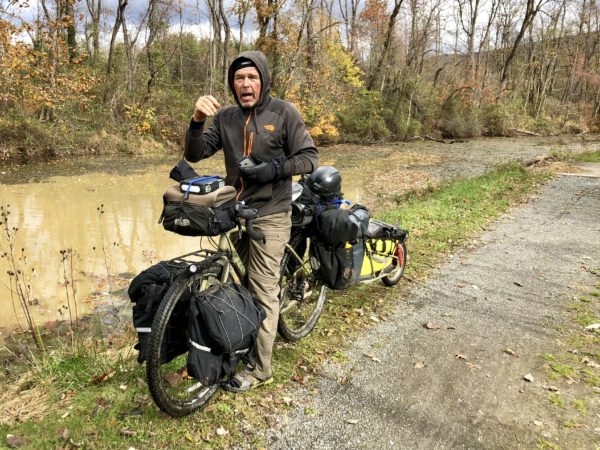 We passed many historical places like Fort Frederick and famous grave yards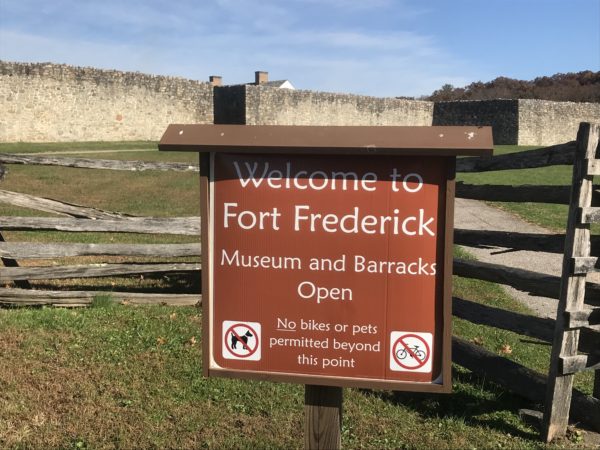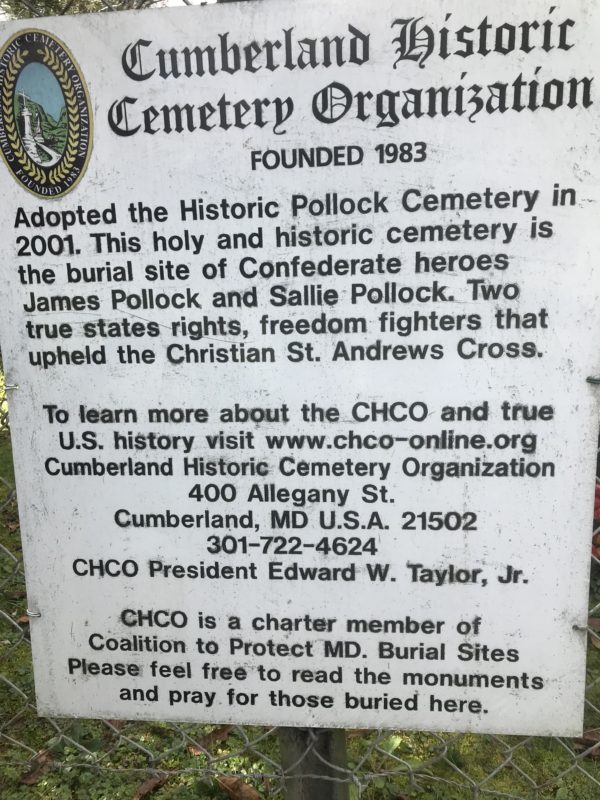 In Old Town I rode across a "toll Bridge" that spawned the Potomac into West Virginia below and we dined at "The School House Kitchen".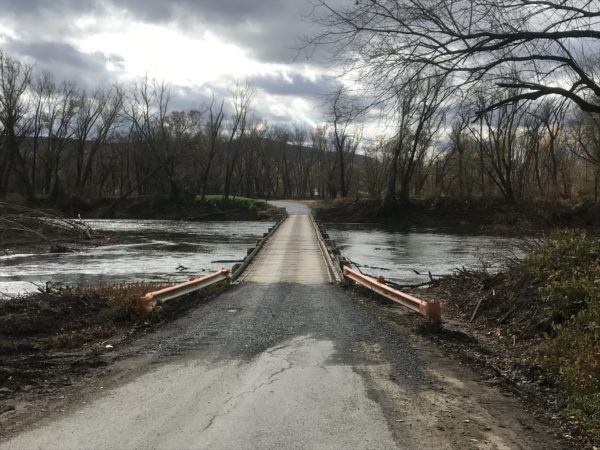 In Hancock after the first days ride we spent the night in a cool bed and breakfast called the 1828 Trail Inn and I highly recommend it and we dined at Buddy Lou's Antiques Eats and Drinks- highly recommend!!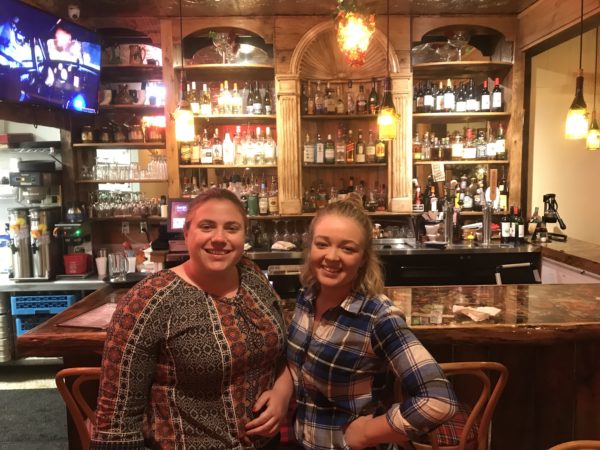 I went to church and met the priest and in the grave site were soldiers from the civil war that drowned in the civl war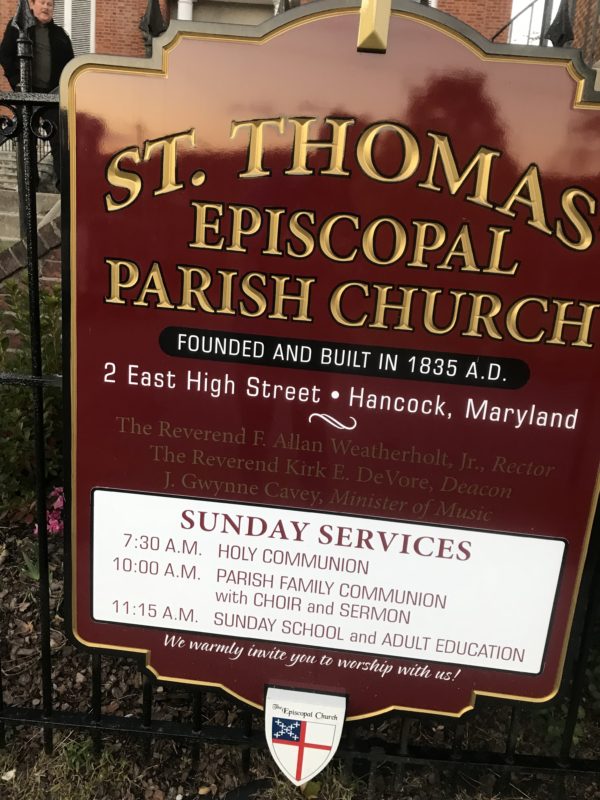 WE also passed many businesses that have gone out of business and my heart and soul go to those people effected by the closing of business.  This area once ruled and it has been in decline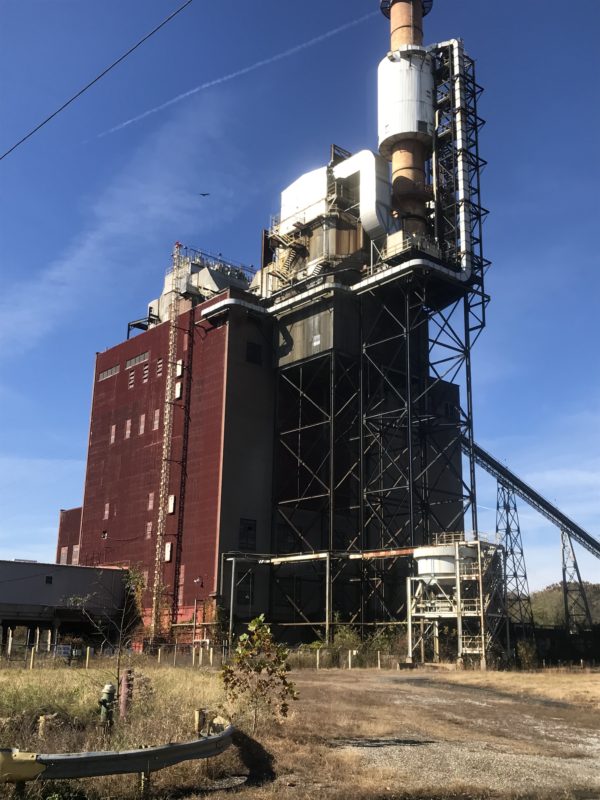 We passed Through more tunnels and one Paw Paw is more than 1/2 mile in length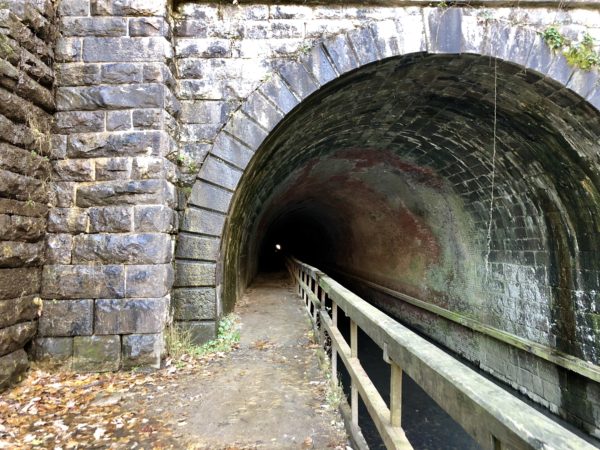 We passed many farms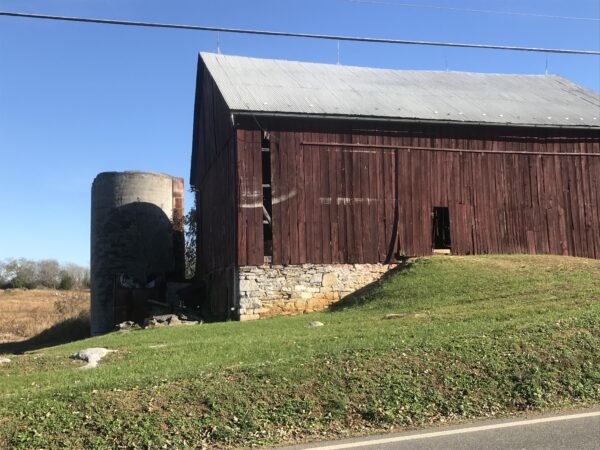 We passed many dams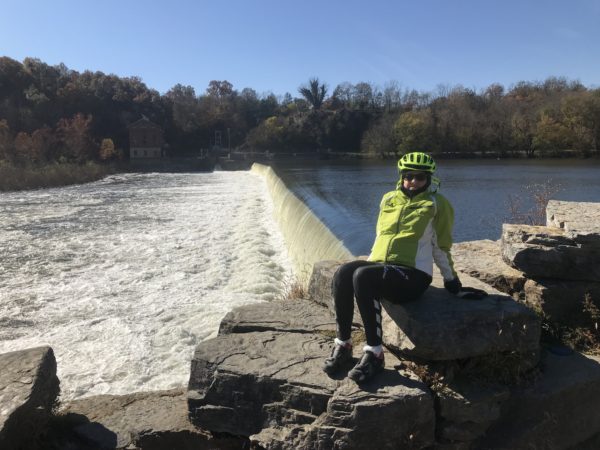 and awesome moving scenery on our way to Harpers Ferry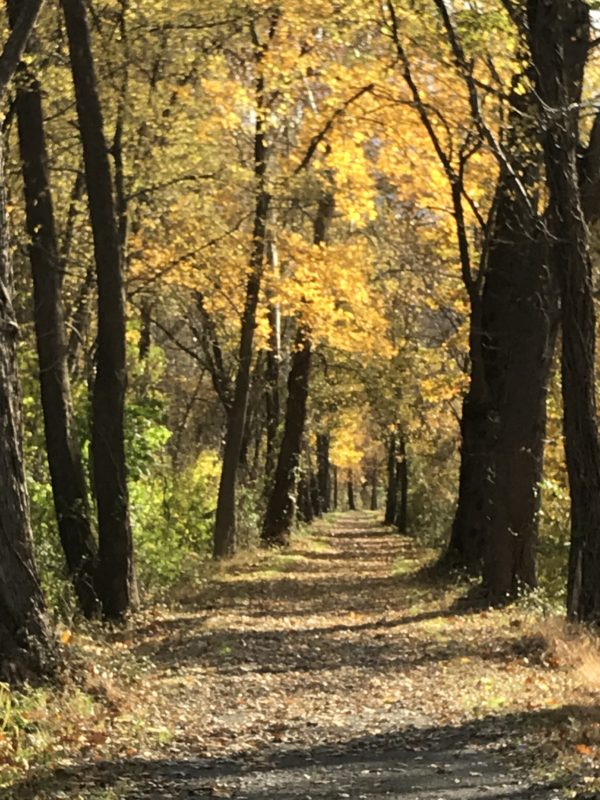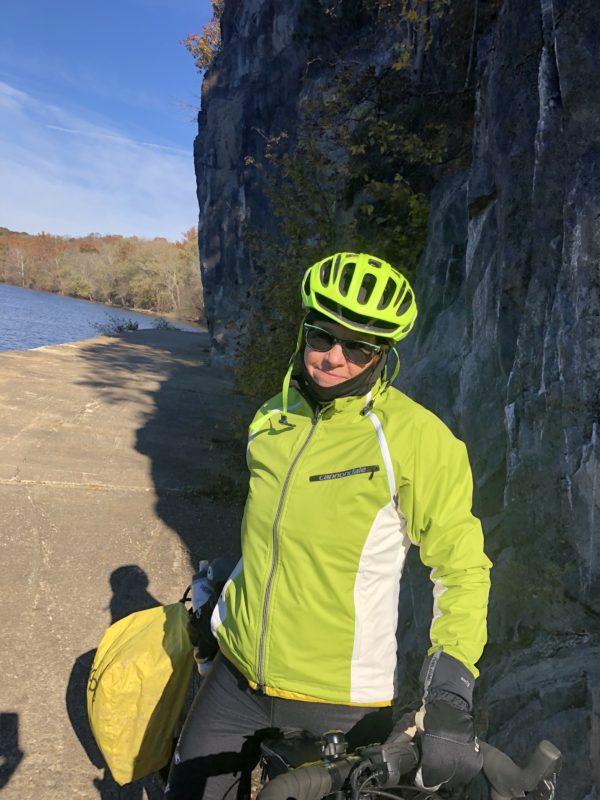 Coming close to  Harpers Ferry below at dusk after 7.5 hours of riding the 70 miles of our last day out!!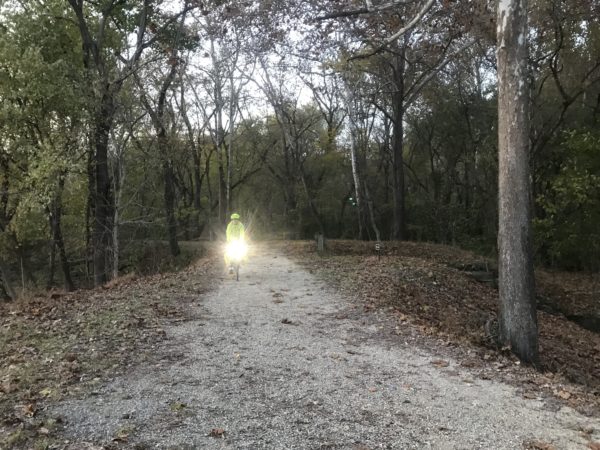 We arrived from Hancock to Harpers Ferry at 5:30 PM after 8.5 hours on the trails and this is where we started from.  Again, a few photos  photos from our start of the latest trip below at Harpers Ferry.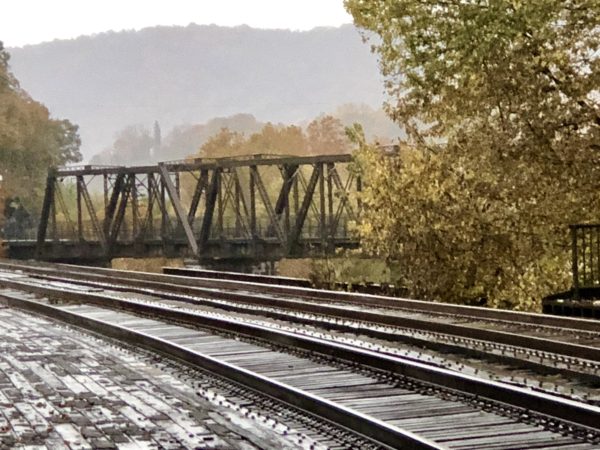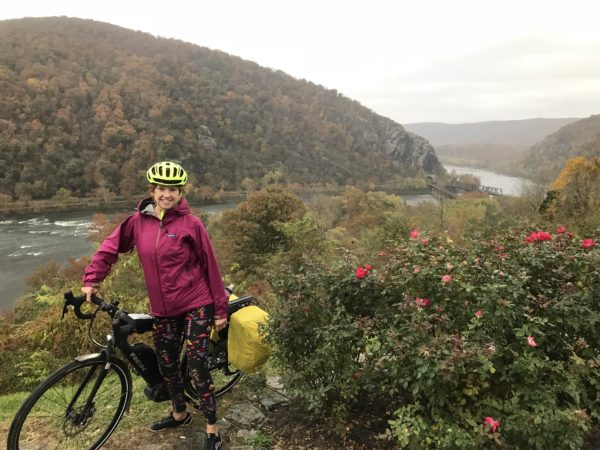 Below, a few shots from along the way below followed by ride and stay recommendations as well as add ons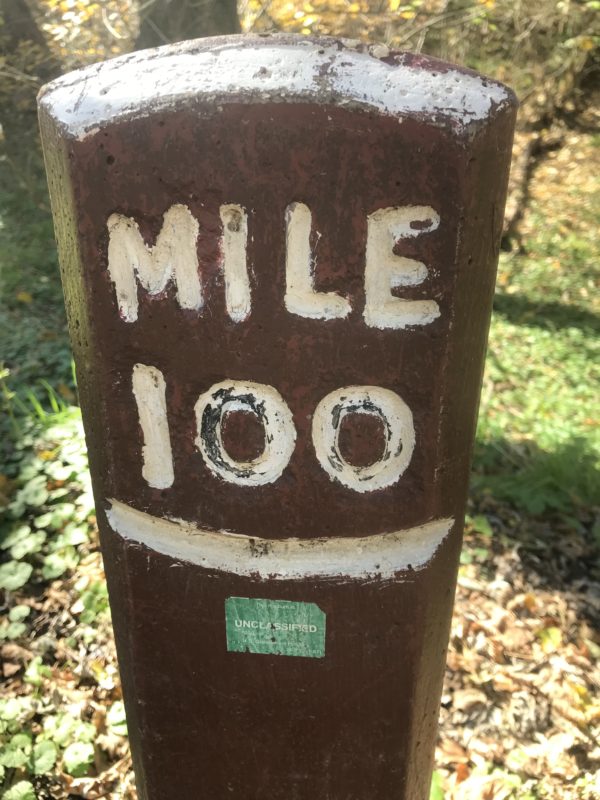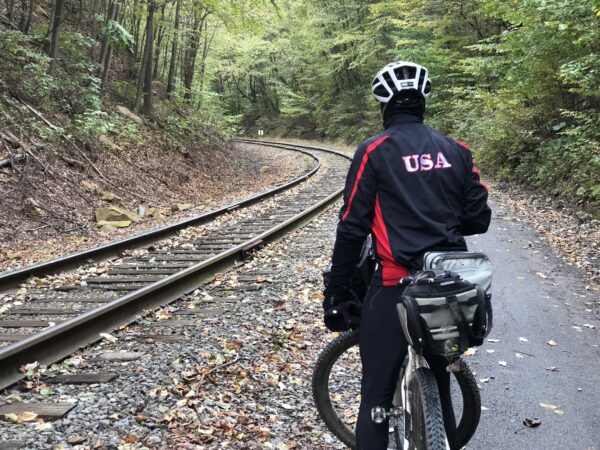 On this trip we drove home from Harpers Ferry,  but we have gone on to Washington in the past. Once you arrive to Washington I would recommend spending the night at the Mandarin Oriental.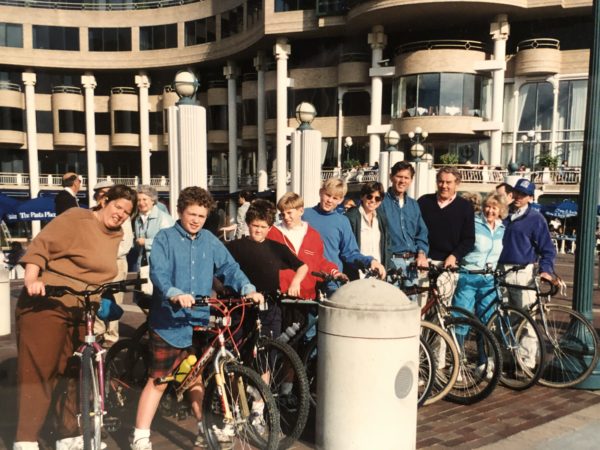 Our family riding in Washington many years ago above 
a few photos our trip below
Here are the towns and places to see along the way that I would recommend and visite
Pittsburg: Courtyard by Marriott
Connellsville: Fox Castle B&B and the town is very interesting.
Ohiopyle: Falling Water and Kentuck Knob, River rafting, fly fishing, zip line,
Confluence  is a small town with a little B&B called River's Edge B &B
Rockwood: Rockwood Trail house Inn, Rock City Cafe
Frostburg: Gunter Hotel, grab a bite at Clatter cafe, visit the many museums 
Cumberland: Fairfield Inn and suites, Dine @ Crabby Pig, bike service @ Cumberland Trail Connection
Oldtown:  dine School House Kitchen
Hancock:  1828 Trail Inn B&B, dine @ Buddy Lou's eat and Drink
Sharpsburg: Dine Captain Benders Tavern
Shepherds Town: Bavarian Inn and dine here and visit Antietam Battle Field 
Harpers Ferry: The Hill Top is defunct but there are many options and the town is great with river rafting 
White Ferry: take the ferry across and then back 
Georgetown:  Stay here in the Ritz-Carlton in Georgetown or go into Washington and stay in the Mandarin Oriental 
Next day I would recommend riding to MT. Vernon on the mount Vernon Trail a few shots of our recent trip there for a party