5Yurt to Yurt:    AKA Y2Y
The hostess with the mostess below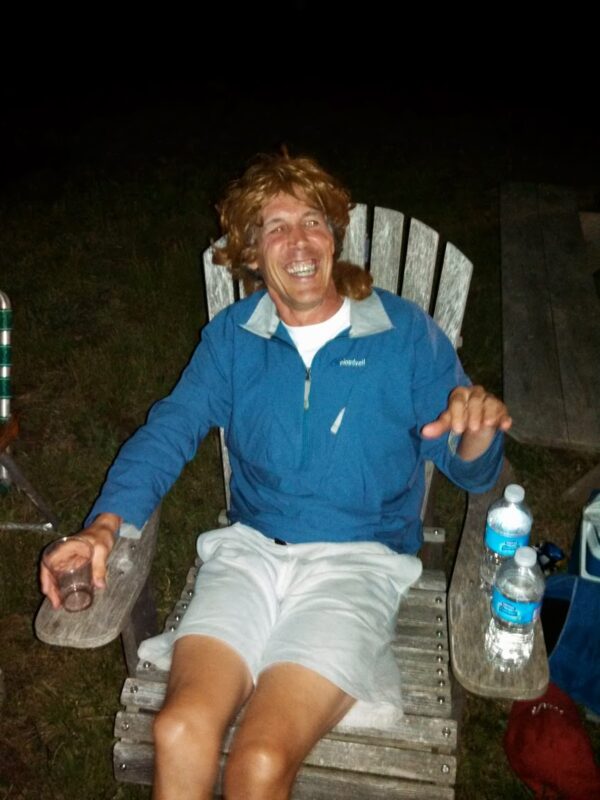 A shot along the sky line drive below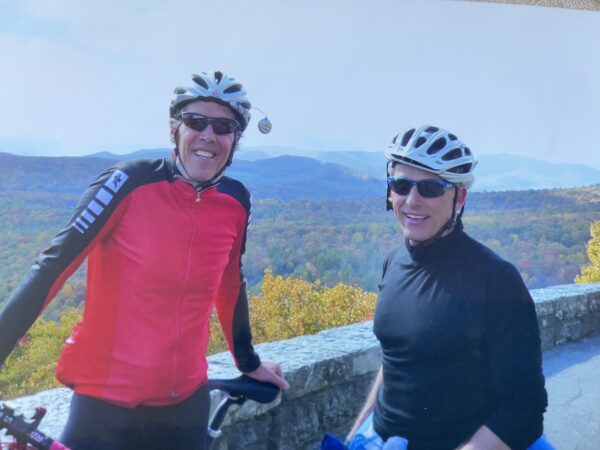 Shot from Dave's barn on his property the 2015 Y2Y group below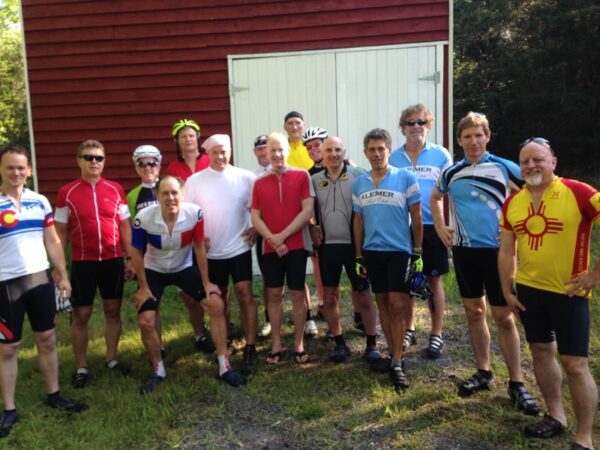 2015 Group Y2Y 6th above and 2013 group below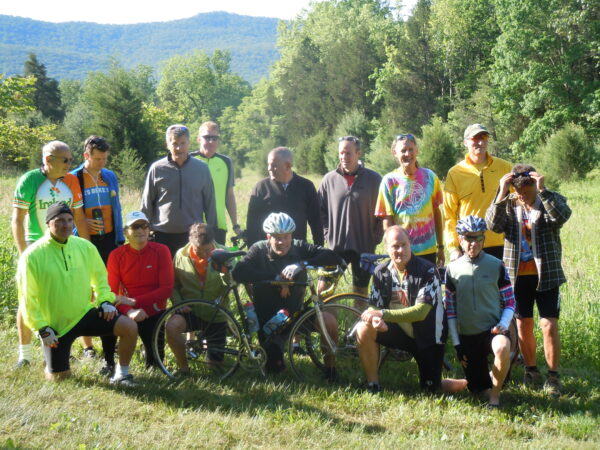 and another group below (please note the hot chicks) yes we rule hot chicks to keep us warm at night!!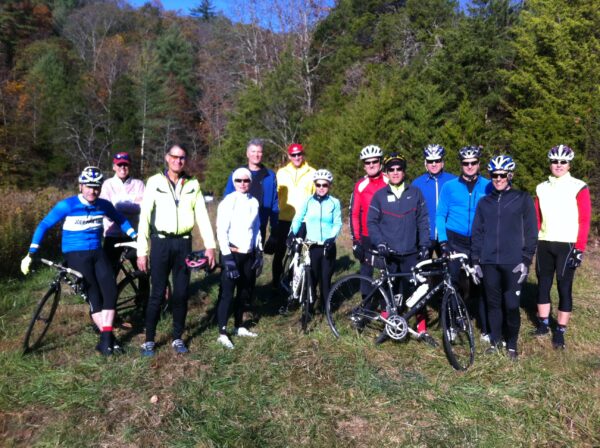 a few more photos of the various groups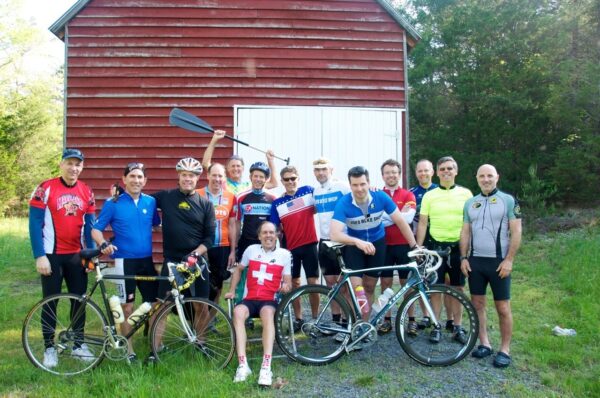 From the mighty castle below we started our might ride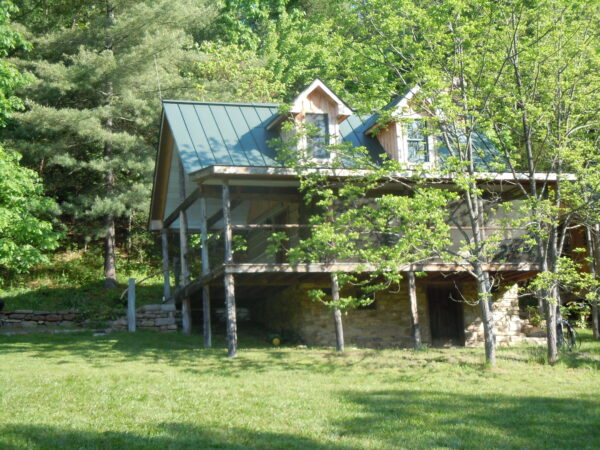 It was a pleasure to be invited to Dave Warfield's home located in the Shenandoah Valley for a bike ride to and on the Sky Line Drive. It was of great magnitude and included the "Dave Warfield" King Of The Mountain Award"
Dave has a beautiful rolling property that holds a stone and wooden beamed cabin and Yurt below.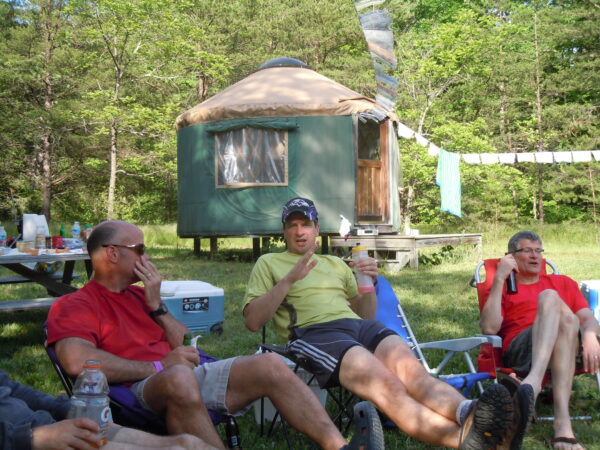 which overlooks a small pond and flowing stream that meanders through strands of Mountain Laurel,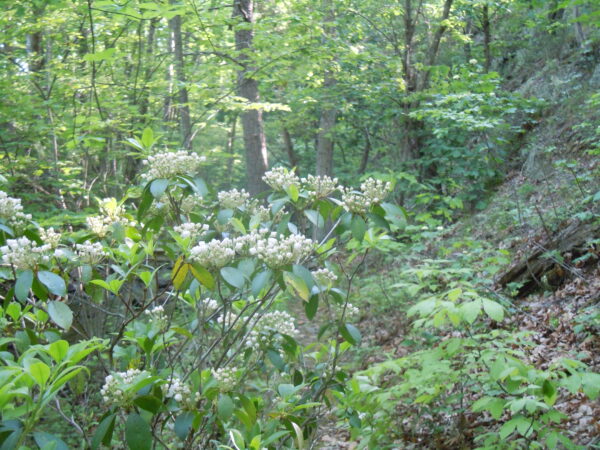 wild rhododendrons and stoic pines and rather large deciduous trees that reach to the sky above.  Tibetan Prayer flags stretch from the yurt to the surrounding trees and  we are at peace in the world here at least until the King of the Hill race.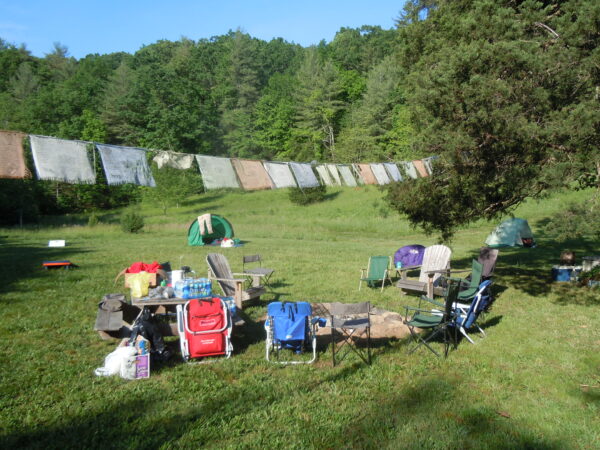 Dude:  Very Cool Tibetan Prayer Flags above: Peace Love and Happiness that is until the hill climb and then I want to crush everyone like bug!!!!
Most meet the night before the ride and have some good food and grog around the campfire and tell of past biking conquests before heading off to bed in tents, the yurt or elegant cabin. The next day most awake and prepare some grub as others arrive for the 90 mile ride before heading out on the valley floor at 9 AM sharp.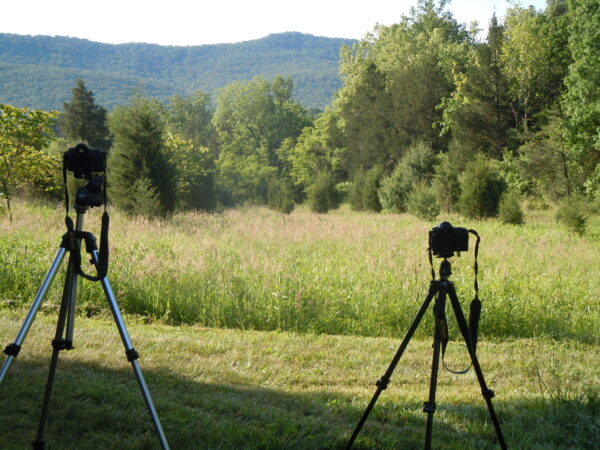 Wow look at this hungover group below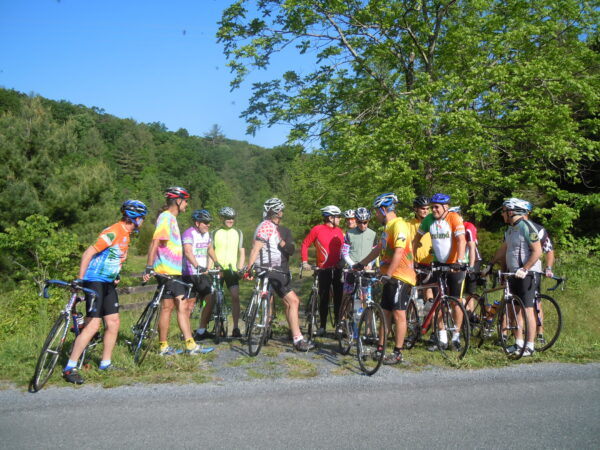 The Group as we are about to depart for our adventure all pumped-up!!!1
The ride is about 90 miles long and has about 15,000 feet of climbing in total.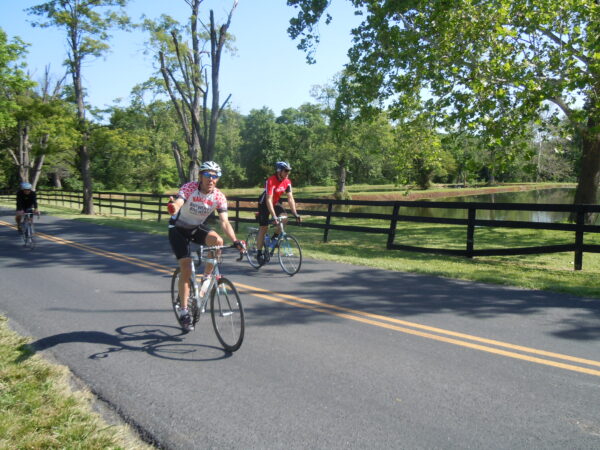 Dave above one of the finest athletes I know.  We start from Dave's property and head out on Fort Valley Road valley road that meanders at times along a trout stream.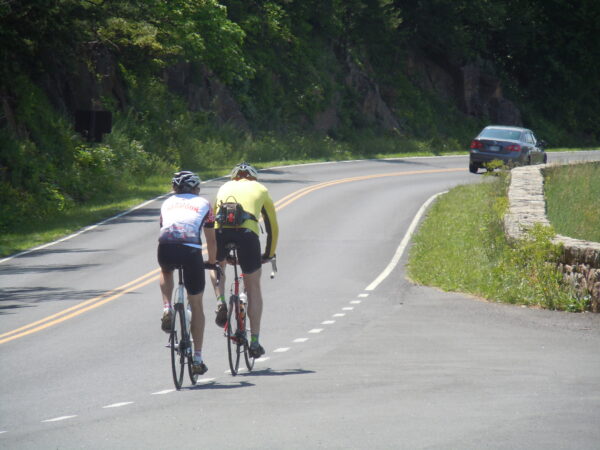 We see few cars in this desolate area of Virginia. Kicking some ass here at a steady 25 miles per hour.
The road meanders along the valley floor and verdant mountains line each side of the valley floor.  Farms dot the landscape.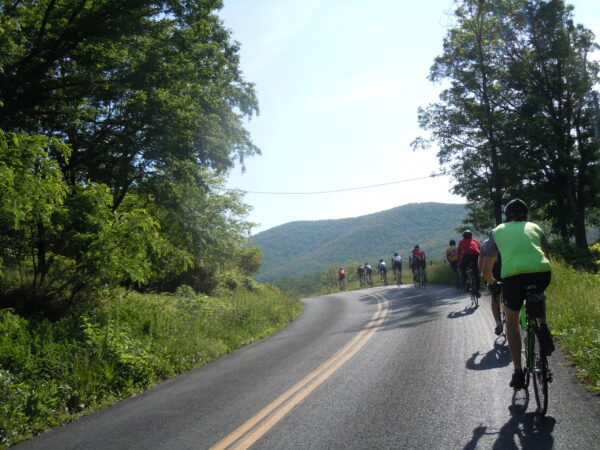 We ride for about 15 miles before coming to the park entrance  very cool shot above on the valley floor.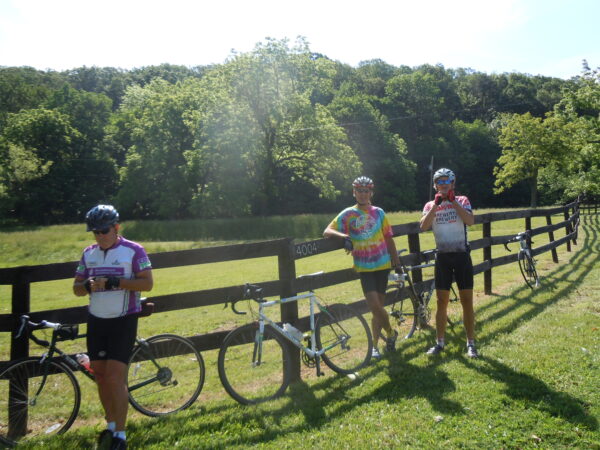 Nice scene above for a shot.  From here we head to Front Royal and enter the Shenandoah forest at the northern entrance of the Sky Line Drive.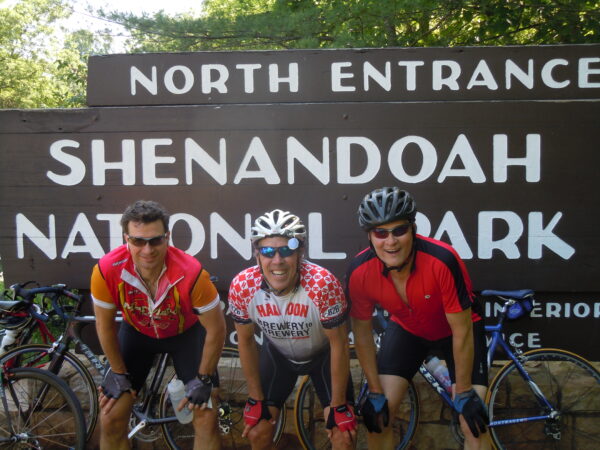 The Skyline Drive runs 105 miles north and south along the crest of the Blue Ridge Mountains in Shenandoah National Park and is the only public road through the park- this is fantastic. You can enter Shenandoah at four places. Shots at the entrance above and below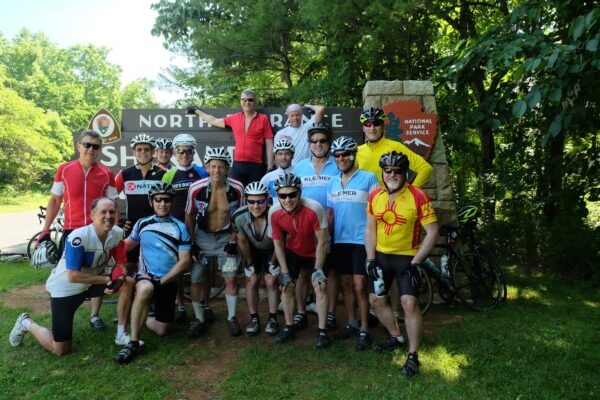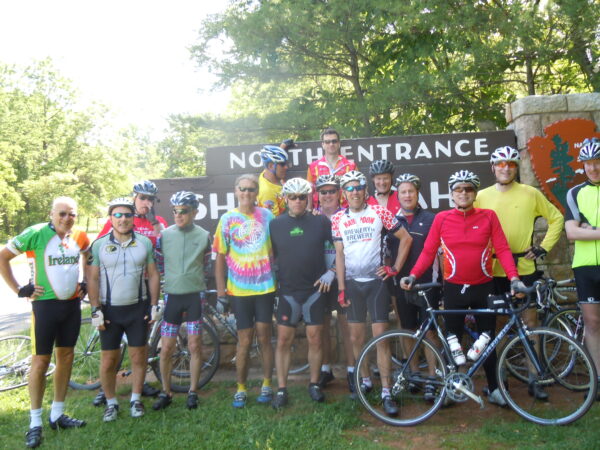 We entered Shenandoah at Front Royal near Rt. 66 and 340. It takes about three hours to travel the entire length of the park on a clear day in a car but on bikes it could take about 8-10 hours to complete the 100 miles depending on ability.
Wow out of the box we are hit with a climb of great magnitude to Dicky Ridge.  It was a four-mile up-hill battle that seemed to go on and on.  I got stuck in the bathroom and had to be rescued that handle came of ff the door.  From here we rode some screaming downhills, (I hit 50 miles per hour) and then some more significant up-hills with vistas that stretched to infinity, all overlooking the George Washington National Forest valley floor. How cool is that!!!!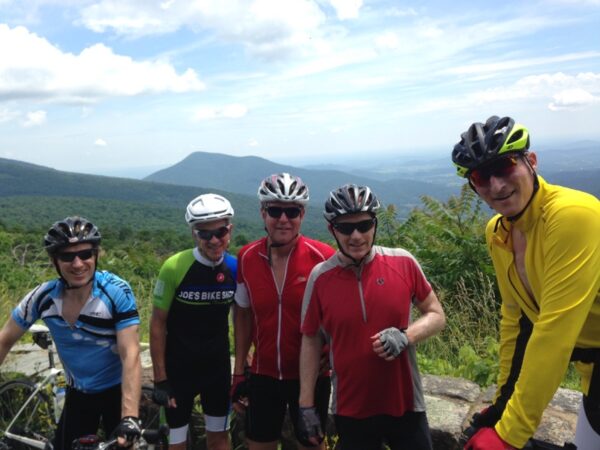 Robby, Mark, Mike, Harry and Paul above bring the violence to the enemies.  The largest developed area, Big Meadows, is near the center of the park, at milepost 51. I have stayed here and it is a great place to ride bikes and hike from.  On the downhills we enjoyed the sustained cool breeze ripping every curve and turn of this beautiful drive.
There are 75 overlooks that offer stunning views of the Shenandoah Valley to the west or the rolling piedmont to the east.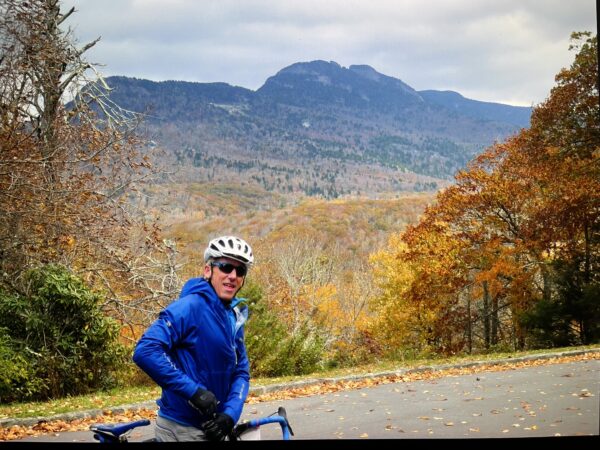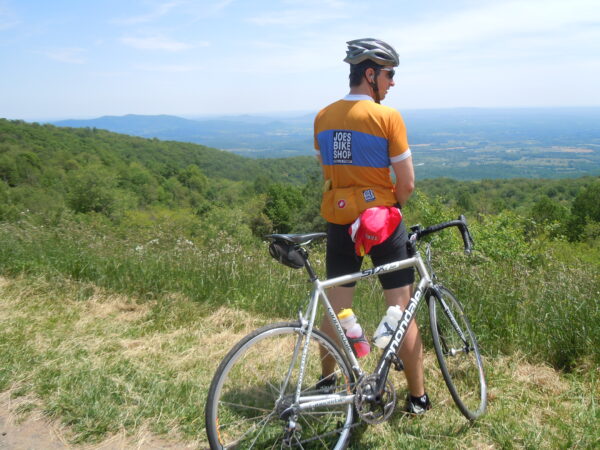 Charlie taking in the view?? or is Charlie watering the plants??? Robby Burch below at highest point on park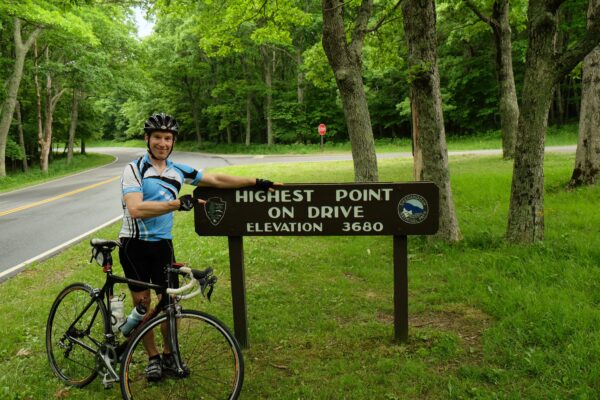 Wildflowers line the roadway all year long. In early spring you can see trillium peeking through the grass. June's display of azaleas is spectacular, and cardinal flower, black-eyed Susan's, and goldenrod keep the color coming right into fall Plus Mt Laurel are everywhere and we saw them in bloom.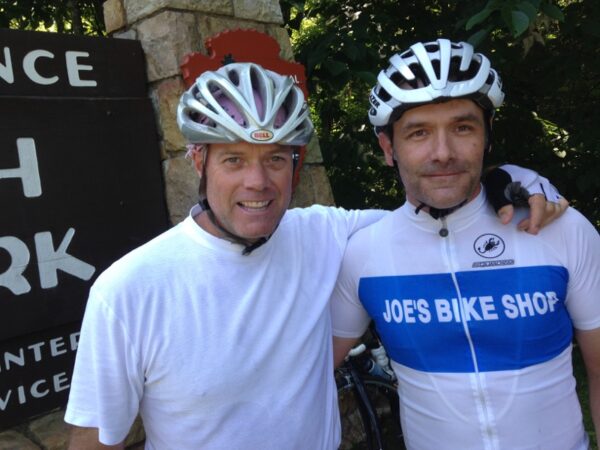 Mossy and Joe above.  Deer, black bear, wild turkey, and a host of other woodland animals call Shenandoah home and regularly cross Skyline Drive in their daily travels. Last year Charlie had to stop biking because of a bear- how cool is that.  Ok so on the our ride. We saw the Green hills roll to infinity.  We stopped at Elk Wallow for some grub, to refuel and get a little break.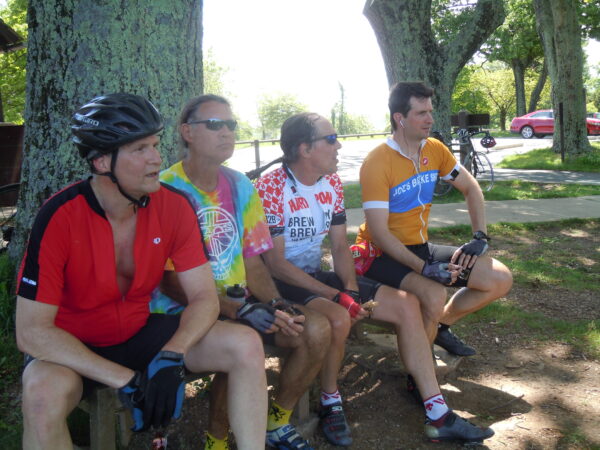 Elk Wallow above taking a break.  This is a very nice, relaxing stop with bathrooms that let me escape.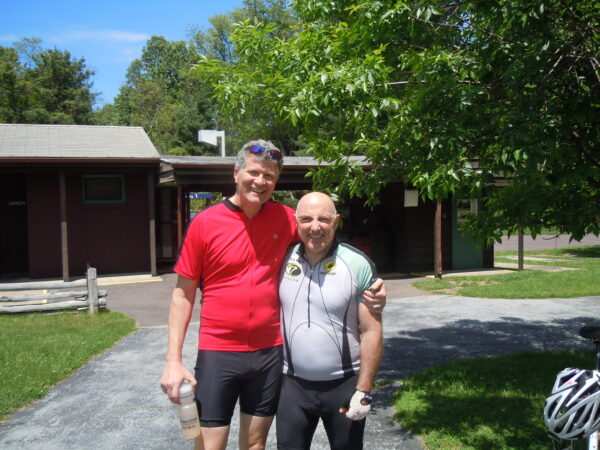 Alan and Jim above.
So after about a half an hour break we started our push to the town of Luray.  Wow we took route 211 down to Luray and boy did we fly easily 50 MPH and screaming turns all at high speed it was so uplifting and I am glad no one had an accident.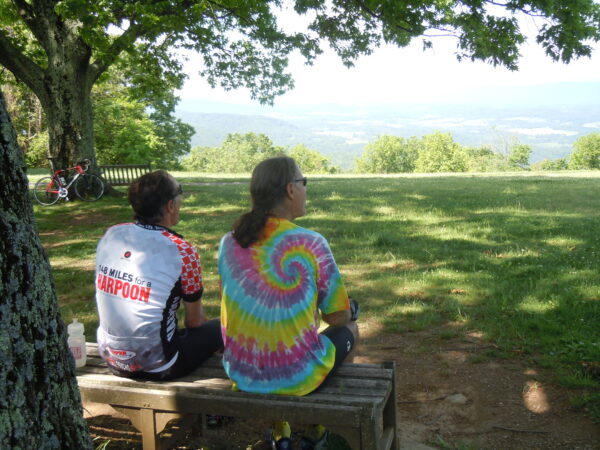 A stop along the way above and below before heading out to Kennedy peak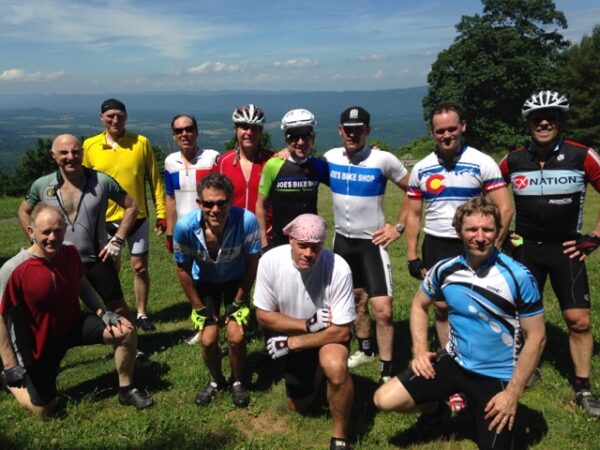 At Luray we regrouped for some water and fuel before heading as well as regrouping for the anticipation of the King of the Hill race, which began in a few miles.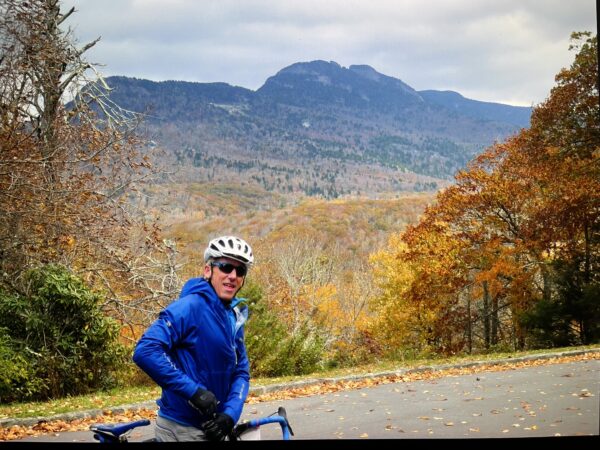 Ok so the "D.W. KING OF THE HILL AWARD started at the base of Kennedy peak.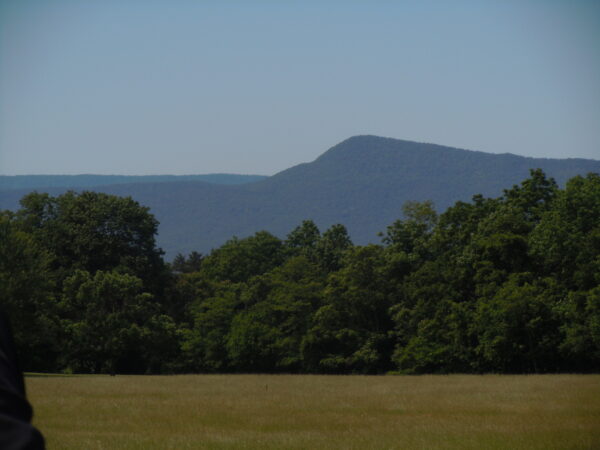 Kennedy Peak Above and from the valley floor it is a gut buster.
Awards for first up Kennedy peak and first in:  This years top performer was Paul and here I am giving him his awards below.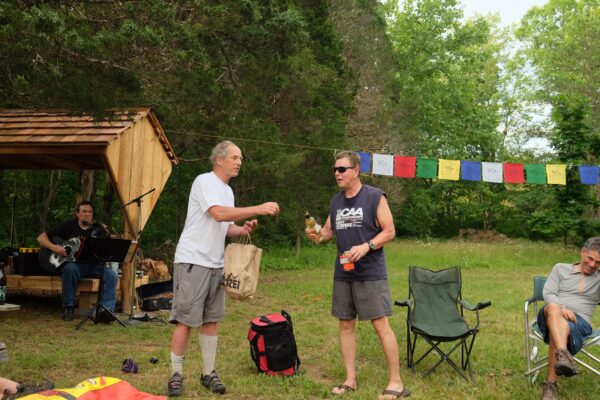 I think the climb is about 4 miles long and the elevation gain is quite significant and rather steep.  So we had a good group of 16 riders and the 40 year olds smoked the group of we older dudes.  It was a close race with Jim, Charlie and John battling it out.  There were attacks and counter attacks and at times I thought John would take it,then I thought Jim would take it but in the end for the second year rolling Charlie took the gold home. 1st place goes to Charlie, 2nd  place to John, 3rd to Jim, Dave took first in the 60's and Ed in the 70's Wow I hope I can ride like Ed when I am 60 forget even 70. Congratulations to you all. After the difficult race we continued our charge homeward and after reaching camp back at Dave's magnificent property, we cleaned up and the awards were given and Champaign, Jamison, wine and beer were flowing.  Mike and his friend were playing music for us,  as we drank way to much below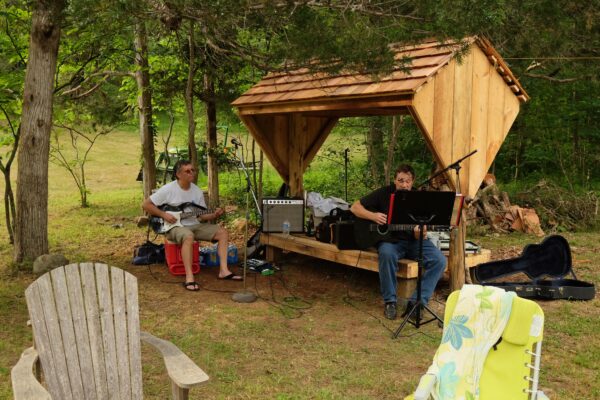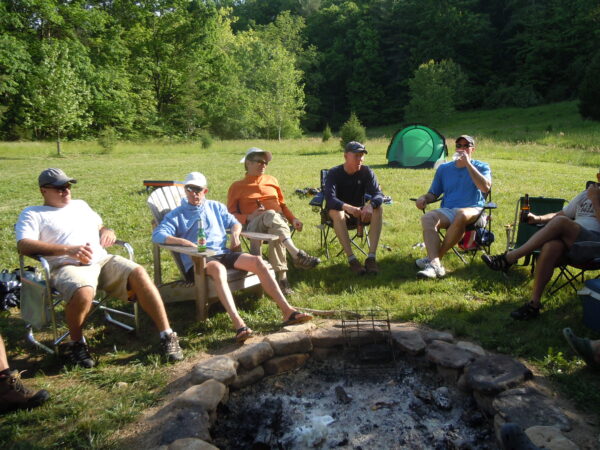 I hosted some smoked trout, fine European Sausages and aged cheeses while another good friend Ken  (everyone one here is a good friend) brought Tenderloin and other delectable.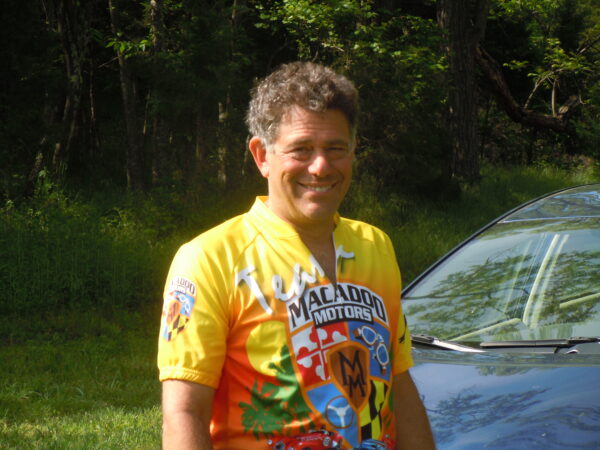 Ken above.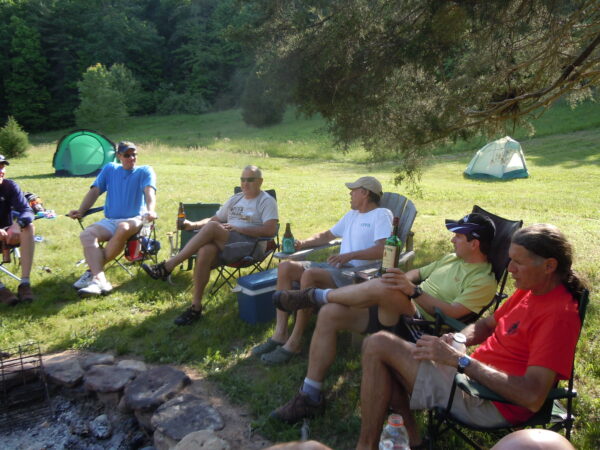 Group sucking down Jamison.
We all took a dip in the pond with its renewable feelings and before long after much consumption of celebratory spirits and all of its good will we settled in for a good nights sleep.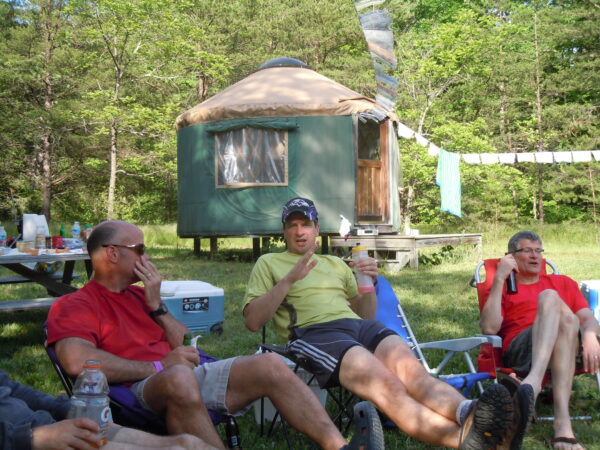 Thank you Dave again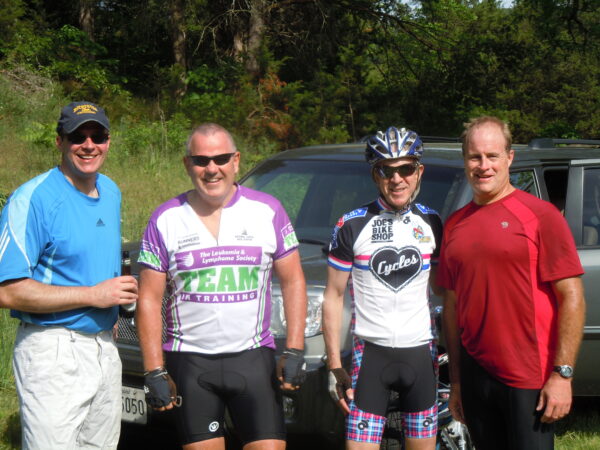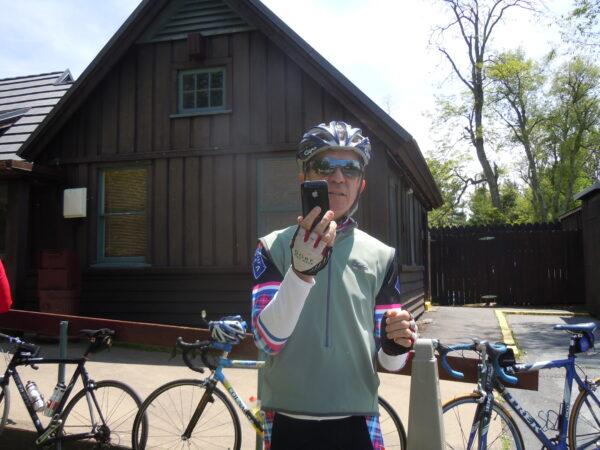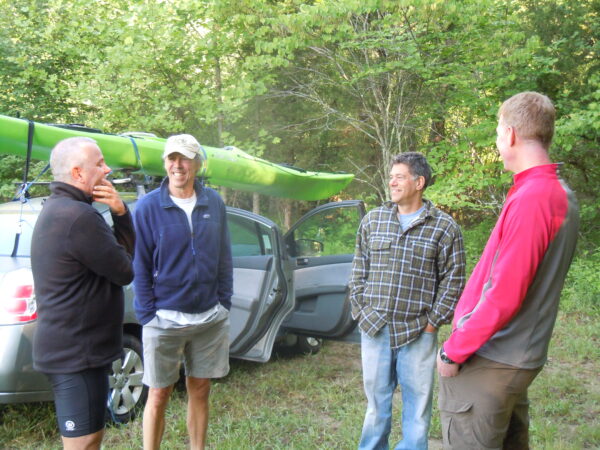 Heading home above. Sad, Sad and Tears but look forward to another day of riding.
WHAT THIS MEANS TO US GUYS:
This is all about men doing cool stuff with men. It is about a free pass from the kids and wives, camaraderie, fellowship, good food and grog, and some good competitive fun. Being young again and living the dream- thank you Dave
We all saw these animals on the SKyline drive at one time or another. I love snakes and saved this snake!!!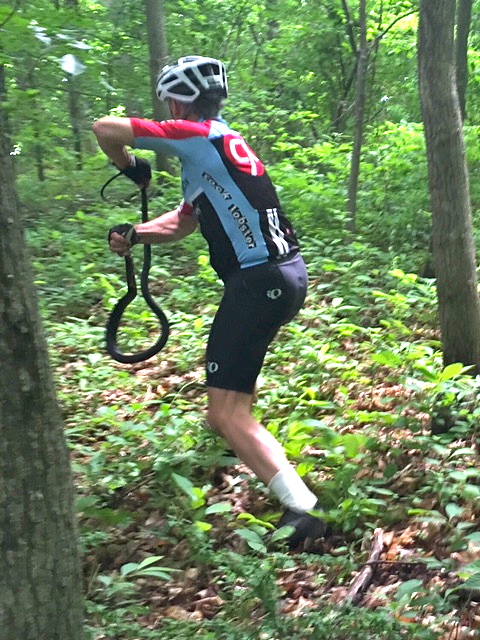 I love snakes, had them as pets, I save their lives, hold them in my mouth for entertainment and they are awesome.  Never kill a snake,  call me and I will save them even poisonous ones – see below!!