I would recommend Yellow Dog as your service for fly hishing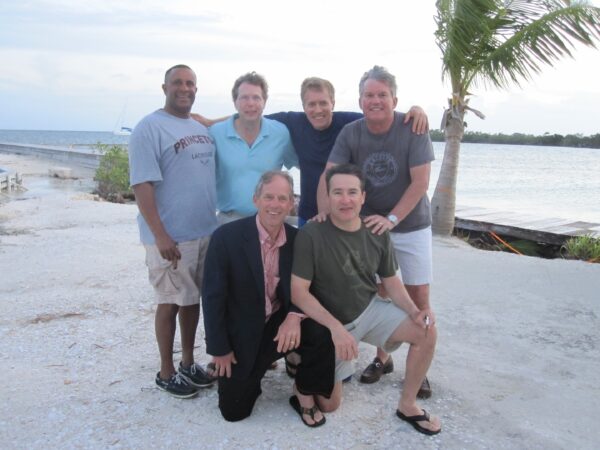 Bob (standing right) was not on this trip and unfortunately I do not have a shot of Tony so this is the most inclusive shot I had of us all. They are all awesome.  So Ron, Keith, Ameil, Stan, Tony and I traveled to Andros Island in the Bahamas for some fly fishing and snorkeling as well.  I dove here on a sailing trip years before, here is the story.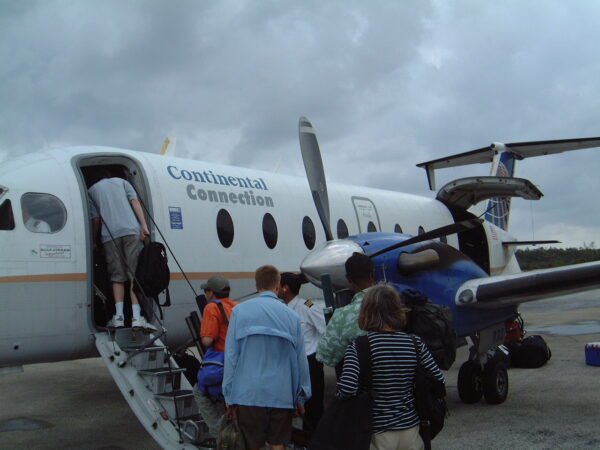 The plane that took us to and brought us home from Andros. Boarding above  for a short flight to ANDROS from Florida.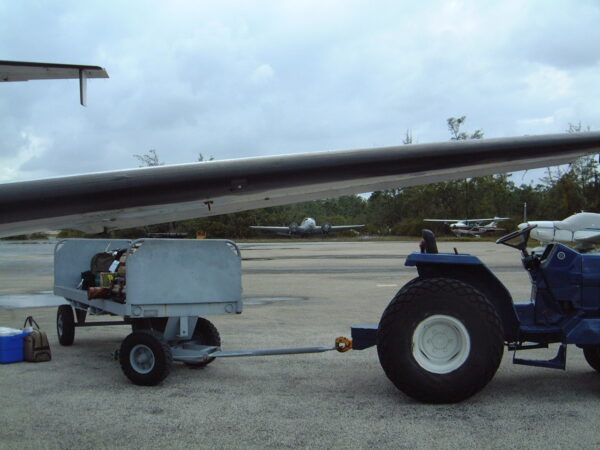 Planes above in background I think were busted for "off – Loading" if you know what I mean!!!  Landing below in the quaint town for a ride to BIG CHARLIES who was our host and one of the most respected guides in the Bahamas.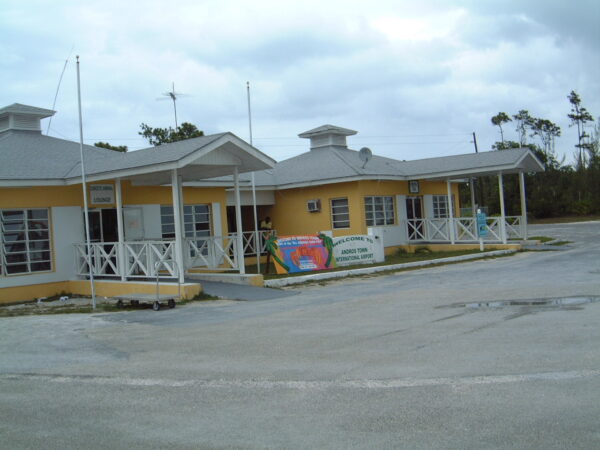 The Commonwealth of the Bahamas is a country consisting of more than 3,000. We traveled to an "out" island – Andros for fly-fishing.
At 2,300 square miles, Andros is the largest island of The Bahamas and the fifth-largest island in the Caribbean. One of the least explored islands of The Bahamas, it is about the beautiful beaches, warm crystal-clear water, unspoiled nature with real encounters with wildlife. It's about amazing sunsets and provides an opportunity to disengage from the daily slog and then to reconnect with what's important the natural environment.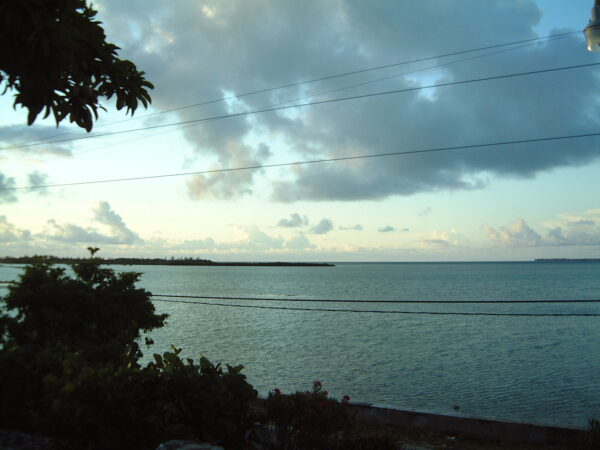 Sunset from our bungalow- wow amazing!!!
Andros—the largest yet most sparsely developed of all The Bahamas—is the king when it comes to superlative natural experiences. It's a great place for a laid-back beach getaway, kayakers, bird watchers, hikers, snorkelers, divers and fishermen.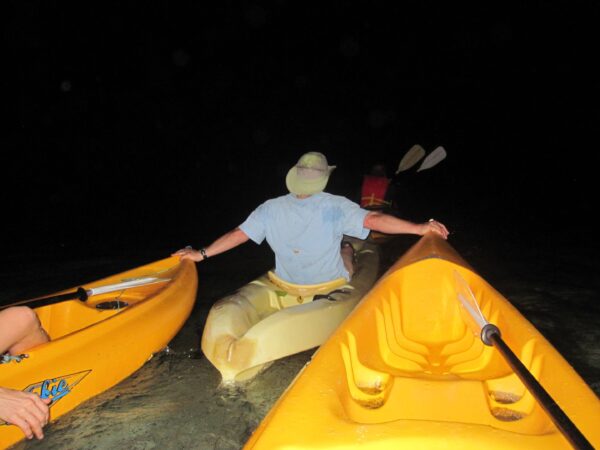 After a few way to many cocktails,  going out at night to slay the dragons- Yea!!!
Andros' diverse topography is just as grand as its size, and it is truly The Bahamas' natural wonder. Several species of flora and fauna can only be found here. Over forty kinds of wild orchids, rare, endemic birds, wild boar, four-foot-long iguanas and millions of land crabs all make their homes among the miles of deserted beaches, freshwater lakes, thick brush, lush pine forests and inland waterways that make up this Atlantic oasis.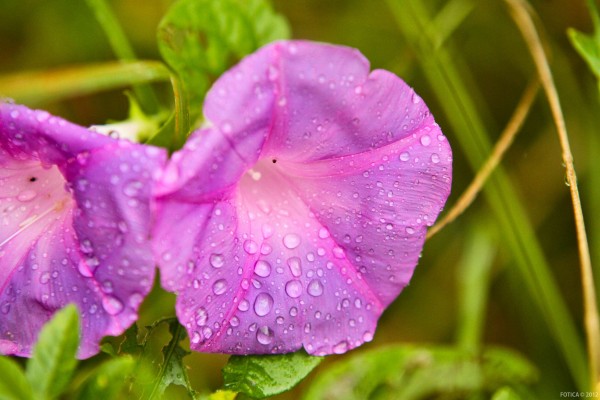 Andros has the third-largest barrier reef in the world which is hosts a mile-deep abyss—walled with coral and filled with whales, dolphin, marlin and all the wondrous reef animals—it is called the Tongue of the Ocean and is positioned along Andros' east coast. Underwater caves riddle the island.
For us it was the ideal vacation destination for fly-fishing while enjoying the natural habitat. Although we did not go fishing off shore for the huge snapper along the deep reef or mahi-mahi, tuna, Wahoo and marlin out in the open blue ocean we had a great time fly fishing the flats for bones because some of the best bonefish habitat in the world are located here.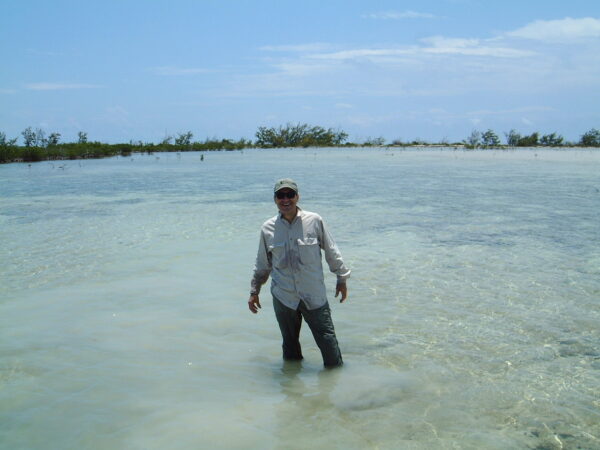 Ron, wading the Flats above.  One thing for certain his slaviginus mategomber  does not compare to mine!!!!
Whether you're a first-time saltwater flats fisherman or a seasoned angler looking for a trophy bonefish, Andros Island should strongly be considered. For first-time saltwater fishermen or intermediate anglers looking to improve, Andros offers huge numbers of bonefish that will readily take a fly.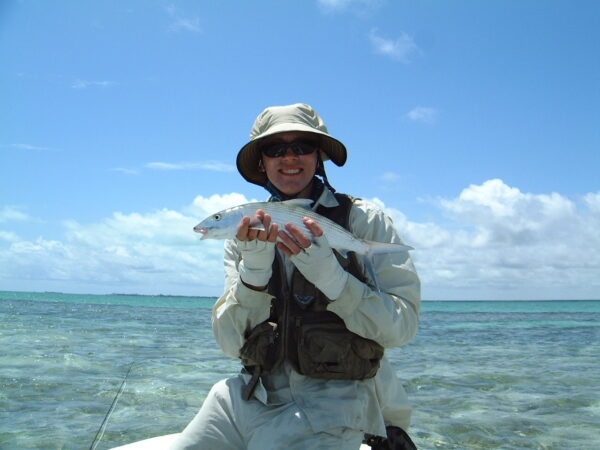 Stan above kicking ass and taking names and no prisoners
Anglers new to fishing for bones can be taken to areas of the island where they can tune their skills on large numbers of small to medium-sized fish- That be Me (BT) below.  I cought some God forsaken hammerhead shark and then some denison of the deep.  As I was pulling the denison of the deep to shore ( I was 50 yards out in the ocean) a shark took it like "candy from a baby" and then started after me.  I had to go to shore in "quick Order".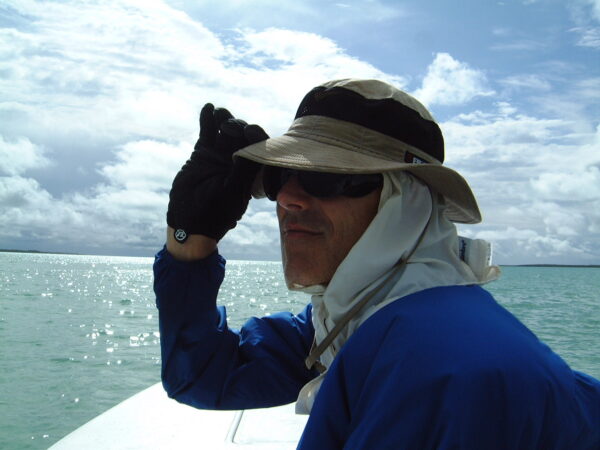 Me aboevv catching hammerheads.
Andros may also be the best island in the Bahamas – if not the best in the world – for those seeking BIG bonefish!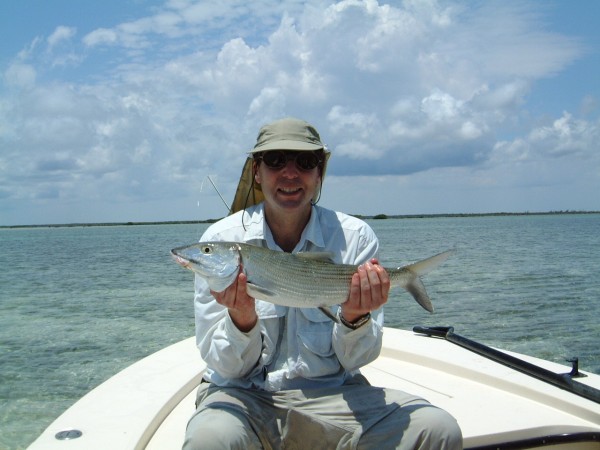 Keith above taking down the big ones.   If you are looking for big fish, then Andros is your place and Charlie's Lodge is your spot.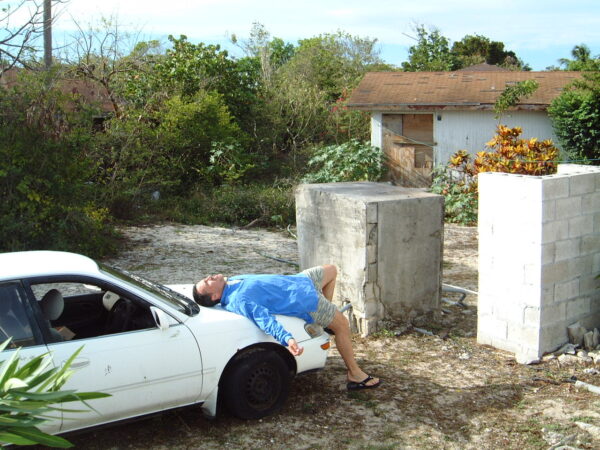 Arriving at Big Charlie's above Ron was smoked.  The bungalows and main dwelling below.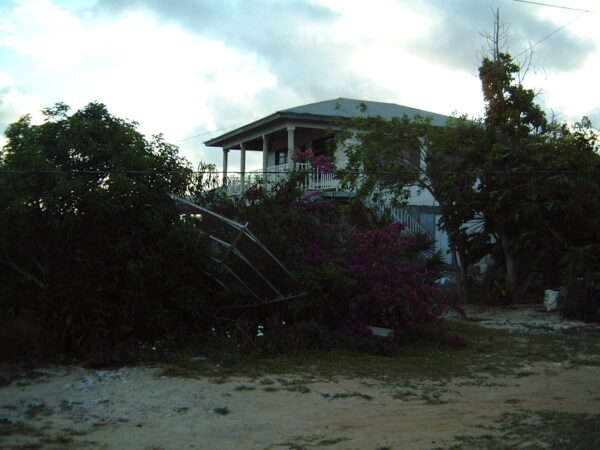 In the evening, Big Charlie's offered great Bahamian dishes as well as a variety of dishes from around the world. One of their specialties comes from the Mediterranean, authentic Morocco cuisine prepared by, Fatiha Neymour. For groups of guests, it is a tradition to have a goodbye banquet and party on the last night. You can expect fabulous food, fun, and occasionally some late-night dancing and drinking wow we did. The lodge maintains a well stocked bar in the dining room- this is for certain –FLY FUSHERMEN DON'T DRINK the GULP.  They have a great selection of liquor, wines, mixers and cold beer.
The rooms were quaint and we had warm showers and it was very quiet, peaceful and tranquil below.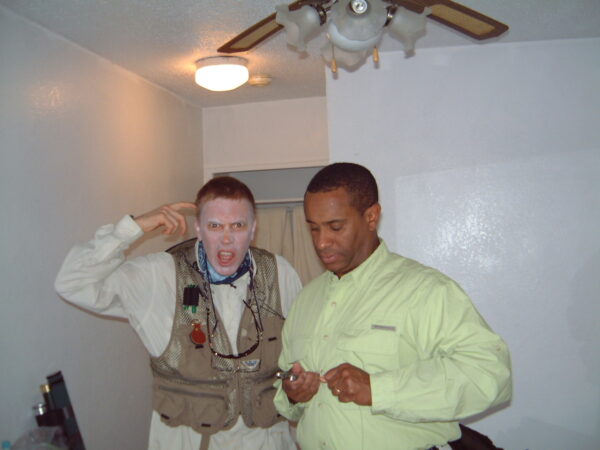 However, before there were VAMPIRES there was STAN above.  Dude he is one sick vampire and he was Ameil's roommate.  I was scared of them both – they killed alot of fish probably because they were connected to the other world!!
Andros Island's Charlie Neymour is one of the finest, most in-demand guides in all of the Bahamas.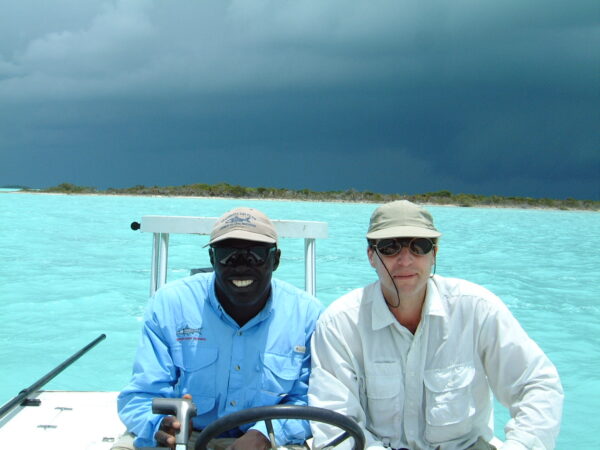 Above, Keith and the preacher, police chief, local guide and most of all our friend- he delivered many things in addition to fish!!  I can tell you when you are fishing the waters of Andros, Charlie and his handpicked team of guides are the guys you want to be fishing with! Whether fishing the nearby waters of Andros' North Bight or the remote West Side area where bonefish reach world-class size, this is a guide team that can deliver.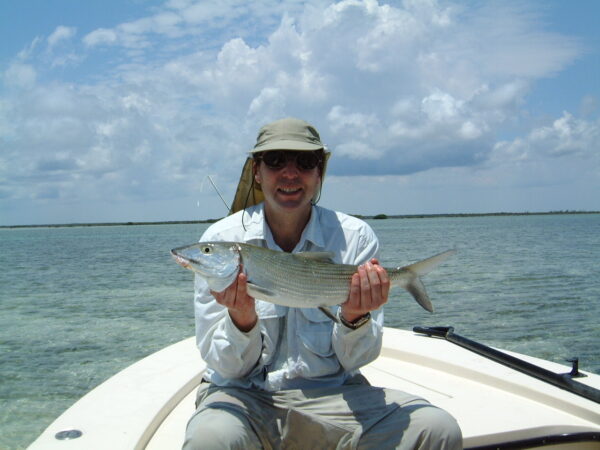 In 2009, Charlie and his wife Fatiha moved their operation from their old location in Behring Point to a new facility in the town of Cargill Creek. We stayed at the old place but the new place is over the top!!
During the day, we encountered endless pristine beaches, blue vistas perfect for immersing yourself into the sea and sun scenery on the incredible flats fishing for the many bones that worked this place. We got there by fly-fishing boats and traveled to many very remote islands.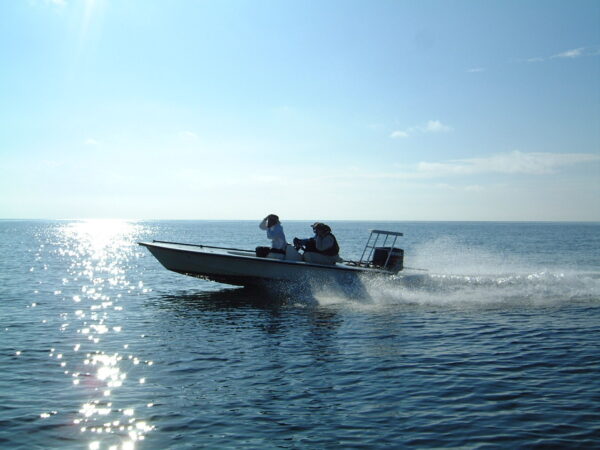 We set off in small boats with experienced local guides who somehow know their way through the criss-crossed confusion of cuts and channels that split Andros Island into three sections.  They not only found but took us to the flats filled with the most silvery bonefish you could imagine they are plentiful and big and they eat flies without hesitation.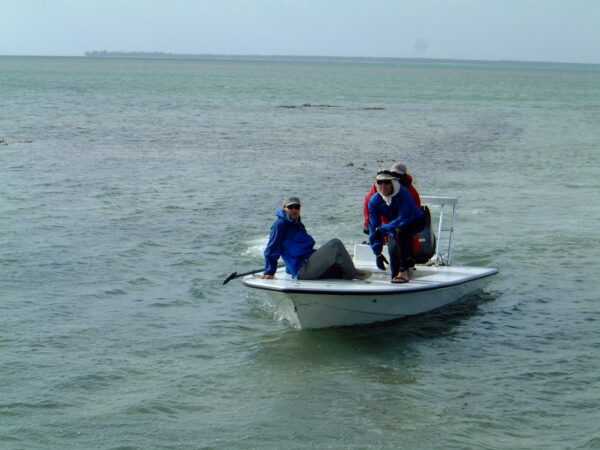 I'm not sure how many bonefish we caught, but we caught a number of them each day. We tossed big patterns to singles, pairs and triples, and just about every fish responded well to our presentations, even those that were not so good. These fish were also very nice size, with several in the 5- to 8-pound range.  But what really struck me from an angler's perspective was the location. We literally saw no other boats during our entire stay. You're fishing water that just isn't accessible to many other places – and there is no traveling to the boat ramp. Your gear is loaded into skiffs right behind your cottage. Then, there's the blue-water scene.
And, don't forget, there's always the chance of bumping into species other than bonefish on the flats—HELP, I was attacked by a shark and driven onto the shore.  We saw the jumping/turning sharks as well.  One day Amiel and I were surrounded by about (10) yes ten, 8 to 10 foot long sharks and we freaked.  Then we found out why, there was a dead shark and they were going to CANNABILIZE tone of their own. We engaged some of the world's finest snorkeling, diving, fishing, kayaking, nature hiking, flying, bird watching, boating and sailing.
Thank you Ron for putting this together and Yellow Dog the professional people that make it all happen.  
Photos of diving from a previous trip below.  I sailed a 40 foot Irwin from Miami to the outer Islands of the BAhamas.  Here are some dive photos.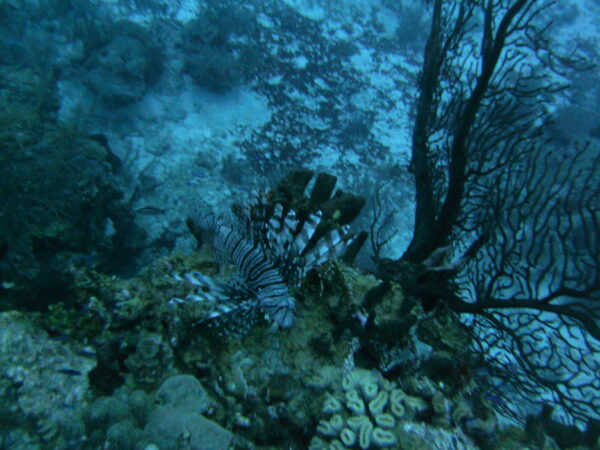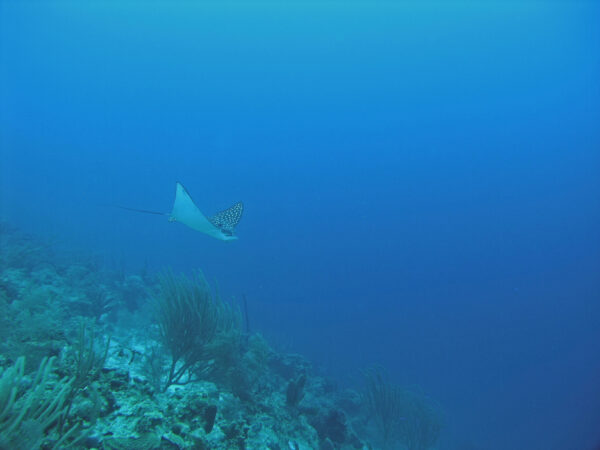 Smoking cool eagle ray above