We do a lot of Fundraising for various charities which include:  The Leukemia Lymphoma Society, Susan Coleman Breast Cancer, Maryland State Squash, plus we personally financially support many charities.  So these are some of our efforts: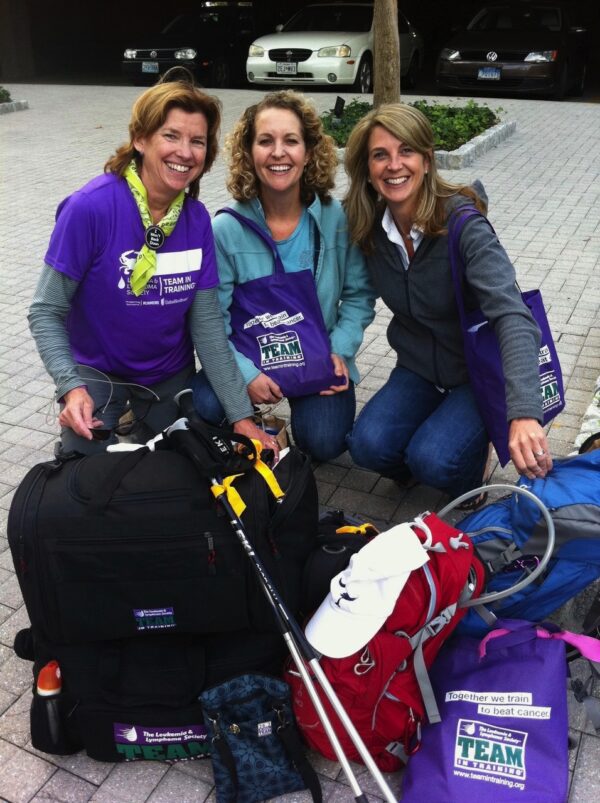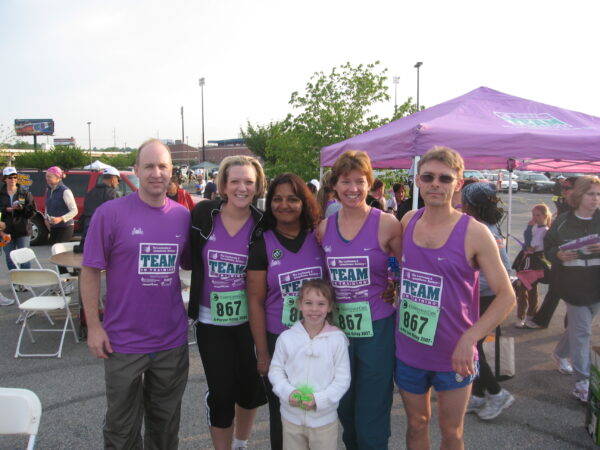 Past or Current Board or Officer of 501(C)3:  Towson YMCA; Maryland State Squash; Historic Hampton
Past Of Current Committee: Maryland Club; Baltimore Country Club, MSSRA; Fitzgerald Cup; United States Squash Nationals Doubles 1996 and 2011
Taught:  1 semester each: Korean Church Seminary, Towson State Teaching Lab; Catonsville evening Finance class
Events to raise significant Money: TNT Leukemia Society, USSRA Squash Nationals, MSSRA endowment, Susan Kolmen breast cancer, MSSRA Junior Squash, Climb Kilimanjaro brought medicine to hospital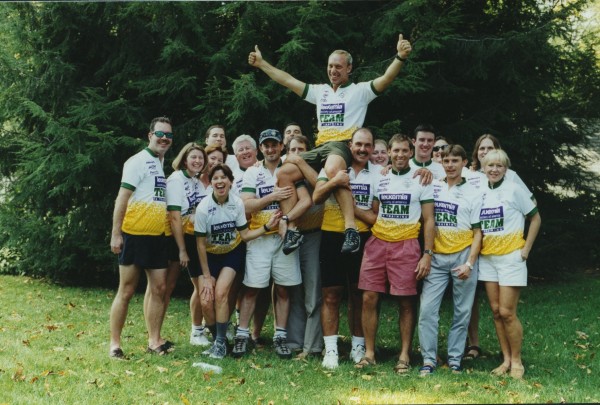 Dudes we rock we raised about 1 million and Bill was our coach
Volunteered Medical:  Clinic in Mursouri India, Tataponi Nepal and Pokara Nepal
With some of these, we do extreme sports, so here are some of the photos of those activities for fundraising. Hike for Breast Cancer below.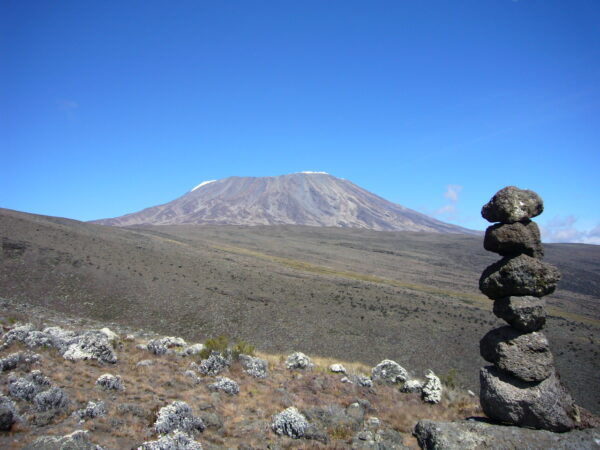 Killimanjaro above and taking medicine to the hospital.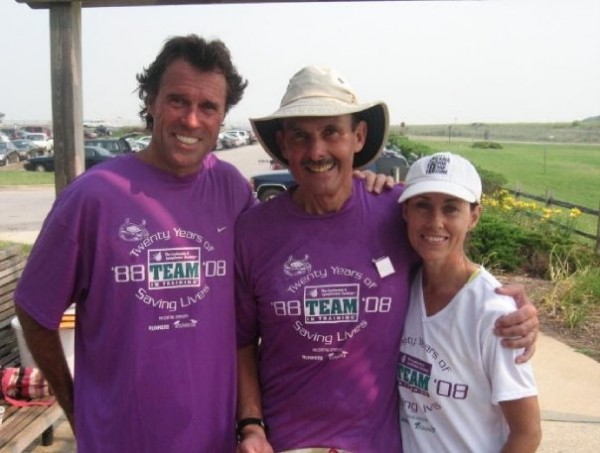 Bruce above one of my heroes.  Started TNT and that has raised 1 billion dollars for the Leukemia Society. Photo is with Missy, Bruce and Rod Dixon:  Rod won the Olympic Bronze and New York City Marathon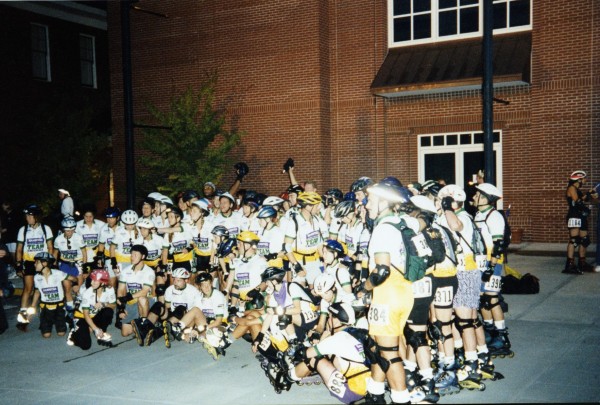 I am honored to be a part of the "TEAM"  Yes I do know I wold go into any battle with this "TEAM"  Call it as you like they rule
Breast Cancer hike above very awesome.  Wow could have been killed if one fell off the ladder.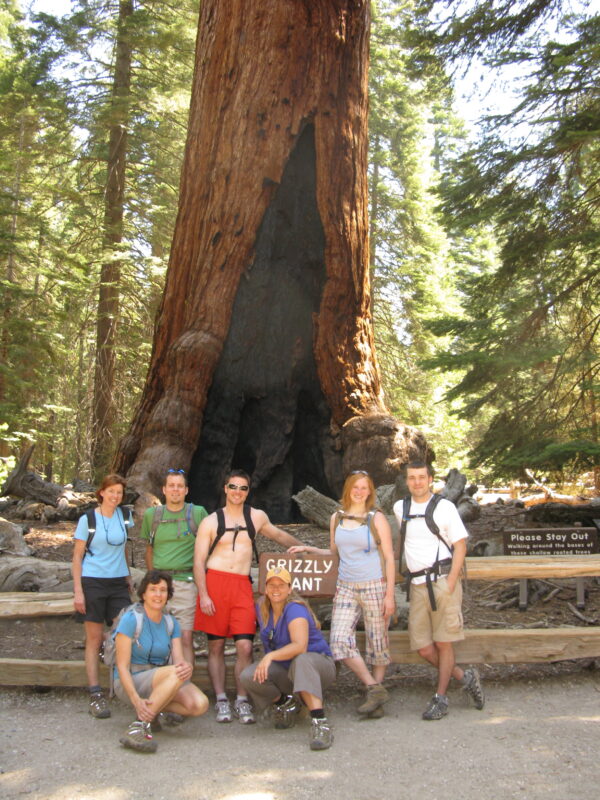 Ran the Nationals with John Voneiff and Andrew Cordova.  We raised over 120,000 for the United States Nationals below, wow.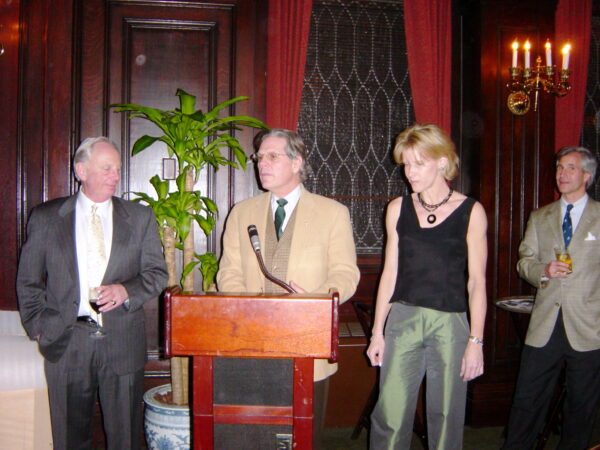 LLS below with the good guys raising funds and participating in events.
cool shot above raising money for LLS.  Bruce created TNT and that program raised over 1 Billion for the LLS society.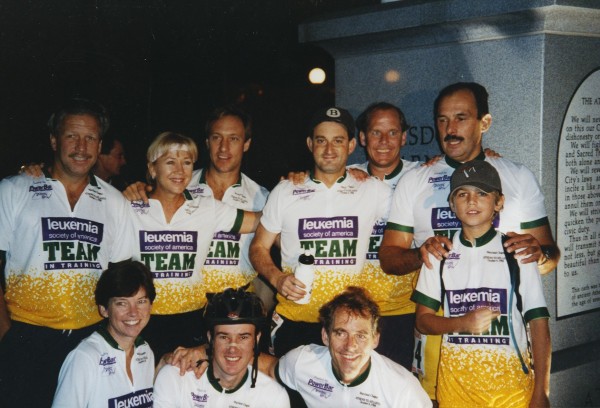 I love them all wow 1  million dollars for Leukemia Society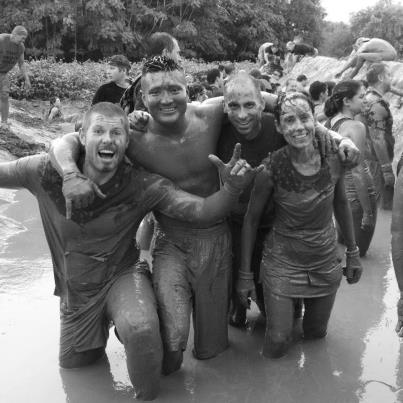 Tufff Mudder above with Missy wow smoking hot in shape chick.
Below is an 88 in line skate race that goes from Atlanta to Athens on regular roads. It is grueling but far more important is the money we raise for the Leukemia and lymphoma society. Bruce (my hero) started Team in Training (TNT) and that program had raised over 1.3 billion- yes 1.3 billion dollars for research and development for LLS.  Our little skate team raised about 1 million over 8 years thanks to all of us including Bruce's significant contributions.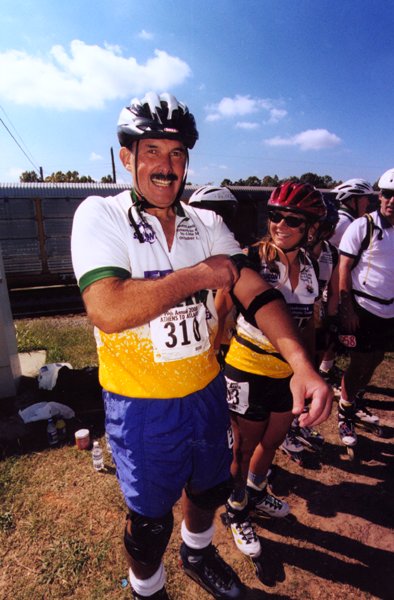 Bruce founder = 1 BILLION Dollars he rules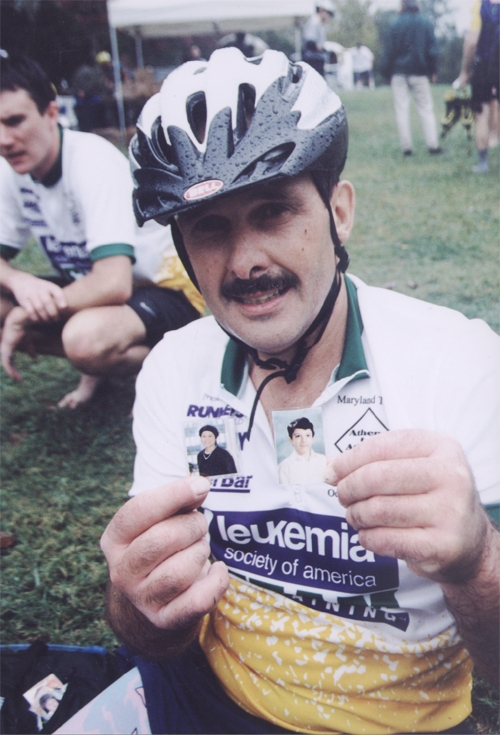 Love Bruce how does he do it!!!
Bruce in both photos above carrying photos of patients he is skating for.  Bruce like my father,  is one of my few heroes and I have few.  He represents all things we hold dear like: honesty, integrity, performance and service.  He embodies all we hold dear.  Bruce you  like dad cease to amaze me and thank God for people like you.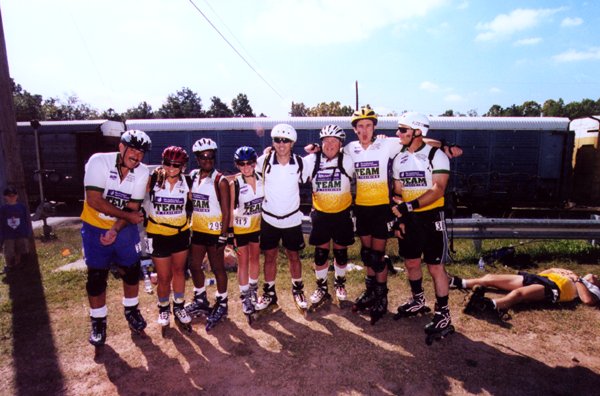 I am in the middle in the white shirt and Bruce is on the left in the photo.  Another TNT group photo below.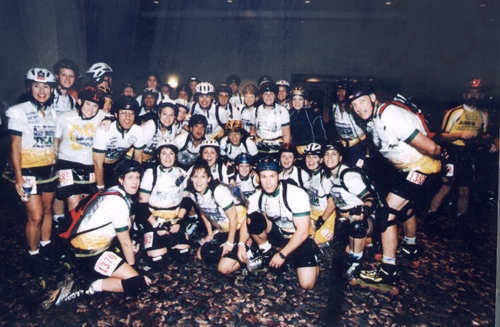 His team above. Members over the 8 years were:  Bruce, Bob T., Arden T., Bill K, Joel S., Missy D. , Bill, Rita, Will Andrews, Guy W., Alex, John B..  Dude we kicked some ass on the course- yes we did and I am proud of that. We would form pace lines (like that pictured below) and go up to 40 MPH downhill- wow that could be dangerous as I lost a thumb in an accident and Bruce broke his shoulder.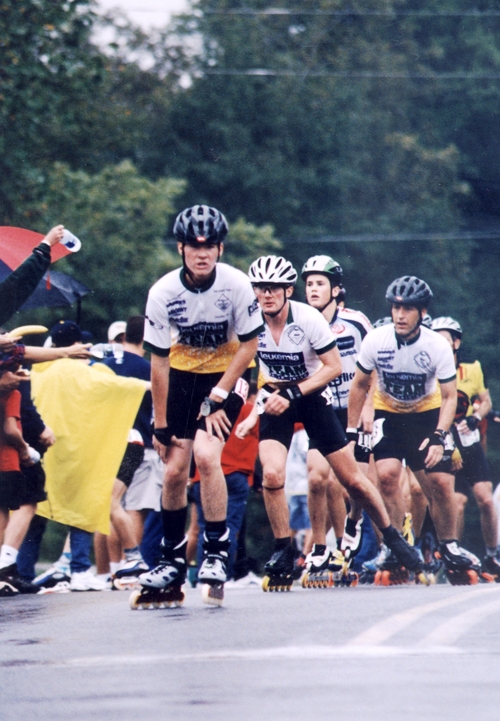 Pace line above reaching up to 40 MPH downhill wow screaming downhill it is awesome if you like adrenaline.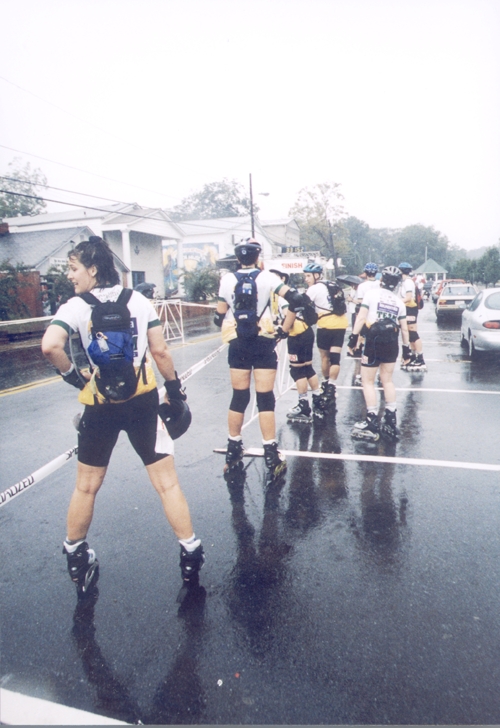 Dudes – this year it rained.  Bruce is there in the middle with knee brace on- wow 88 miles you do it and tell me what it is like!!!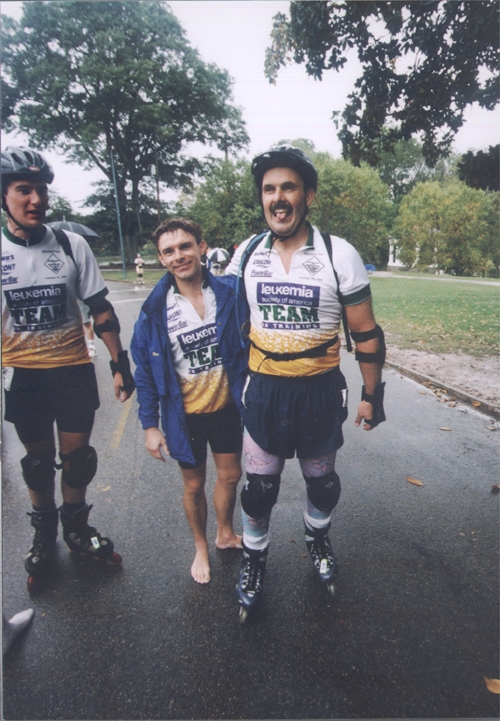 Bruce, Alex and Will above. Russian's rule- pure SEAL team