This race was is held in South Africa and was completed by my brother in law Brian and Simon both dear friends and they rule .
Some people have been asking questions about this silly race I just did called the Absa Cape Epic in South Africa.  So I thought I would throw down some prose and cool pics in a blog format for all to read.  Yes, this is a wheel building website and maybe not the place for novella about a mountain bike race, but it is my outlet and I did ride on wheels when I was there, so….what the hell.
BEFORE CRAZY…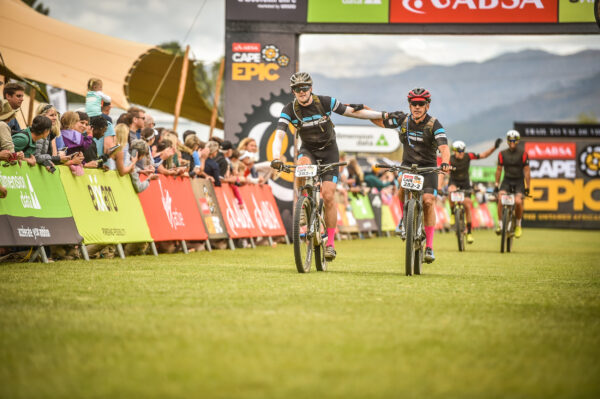 This saga actually begins a year ago when I saw a couple videos of ex-pro road riders Cadel Evans and George Hincapie winning the 2017 master's division of Cape Epic.  The footage looked amazing and really blinded reality for me, as all I saw was great vistas, exotic animals and cool mountain biking.  I failed to hear a couple Tour de France riders say, "hard, rocky, dusty, hard, rocky, etc…"  I contacted a buddy of mine, Simon, who I met through my wife's uncle.  About 4 years ago I met Simon when we did the Trans Andes Challenge in Chile.  Compared to Cape Epic, the Trans Andes was really a stage race on training wheels.
After throwing out some words like "bucket list" and "my wife will be totally cool with me going away for two weeks" and "how expensive can it be", Simon and I threw our name in the lottery.  Yes, it is a lottery for foreigners to get into the race.  Like most lotteries I felt there was no way we were going to win.  No one wins the lottery, right?  Shit, we won.  "Ok", I said, "Let's check out some of the stages from last year.  Wait a second….70 miles on a mountain bike per day????"  Oh boy, what had I gotten myself into.  Then the bank opened its doors and money started to flow like a river.
If there was one thing we learned from Trans Andes is that we don't want to sleep in the tent village.  These mountain biking stage races do an incredible job moving their little city from stage to stage.  Too bad the hygiene in these places can't be as incredible.  In Trans Andes half the riders came down with a sickness and many had to quit.  We needed all the help we could get and the premier package, where we would stay in hotels, get massages and have a  appointed local driving us around and taking care of all our needs.  Sign us up.  This is where Uncle BT stepped in and became our savior…paying for this exorbitant package.
After getting into the race and with the route announced (8 stages, 13,520 km of climbing and 658 km…or 45,000 feet of climbing and 409 miles) training started in earnest.  Fear had a major factor in the training, having never gone farther than 30 miles on a mountain bike.  Reading blogs, watching videos and talking with my partner; I felt I was as prepared as I was going to be.  I have to tell you though, I wasn't prepared for the flight over there.  SFO to LHR was 11 hours, then layover for 8 hours, then LHR to CPT was 14 hours.  I love movies but I watched 6 in two flights.  "I was bored", was an understatement.
I arrived in Cape Town to summer and no water.  It appears that Cape Town is in a massive 5 year drought, although "how much" of a drought seemed to vary depending on who you talked to.  With "fake news" trending right now, it seems that the government was actually "hiding" water.  Apartheid might have ended 20+ years ago, but racial tensions still exist and they even come into play when talking about water.  My driver from the airport gave me a brief history of the townships, essentially shanty huts where black males settled in order to work in the big cities.  There were two large ones outside of Cape Town.  Common to all the huts….satellite dishes for tv.  A"must-have" on any ones wish list.
We stayed at a pretty sweet hotel in the waterfront district of Cape Town.  Once my partner, Simon, arrived from Washington DC, we cruised down the harbor for sightseeing, coffees and lunch.  We met with our mechanic that we had hired for the race.  Again, we were trying to cover all our bases and make this race as smooth as possible.  Grant and his crew from Tar and Trail had our bikes dialed in for the entire race.  They traveled to all the base camps and essentially took our bikes after racing each day.  We would pick them up from their mobile shop in the mornings.  So easy….  Grant was going to build our bikes and have them ready to go Saturday morning.
We hooked up with a local rider and at least 20 others for a Saturday morning jaunt to check out the prologue course on Table Mountain.  Table Mountain looms over the city and is the cities most recognized landmark.  Fresh out of the hotel we had to get used to riding on the other side of the street.  They drive like all other English "colonies"…on the wrong side of the road.
We rode up to the ridge line and started to follow the prologue course.  We came to the first technical section sponsored by Land Rover.  Every day of the race had one section that they considered the hardest technical terrain of the day.  The guide stopped us and told us that this was the hardest, steepest section in the entire race.  He made it sound like we were all going to die on this thing.  We all dropped in with some trepidation and then we realized that he was full of it.  Had he never heard of the dropper post?  Yes, it was about 18%, but only 200 feet long.  No worries.  We rode the rest of the course down to the University of Cape Town and left our bikes for the next day.  We also picked up our numbers and luggage…yes each person was given a Scion luggage bag that all your stuff had to go into for the duration of the race.  I wondered how I was going to get this thing home.
Later that afternoon we were having lunch down at the waterfront when I turned around and saw this….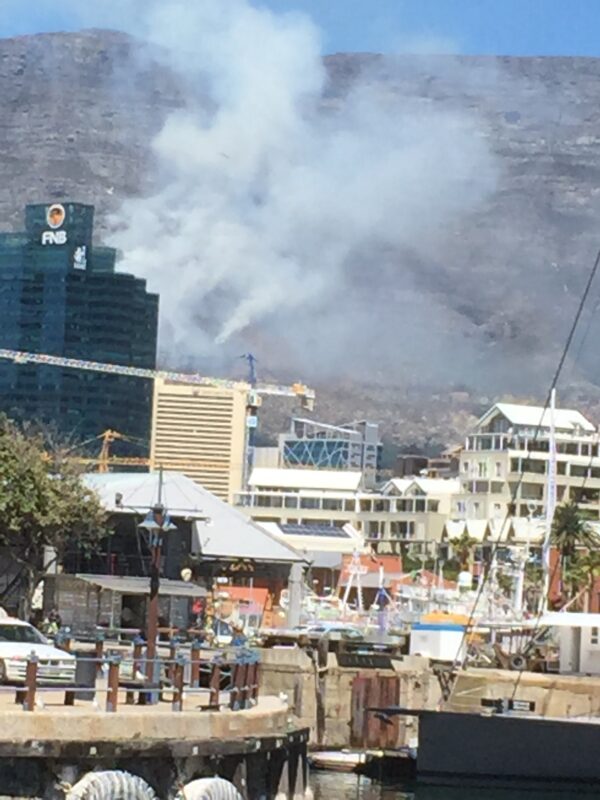 DURING CRAZY….
PROLOGUE: 20 km and 600 meters of climbing (that's 12.4 miles and 1,968 feet in America)
The first day of racing started early for us, as our start time was 7:44am.  I think the biggest challenge of the first day was to figure out how to get to our bikes and all the logistics of the race.  We made it to our start and we both agreed to just warm our "travel legs" up and try to not crash on the first day.  We had a good run and it was pretty awesome to see and hear all the people out on course.  We got a little held up in some single track sections (a precursor of what was coming for the entire week).  I scraped my ankle on a rock trying to get around some slower riders, which turned out to be the only physical injury I received the entire week.  Just like that it was over.  The production value was impressive – calling out names, going down the start ramp, lots of cheers, etc… These guys had it dialed.  We met up with our "team mom", a 21 year old college student named Mignon that volunteered her time to drive 8 of us around the country for 8 days.  Mignon was one of many students who were getting "credits" for working this event.  Seemed like Cape Epic was making off like bandits on this one.  No pay for all the work that they were doing?
Our crew consisted of Ian and Chris, the best riders and Durban South African locals who gave us great insight on the race; "the Dutchies" William and Ceusse; Kentucky boys Brian and Keith; along with Simon and myself.  A great group of guys.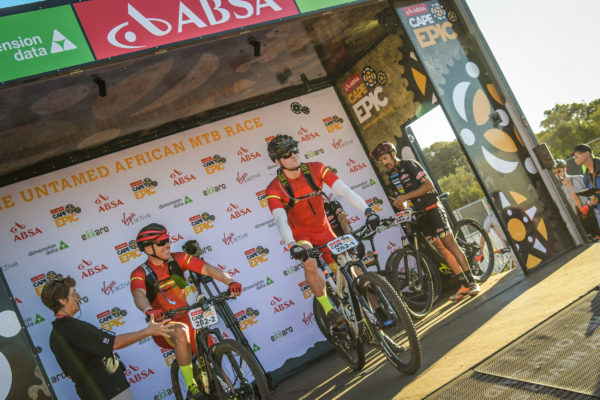 The real racing was starting on this day.  Long miles and lots of climbing.  Each day had at least 3-4 water points along the route, where you could get food and water.  I brought a lot of my food because I didn't trust the hygiene of some of these food stands.  Actually it was the riders sticking their grubby mitts into a basket of potatoes that I didn't trust.  I carried the newest Camelbak hydration pack called the Chase.  I had read about it and since it wasn't out I asked sponsored rider and friend, Yuri Hauswald, if he knew where to get one.  He generously gave me one that he had lying around.  The best feature of the pack was that it road high enough where I could still get to my jersey pockets.  I always thought this was a flaw of all hydration packs. This pack could carry 2.5 bottles or roughly 50 ounces of water ( I am guessing here because I never measured it).  I also carried one water bottle on my bike that had Roctane in it.  Yuri really dialed me on hydration and eating for an event like this.  I had never spent so many hours on a bike over such a long period of time, so I must admit I was an amateur when it came to this.  After the race I felt like my plan had saved me from really experiencing some serious physical problems.  The Camelbak also allowed me to keep food on the front straps where accessibility was easy.  I ate small amounts of Nature's Bakery fig bars, Clif bars, and EPIC meat bars, along with GU and Roctane GU, throughout the day.  I started to eat the food from the rest stops as the race wore on, but I was pretty selective.  I was getting sick of the stuff I had brought with me.
The first stages of the race took place in the Robertson valley.  The Robertson valley is an amazing agricultural area.  Lots of grapes for wine, but also tons of orchards with fruit trees.  I saw plum, peach, walnut, apple and many others that I didn't recognize.  The courses for the first two stages generally consisted of tar roads, fire trail roads, tractor roads and single track.  There was lots and lots of sand, which I loved riding through.  I think I was enjoying myself more than Simon the first two days.  The sand did cause our chains on our bikes to dry up pretty quickly.  I thought my bike was falling apart the first day.  Turns out it just needed lube…like tons of it.  Each rest stop had a "lube station" where guys from Muck Off would apply lube to ever bodies chain.  Oakley was also on hand to clean your glasses at certain rest stops.  I am telling you, they thought of everything.  Oh…and when we finished each stage they would take our bikes off to be cleaned and all the riders were greeted with a freezing cold towel around the neck along with a small neck rub.  The highlight of my day!  Then it was off to Woolworth's tent for a large meal and a slight respite.  After consuming large quantities of food we would hook up with our driver, Mignon, and head back to our premier accomodation.  For the first two days we stayed at this great B and B in the Robertson valley.  It was quite special.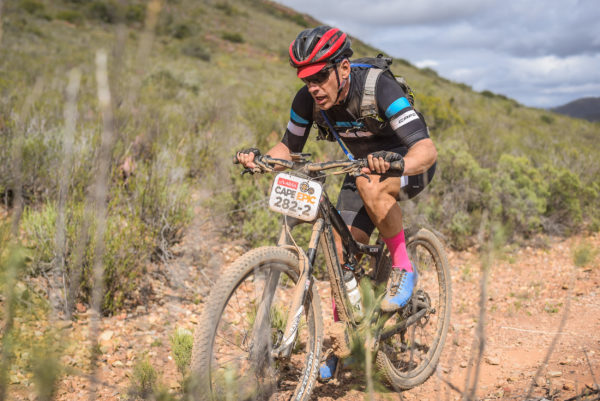 Pink socks repel lions…or so I heard.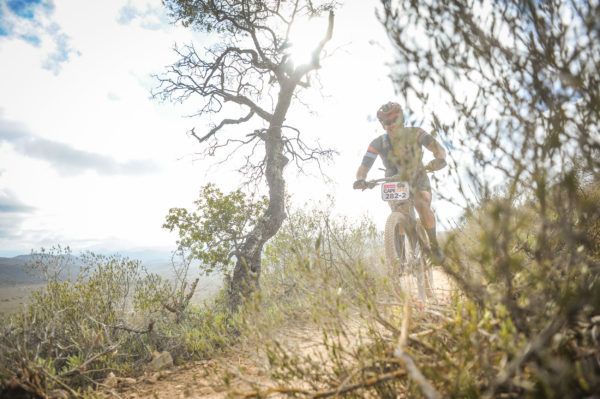 STAGE 2: 106 km and 2000 meters (66 miles and 6,560 feet)
Day 2 started out a lot like Stage 1…heading out on similar farm roads and single track.  This day supposedly had more climbing than day one, but it was a lot of punchy climbs and nothing like yesterdays slog up the Skuilkrans.  In the Afrikans language, which along with English is the language of the Western Cape, this means "people hiding in the cliffs."   The language is derived from the Dutch who were the first white people to settle the Western Cape in the 1870's.  The two "Dutchies" that were a part of our group had a little trouble understanding Afrikans.  Shows you how much a language can change in 150 years.
There was some interesting terrain today with lots of sands and ripping downhills.  I really enjoyed it.  It was something we don't really have in Northern California.  We ended the day back at Arabella Winery in Robertson Valley.  Another 6 or so hours in the saddle.  I was surprised how well my body was handling these long days.  It was all about eating and drinking along the way, plus some hard core recovery when the day was over
STAGE 3: 122 km and 1800 meters (76 miles and 5,905 feet)
This was called by the organizers "the longest day".  While it might be the longest in terms of kilometers/miles, it was not in terms of hours on the bike.  I'll get to that tomorrow.  Today we left the Robertson Valley and headed to the town of Worcester.  For those not from South Africa or Massachusetts….that's pronounced Wooster.  I was again feeling pretty good.  There were a couple long climbs.  One, up Penn Hill, was a 7 mile slog up 15% average grade.  After that climb we hit another section of screaming, sandy downhill.  With so many people on course you had to constantly manage getting around people.  There were times where we were walking up single track because there were so many people on the trails.  One person goes down, it is a domino…we all have to stop.  It didn't matter if it was uphill or downhill.  Then when it got to the dual track there was always the challenge of passing people.  Do we go on the left or right?  Is it European or South African driving rules?  It was basically a "free for all."
We started off the day with some cooler weather after 100 degrees the day before.  It was misting at the start and the first climb turned into a muddy steep single file walk.  After a couple hours the sun switched back on and we were baking again.  This day never seemed to end.  The last water point was a cobblestone climb to a winery.  They always had these water points sectioned off with barricades, like a pro tour race, and the announcer was always calling out names of teams rolling in.  This one was especially loud a boisterous, no doubt from the fact that people were "in the bag" from drinking wine all day.  These South Africans really know how to have a good time.  Here we are in the middle of the week and there were "parties" everywhere.  I saw a guy in the middle of nowhere, literally, pulled over on the side of the road with a propane bbq, frying up some bacon.  It was amazing.  For South Africans, this is their Tour de France.
Stage 3 ended with a ride across a massive dam that was sadly, almost empty.  We got our first "mechanical" of the race as I got a puncture in the my rear tire.  The sealant did its job though and sealed up the leak.  I was a little soft for the last 10 miles, but I made it without having to put a plug in it.  Our team mechanic took care of that in the evening.   The nights accommodations were less than steller…we stayed at a casino.  But hey, it was better than tent camping.  We were so paranoid about getting sick that most of the time we didn't even eat at the tent city.  Being 20 minutes away from the dinner tent helped make our decision too.  Last thing we wanted to do is sit in the car again.  Rest was key.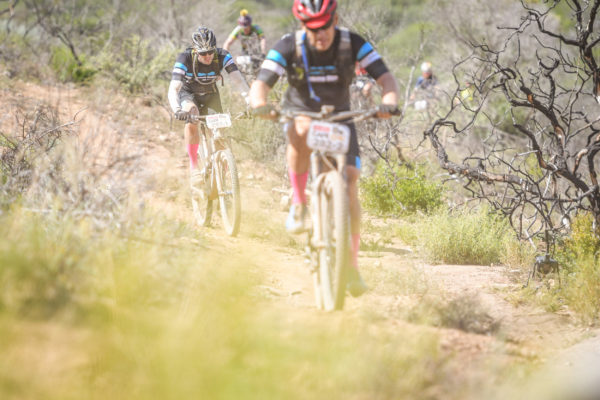 It seemed like it was either up or down…not much flat to be found.
STAGE 4: 111 km and 1800 meters (70 miles and 5,900 feet)
This day crushed me, but fortunately Simon took the reins and pushed our team through to the finish.  Yesterday was the "longest day" in terms of miles.   Today was the "longest day" in terms of time.  We were in the saddle for a little over 7 hours today.  The route took us way out in the back hills.  Simon likened it to the Texas hill country and he really excelled based on living in San Antonio for many years.  I couldn't stand all these really short rocky climbs.  It was just beating me up.  There was the Goudini Spa single track, which I felt was the hardest 12 km of the race.  Up an down, with some parts of the trail being so narrow that if you went off trial you would be swallowed by a massive canyon, never to be seen again.  There was numerous spots where tracks went off the trail, but I dare not look for I might be the next victim.  The topper was a 20 mile climb on tar, as they call it, towards the end of the stage.  It was really windy on the climb so I just sat behind the "big fella" and Simon pulled me up to the top.  Of course they had to veer us off the screaming downhill and into more rocky farm roads into town and one of our last stops of the week.
We hit a "home run" on the accommodations for the rest of the race with a stay at a Jack Nicklaus golf course.  Straight baller status on the room, which had a view of a lush, green golf course.  I hope they had a well to water this whole course.  I found myself being refreshed by the site of green grass for some reason.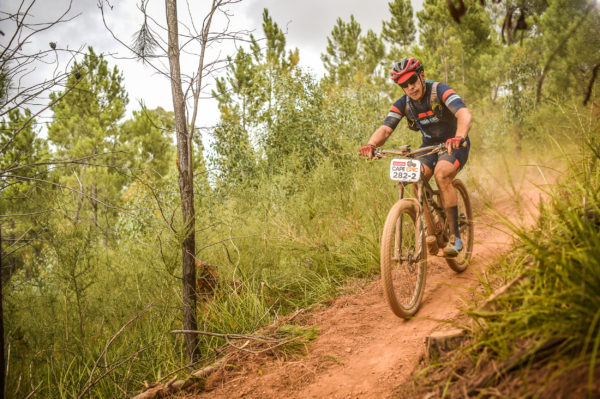 The dust was everywhere.  It acted as our "second sunscreen lotion" and made our chains squeak constantly.
STAGE 5:  39 km and 1430 meters (24 miles and 4,690 feet)
Stage 5 was supposed to be a "rest" day.  It was a time trial of only 24 miles, but there were two very big climbs with some little ones in  between.  We started off nice and easy, but it soon turned into a stressful situation for the both of us.  My Di2 derailleur all of a sudden shifted into the hardest gear.  Usually it will do this when the battery is dead.  I was immediately set into a panic.  Had the mechanic not charged the battery last night?  No time to think about it.  I told Simon I would run up these short hills and them try and ride the downhill in the 32×11.  I grinded a few of the uphills but this was going to kill me.  Shimano neutral service was at the rest stop, so if I could make it to there…..10 miles of this though.  I called Grant, the mechanic on my cell and asked him what was happening.  He said the battery shouldn't be dead.  Then I lost service.  He said he would meet me at the rest stop, but I couldn't take service from anybody but "neutral" or we would be disqualified.  Our main fear now was not making the time cut.  On a downhill I finally got out of my hypoxic cloud and started to think a little bit about the situation.  I finally depressed the shifter and noticed that the battery was charged.  Then I felt the connection in the rear derailleur.  Shit…..the cable must have hit something because it was just a little bit out of the socket.  I pushed it back in and caught up to Simon.  Whew…. a little bit of a mistake that cost us about 30 minutes.  We  were making progress and moving up the overall each day.  This day set us back.  In the end though we were just trying to finish this beast, so it really didn't matter other than making the time cut.  They called the "broom wagon" or the person that is the last rider in the race, the hyena.  You did not want to meet the hyena because that meant you were about to miss the time cut and be pulled form the race.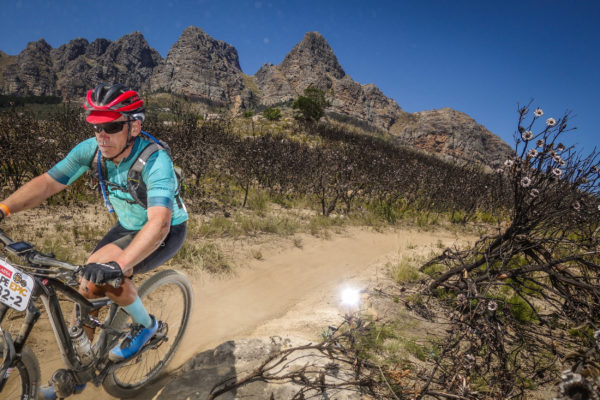 We rode through quite a few areas that has been burned by fires.  I always wanted to see what the plants in this picture were like before getting burned. I never saw any except burned ones.
STAGE 6: 76 km and 2000 meters (47 miles and 6,500 feet)
Stage 6 saw us doing a big loop out of Wellington.  It was a "shorter" day but with the same amount of climbing as the previous longer days.  The big climb was called the Green Mamba, a approximately 3 mile climb at 15% or greater.  Then we hit some dusty single track trails that brought us to a downhill section called the "Cheese Grater".  The theme of the race was "dry, dusty, rocky".  This section emphasized the "rocky".  My feet were actually starting to hurt from all the stress of the hitting the rocks.  There was a water point right before the downhill and we actually witnessed a fight between two riders as they jockeyed for position to see who went first down the hill.  Here we all were, just trying to get through this hellish slog and these guys were fighting as to who was going to go into hell first.  It was comical.
Days started to blur after a while and I must say I wish I remembered more to write down in this blog.  One thing that I won't forget is the outpouring of support for the riders.  There were people everywhere.  We came tearing through some single track this day and popped up on a little ridge and there was a guy sitting in his chair with his dog, sipping a glass of red wine.  It was hilarious.  I also remember seeing a couple people today who I had struck up a conversation with a few days earlier.  They were cheering on some friends of theirs and had matching shirts on for support.  I heard my name being called at a water stop and there they were.  They gave me "high fives" and shouted words of encouragement.  What nice people….  It was truly the best thing about this race.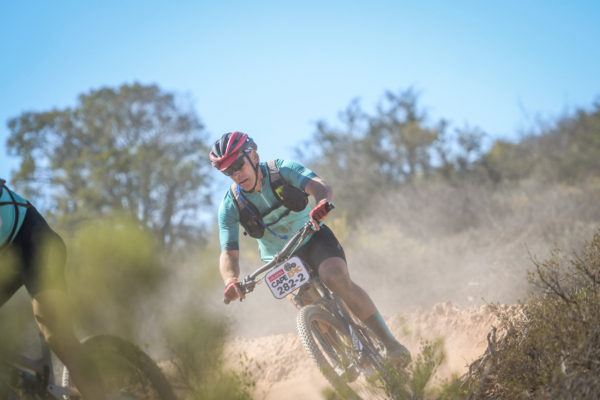 I rode Cape Epic with a prototype Camelbak hydration pack called the Chase.  It sits higher on your back and allows the rider to utilize your jersey pockets.  It is perfect mountain biking.
STAGE 7:  70 km and 2000 meters ( 45 miles and 6,500 feet)
The final day….quite bittersweet.  What an adventure.  It felt surreal that we were actually ending it all today.  There were a few tough climbs in the beginning, but it didn't really matter.  The body was destroyed both mentally and physically, but we were heading home.  We finished off with a downhill decent called the Bone Rattler.  Another decent true to its name.  The finish was in Val de Vie, an amazing gated community that had polo fields and lots of water.  The finish was truly amazing.  Lots of cheering people, families, an award podium and a massive bag of food which would have fed a family of four.  What a way to finish this epic race.  Wow am I proud so very very proud
POST CRAZY…..
I guess it wasn't all that crazy.  Lots of people have asked me if I would do it again….the answer right now is "no".  That is not because it wasn't a great race.  It was.  The most well organized, well attended and most outrageous trail system I have ever been on.  The biggest thing for me it was four days of flying (almost 30 hours on a plane) away.  I am not a fan of flying and if it takes two days to get somewhere on a plane….it is only going to happen one or twice in a lifetime.  If I lived in South Africa or Europe, then maybe.  In addition, there are so many other races to do out there too.  Plus, being away from the family for that long is tough.
Some have asked about my bike set up…. I rode an Ibis Ripley, 29er, full suspension.  I used carbon fiber wheels that I built myself, Boyd carbon rims and White Industries hubs.  I read a lot about tire selection and went with a heavier set of Vittoria tires.  I did bring a spare set of wheels, since we had the mechanic, but I never used them.  The reason for the heavier tires was because of the all the rocks and thorns that are prevalent on the route.  I used a Easton Haven dropper post, Easton carbon handlebars and stem, and Shimano Di2 shifting.  30 tooth in the front and 11-42t in the rear.  I figured if I couldn't get up something in the 30-42, well then I should be walking up.  I carried a spare water bottle with water and Roctane mix, in addition to the Camelbak hydration pack.  I filled the bottle  back up with Roctane at every water stop…carrying a small bag of the powder in my hydration pack.  I tried to eat my own food in order to avoid getting some bug from the other riders sticking their grubby hands into the food at the water points.  Eventually I was so sick of what I had that I rolled the dice and started eating the food they provided.  Have you ever had an egg salad sandwich in the middle of a dry desert at a bike race?  That's some "Kenny Rogers gambling" right there.
Big thanks….of course these type of adventures can't be done without support and tons of money…haha.  Simon and I were half joking, half serious, when we said, "this race better start soon so we can stop spending money."  Seriously though, it took a village to get us to South Africa.  My wife's uncle, Bob Travers (BT), was a huge contributor, being an avid adventurer himself.  Gary Vasconi and the folks at Capo Cycling Apparel helped us out with the kits.  One of the rules was that both riders needed to be in the same kit each day.  First rule of bike racing is "look good, ride good", and Capo made sure of the "look good" part.   Our local bike shops really got our bikes dialed in before going.  The guys at Trailhouse (Wade, Ian and Shane) and Echelon Cycle and Multisport (Phil and Kevin) both in Santa Rosa set my bike up perfectly before going.  Custom carbon wheels made by yours truly via Baker's Dozen Wheel Works were bombproof on the rough African terrain.  (Shameless plug right there).  And of course my family, especially my lovely wife, for putting up with this crap.  Her passion is pictureed below, so maybe we can go back to South Africa for some wine.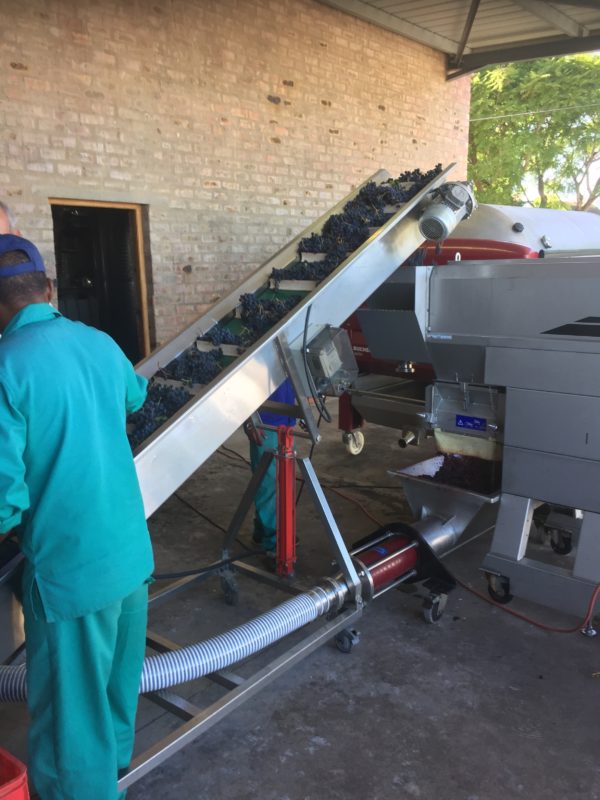 South African harvest….