Photos from 2 years = yea you go Ted and Pat.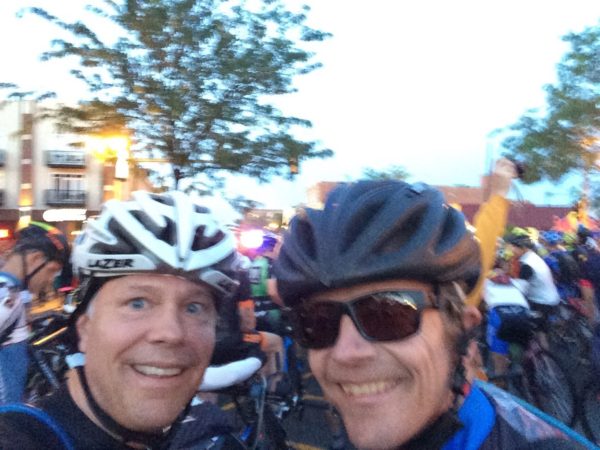 Start of race below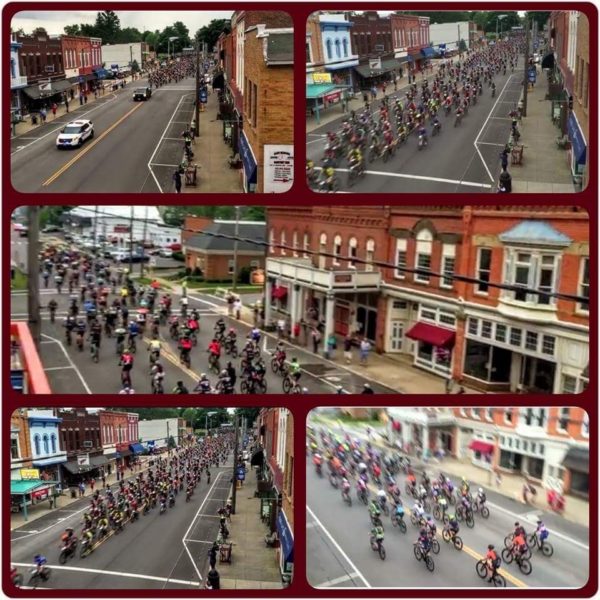 Line up to go for the gusto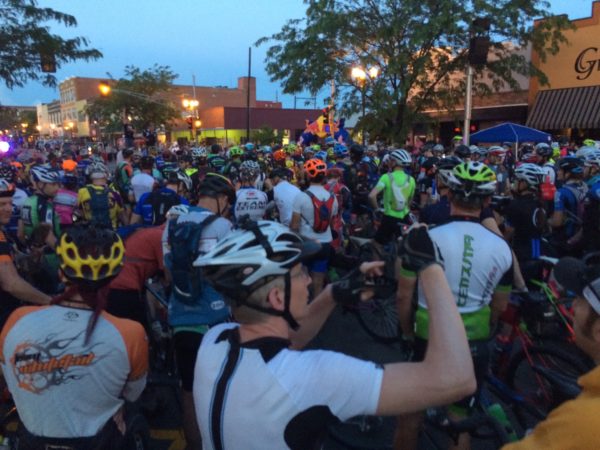 Ted kicking it bad.  Pat stopped for a few beers!!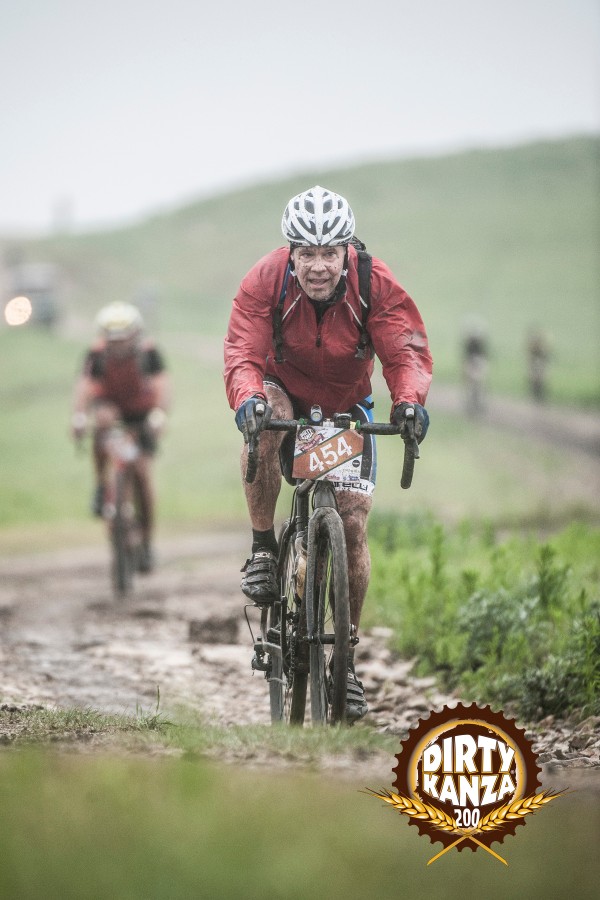 Dirty Kansa 200 by Ted P. our leader and friend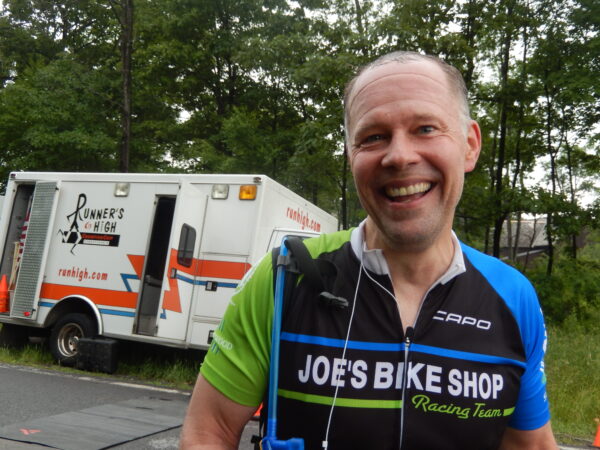 200 miles of gravel and dirt roads through the flint hills of Kansas. This ride can be grueling without proper training and a good nutrition/hydration plan on the bike. The race organizers are excellent about warning and preparing you for what's to come.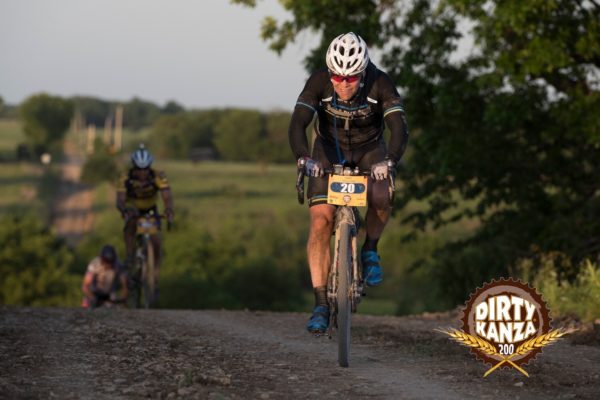 Pat drove from Colorado and met me in Emporia Kansas. This is the home town of the DK200. It's a quaint town with Emporia university as the cornerstone of the community. I didn't love the town, however you have to love the people. They were all really nice and supportive – welcoming the 2000 + racers from 45 states. Pat and Ted below
Race morning, temps were in the 50's and drizzling. I hadn't paid attention to the weather for this area leading up to the race and soon discovered everything was flooded. The rivers we were to cross along the course were 6′ at flood stage the night before and there was talk of re routing the course. I didn't dress properly but thanks to my brother he lent me his heavier rain jacket. I wouldn't have had a chance if I didn't have that jacket.
The first 35 miles were grueling. The pace was good and getting used to racing on gravel didn't take long. I quickly learned -don't get caught in the gutter and try to draft off of someone in front you. There were plenty of wrecks. About 20 miles in the gravel turned to dirt which at this point was some of the stickiest mud I have seen. The bikes had to be carried. Some people tried to ride it but shortly found themselves with a bike that didn't work or worse – I saw at least 4 deraileurs ripped off. Occasionally we would walk in the grass for a break but this hike a bike seemed to go on forever (but really only 2ish miles.). It took a good 5″ to clean the bike and shoes so I could clip into my pedals.  A lot of Rai this year!!1
A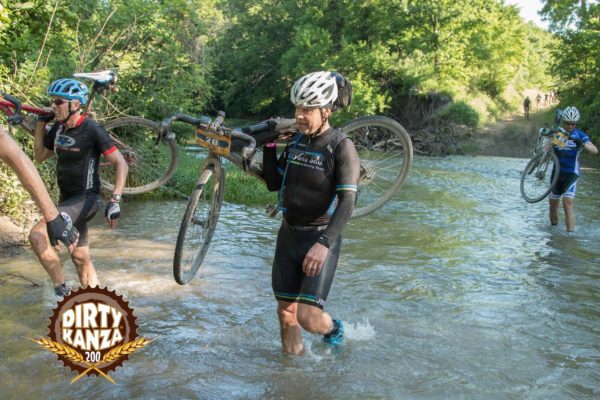 I told myself one aid station at time – the first was at about 35 miles. I reloaded my camelback and water bottles and set out for aid #2 at 75 miles. This would be the first big aid station where I could re-lube chain, clean the mud off my bike, eat, and restock water.
The groupings of riders started to thin. This gave me an opportunity to take in the countryside. Tens of thousands of acres of nothing but rolling prairie, black angus, horses and oil rigs. It is truly magnificent and peaceful.
The ride took us through streams and rivers and partially flooded roads. The flooding had gone down enough that it was safe but it made for a very wet ride. The 2 major factors that make this ride so difficult: distance, weather. Distance – keeping your bike and body working for all that this course throws at you. Every stream crossing no matter how small had hidden dangers – small sharp stones that cut through your tires. Flat tires were expected. The mud was tough – but it was possible to learn what kind of mud destroyed your bike and what you could ride through. Taking a chance and riding through the wrong mud could easily mean a DNF or loss of time cleaning.
A good nutrition plan and sticking to it. So many riders were miserable as the day wore on because they didn't stick to their nutrition plan or didn't know their body's needs …so many quit because of this (bonking and cramping happen a lot). The wind – It was steady and unrelenting at 15-20mph with occasional higher gusts. It was great when it was at your back- but it always felt like it was in your face.
Self discipline and perseverance – total concentration to get to the next mile and keep moving forward. Comming into the finshi = nice job Ted.  I would have had more than a few beers with your brother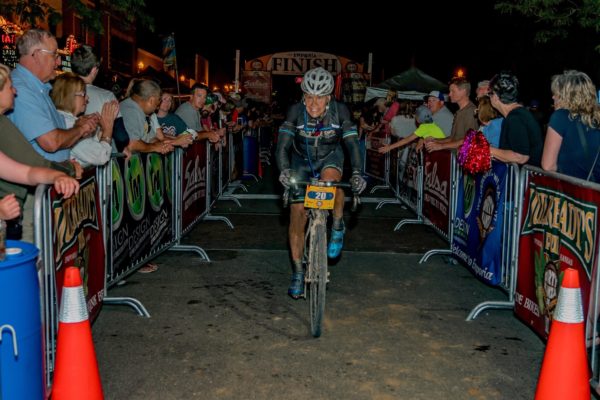 This is a very well run race. Sag is required and if you don't have a family or group who can provide that for you, there is a Charity (Never Forget?) that will help you. I recommend your own Sag because you could probably do better with bike maintenance. However the charity is what I used and the people were super nice and supportive. This is a great option and for a good cause.
The 2 main aid stations had people welcoming you in and cheering you on…how could anyone quit with that kind of support?
And the grand finally – 15 hours and 55 minutes later – me and my sqeaking, rickety Foundry Auger rode into Emporia and huge crowd of people high-fiving and cheering me into the finish line where the director congratulated me and handed me a finishers cup – from which the beer never tasted so good. Every racer gets the same treatment – as they should for such an incredible effort.