The Transandes Challenge:  Wow this should be one adventure.  Six days of mountain bike racing in Southern Chile.  We will race through virgin tracks that have never been used by bikes before and will see the most incredible views known to man.   This is the sixth edition and the event is similar to the Tour De France but for Mountain biking. There are 300 to 350 competitors from 35 nations and 5 continents –wow.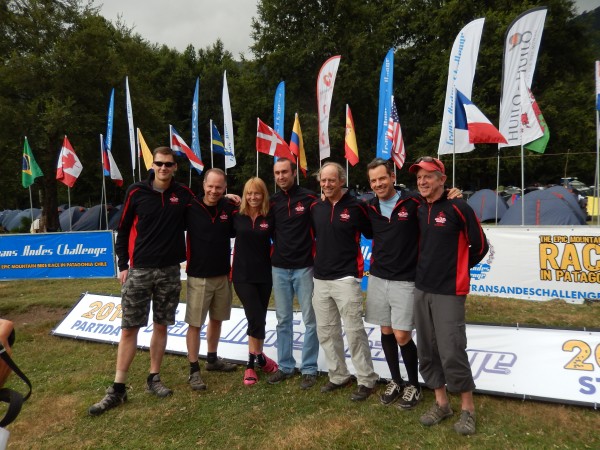 I, we must all be crazy to try this solely because it should take us at least 30 some hours just to get there.  First of all, we 6 are: Kathy-Colorado, Simon-Texas, Brian-California, Ted-Jacksonville, Mark –Baltimore and myself- well after the night of the Black Dragon lady lets say Pluto.  We all ride hard and do racing events.  Kathy is the most noteworthy as she took like top ten in La Ruta and 7th in her age category in the CX nationals and she took first place here in her age!!!.  Brian owns a bike racing company and so it is, that we all go for the gusto.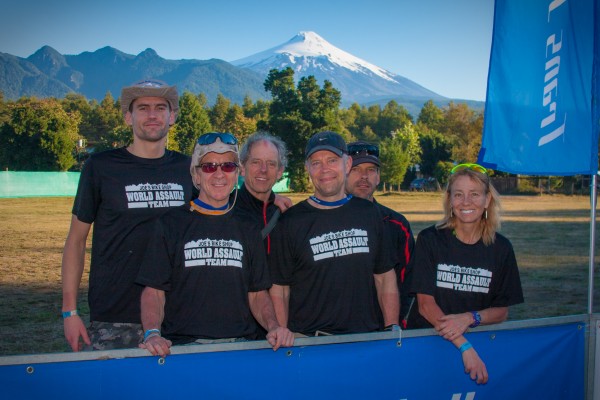 Day one, getting there
Ok so some of us were leaving from Baltimore, we hooked up in Miami the others went their own convoluted way through various other countries.  We had an overnight flight (medicated on sleeping pills and alcohol) to Chile and then upon arriving Santiago we all met and then boarded another flight south to Tecumo and then we drove another 4 hours to the cabin- wow 33 hours- smoking exhausted and wow do we look –  exhusted or what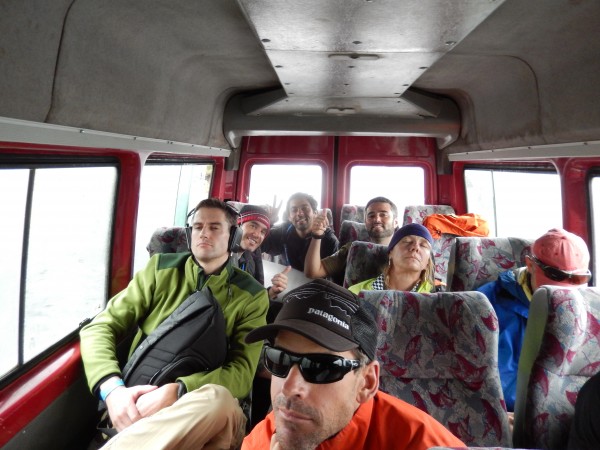 We arrived at Huilo Huilo and what a beautiful place. The cabins and hotel looked like a tree fort.
We arrived at Huilo Huilo and what a beautiful place. The cabins and hotel looked like a tree fort.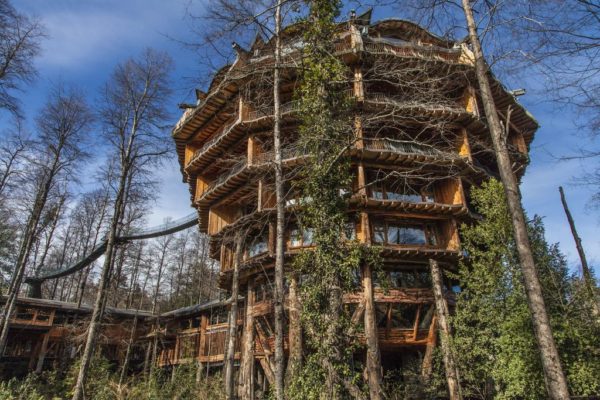 My room was awesome.  This is not my photo but it is what I had and so nice to crash in after the days ride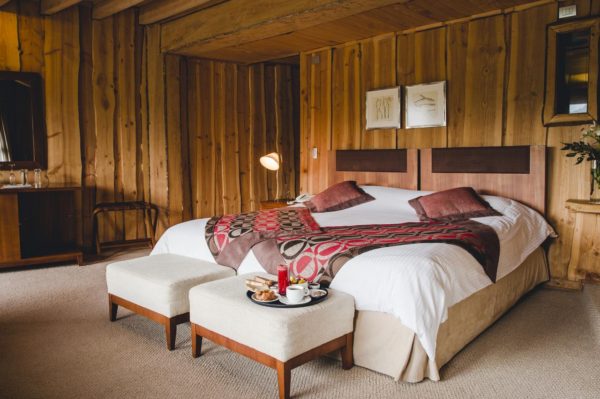 the dinners were great there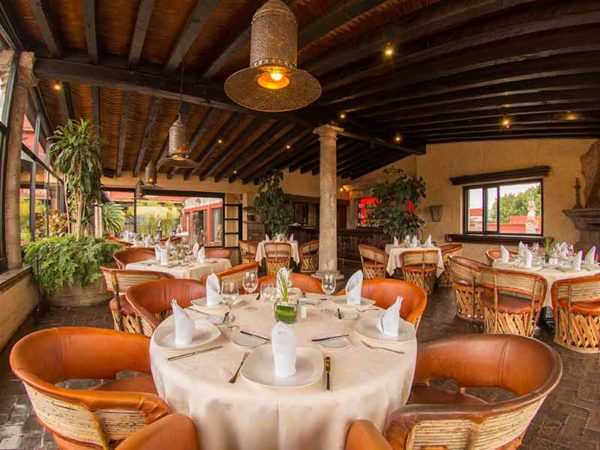 Day 2, checkout ride.  we rode around  some and visited this small town for some grub.  This is a magical place with huge mountains.  Some of us are from the flat lands of Maryland and now we find out the course has been extended for the first day from 28 miles to 43 miles with huge climbing.
THE RACE DAY 1: This is the sixth version of the Trans Andes. The race is located in the far south of Chile in a rain forest with huge mountains, I mean huge mountains. It is an International mountain bike competition and takes place in six stages where competitors must travel more than 200 miles with over 40,000 vertical of elevation gain. It is considered the Dakar of bikers with more than 300 worldwide competitors from 35 countries and 5 continents. Below is a team from Ecuador  and Argentina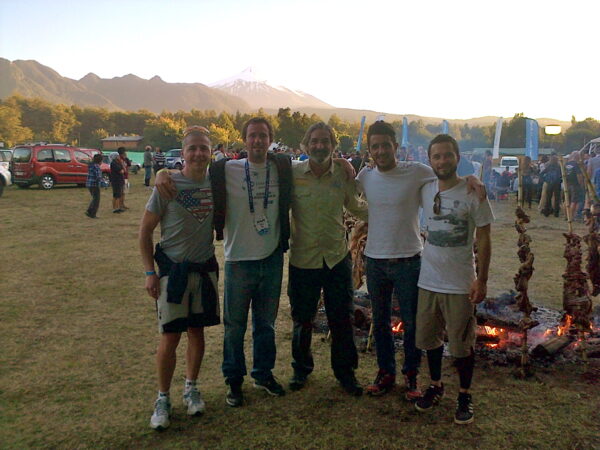 This is a world class event in which the biking trails were at best walking trails just this moring. It is an extreme adventure filled with beautiful visions: rain forests,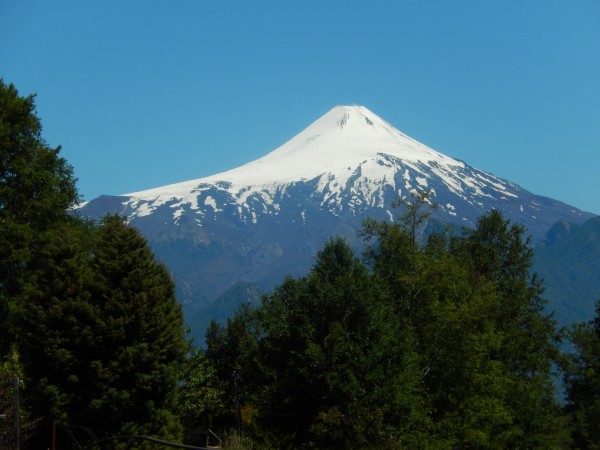 volcanic landscapes above that we rode on and along,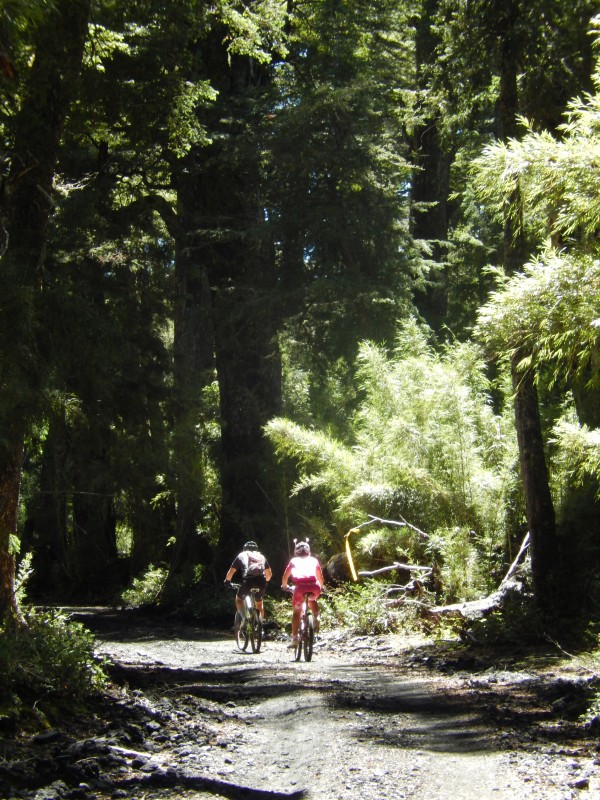 bamboo and old growth forests above, free range farms,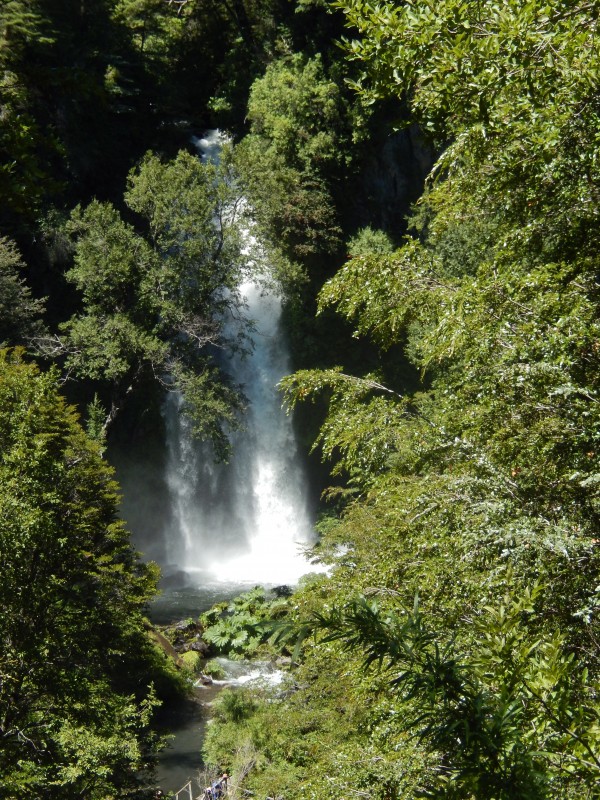 Past water falls and over rivers and sparsely inhabited areas. All participants will be tested just to cross the finish line the first day much less Pucón city on January 25th.
The early stages are performed in Huilo Huilo, later moving toward the north, traveling around Liquiñe, Coñaripe, Curarrehue and Caburga. The end stage is located in Pucón, at the foot of the imposing Villerica Volcano, in the ninth region
Stage 1:  (44 miles and 6,600 feet of climbing) With a cold and cloudy morning set in stunning scenery, the Transandes Challenge 2014 started. Note the race day above as it is cloud free, but it is my only photo of a start.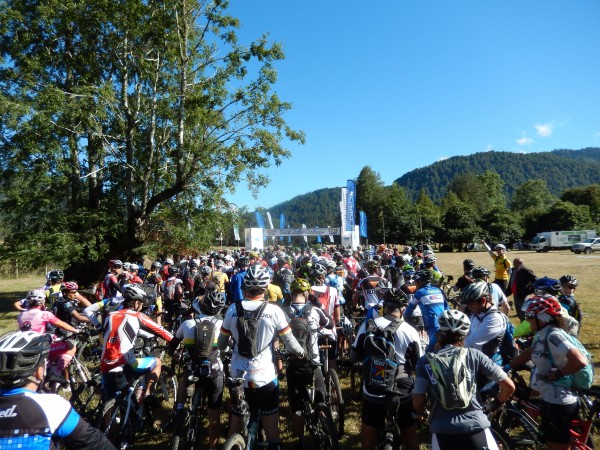 It starts in the Pirihueico Port Region near the Huilo Huilo Reserve. Wow look at those mountains below!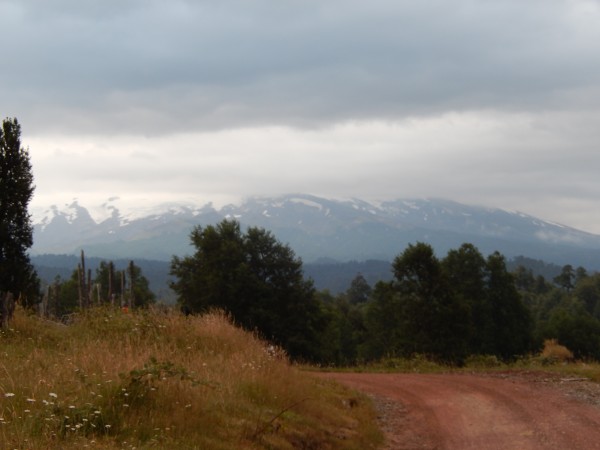 This area is one of the seven rainforests on the planet.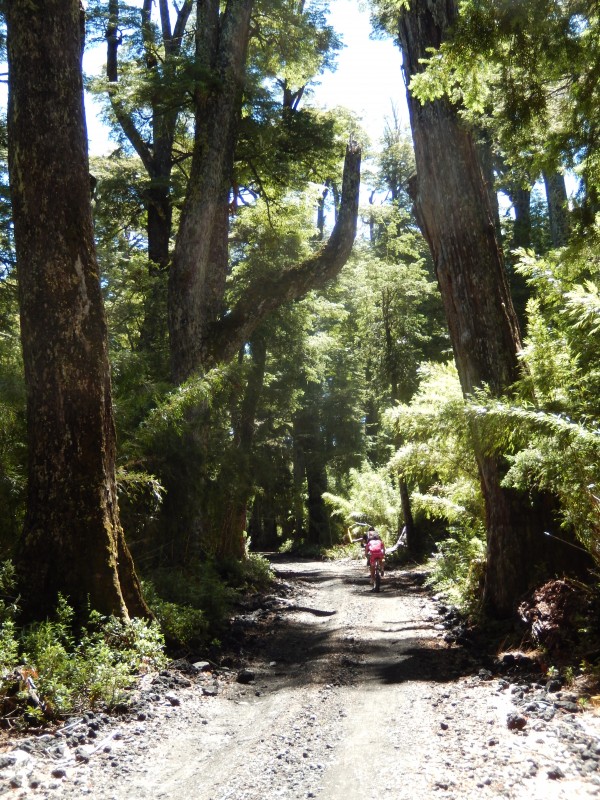 There were 44 miles of racing and 6,000 feet of ascent through incredible mountain scenery.  We rode through volcanic sand "tire sucking sand" as well as mountains trails that went on forever.  Ok so on to the race.  I always start at the back of the pack and things are going quite well until the huge hills that go on for hours, yes hours.  I come across Kathy with a flat and then again for anther so I give her my tube (I never flat) and then she blows me away and say" see you at the finish".  I wished her luck and motor on.  The scenery is awesome. We hit some sweet single track right off the start and then some fire roads with 3 inches of volcanic sand (tire sucking) and I could easily have tipped over but kept pressing. The misery started with the hills and climbing. We climbed shale roads, muddy dirt roads, volcanic sandy roads…you name we climbed it.  The clouds were low so we had no view but the front wheel on our bikes.  The clouds were roiling and I started to get hit with some sleet and rain. At about 5 hours in I got lost for about 45 minutes and then all things started to break down with the body (severe cramping). I do not like food, so I did not eat but that is normal for me, I normally do not bonk.  Wow it was not looking good for me,  as I was slow and the ground was sucking me deeper and deeper into its claws.  I finally made my way to the end and now the rain was coming harder and it would not stop for the next three days and by tomorrow it was pouring. Checkout the mud on the racers below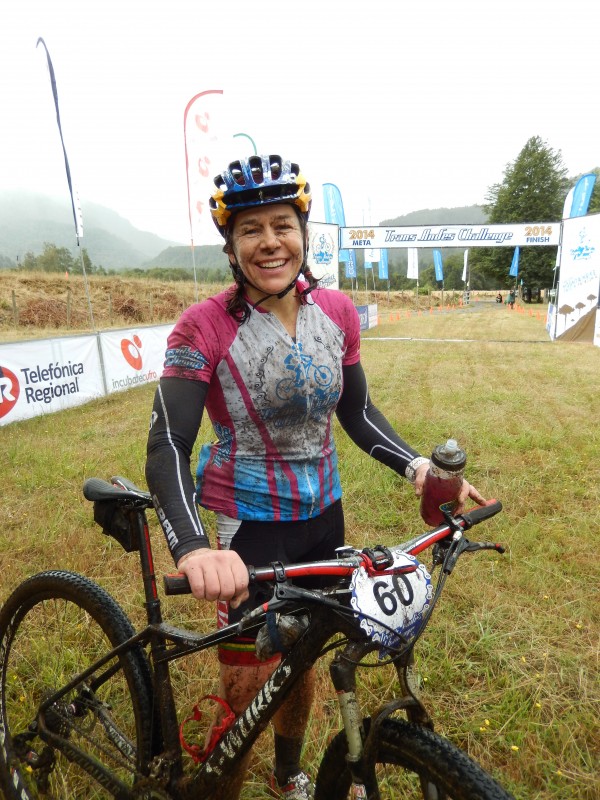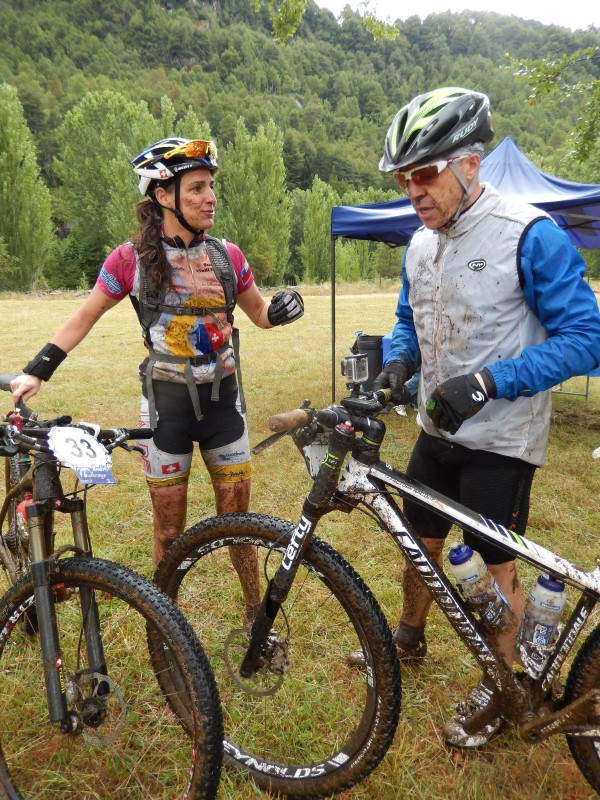 Stage 2:  (35 miles and 8,500 vertical). This morning, the second stage of the Challenge, began in Huilo Huilo with a lot complications because of weather conditions. The route included 8,500 feet of assent in a beautiful mountain valley with pine forests and then ending in Coñaripe. This was extreme if nothing more for the weather alone but adding in 35 miles and 8,500 of climbing of extreme hills and descents, made for a most difficult day for the competitors.  A dozen abandoned the complexity stage- including me – I did not even attempt it. Kathy (our team amte) is now in first place in her age below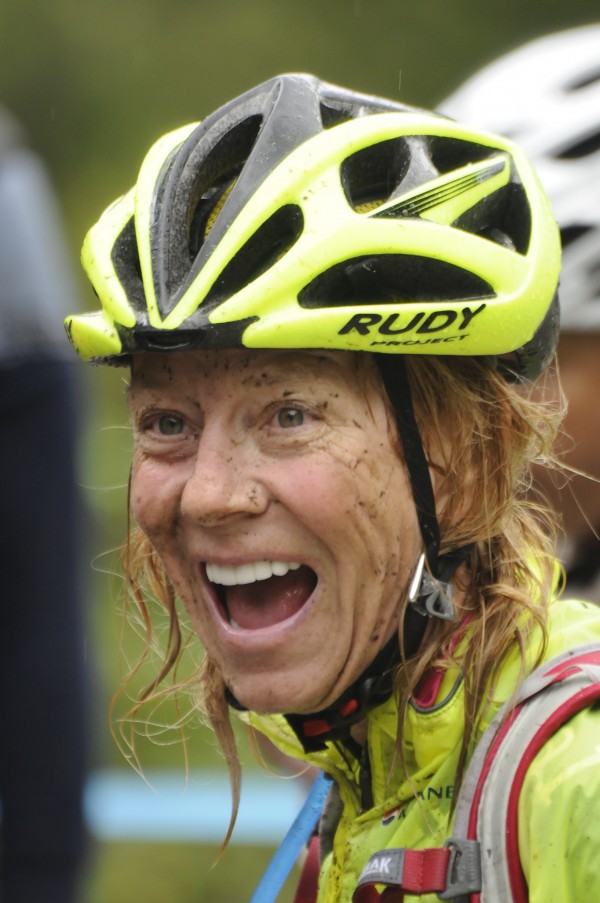 Stage 3:  Canceled: Wow weather forced the cancelation as the risk from landslides and hyperthermia increased significantly
Stage 4:  Rain forced a change of plans again.  The morning race was canceled replaced by a 2 PM, 12 mile criterion
Stages 5 and 6: Trans Andes Challenge will end in 2 days (this Saturday) with a fusion of the original 5a and 6a stages incorporating many long steep climbs and descents and surrounding and riding upon 5 different volcanos.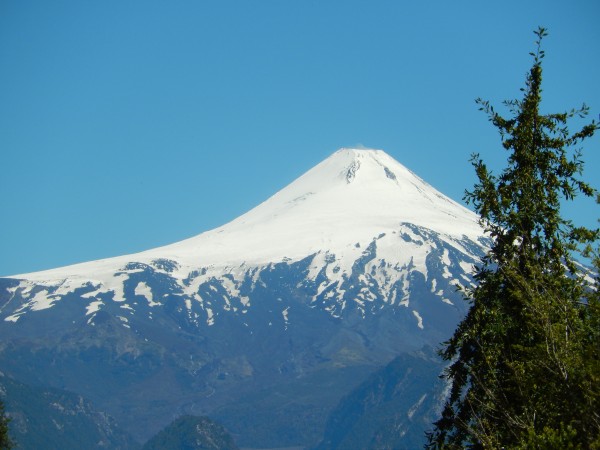 The journey will end on the last day with very fast 45 miles ( fast hell it was hard and slow) to access the town of Pucon, in the ninth region.
Stage 5:  (50 miles about 7.800 vertical feet) This was a 50 mile race between the towns of Liquiñe to Menetúe. The race starts with 15 miles of road till Coñaripe, from that place we had a 12 mile extreme climb to access the Villarrica National Park, a place where the competitors transited in the middle of a spectacular forest.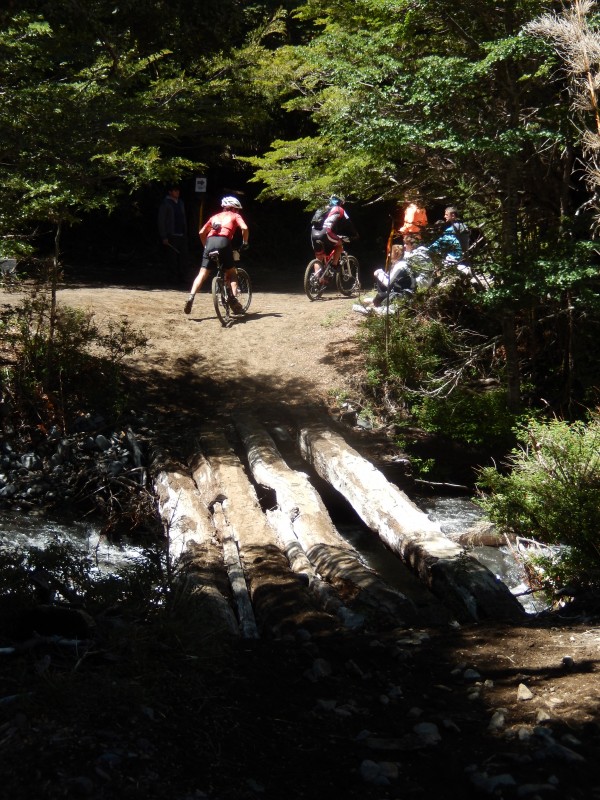 Then we faced a rapid descent to Palguín. The stage ended with 5 miles of paved road to the camp in Catripulli sector with access to Termas de Menetúe.
Stage 6:  (47 miles and 7,600 vertical) The race started in Termas de Menetúe, going down through a long climb between beautiful mountains near the volcano Villarrica. Talk about steep uphills see below: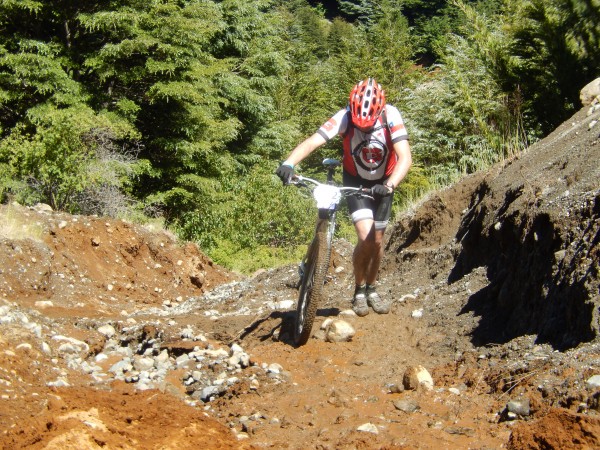 Then, competitors faced a rapid descent through internal roads near Los Ojos del Caburgua through farm land below
The final step was into the town  Pucón, with a total of 47 miles and 7,600 feet of climbing passing many rivers and lakes below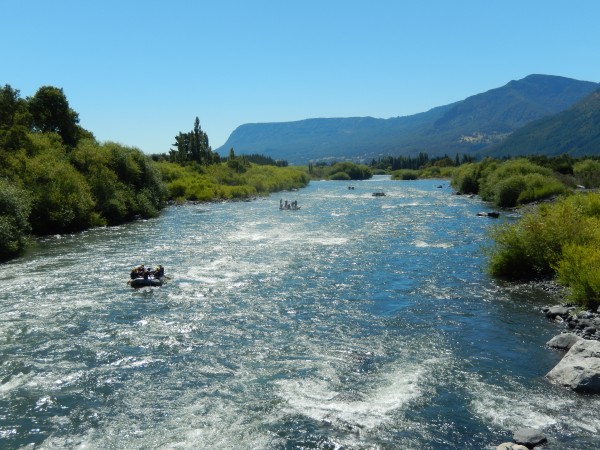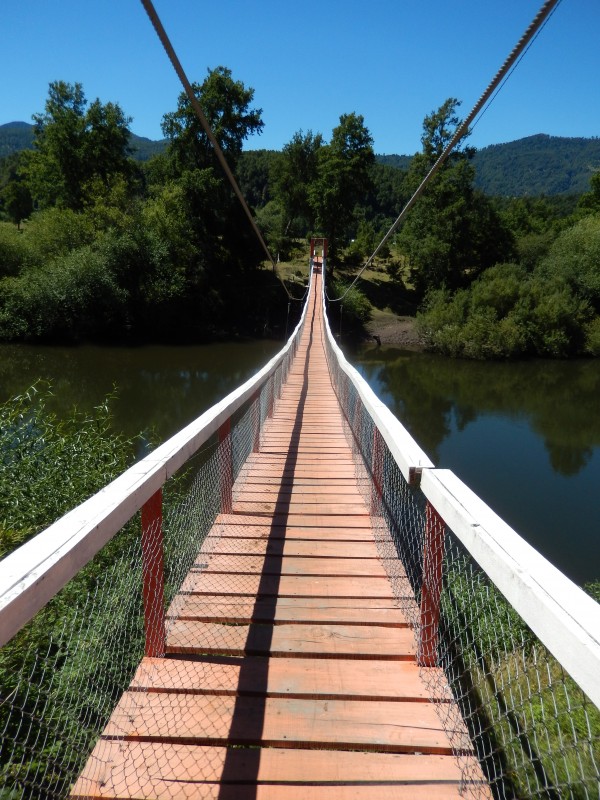 and then crossing them on hanging bridges above and below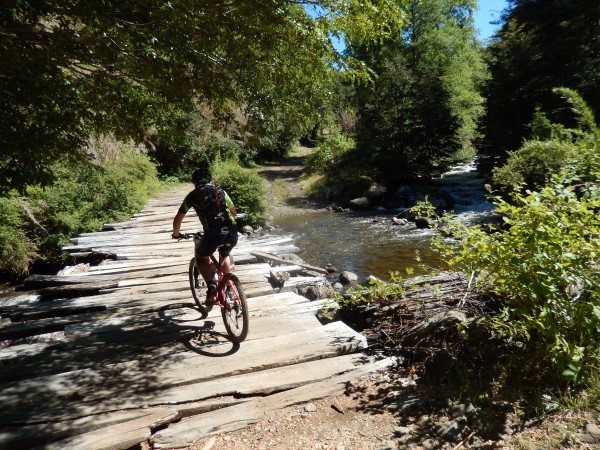 Chile retained the title in one of the most amazing mountain bike races in South America. For second time, Chilean Javier Püschel titled champion in Trans Andes Challenge 2014, after getting the second place of the last stage in one of the most amazing mountain bike races in Patagonia.  Püschel became champion after fighting the point in several stages with Spanish Joan Llordella, who won the last day of the competition, getting the second place of this edition.
In third place and first in the Teams category were the Spanish team: Antonio Rovira and Pau Zamora-(Buff Pro Team); in Women, Rebecca Rusch kept the title from 2013 and the American duo of Mary McConneloug and Michael Broderick won the first place, escorted by national Elisa Chichi Garcia and Claus Plaut.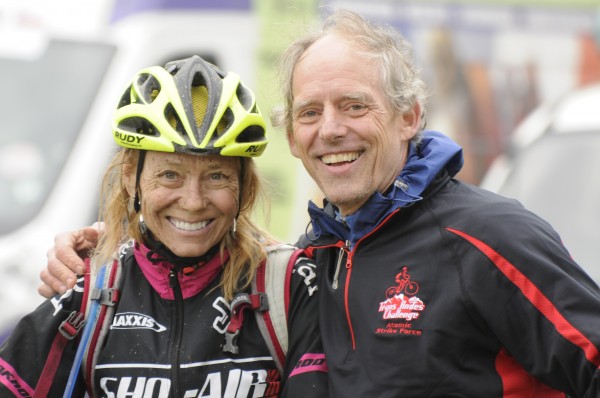 Kathy Judson above (our friend, teammate and US citizen) took frrst place in her age category.  She took 7th in cyclocroos Nationals this year and took 7th at La Ruta.  She represented herself, her state of Colorado and the Untied States to the highest levels.  We were honored to have her on our team!!!
Also, with the exception of me, all my teammate (ted, Mark, Simon and Brian) finished in good order.  They are to be commended for a job well done. They all rose to the occasion, they went into the mouth of the dragon and came back out alive and stronger for it. I at least did 75% of the total ride, a poor preformace but I will come back next year.
Transandes Challenge is a real mountain bike party in Chile with demanding roads and routes for all competitors that make this competition an epic race in the heart of the Chilean Patagonia and ended this year with an historical number of competitors, coming from the five continents, confirming its leadership in this kind of races in all South America.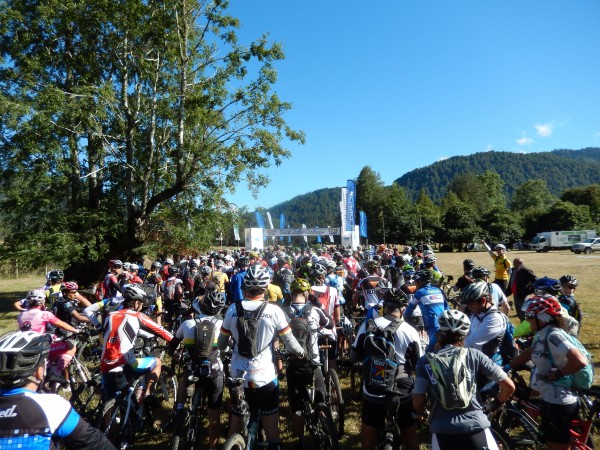 The winners below