Almost of the Photo credit goes to Dave Bowman:  he had a better eye, a better camera and the fish liked him much better.  That you Dave.
This is from Turneff Island Resort and I would recommend them for providing the highest level of service possible. 
We saw:  Sting Rays, Black Tip sharks, Reef Sharks, Lobsters, Eagle Rays, Moray Eels, Turtles, Garden Eels, Barracudas, Huge Hermit Crabs and Clinging crabs and many more to many to name.  They offer Scuba Diving both day and night with or without Nitox as well as snorkeling.  We dove about eight different dives: A typical dive was between 60 feet and 140 feet with the 140 foot dive into the blue hole which is 450 feet deep – wow that is deep.  On the Blue Hole day, we stepped into a sea of liquid pleasure.  The blue, aquamarine and light green colors were seductive and the warm waters soothed and cleansed our souls.  We floated downwards into the depths of a forest unknown to humans.  Undersea mountains with their steep walls comprised of colorful corals covered the floor.  We saw bright pink, orange, green and blue corals and other plant and animal life in and around this underwater forest.Purple fans attached to the coral outcroppings waved in the current while tiny brightly colored iridescent fish darted in and out of the many small caves and holes in the coral reef.  Larger fish like the parrot fish dined on the coral and one of the most beautiful fish, the lion fish with its many poison spines were all about. We say lobster, grouper, and permit and other predatory fish looking for their next meal.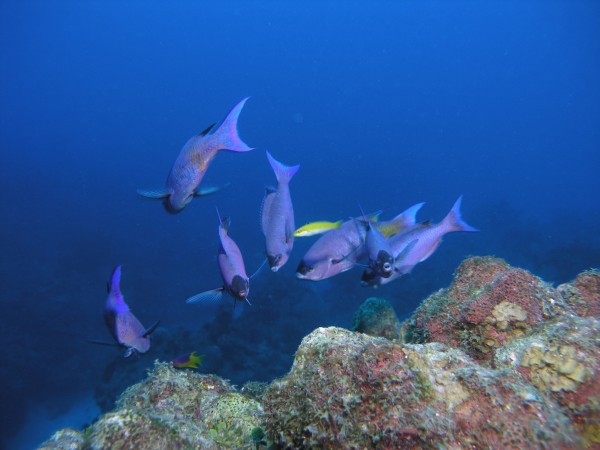 Very cool schools of fish like:  permit, grouper, barracuda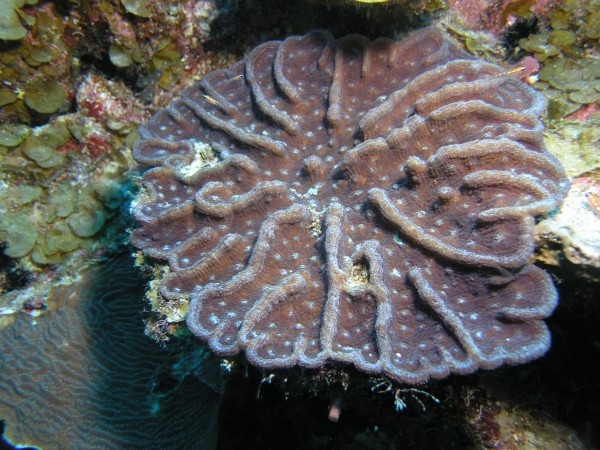 Nice Coral shot flat head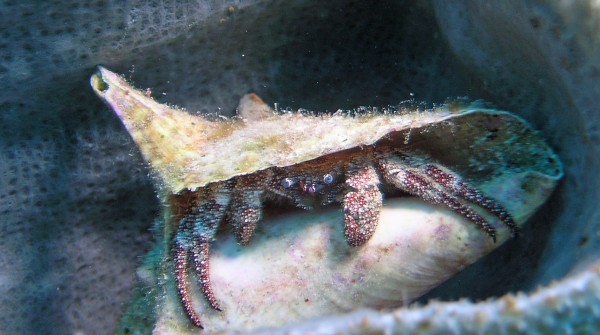 Cool Crab in a shell above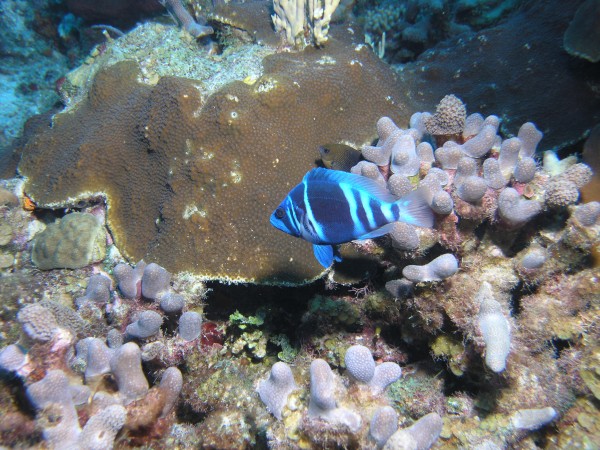 Cool little Blue Fish above
Most of the Photos are from Dave Bowman.  He had the best camera and eye- thank you Dave as my camera sucked!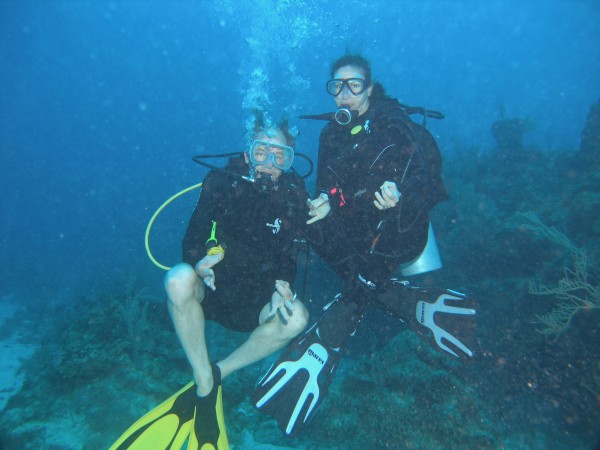 Deb and I in the Lotus Position at 100 feet.  She is cute, funny and just awesome to be with.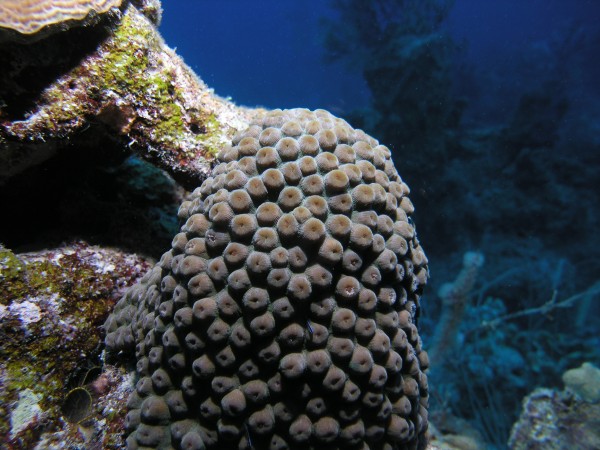 cool coral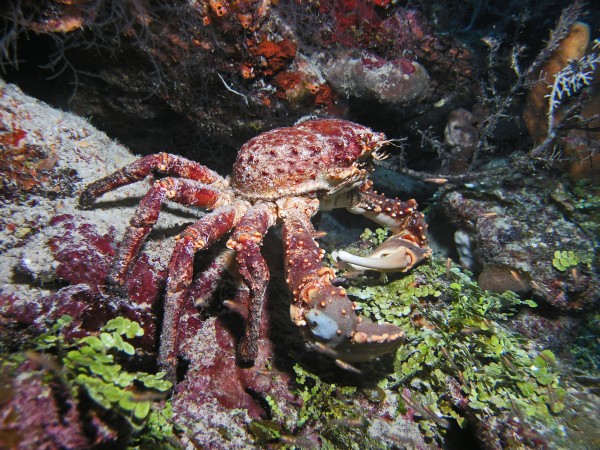 Cool Crab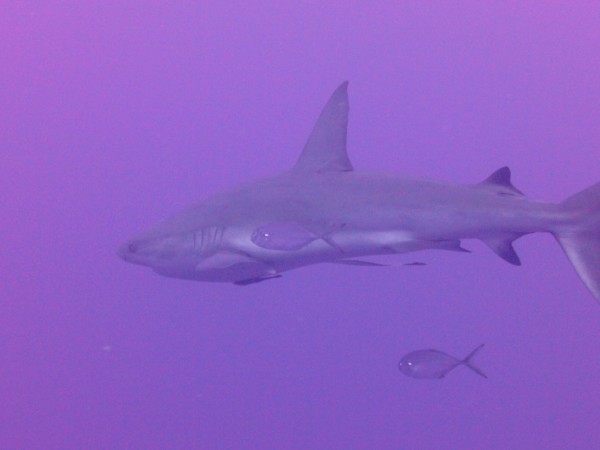 I may say no more, black tip shark close up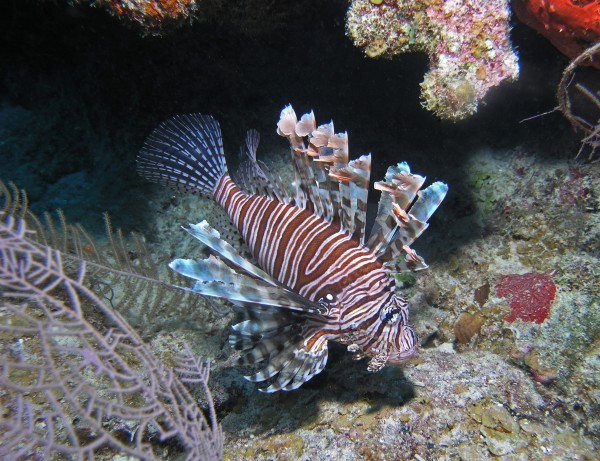 Lion Fish
SCUBA Taking the boat to off shore sites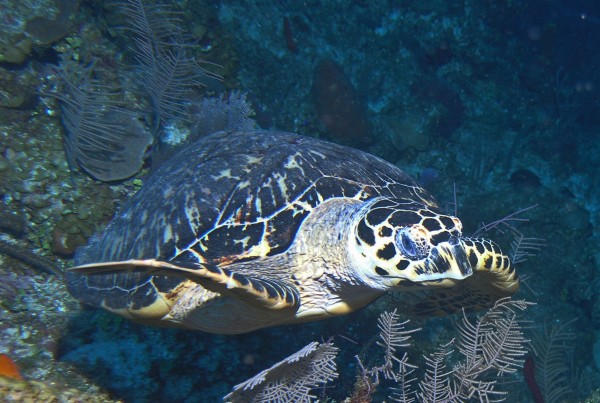 Cool turtle Hawkbill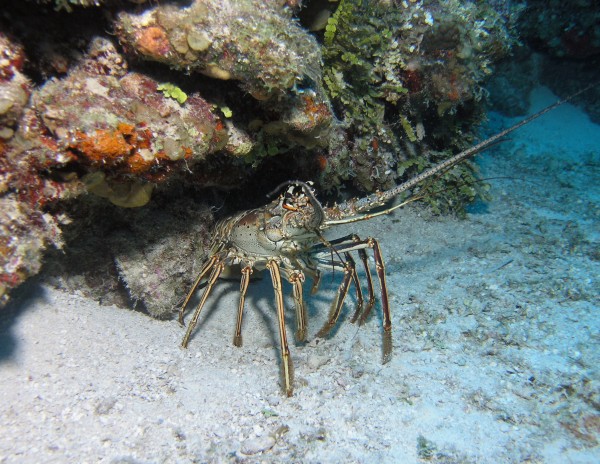 Lobster, nice dinner yea man.  This is me below at 130 feet, wow that is deep!!


Cuda above, nice boy, now go over there and eat the other guys not me!!!!

The Wall at 100 feet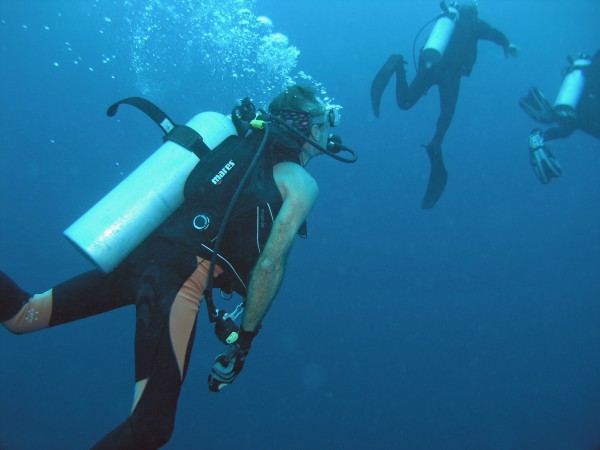 Our Friends from Belgium above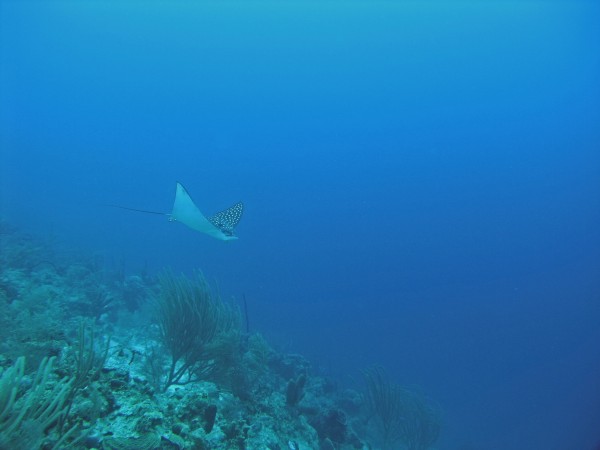 Leopard Ray very cool, do not try to ride on his back he might kill you.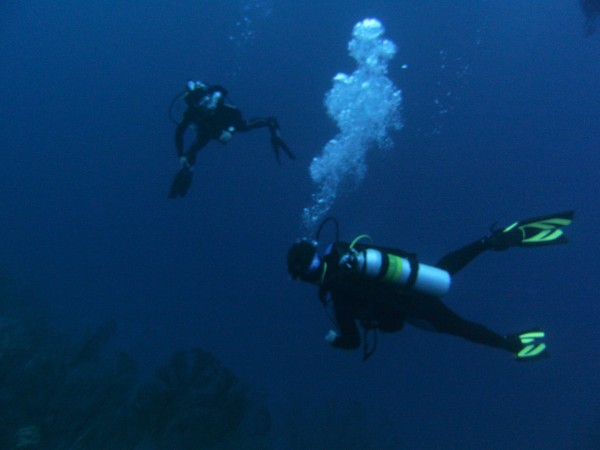 We continued to sink downward arriving at 140 feet where 100-foot stalactites fell away to the bottom of no return,  450 feet below us was the bottom.  Into the abyss the colors faded blue to purple to black. We saw 10 foot black tipped sharks and one was close and a few giant leopard rays and a 3.5-foot barracuda.

They could have taken us if they wanted but today all was good, the 90-degree wall and the overhang, stalactites and large predators and dropping into at 140 was incredible. We all continued to drift downward along the edge of the reef and even though we never saw the bottom we stopped at 140 feet and just floated in space.  Life was all around us in a most beautiful and colorful and serene way. Not a care only bliss wow.   We saw:  Sharks,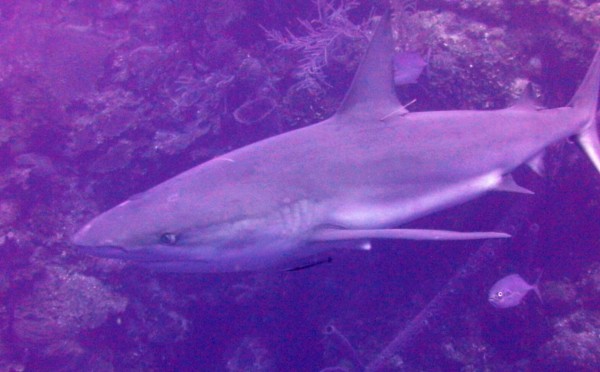 Barracuda, Parrott Fish, Moray Eels and so on.
Leopard Ray above very cool


Turneff Island Resort, Belize
Out Flight started in Baltimore with 6 buddies:  Amiel, Keith, Ron, Stan, Bob and Bob.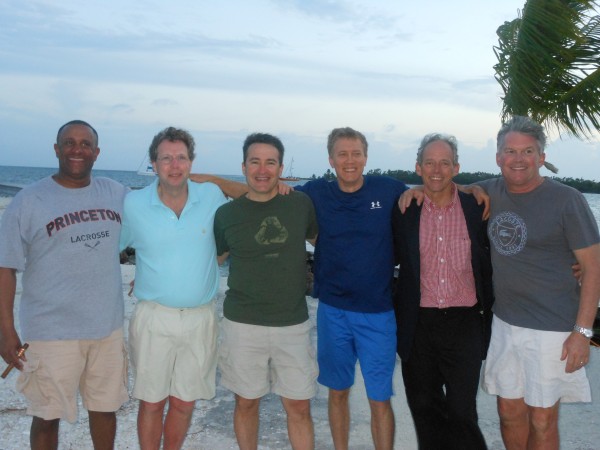 We left a cold Baltimore and landed in Belize City with warm tropical storm clouds roiling the coast.  We then boarded a 50-foot boat to take us to some very uninhabited small islands 40 miles off shore, staying at Turneff Island Resort.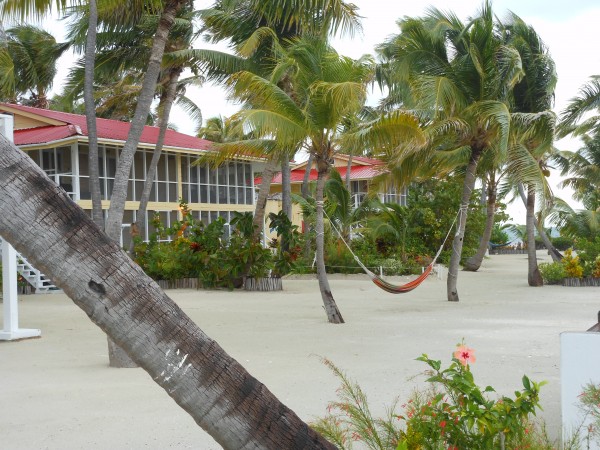 God gave us a touch of his might and his creation on our way to the resort.  The wind was blowing steady at 40 mph with the dark blue waves pummeling the boat as we made our way to the atoll. The more we pushed on, the darker the sky became and the colorful ocean became grey and then turned black and the sky was very ominous. Today the gods were angry as lightening strikes blinded us and the thunder pummeled and shook our little boat.

The winds blew like a locomotive and clouds swirled around and raced on the wind, so it was nice to reach the safety of the resort.
Turneff Island is one of many barrier islands that is part of the second largest barrier reef in the world. Our island is a small 10-acre pristine island at the southern tip of turneff atoll.  The Hemingway feel to this quaint place, is ecologically and environmentally friendly as they use solar power and water purification systems that is the only kind in the Caribbean.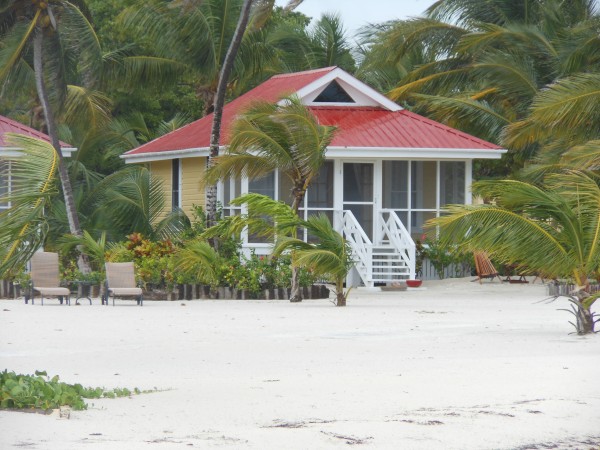 Our staterooms were paneled in varnished hardwoods and appointed with fine wicker furniture, fine linens, inside baths and outside shower, all with beautiful views overlooking the ocean through a strand of Palms.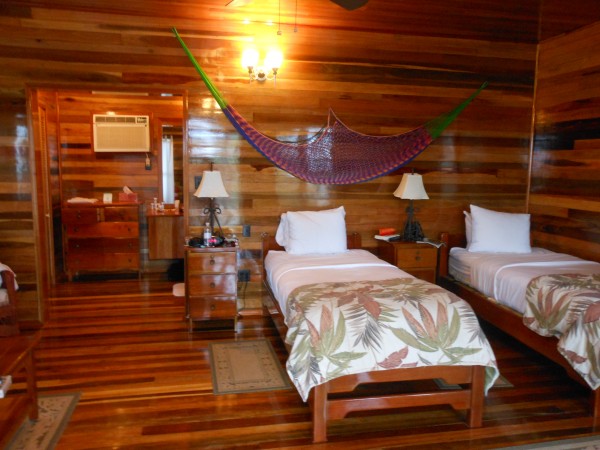 Each evening, placed on the bed is the day's message, which is like a vesper or soft meaningful poem, which was scribed upon a folded, embossed high quality parchment that was sealed with at stamp of wax. From the screened in porch of each stateroom we listened to the sounds of the ocean. This island is idyllic, serene and verdant with lapping waves caressed by steady winds that brought harmony too all.
The dinning is spectacular with three gourmets seatings.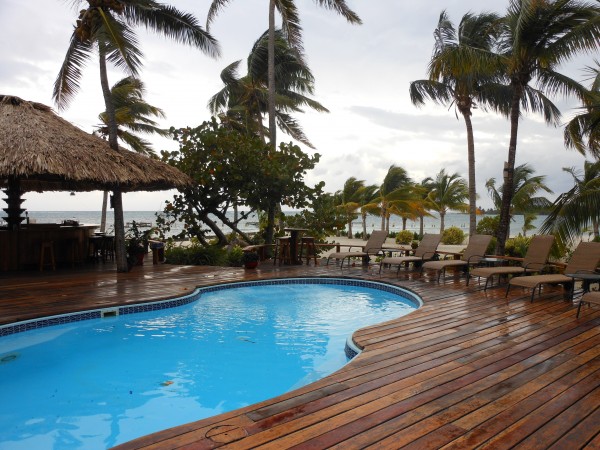 The evening started with the international guests meeting by the tiki bar and pool, consuming delectable Hors D'oeuvres while sipping fine whiskeys, wines and beers which was followed by the finest cuisine served on fine china in the dinning room – it had a regal ambiance. These meals were some of the best I have tasted which were prepared by a totally professional, well mannered and knowledgeable staff.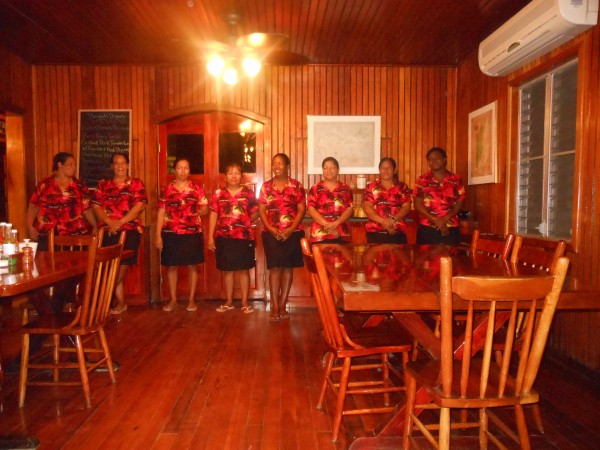 The 20 to 30 guests were global and hailed from French, Belgium, Israeli, Canada and the States and we became fast friends with lasting memories and friendships.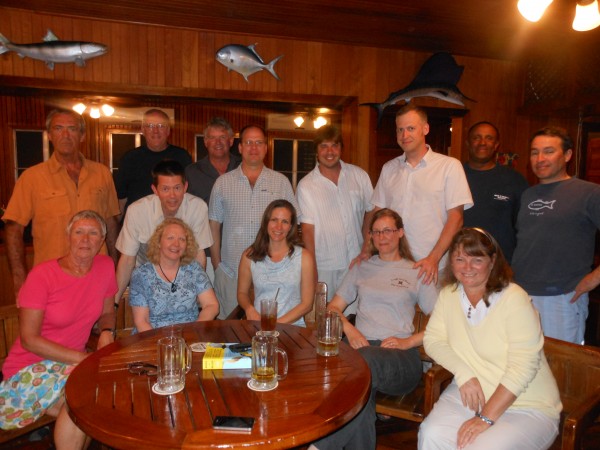 In the evening, In the evening, some of us wore crested jackets and ties and our discussions focused on the days activities as well as philosophies about time, space and eternity.
The managers are Maya and Alain.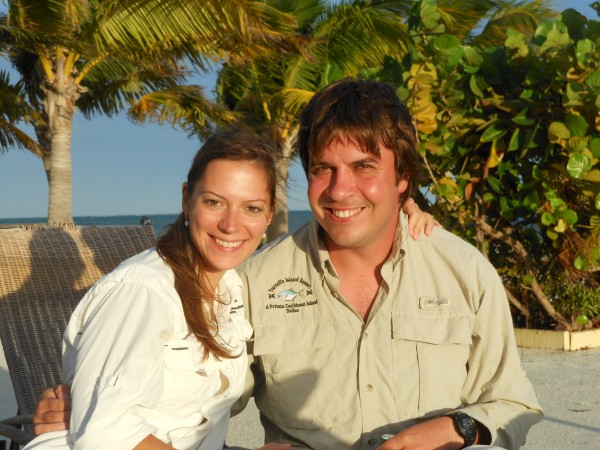 They are a Beautiful and handsome young and recently married couple.  Maya had been an event planner and Alain was an engineer before becoming a professional diver in Thailand. Their friendliness and managerial skills with the desire to deliver high quality services and goods impressed all.  They are globally oriented and most knowledgeable about their business. They and with the staff together, manage this resort to the highest standard in a most harmonious way. Every guest raved about them and the job they and their staff provided us.  Their statement is " come as strangers leave as friends."
This was truly an amazing resort that offered: Diving, Fly Fishing, Snorkeling, kayaking and short trips to zip line, river caving and Mayan temples. Outward beauty and hidden danger watch out Crocodiles.
FISHING: We went fishing for bonefish, tarpon, permit and barracuda on the flats, numerous sites, mangrove creeks, and lagoons in the atoll.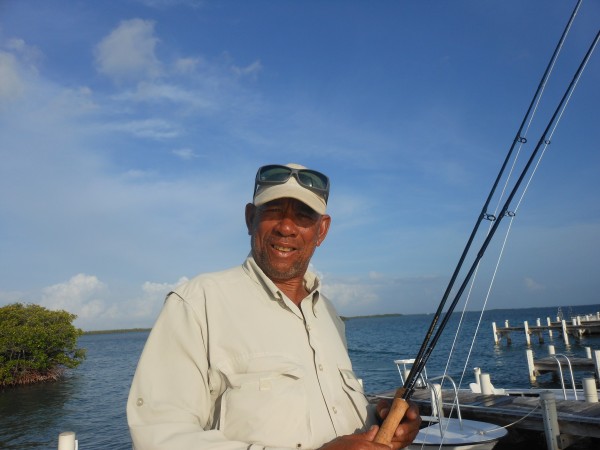 Endlessly we walked the flats forever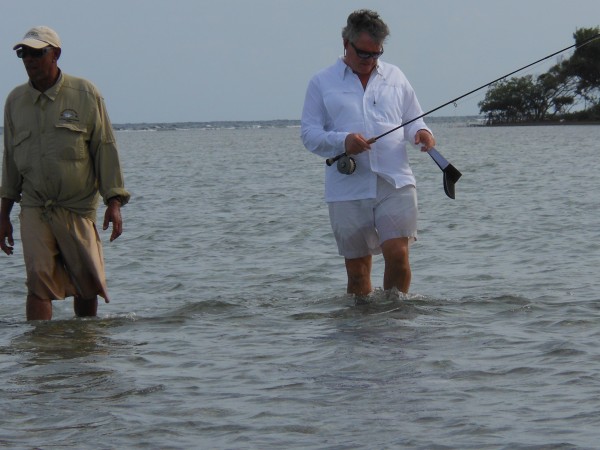 with the sounds of waves crashing down on the reef like a metronome and it pounded endlessly since time immortal.  We walked for an eternity in the presence of eternity on this outer reef's banks and joined in unison with it for this time without regard to anything, life floated by and we were suspended in time, wow really cool.
KAYAKING: One night Ron, Bob, Debbie and Lawton all went Kayaking into the darkness of the mangroves looking for crocodiles and other wildlife.  We left at 8 PM and arrived back at the lodge at midnight after visiting the reef.

Wow it was cool as some huge Denison of the deep breached the water right in front of us.
SAILING:  Lawton and I went sailing in the biggest storm of the week.  It was howling and we were healed over cutting the water sharply with the outer pontoon.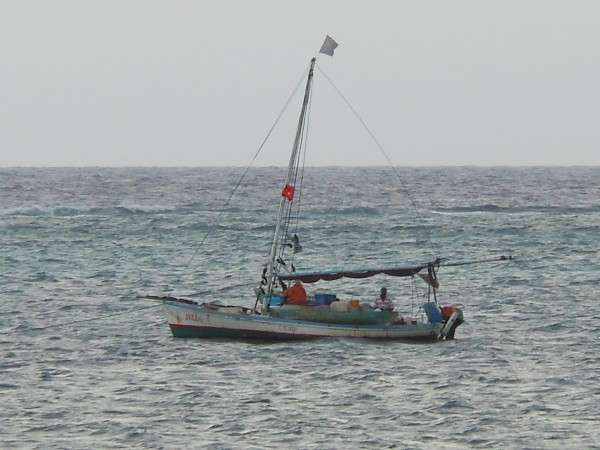 We had a great time taking it all in.
TUBE and ZIPP LINEING: We also went tubing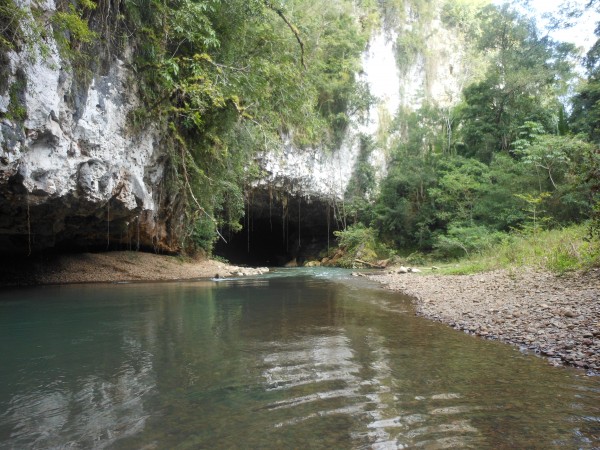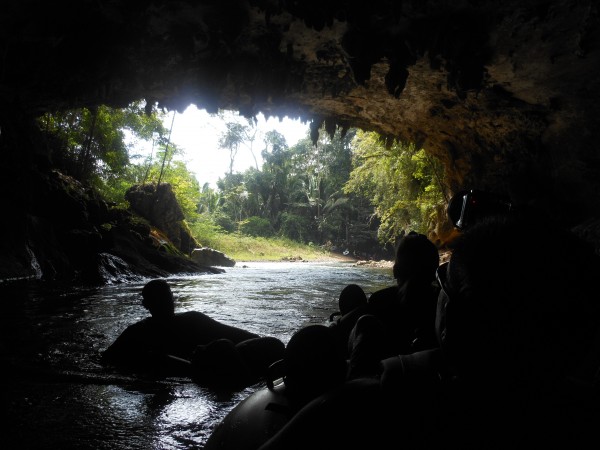 through a rather large cave system of limestone where there were bats and cave-ins as well as zip lining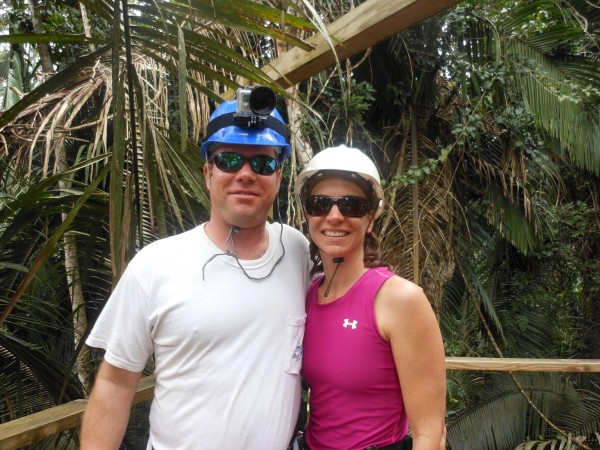 through the treetops.


FAUNA: After one of our dives we landed on a natural habitat island and saw red
frigates, boobie red footed rookeries, Iguanas, lizards and all kinds of normal life eels green black coral.  We saw huge 12 huge grouper, trumpet, parrot 4 foot long, and turtles, 12 Foot salt-water crocodiles and iguanas, lizards, red Bobbies, frigates, parrots, brown pelicans and other
FLORA:  mangroves, upside down Methuselah to the underworld sucking life form the depths below, colorful flowers,
Our Guides and Staff: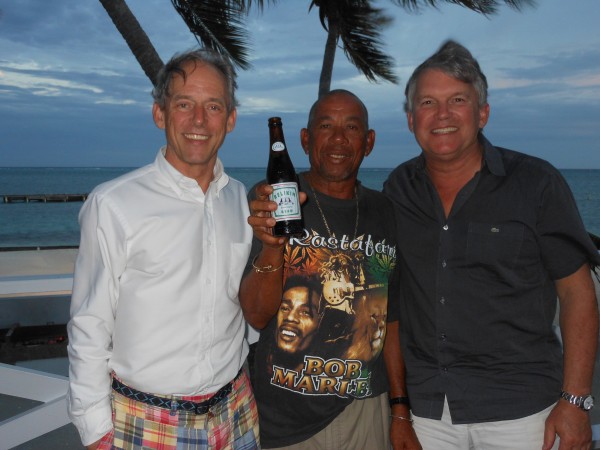 We learned from the guides about casting, tight lines nervous water, school size, to predict behavior and to be in tune with the environment and to seek a gentleness towards all life.  So one evening we sought out the staff and guides and sat down with them to honor them with a bottle of glen morange single malt scotch whiskey. This was away from the guest and management and took place in the staff quarters and for the brief interlude where the division of guest and worker does not exist, we were honored to have been brought into their fraternity drinking whiskey and sharing stories and laughter. We we're honored to be a guest into their fraternity and to be one with them.
There ends the story