I have been skiing for about 55 years and every post and area mentioned is a winner and will exceed your expectations.  Imagine climbing up a narrow rocky ridge line whose rocks peak through the untouched pristine snow and glistening ice. Then imagine trekking across an upward sloping snowfield to the top of Mt — and then looking over the grand mountains below covered in a sea of white snow as well as the verdant valley floor that snakes its way between the mountain side.  It is awesome to stand above it all in a sea of white powdery snow. Imagine the warm sun splashing your face in golden hues, and your eyes blinded by a kaleidoscope of refracted colors through the pristine snow while the wind brings sweet melodies to the mind and the sight of green velvet that covers the valley floor below brings a note that spring is around the corner. One then drifts to the edge of the precipitous cliff on their skis and drops off the ledge and like a floating leaf, sails downward between the rock walls to the slopes below. The heavens sing on the descent and it is magical.  The blue sky above the earth, White clouds rising towards the heavens, Life is only the butterflies dream, Death is the only way to eternal Life- fear not my children!!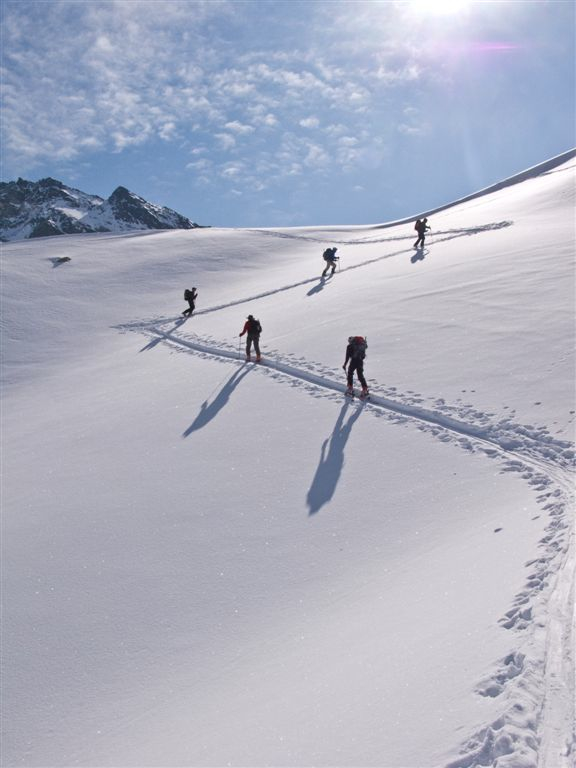 Haute Route above
l Love to ski.  Wind in the face, skis flying over the ice and snow, racing ever so fast an trying to keep it all together. Have skied:  Zermatt, Bad Shools, Portillo, Aspen below with mom dad and Aden ripping it up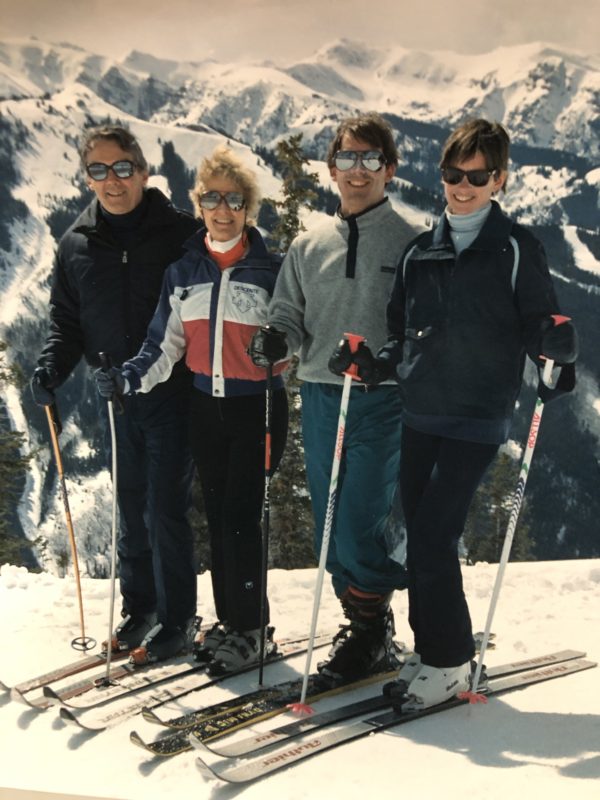 Jackson Hole, Vail, Taos, Alta, Snowbird, Park City and Stowe- Stowe was the most difficult= Star, Goat and National.  Corbetts in Jackson was the biggest drop off and steepest in the short run and Portillio was the steepest over the top. Raced number one position in BSC at one time.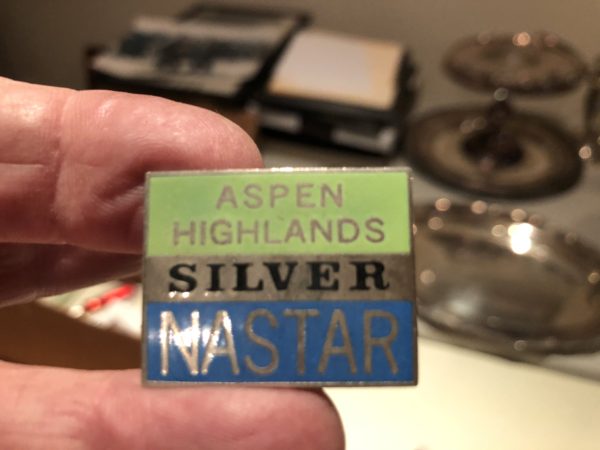 Portillo is a resort unique in the world. In this intimate valley you will never have more than 450 people on the slopes. Guests form a special camaraderie in the deluxe Hotel Portillo as they recount adventures on the slopes, enjoy sumptuous meals and dance the night away in the hotel's discotheque.South America's best-known ski resort is set far above the timberline in a desolate moon like landscape of rock and snow. Portillo's very low humidity combined with a 9,350 foot base altitude assure a crisp climate producing legendary dry powder. With a Portillo ski vacation package you will discover a resort world renown for superb ski conditions and celebrated beauty of the Laguna de I…Hotel Portillo is located on the edge of the Lake of the Incas. The lake and mountains provide an unparalleled setting for skiers. The crescent shaped Hotel offers rooms with lake or valley view and is a completely self-contained hotel with full spectrum of resort services including; fine dining room, piano bar, retail store, fitness center, heated pool, skating rink,discotheque, rental/repair shop, gym, sauna/massage, game room, and ski check.
Portillo below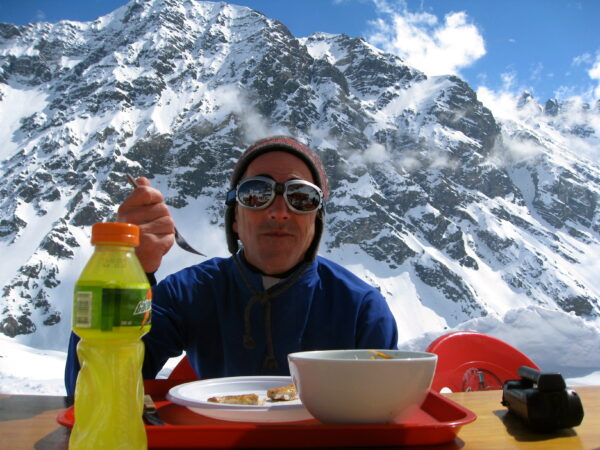 Las Lenas ski resort located in Mendoza province of Argentina has rightfully earned it's reputation as the most extreme ski resort in Argentina. Some say that Las Lenas is like your favorite resort on steroids. Las Lenas boasts the most lift -serviced ski terrain than any other ski area in the Western Hemisphere. The mountain is completely above tree line, offering huge open bowls, long steep chutes as well as groomed runs to satisfy skiers of all levels. Divided into two areas-the lower mountain and the upper mountain, the lower mountain is serviced by 8 lifts and off  beginner and intermediate terrain. Also known as the "American Switzerland", this area offers more than just a great ski destination. This city rich with tradition is located in the heart of the Nahuel Huapi National Park. With international ski slopes, renowned chocolate shops, and chalet style architecture,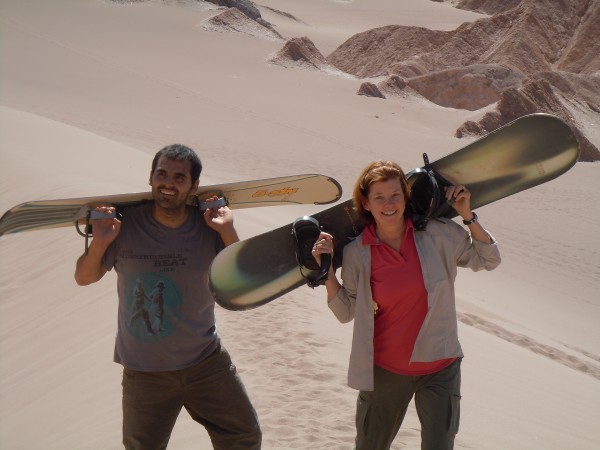 Sand Boarding Chile above
Barilochi: is thriving with cultural dining, dancing and shopping.Catedral Alta Patagonia or Cerro Catedral is the actual ski resort located 12 miles from town. Catedral Ski Resort is a full service resort with all the amenities that are expected from a world class ski area. The resort just completed a huge 4 year renovation adding many on-mountain amenities, including hands free ski passes, increased snow making, on mountain dining, new chairlifts.
Mile-high Zermatt, an idyllic mountain village at the foot of the Matterhorn,has developed into one of the world's most famous ski resorts. Favored by it's southern exposure, sheltered by the wind and generously endowed with snow, Zermatt enjoys some of the most spectacular skiing in the Alps. The scope and variety of skiing is tremendous with a network of lifts serving trails that rise over 12,000 feet. Three main ski areas offer wide open slopes for beginners while the more advanced skiers enjoy the challenge of the internationally known Tiefbach, Aeroleid or Momatt. You can ski over the Theodulpass to Cervinia, Italy for lunch. The new Matterhorn glacier paradise lift, ascending to 12,533 feet, the highest aerial cable car in the Alps has opened up new glacier ski runs.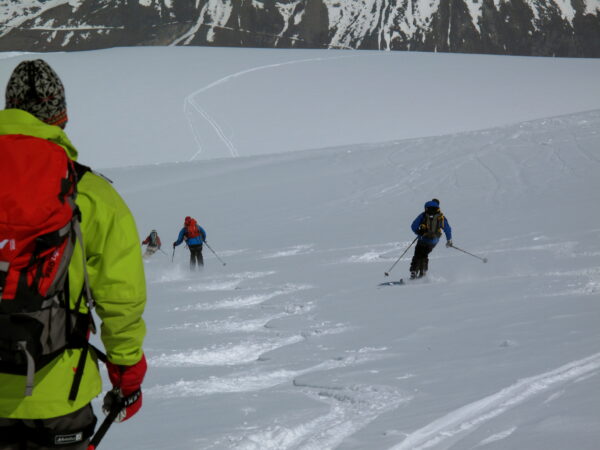 chamoinix or Verier above on Haute route
Verbier, the second largest resort in the Swiss Alps, is a delightful French speaking village located on a sunny plateau, in the grand circuit of the "4 Valleys" ski area. Situated between the Matterhorn and Mont-Blanc at a height of 5,000 feet, Verbier has one of the largest skiing areas in Europe. Your lift ticket is honored at the 100 plus lifts and cable cars which service over 250 miles of ski runs. This vast ski area is topped by Jumbo, the Verbier-Mont-Fort cable car, with a 150 person capacity. Ascending to almost 11,000 feet, this telepherique opens up some of the steepest mechanically accessible ski runs in the Alps.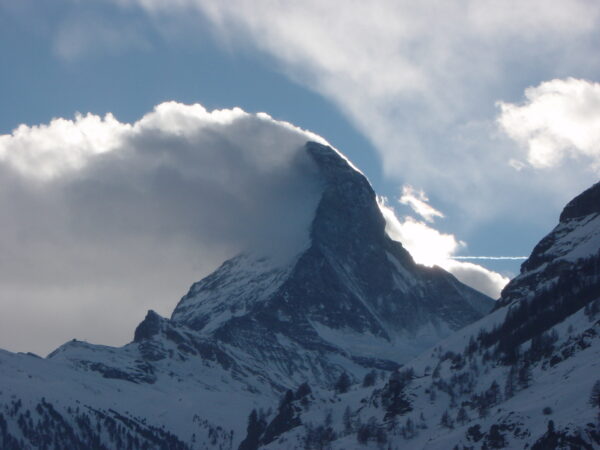 Zermatt Above
Chamonix The oldest ski resort in France is really a quaint village of 10,000 people where the tradition of fine skiing combines with the diversities a town this size can provide. The main ski areas through the valley offer 50 lifts and varied terrain for skiers of all abilities. Le Brevent cable car begins just above the town and climbs to over 8,000 feet. Les Houches, Le Tour and sunny La Flegere is where beginners and intermediates will find many trails to ski. Les Grands Montets is the most popular area for the intermediate and the more advanced skiers. Strong intermediate and above skiers will want to accept the challenge of the Aiguille du Midi, reached by a two-stage cable car. This 7,000 foot descent on and along the glacier of Vallee Blanche includes spectacular mountain scenery
Experience Whistler is a friendly ski town located in British Columbia, Canada and is home to almost 10,000 residents. One of the many things that makes Whistler so special is two unbelievable mountains – Whistler and Blackcomb. Side by side, they represent over 8000 acres of skiable terrain, rising a mile above the valley of Whistler. Located in the Coastal Mountains of BC, Whistler is approximately 115 kilometres (72 miles) from Vancouver. There is little need for a car once in Whistler, so if you are flying into Vancouver, the best way to get here is by bus, limousine or charter plane. Footsteps from …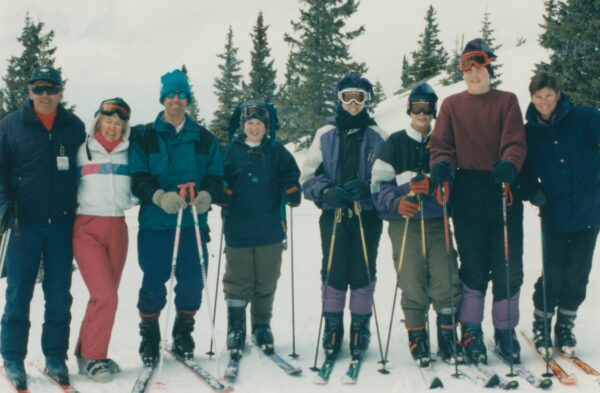 Aspen with family above and mom doing it big time on Sun Valley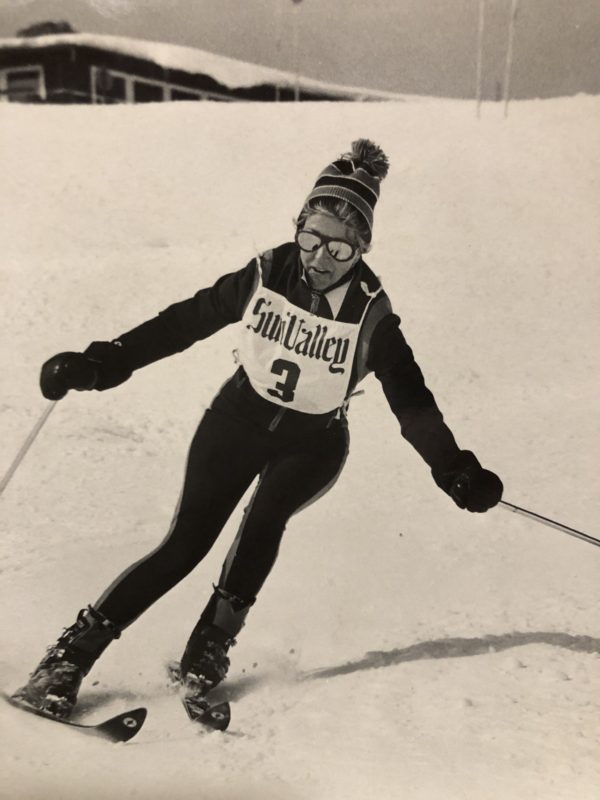 Aspen/Snowmass, anywhere else this would be four separate vacations. It's not just one mountain. Wow this shot is from years ago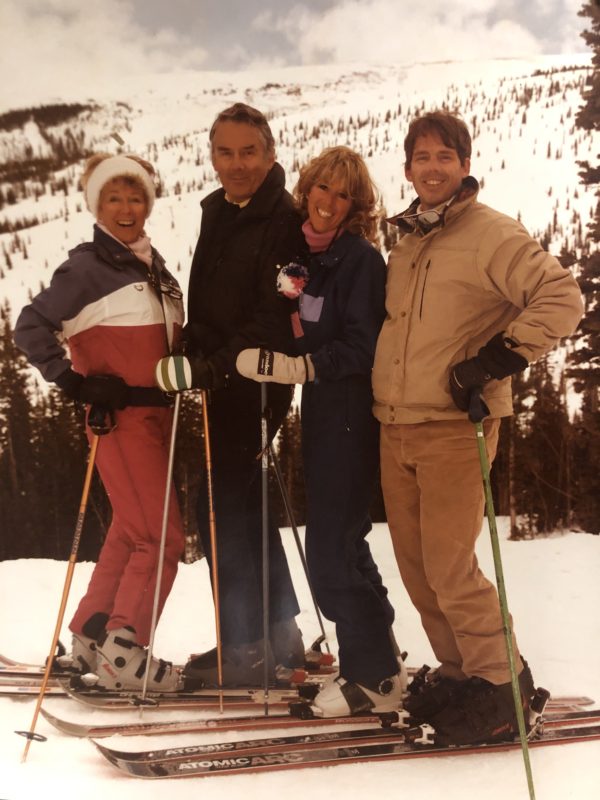 This is from years ago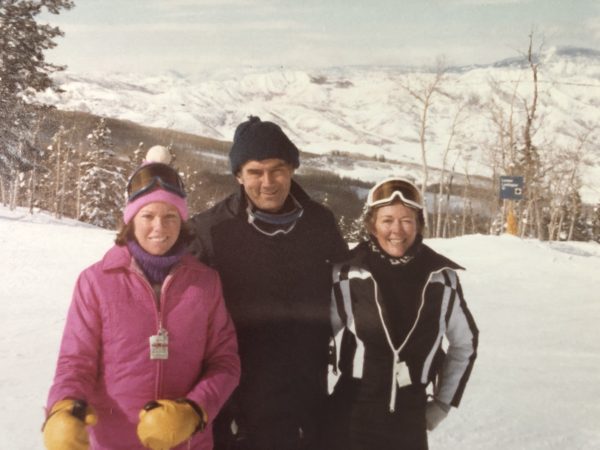 It's Snowmass, Aspen Mountain, Aspen Highlands and Buttermilk. Decide which mountain fits your passion. Four choices and nearly5,000 acres. Snowmass, so many runs, so much variety – cruisers, steeps, glades, off-piste, terrain parks, super-pipe and the longest lift-served vertical rise in the United States. Rising out of the heart of downtown Aspen and famous for its steeps, bump and incredible views, Aspen Mountain and its double-black and tree runs are fun for skiers and snowboarders alike. Known as the locals' favorite mountain, Aspen Highlands features extreme terrain, groomed cruisers and breathtaking views of the Maroon Bells.  …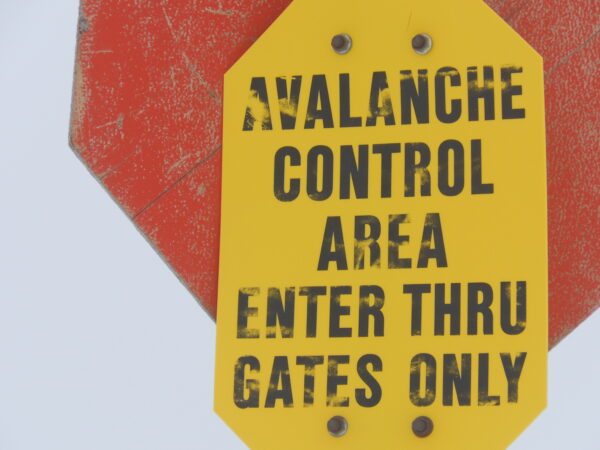 Alta Snowbird above
Alta Ski Resort
Alta Ski Area has been ranked as number 1 in the nation by SKIING Magazine for five years in a row and offers an oasis of world-renowned skiing in Salt Lake County. Often referred to as the skiers mountain where snowboarding is forbidden and host to an extensive assortment of year-round activities, festivals, hiking, and biking on wildflower-laced trails; featuring a combined pass with Snowbird, its close neighbor in Little Cottonwood Canyon. I did both Alta and Snowbird and I love them.  Wow easy to get to great snow and steep terrine.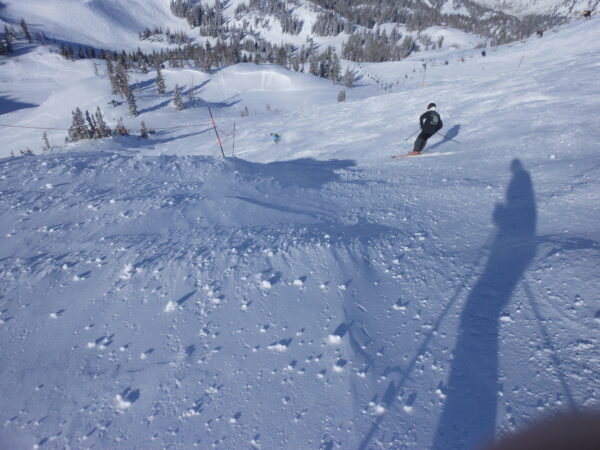 Alta above
Snowbird Ski Resort
As a full-service resort, Snowbird focuses on both recreation and relaxation. Luxurious suites, outdoor heated pools (even during the winter), and ski-in/out lodging characterize just a few of Snowbird's amenities. The tram is very nice aas it wisks you up the mountain quite quickly.  I love this palce.  They have a  number of diverse restaurants, festivals, and retail opportunities so they give guests a full mountain community experience. This is truley a world class ski mountain and whan combing it with Alata wow one has to come and visit.  In the summer it is a world class mountain biking and hiking mountain area.  Fly fishing and other summer activites are close by.
The Canyons has a total of 19 lifts, 3,700 acres of skiing, and is Utah's largest ski & snowboard resort (and one of the five largest in the USA).The Canyons features six new lifts, including Utah's only gondola and three The Canyons Resort caters to folks who really love to ski and snowboard and can appreciate how well our diverse terrain holds and protects an average annual 355 inch bounty of snow. Whether you visit as a family, a group or a single, Vertical Rise: 3,190 feet Total Skiable Acres: 3,700Lifts: 17Trails: …
Jackson Hole: The majestic Tetons of northwest Wyoming provide a spectacular backdrop for your Jackson Hole ski vacation. Far from the crowds and close to nature with terrain so vast it appears uncharted, Jackson Hole is indeed a rare breed. With 2,500 acres of legendary inbounds terrain, a 4,139′ vertical rise, 459″ of average snowfall each winter, and unparalleled backcountry access, Jackson Hole offers a truly unique winter experience. Two distinct mountains in the heart of the Tetons – Rendezvous and Apres Vous – make up Jackson Hole Mountain Resort and have been home to incredible skiing and snowboarding for the past 40 years. Whether you want to experience "The Big One's" wild, untamed terrain, rolling, wide-open groomers, or you're just getting out on the snow for the first time,
Taos: A magical place defined by deep traditions, desert-dry powder, awe-inspiring terrain and alpine vistas, Taos Ski Valley was created by famed ski pioneer Ernie Blake. He built his dream on a mountain with terrain varied enough to challenge his skiing friends forever. Today Taos Ski Valley still brims with ski enthusiasts drawn by that same passion- they love to ski! Combine an altitude of 8,000-plus feet, an arid climate and New Mexico sunshine, and you have champagne powder!
North East:  Stowe, Sugarbush, Killington they are the ones I love in the East. Places that are excellent but that I have not skiied are: Heavenly, Squaw, Momouth, Alpine Meadows.