My favorite place on the east coast and one of the top in the United States.  Bill Kid was from here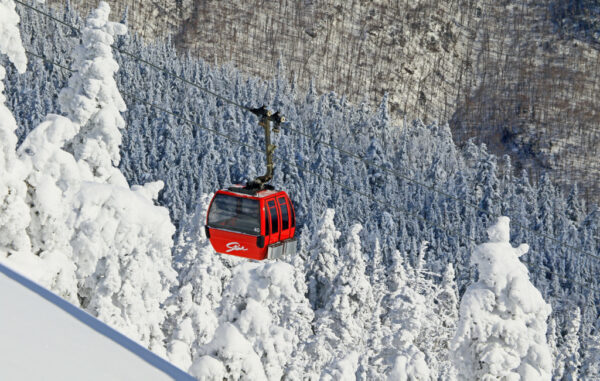 It was a long time ago I first skied Stowe.  My neighbor Betsey Johnson took us to Stowe as no one in my famiy skied other than me.  We stayed at the Gables in the bunk house.  Our skies back then were wooden with screwed in metal edges and lace up boots and bra claw bindings.  I have been back a few times over the decades for both winter and summer.  In summer to ride and climb.  If you can ski Stowe you can ski any place:  Lift Line, Star, Nose Dive, National and Goat = you are bad ass if you can ski those. the photo below is from their web site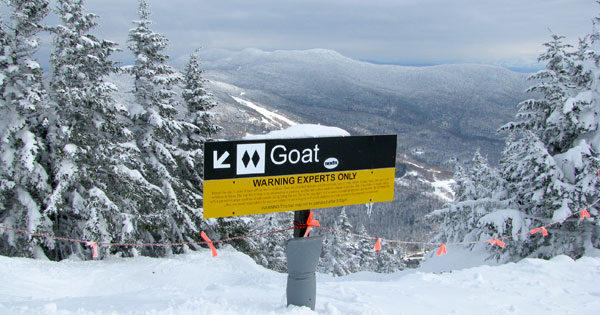 Arden and I were there for cross country Skiing out of Trapp Family Lodge.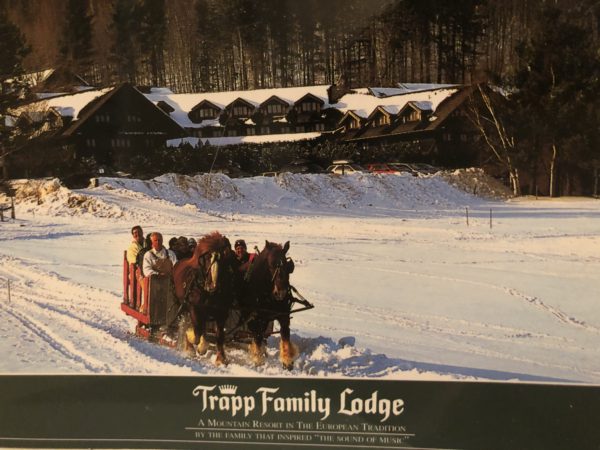 I met Marie on a few occasions and i introduced her to Arden as well before her passing – she was amazing. I love their lodge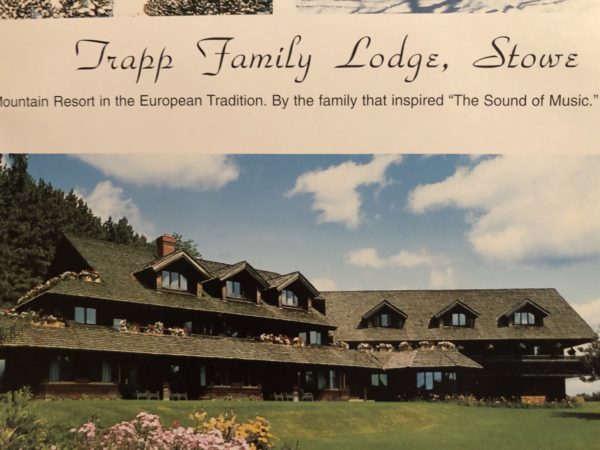 From their lodge would would cross country ski and then also go to Stowe just up the street to downhill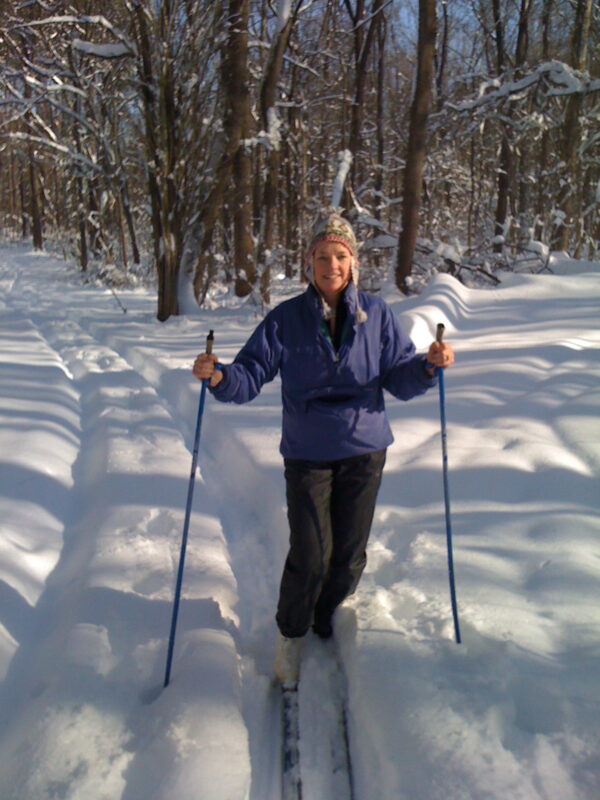 Back then I used the single chair and got smashed in high winds between the tower and the swinging chair – it destroyed by skies.  Stowe's newest facilities and improvements include a brand new High-Speed Quad on Mt. Mansfield, RFID technology tickets and gates, an inter-mountain transfer gondola connecting Mt. Mansfield and Spruce Peak, Stowe Mountain Lodge, a 312 room hotel and spa that has already been recognized as one of the greenest and most luxurious mountainside lodgings in the world, a new state-of-the-art Performing Arts Center at Spruce Peak, new high-speed lifts on Spruce, new base facilities, restaurants and more. In a place where the history, community and landscape are legendary for hospitality and adventure, Stowe Mountain Resort has reinforced its internationally respected brand with world-class improvements both on and off the mountain.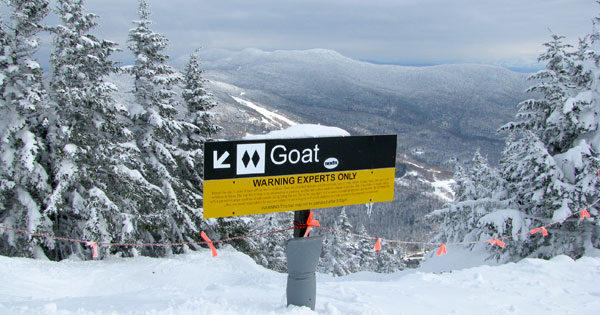 Stowe Stats:  Arden and I are on summit below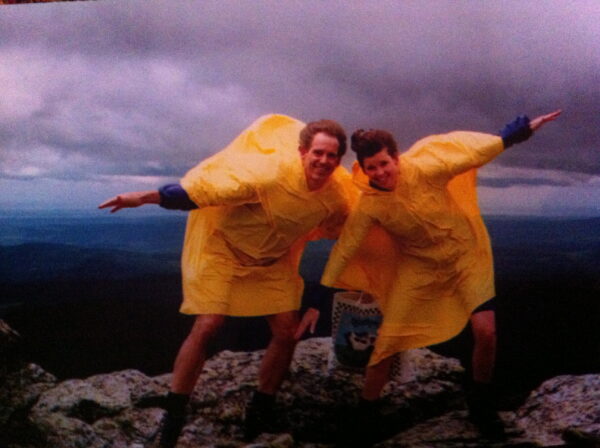 from our trip about 2014, I have skied Stowe man times but this will focus on the Trapp Family Lodge and Cross Country Skiing.  Wow what a great sport.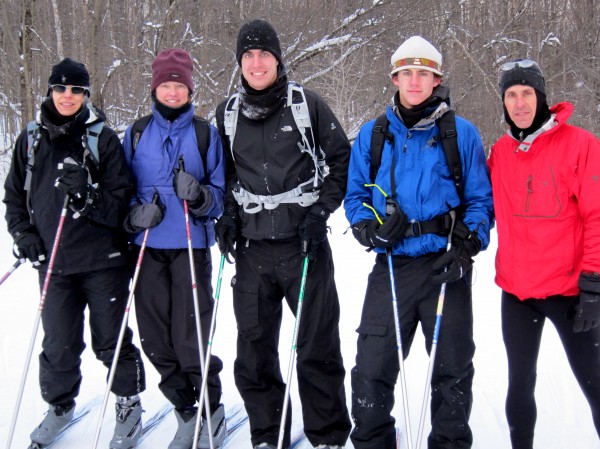 out the door of the Trapp Family lodge we cross country Ski and it is amazing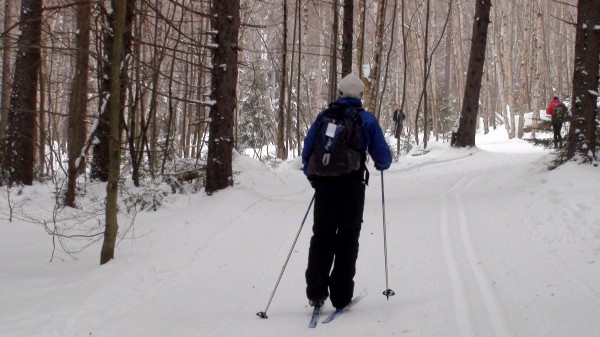 Here is the story about the Von Trapps.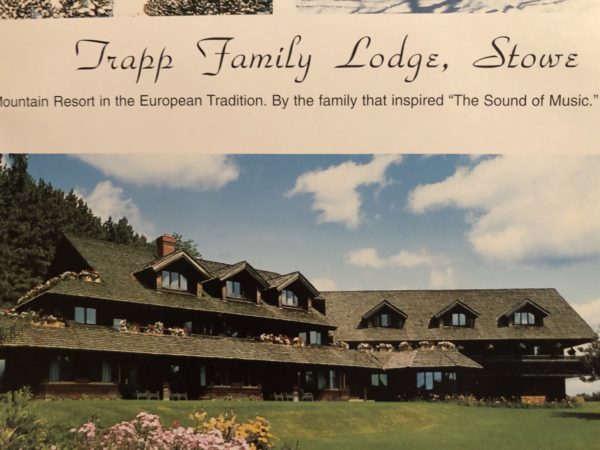 And by the way, I met Marie Von Trapp about three times and introduced her to Arden before she died – what a fine lady.  We took the train there, the Vermonter below how cool is that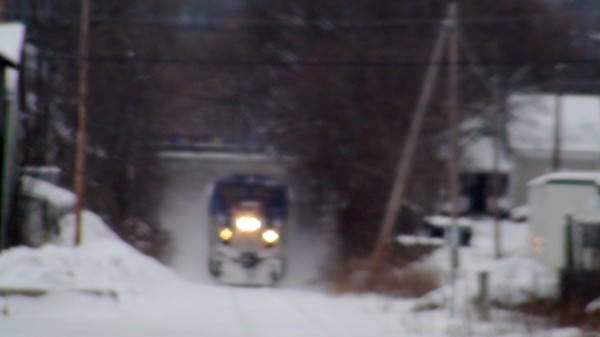 The lodge is situated on 2,500 acres in beautiful Stowe, Vermont, and is a mountain resort in the European tradition designed and run the von Trapp family that inspired "The Sound of Music". This unique luxury mountain resort features Austrian-inspired architecture and European-style accommodations. Lodge in Background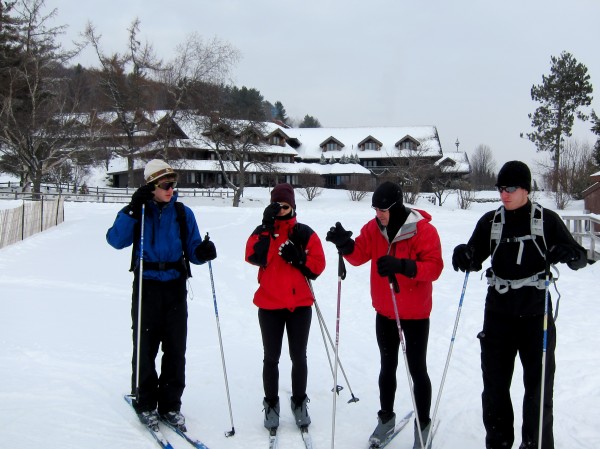 Open year-round, the Trapp Family Lodge offers superb mountain views, old world comforts and impeccable service, along with activities for every season. T has pools, spas, and workout facility with fine dinning.  Near to the lodge and ski center is the downhill resort of Stowe and that is possibly the finest ski spot in the East coast for downhill ski. That is another story but here is a photo of Arden and I on the top in the summer below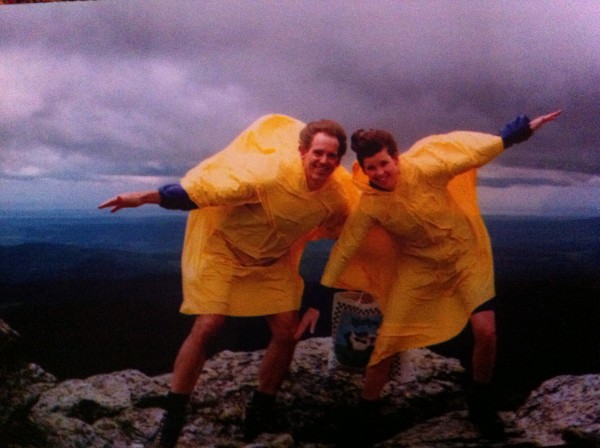 We stayed in a villa and wow it was over the top in the photo above.
We went cross-country skiing of course and it was over the top.  We saw many racers practicing their skills.  So the Von Trapp ski center is home to the first cross-country ski center in the country, the 100-kilometer trail network includes terrain suitable for every level of skier or snowshoer.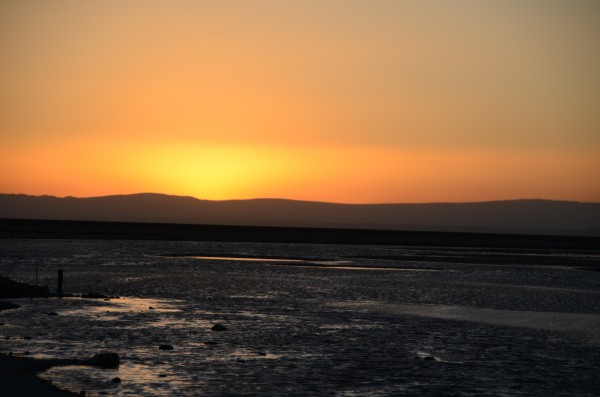 For those looking for cross country ski vacations in New England in general or Stowe, Vermont in particular, Trapp Family Lodge is the perfect choice for certain!! I think this is lake champlain above wicked cool.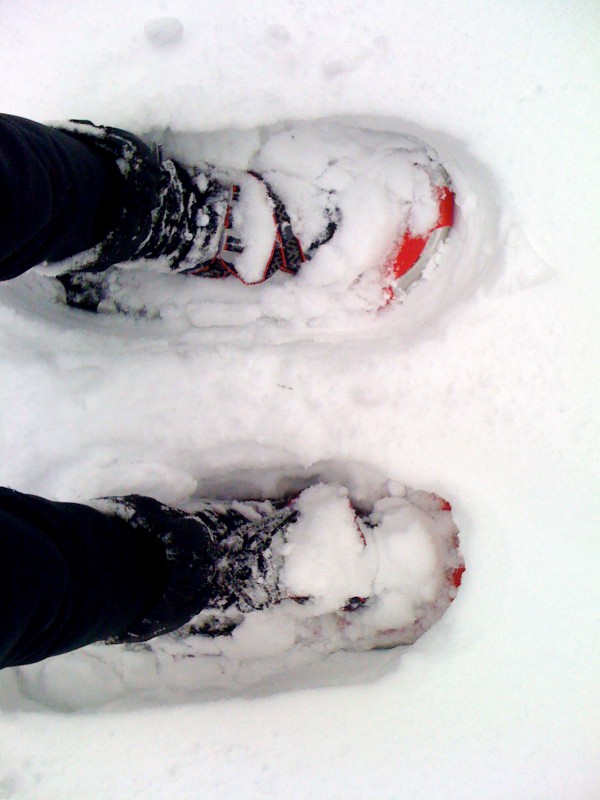 Arden went snowshoeing (above )and had a great time. Snowshoeing is just one of our many outdoor activities. Expertly taught classes and clinics cover everything you'll need to know before venturing out onto the trails (or off the trails), from understanding binding systems and choosing the right clothing to efficient, energy saving techniques for steep hill climbs. You may want to join one of our scheduled Stowe, Vermont group snowshoeing tours. Or, if you prefer going out on your own but are not familiar with the terrain, we can help you plan a route that suits your experience and confidence.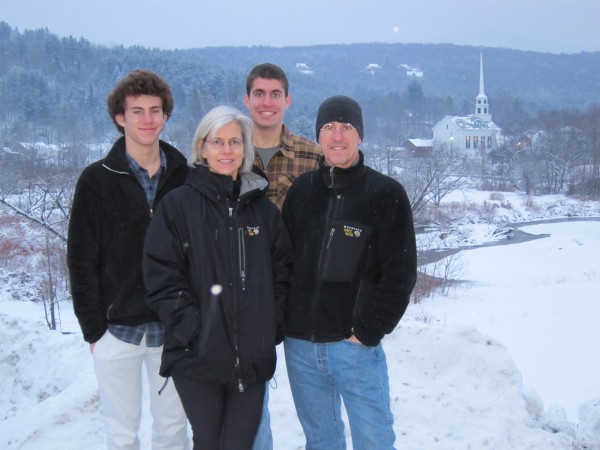 The town of Stowe is really quaint and small above.  We had a ncie dinner there in the Green Mountain inn as well . Some cross Country Ski photos below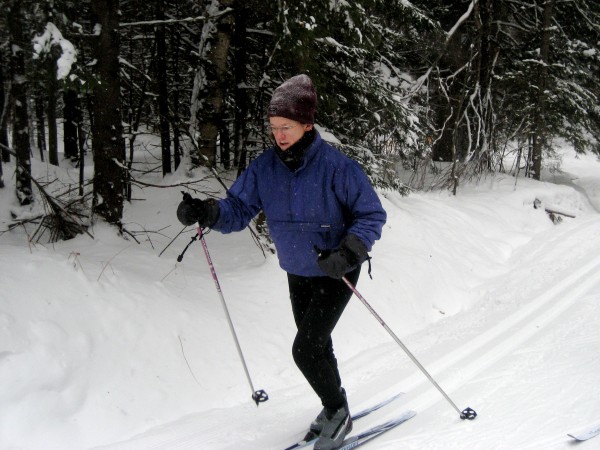 Stowe Stats below
Mount Mansfield Summit Elevation – 4,395′
Highest Skiing Elevation – 3,625′
Vertical Drop – 2,360′
Average Annual Snowfall – 314″
Total Number of Trails – 116
Skiable Acres – 485
Total Miles – 40
Percentages – Beginner 16%, Intermediate 55%, Expert 29%
Snowmaking Coverage – 83%
Total Lifts – 12 / More mile long lifts than any other resort in the East
1 Inter-Mountain Transfer Gondola, 1 high-speed summ
Stowe Mountain Resort Firsts
America's oldest organized ski patrol — founded 1934
One of America's oldest organized ski schools — founded 1934 at The Lodge
World's longest aerial tramway — Single Chair 1940
World's highest aerial tramway — Single Chair 1940
First double chair in the U.S. — Big Spruce Double Chair Lift, 1954
Highest capacity chair lift in the U.S. — Big Spruce Double Chair, 1954
Home of America's first male Olympic Alpine ski medalist: Billy Kidd, silver 1964
First 4-person gondola in the East — 1968
Highest year-around restaurant in the East — 1968
World's Fastest 8-person gondola — 1991
Highest and longest night skiing in the East — 1990s
Resort with the most 1+ mile-long lifts in the Eastern U.S. — 2007
First resort in Vermont to heat an entire building from waste heat off an electric drive of a chair lift — 2011
Largest Geo-Thermal Array in Vermont (90 – 500′ wells) — 2014
Ok one of the greatest ever and would go