The team below goes back to 1957 and they were the best. The article below is from 1973 but the photo and questions in the article are from 1957 and some of the most influential people in Baltimore played on this team like: Southy Miles-(my Uncle by marriage), Jim Lacy, Bill Lamble, Tom Schweizer, Tony Rytina, George Doetsch, Zandy Harvey, 

I took the event over in 1990 and the team below kicked some you know what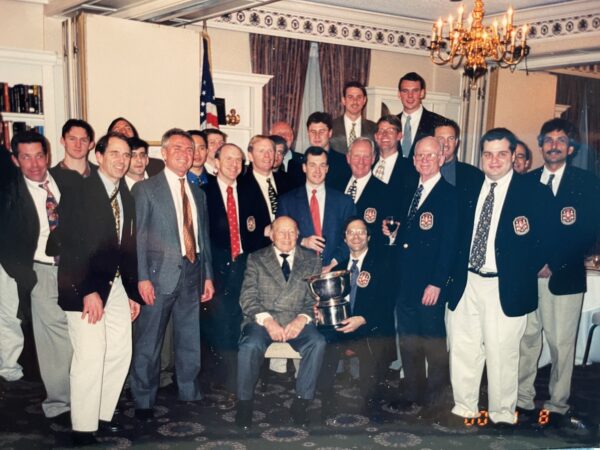 Ambassador Fitzgerald above shanking hands with me and Glenn Canner is on his left and team below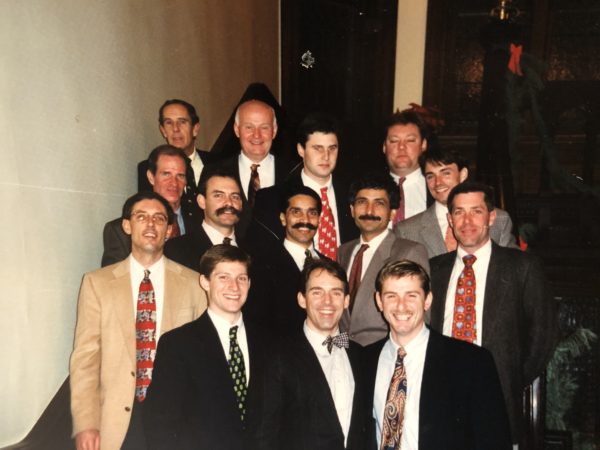 another year below and I brought Women onto our event and I was blessed to have Lissen Tutrone on our team and she was the king of kings below in middle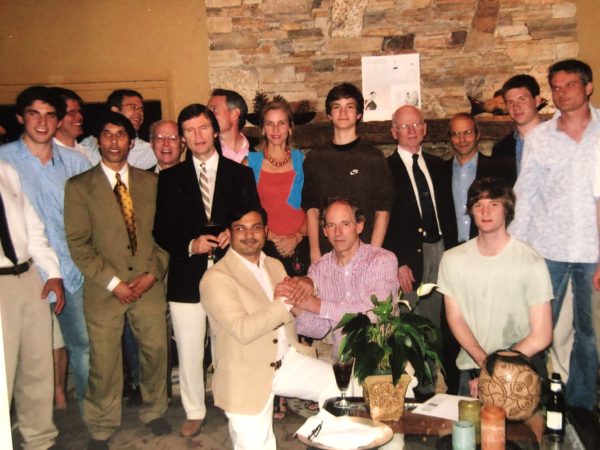 Haswell below, the prior Captain receiving an award


I and then we started a junior division and funded it and started and endowment and Slater Ottenritter (nephew) front row red tie

and celebrating at the end of the event way to much champainge

Frank Cushman and Nancy Cushman were kind enough to let us play on their courts


A few articles from the paper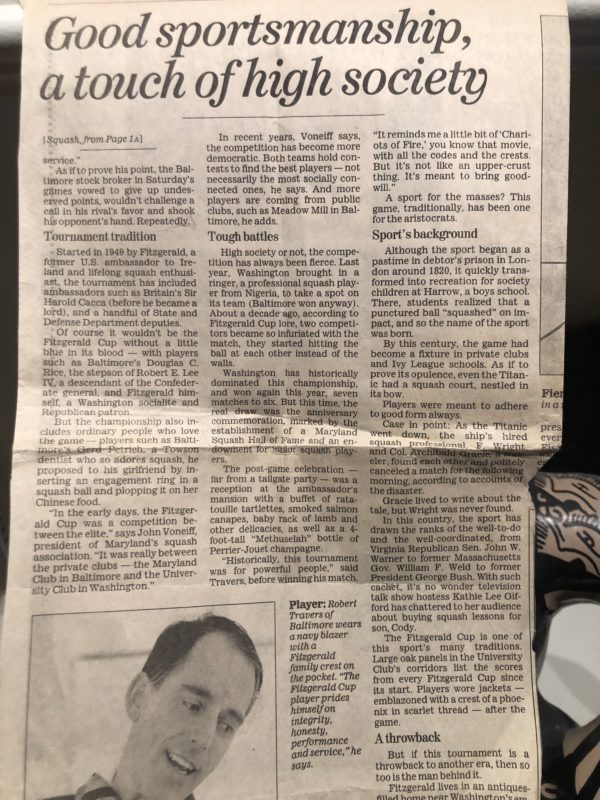 A civil rivalry between 2 cities Tournament: The Fitzgerald Cup, an annual squash battle between Baltimore and Washington, offers good sportsmanship and a touch of high society.
January 19, 1998|By Ellen Gamerman | Ellen Gamerman, SUN NATIONAL STAFF
WASHINGTON — William H. Fitzgerald is standing in the bowels of an exclusive private club, hanging over a rail with his eyes fixed on an intense game below, not flinching as a speeding black ball with a yellow dot is whirring close to his distinguished head.
"Bravo!" shouts Fitzgerald, 88, the ball missing him, the match ending. "Bravo! Well done!"
In this tournament, some fans cheer the way they would at the opera, competitors are listed in the Social Register, the rivalry is concocted by a former ambassador and only gentlemen are asked to play. So goes the protocol for the annual squash tournament between Baltimore and Washington — the so-called Fitzgerald Cup, a genteel rivalry now in its 50th year.
The athletes have hailed from Washington's diplomatic corps to Baltimore's oldest old-money families, and are among the best squash players both cities have to offer. At the University Club in Washington this weekend, theirs was a civil tournament — good sportsmanship, fair play, healthy competition and, yes, even sweat.
"This is a gentleman's game," says Robert Travers, 45, before changing from his tennis whites into a silk bow tie and a navy blazer with a Fitzgerald family crest on the pocket. "The Fitzgerald Cup player prides himself on integrity, honesty, performance and service."
As if to prove his point, the Baltimore stock broker in Saturday's games vowed to give up undeserved points, wouldn't challenge a call in his rival's favor and shook his opponent's hand. Repeatedly.
Tournament tradition
Started in 1949 by Fitzgerald, a former U.S. ambassador to Ireland and lifelong squash enthusiast, the tournament has included ambassadors such as Britain's Sir Harold Cacca (before he became a lord), and a handful of State and Defense Department deputies.
Of course it wouldn't be the Fitzgerald Cup without a little blue in its blood — with players such as Baltimore's Douglas C. Rice, the stepson of Robert E. Lee IV, a descendant of the Confederate general, and Fitzgerald himself, a Washington socialite and Republican patron.
But the championship also includes ordinary people who love the game — players such as Baltimore's Gerd Petrich, a Towson dentist who so adores squash, he proposed to his girlfriend by inserting an engagement ring in a squash ball and plopping it on her Chinese food.
"In the early days, the Fitzgerald Cup was a competition between the elite," says John Voneiff, president of Maryland's squash association. "It was really between the private clubs — the Maryland Club in Baltimore and the University Club in Washington."
In recent years, Voneiff says, the competition has become more democratic. Both teams hold contests to find the best players — not necessarily the most socially connected ones, he says. And more players are coming from public clubs, such as Meadow Mill in Baltimore, he adds.
Tough battles
High society or not, the competition has always been fierce. Last year, Washington brought in a ringer, a professional squash player from Nigeria, to take a spot on its team (Baltimore won anyway). About a decade ago, according to Fitzgerald Cup lore, two competitors became so infuriated with the match, they started hitting the ball at each other instead of the walls.
Washington has historically dominated this championship, and won again this year, seven matches to six. But this time, the real draw was the anniversary commemoration, marked by the establishment of a Maryland Squash Hall of Fame and an endowment for junior squash players.
Most of the guys on the Baltimore UK tour were on the Fitzgerald Cup Team