Glenn Canner and I started a junior program with the Fitzgerald Cup back in the mid 1990's when I was Captain and some of the Fitzgerald Cup junior team were: Slater Ottenritter and the East Kids, Zack Bradley,Colin Campbell. Jake Himmelrich, Katie Tutrone, Taylor Tutrone, The East children, the Sopher boys and Glenn Canner child. Yale, Princeton and Brown have been their homes. We hope to revitalize the Fitzgerald Junior Team in the future. There they are in the photo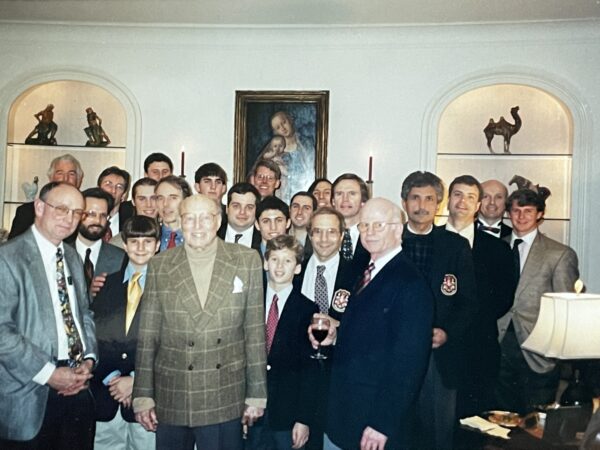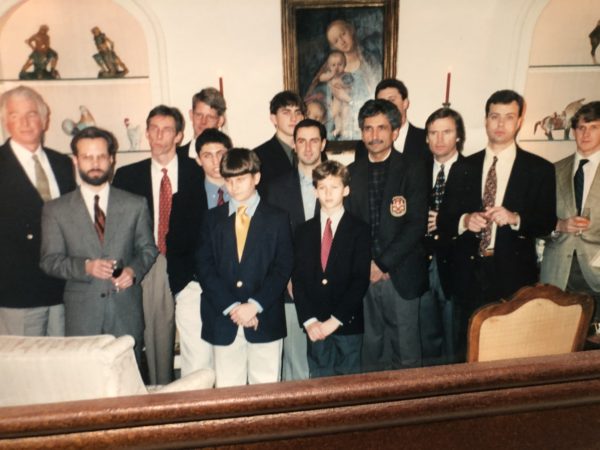 From this Glen and I created an endowment in 1998 that was mentioned in the Baltimore Sun full page article on January 19, 1998

We then then split the proceeds (Baltimore-Wahington) and then I, Bob Everd, John Voneiff and David Huntley sat down and created the MSSRA Junior Endowment and then we conceived and created the Junior High School Championship . My term ended as President of the Association and Meadow Mill took the program over and ran with it and created the largest High school program ever. Some of my juniors below
Below is an email to Chris Haley the Squash Chair of the Maryland Club explains the history.
From: christopher haley
Sent: Friday, December 18, 2009 3:57 PM
To: Travers, Robert S
Cc:
Glen  pbell.com
Subject: Re: History, Fitzgerald Cup
bob & saj – thanks; will we be able to douse you in champagne at the University Club ?
i look forward to this year's event
thanks for including
On Fri, Dec 18, 2009 at 3:02 PM, :
This is about the 62nd year of the playing of the Fitzgerald Cup, the oldest continually played squash match in the United States. It was created by Ambassador Fitzgerald as a competition between the Maryland Club of Baltimore and the University Club of Washington and it has become a major competition between the very best players of each city today. Every MSSRA Hall of Fame member, state champion and club champion has participated on the Team.
The team consists of a captain and co-captain which may not play. The team is comprised of the best thirteen players: seven open and six age category players. Last year Washington ran away with the win, they won eleven of the thirteen matches. The captains were Malcolm Jensen and Glenn Canner of Washington ahd Robert Travers and Sajid Niazi of Baltimore.
The growth of the junior programs have been a very positive function for squash in the district and Baltimore. The development of the junior program in the State had its roots tied to the Fitzgerald cup.
About 10 years ago Glenn Canner and Bob Travers (captains) agreed to raise money for the creation of a junior endowment. They raised $8,000 as seed money matched by Ambassador Fitzgerald and this money led to the creation of the Junior High School championships on the Baltimore side and many programs on the District side. Bob and Glenn started a Fitzgerald Junior Team and from those early years we have seen the development of great players like: Colin Campbell. Jake Himmelrich, Katie Tutrone, Taylor Tutrone, The East children, the Sopher boys and Glenn Canner child. Yale, Princeton and Brown have been their homes. We hope to revitalize the Fitzgerald Junior Team in the future.
Some of the Maryland State Hall of Fame members are: Ambassador William Fitzgerald, Pat Miller, Raiz Arshad, Doug Rice, Jim Hense, Joe Fitzpatrick, Alexander (Sandy) Martin, Gene O'conor, Joe Lacy, Jim lacy, Bill Lamble, Tommy Schweizer, George Doetsch, Geoff Kennedy, and Nancy Cushman