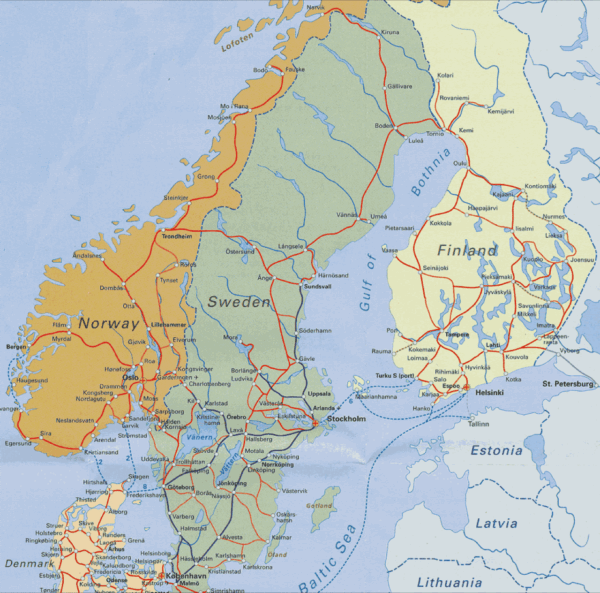 We traveled from Helsinki to St. Petersburg Russia by train and it is about 250 miles in distance and takes about 3.5 hours.  The train is a great experience.  Before the train trip, we landed in Helsinki and traveled by boat to Estonia for a day excursion.  Estonia below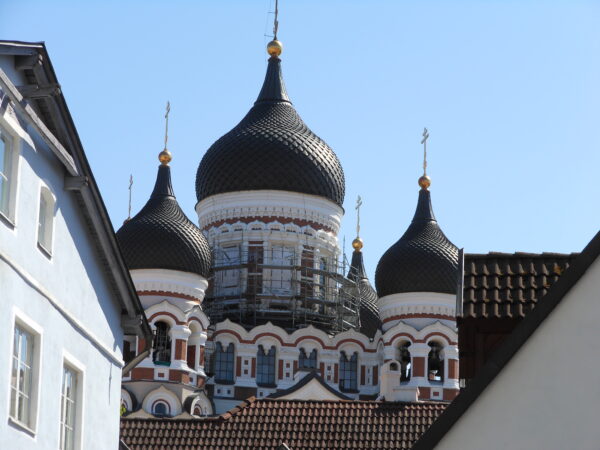 On our return to Helsinki, we spent a few days visiting the many fine sites and museums that Helsinki has to offer and it is a place to travel to.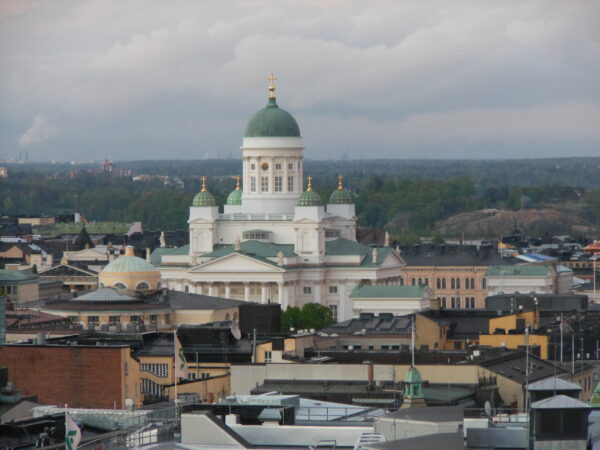 Cool art work on the streets of Helsinki below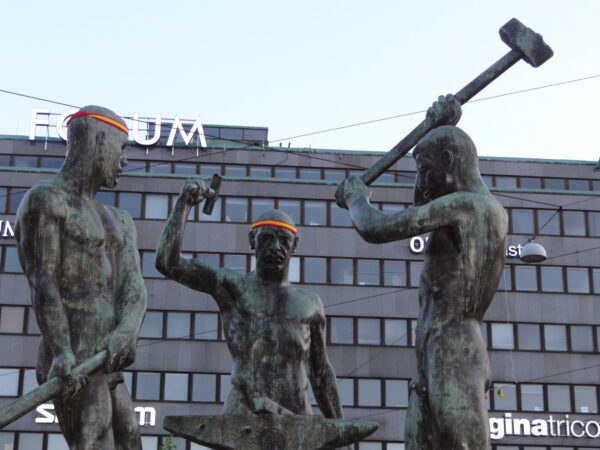 After a few days of sight seeing, wine and dinning we went to the lovely train station. Train Station below was like a museum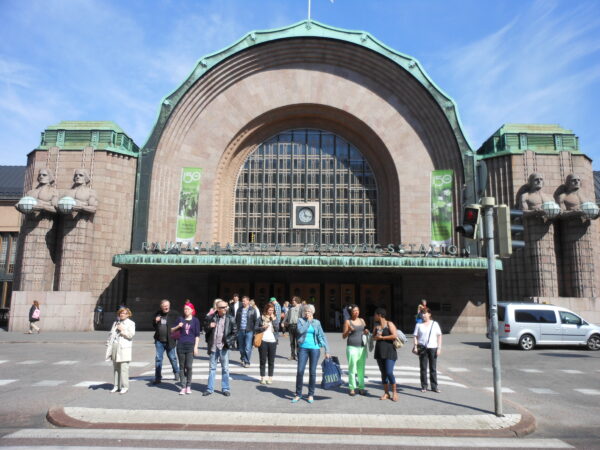 The Helsinki train station above was like a Museum with food vendors and really clean and efficient.  Operated by a joint venture between the state railways of Finland and Russia, the high speed trains from Helsinki to St Petersburg, also called the Allegro, use an advanced version of the Alstom "electric multiple unit" used on Finnish railway lines, designed the Sm6. Each car in this type of train has its own locomotion, the combined power of which allows it to move unusually fast, speeding up and slowing down much more safely.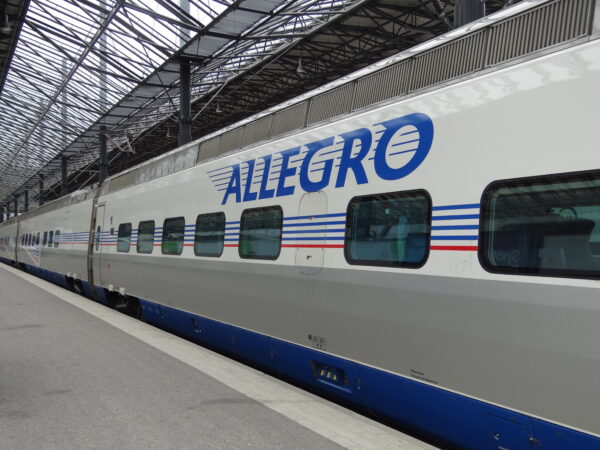 The trip on this modern train from Helsinki to St Petersburg (or in reverse) typically takes a little more than 3-1/2 hours and is about 250 miles in length. The Helsinki to St. Petersburg train caters to the requirements of the modern luxury and business traveler. Whereas comfortable seats are reserved for business and first class on an airplane, the high-speed train from Helsinki to St Petersburg maintains comfortable seating for all its passengers, with a little extra legroom for those going first class.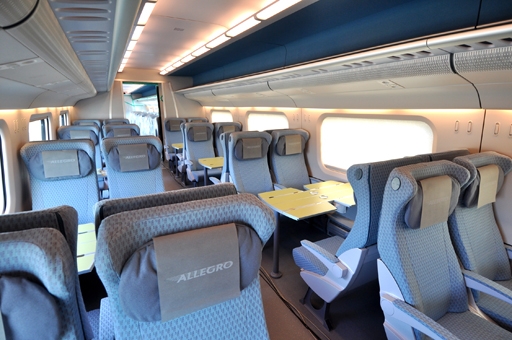 Wi-fi is available onboard for any laptop user with a need to stay connected online, and there is even a children's area for little ones to play. Fine food is also available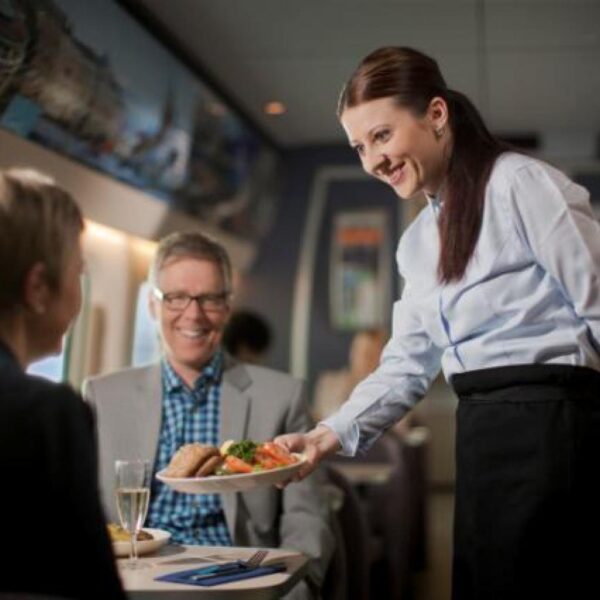 Fine dinning (above) is served in a dining coach by very attractive ladies for the duration of the ride, except in the customs surveillance zone between Vyborg, Russia, and Vainikkala, Finland.The train cabins are kept impeccably clean, with all accommodations well-maintained. Once you book train tickets and arrive to the station, you will have to go through an automatic check-in procedure, much like you would see at any airport. Booking online can be done with greatest convenience, and boarding simply requires a passport – the number is recorded at the time the passenger places the reservation
On the Finnish side, the Allegro High-Speed Train makes five stops before reaching the Finnish passport control and customs station at Vainikkala, while on the Russian side, the route is a direct express between St. Petersburg's Finland Station and Vyborg. Once passengers arrive at either of these two stations, they are not allowed to leave the Allegro train on their own until they have cleared customs on the far side of the border crossing. However, we cleared customs on the train so all was easy and nice.
It would be fun to go from Sweden to St. Petersburg using the train and for that matter do the Trans-siberian = I will one day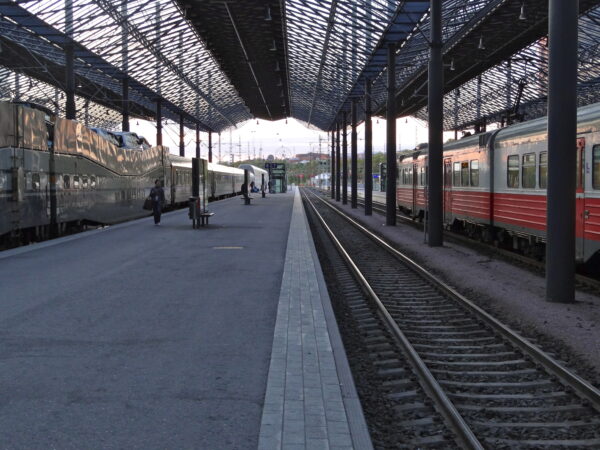 So we boarded the fast train to St. Petersburg Russia below. The Train ride was a delight and going the Russian customs was no problem.
Upon arrival in St. Petersburg we were taken to our boat for the canal boat tour to Moscow.
We did this on Viking Cruise lines below
noce view above and Russian flag below
It was over the top.