Train Travel in Vietnam is a go!!!  But first of all we did blew it out in Hanoi and I am telling your mom on you Marya = we did blow Hanoi out – we rule. Starting the evening with some cool drinks and then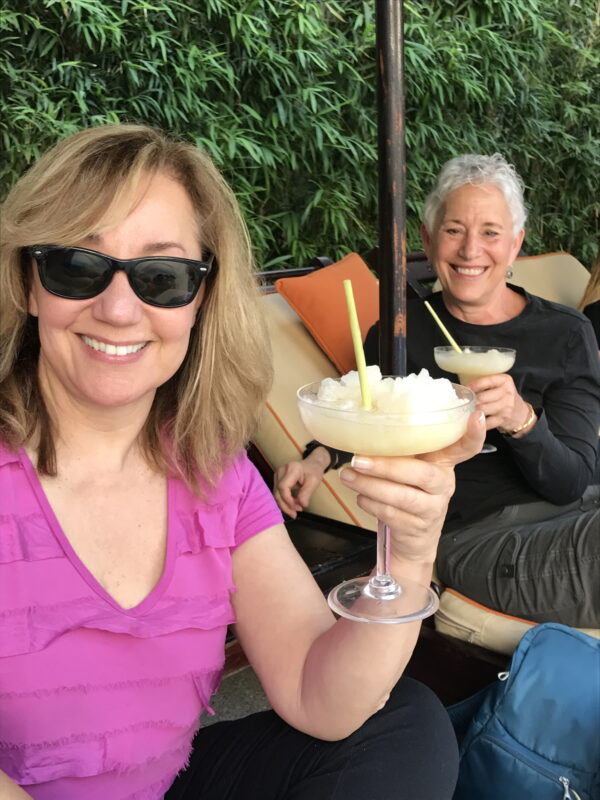 Then as the night wore on the  "light show"  ok a great time was had by all before departing for the awesome train trip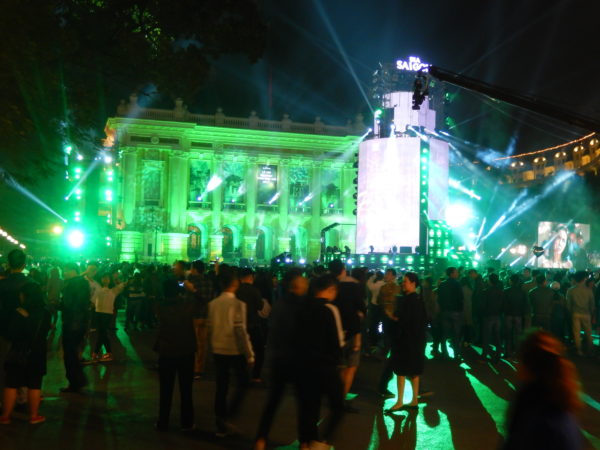 We traveled over night from Hanoi to Sapa and it was amazing especially after the party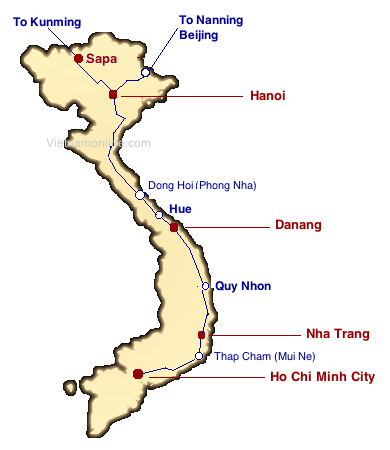 The Train was an incredible experience it was the "Victoria Express" and we had private rooms and they were incredible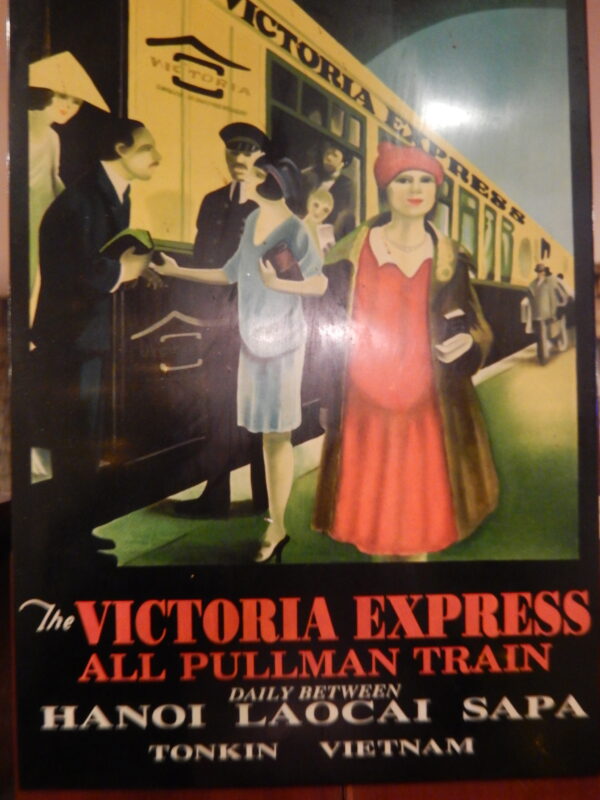 We traveled from From Hanoi by Luxury Private train to SAPA on the Chinese border on the SAPA express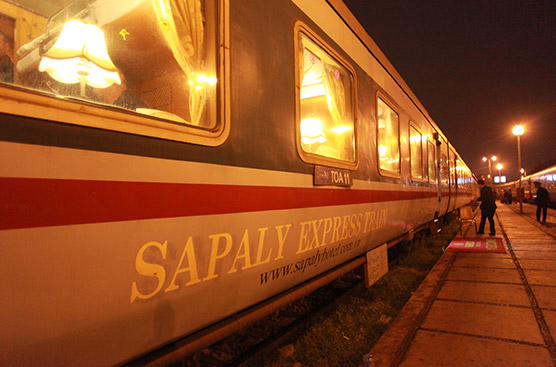 We traveled through the mountain and lush tropical scenery (day time photo we went at night)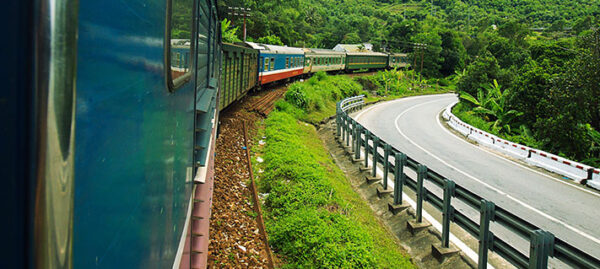 We were taken to our elegant private rooms (our room below held four beds but these were available as well) = awesome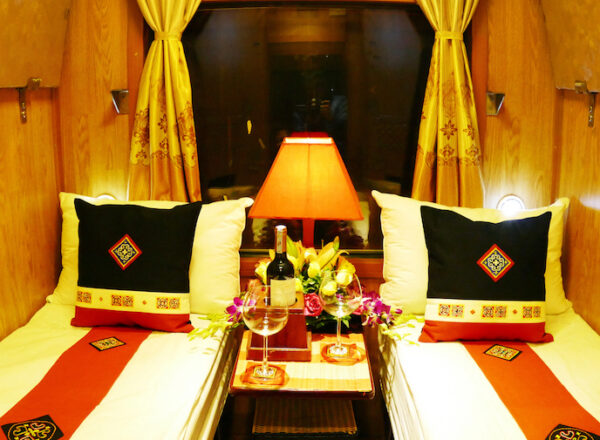 We were served like kings and queens by our hostess with the mostess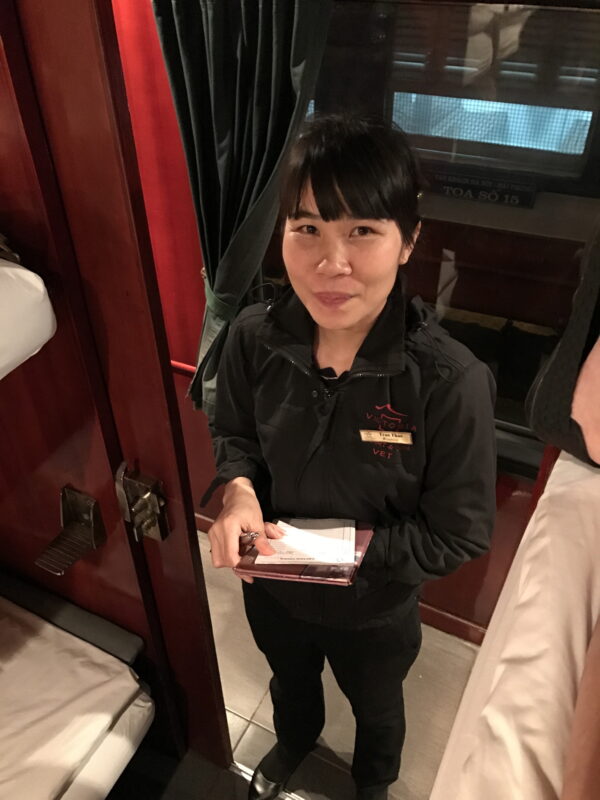 And we were served fines wines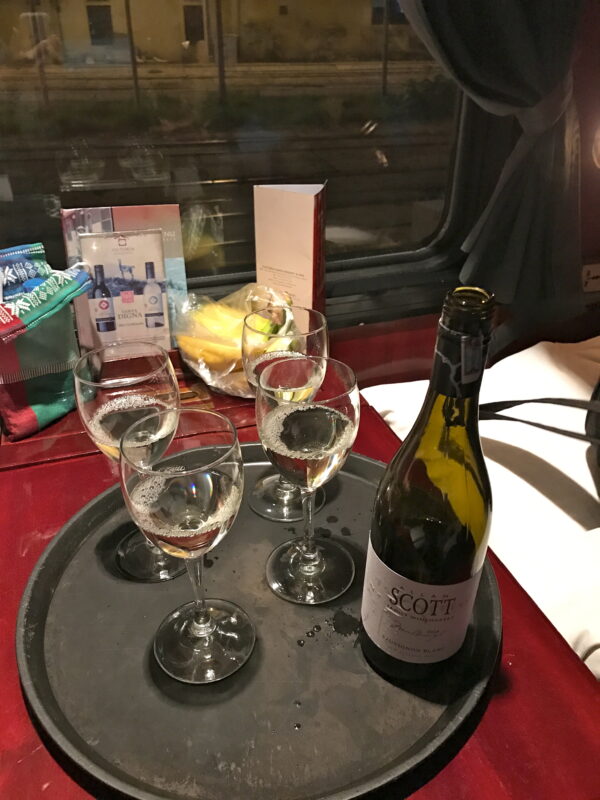 And quickly settled into our room below
Fine dinning was offerred on the train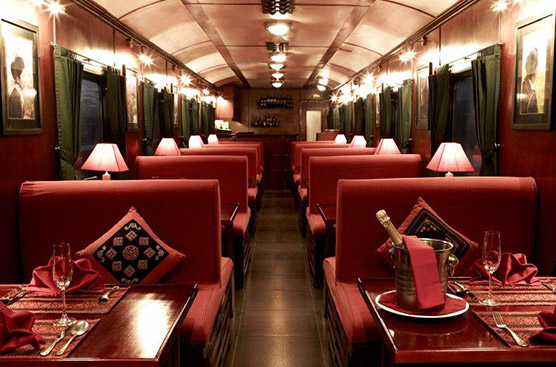 Now that is what I am talking about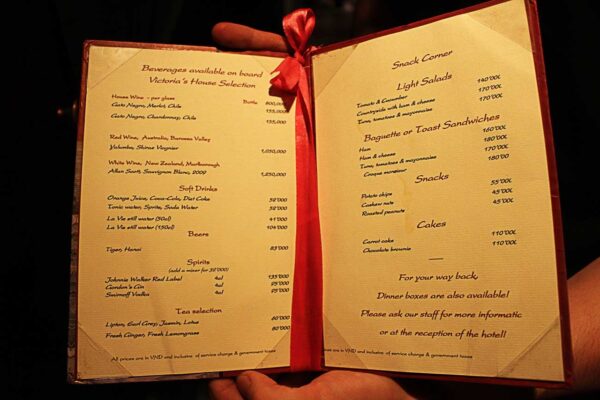 After dinner we could have gone into the lounge to read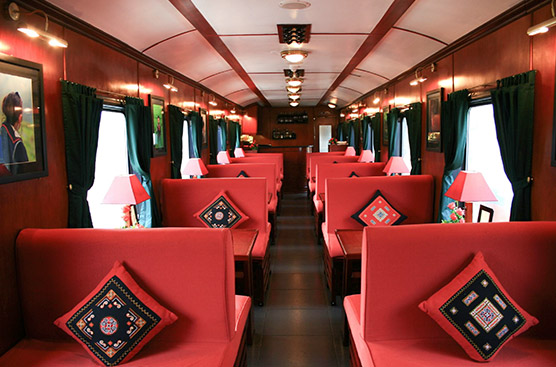 But having partied all night the night before we retired to our beautiful room all snug and cozy with pleanty of Wine and then time for bed = see you in the morning
Fine wine and friends all snuggeled together on a great overnight train adventure to the hills of Vietnam on the Chinese border what more could one desire!!!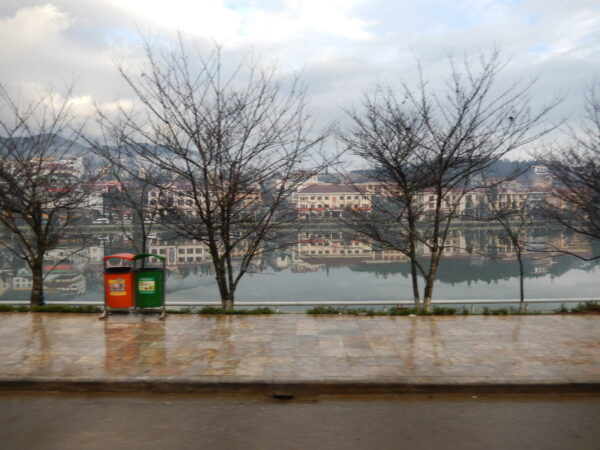 Upon disembarking the train next morning we drove through and passed this beautiful lake.  On the way to our hill top hotel we passed by many farmers and stopped to meet them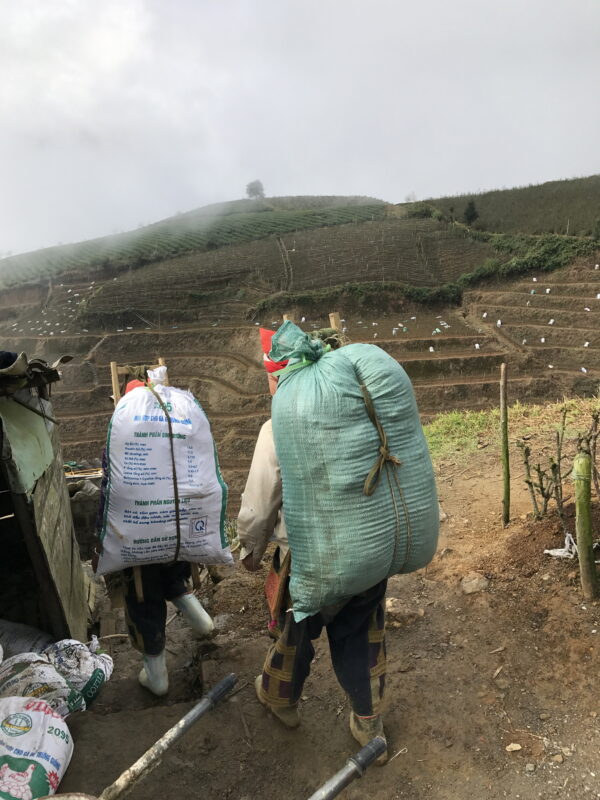 Upon arrival at our 5 star hotel we were greeted with a beautiful view through the clouds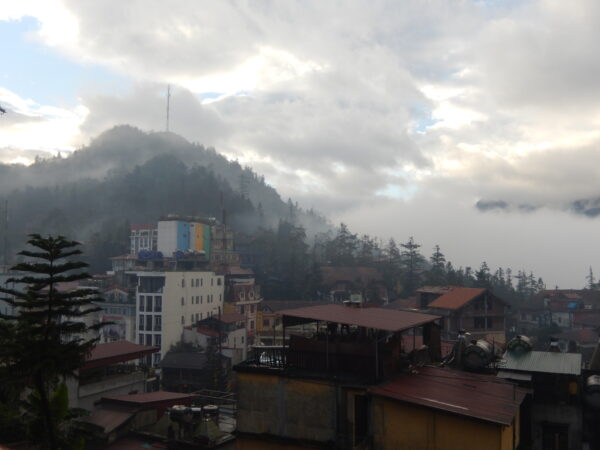 Our hotel was the Victoria SAPA a 5 star hotel. The hotel had top notch facilities like this spa, tennis courts, inside pool and full athletic room as well as fine dinning.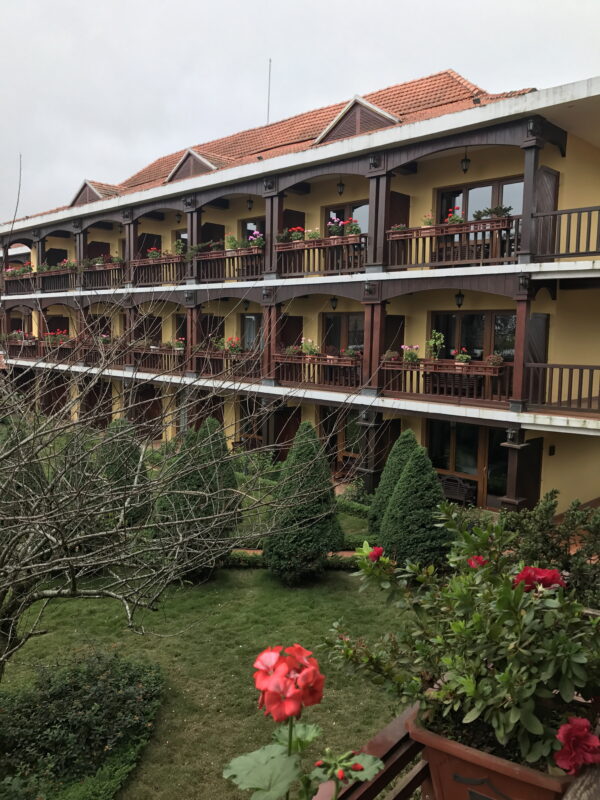 So our adventure here was trekking through the hinter lands of the hill tibe people's. We traveled by through the lush farm land and observed life of the villagers as they worked the rice fields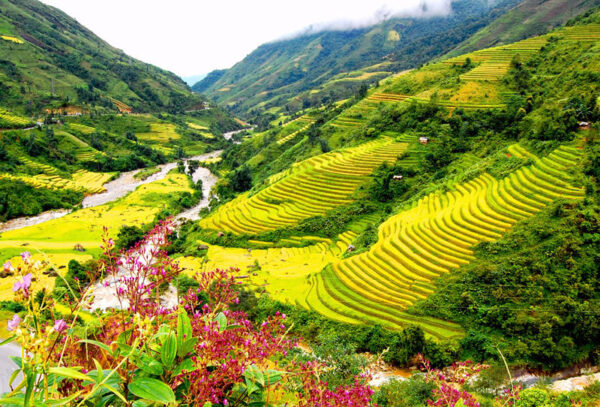 and raised pigs for the market as they ploughed their fields with water buffaloes. One day we hiked in a remote village area among terraced fields with rice cultivation and cardamom farming and animal husbandry.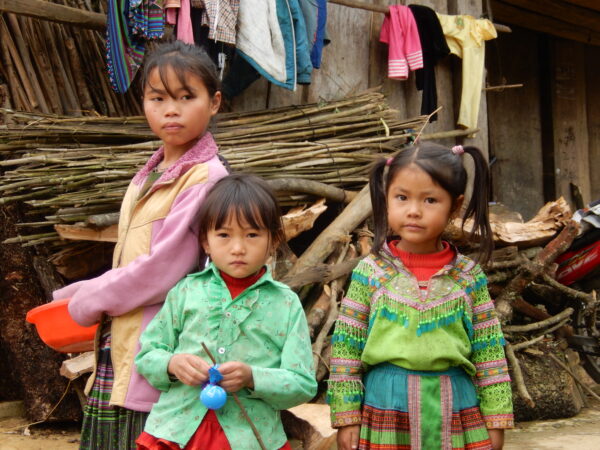 A great time we had and the train trip was awesome