The top is 22,850 and we made it to a  spot right above La Cueve to relax at about to 21,875 and here are the elevations from Plaza De Mulas 
From Plaza de Mulas 14,107 we climbed to Camp Canada 16,568
From Camp Canada (16,568) we climbed to Nido Condores at 18,206
From Nido Condores (18,206) we climbed and camped at Colera (19,586)
From Colera @ (19,586) we climbed to Refugio Independencia" (20,931)
From   Refugio Independencia (20,931)   we climbed to Portezuelo del Viento  and up to La Cueva" (21,817)
and we were forced to turn around by our guides due to a storm and extream temperatures and wind.  Ok here is the story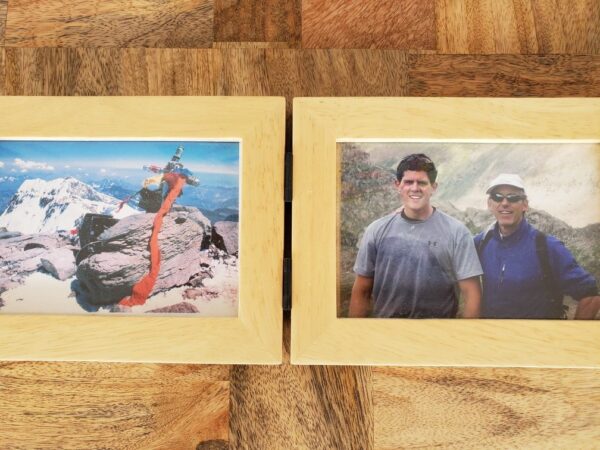 Ryan's (my nephew)  framed photos above of our climb on Aconcagua. Looking down on Camp Cholera below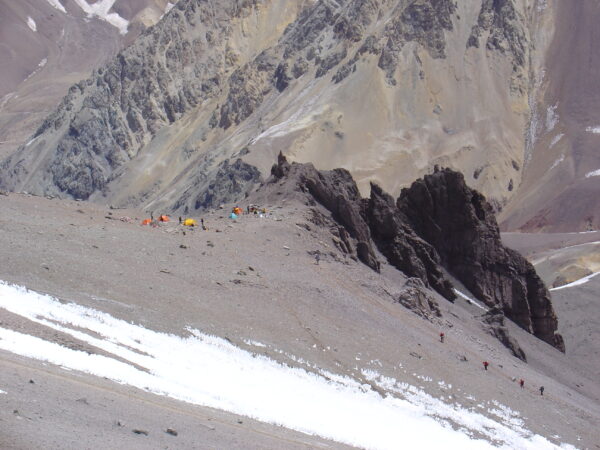 This was the place where we relaxed before the guides made us turn back due to weather.  That day we started from camp Cholera at 19,690 feet climbed to Independencia at 20,833, Stopping for a break at Independence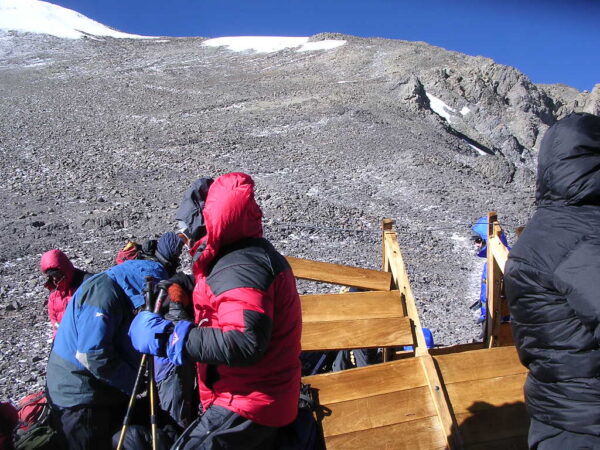 Independence above. That night it was cold hitting 30 below zero, now that is cold and our breath fell on our faces in ice crystals.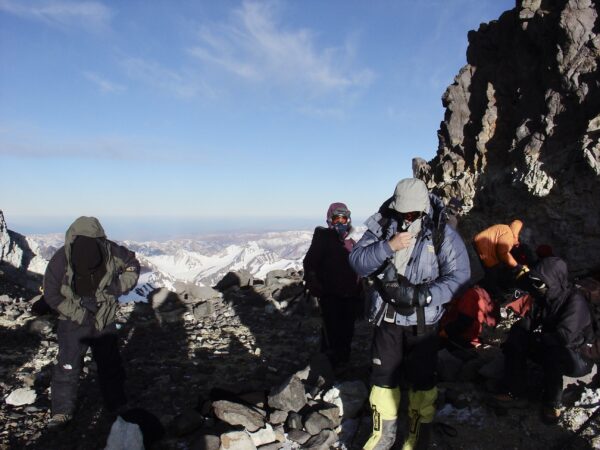 From Independence we took a short break before climbing this short but fairly steep rock infused place called Portezuelo Del Viento and we had 100 mile per hour winds and then we ended up at La Cueva at about 21,800  and then stopped  as the guides said it was to dangerous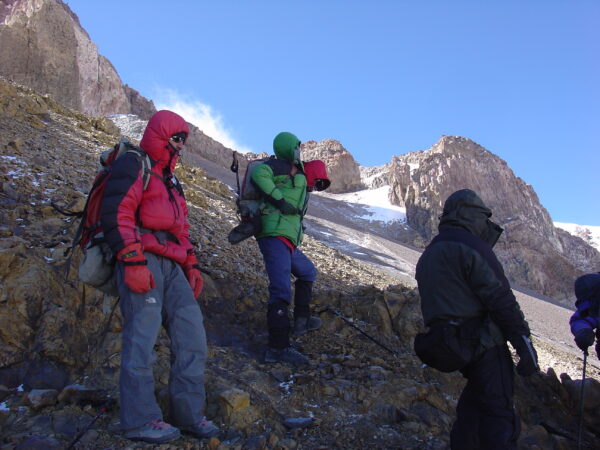 Aconcagua is the highest non-technical mountain in the world, since the northern route does not absolutely require ropes, axes, and pins. Although the effects of altitude are severe (atmospheric pressure is 40% of sea-level at the summit), the use of supplemental oxygen is not required. The altitude will affect most climbers to some extent. Even if the normal climb is technically easy, multiple casualties occur every year on this mountain (in January 2009 alone five climbers died). This is due to the high frequentation but mainly because many climbers underestimate the objective risks of the elevation and of cold weather, which is the real challenge on this mountain. Given the weather conditions close to the summit injuries are very common.
The camp sites on the normal route are listed below (altitudes are approximate).  This is the route we did – Ryan, Rudi and —.  We started from Puenta Del Inca which is at 2,740m (8,990 ft): This is a really cool little lodge there and they had great food directly on the road.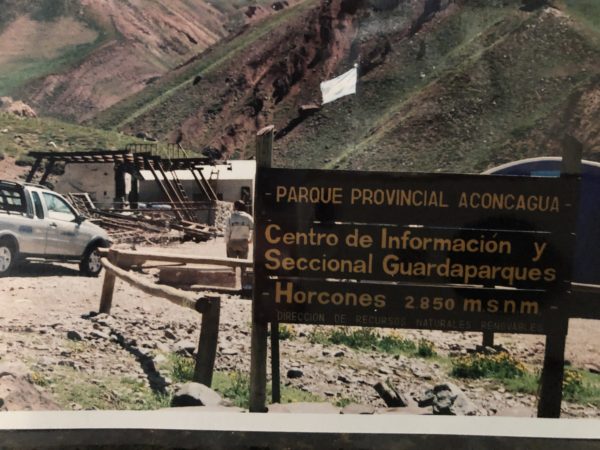 From there we hiked to Confluencia, 3,380m (11,090 ft):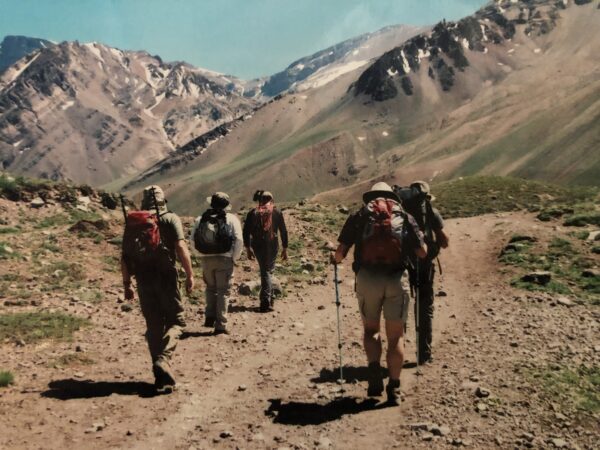 A camp site a few hours into the national park and then the next day hiked upto Frances and onward to Plaza de Mulas,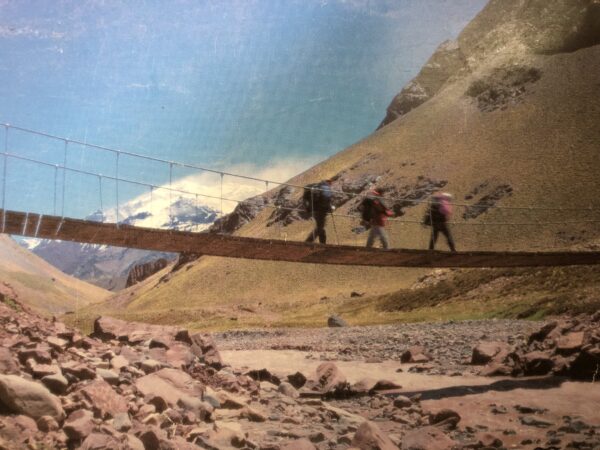 ▪  Plaza de Mulas, 4,370m (14,340 ft): Base camp, claimed to be the second largest in the world.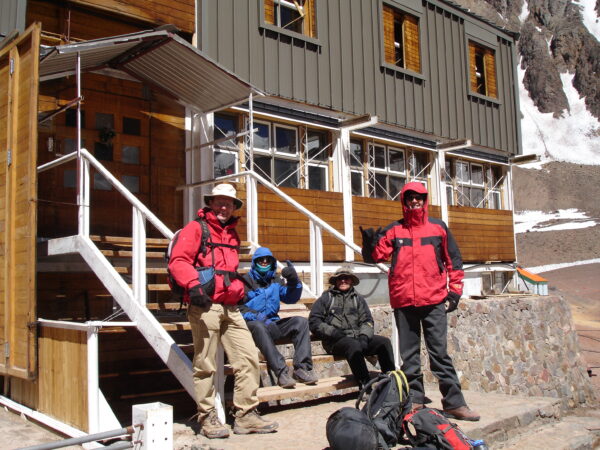 Plaza De Mulas above . There are several meal tents, showers and internet access. There is a lodge approx. 1 km from the main campsite across the glacier. At this camp, climbers are screened by a medical team to check if they are fit enough to continue the climb. WE practiced out of here for a few days climbing through ice statues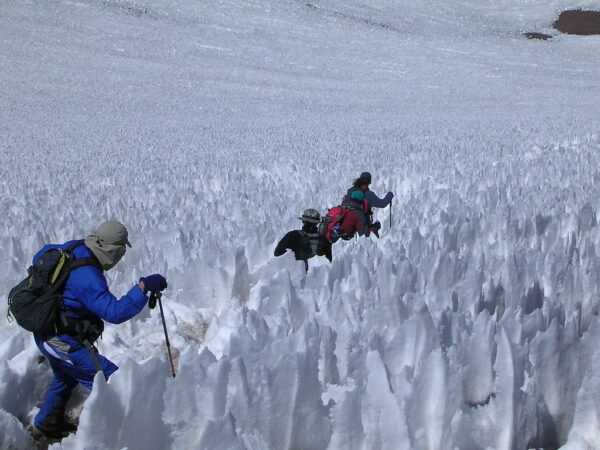 ▪  Camp Canadá, 5,050 metres (16,570 ft): A large ledge overlooking Plaza de Mulas. We took this down after a few days of resting in Mulas.
▪  Camp Alaska, 5,200 metres (17,060 ft): Called 'change of slope' in Spanish, a small site as the slope from Plaza de Mulas to Nido de Cóndores lessens. Not commonly used.
▪  Nido de Cóndores, 5,570 metres (18,270 ft): A large plateau with beautiful views. There is usually a park ranger camped here. It was here I found a statue to the Vitgin Mary and I sad prayers there. What a sunset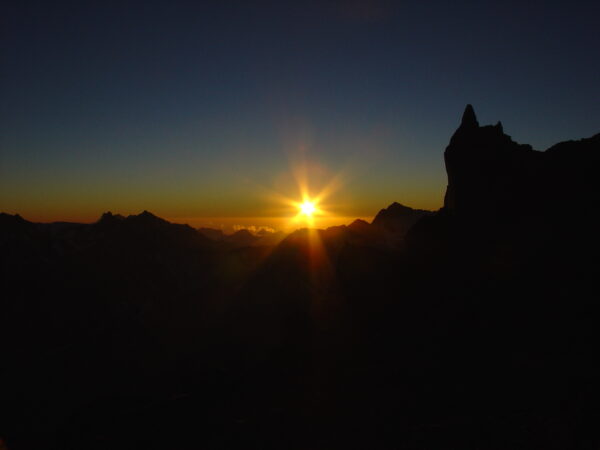 ▪  Camp Berlín, 5,940 metres (19,490 ft): The classic high camp, offering reasonable wind protection. We bypassed this and spent the night in camp Colera.
Camp Colera, 5,980 metres (19,620 ft): A larger while slightly more exposed camp situated directly at the north ridge near Camp Berlín, with growing popularity. From here we traveld to Independencia (~6350m), at 20,850 feet which is above Colera, where we saw the "blown up" wooden safety tent like structure. We left camp Colera at about 4 Am passed Independencia and mounted the ridge above Indpendencie before our guide service made us turn back do to weather and at that point is was 21,800.  It was a great trip and will fill this in later with photos.  We made it home on horses very cool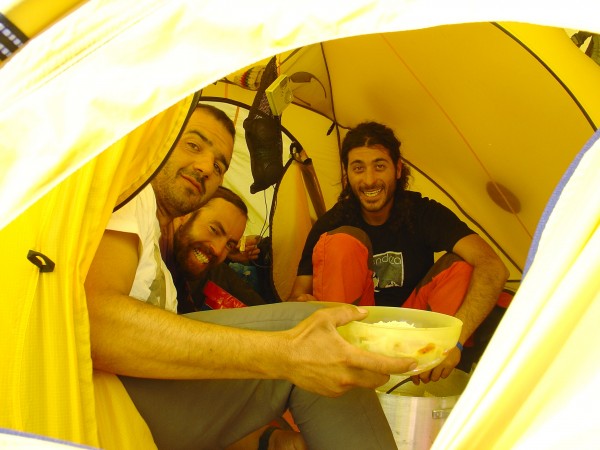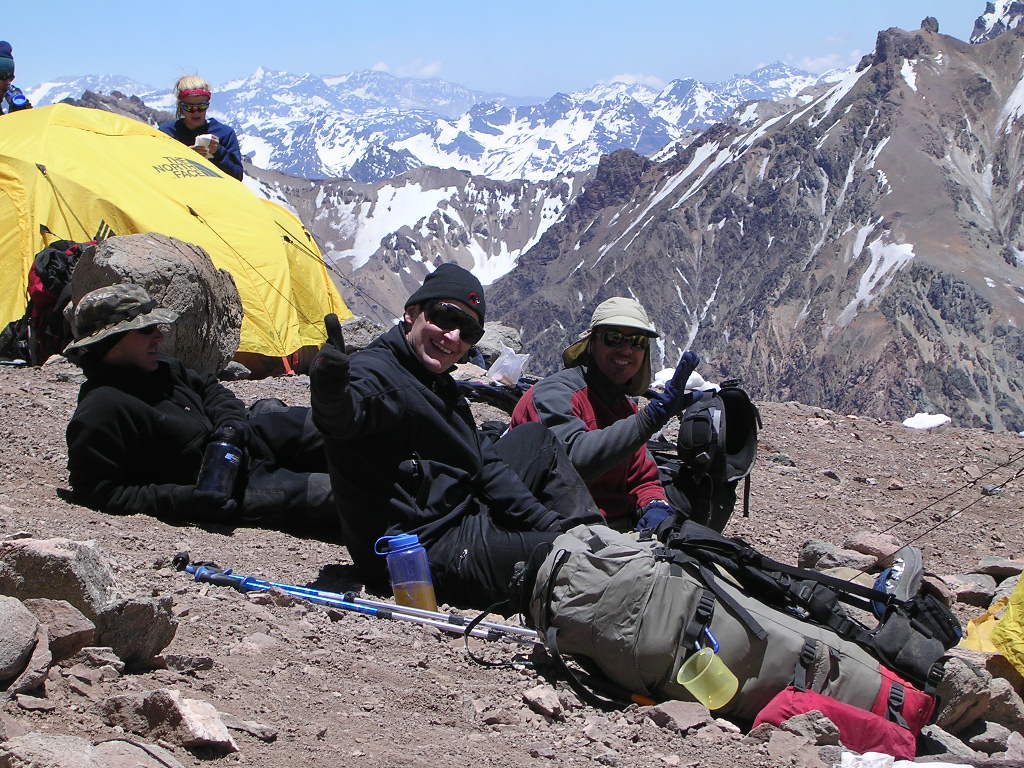 Aconcagua is the highest Mt. in the world outside the Himalayas.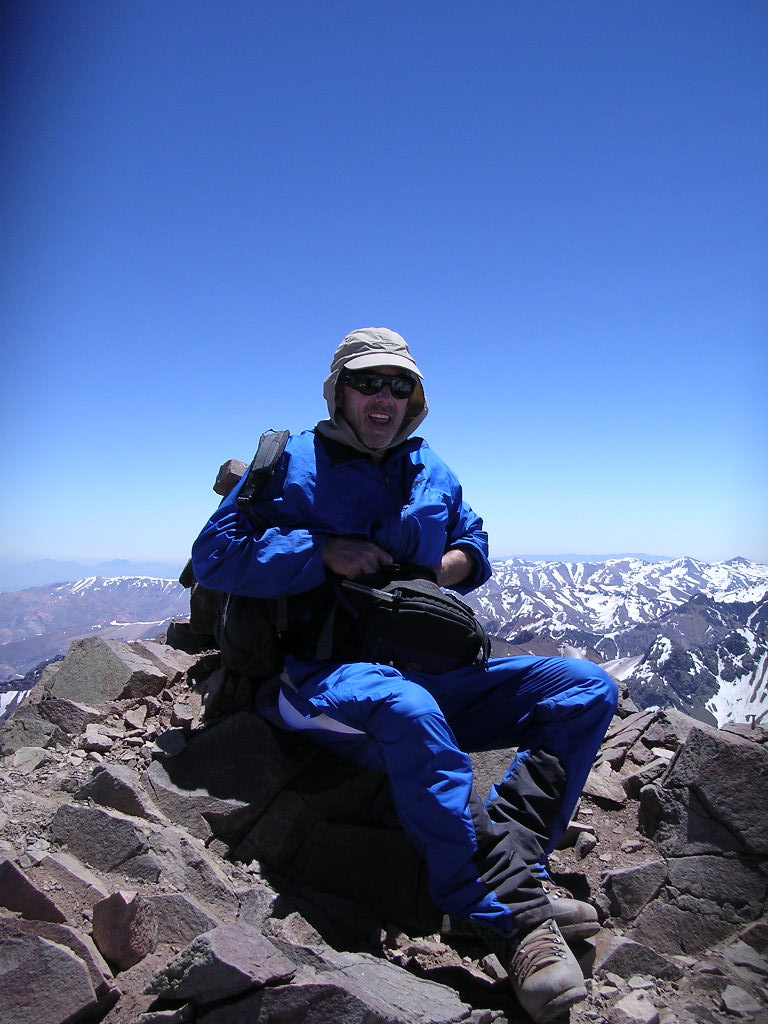 This is me on Bonete at about 18,000 feet. Not bad and still going strong.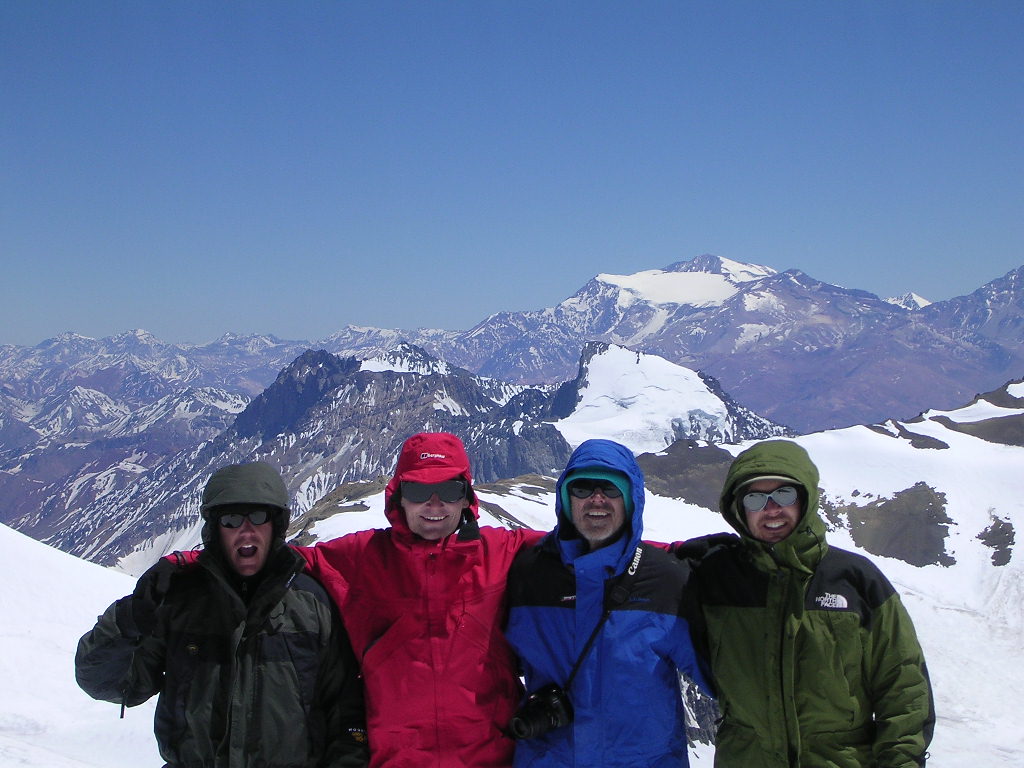 So here are the guys at 17.500 feet at Nido De Condor or the nest f the Condor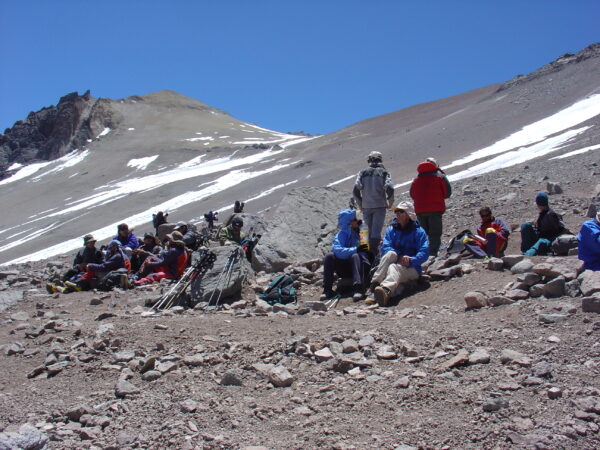 We took the horses down from Plaza De Mulas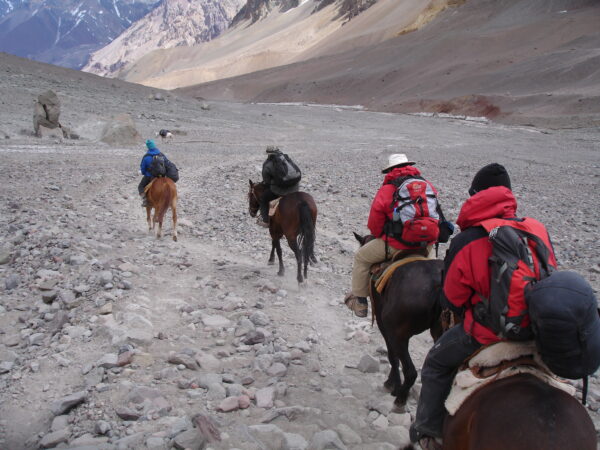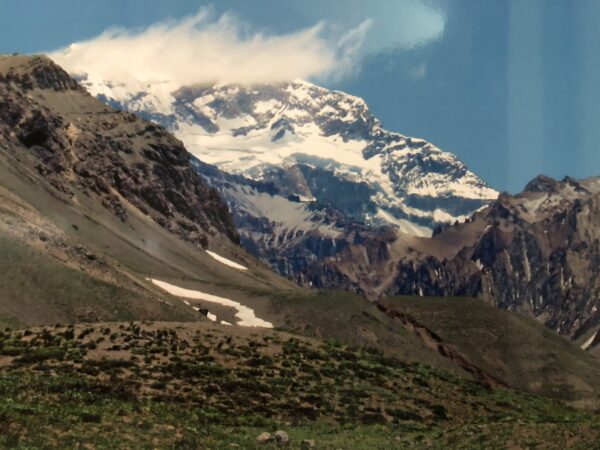 Getting good grub form our guides and friends
In climbing terms,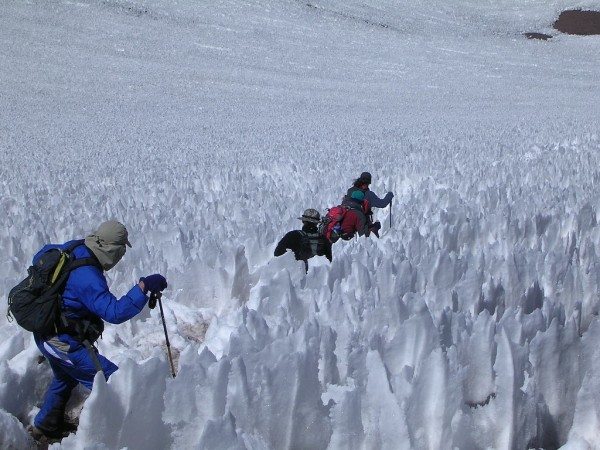 I was on my way to climb Aconcagua the highest mountain in the world outside the Himalayas.  I feel like Bilbo Baggins on my way to an adventure.  I sat back as the plane reached breakaway speed and dreamed of the adventure to come our way.  On the plane trip from Baltimore to Mendoza Argentina we would be stopping in Santiago a very cool town that I will write abut later. On the plane this guy was very nervous so being a wilderness medicine doctor I medicated him with a mild tranquilizer and in half an hour he was done for the night. When we arrived in Mendoza, we were pretty jet lagged and thank God our guides Amyara tours picked us up.  They were awesome the entire trip.
Mendoza is a beautiful Spanish colonial town with very warm dry days like Denver at about 80 degrees.  The city is lined and propagated with many pine majestic trees that shade the city streets and is inundated with many small city parks filled with flowers, shrubbery and trees. The traditional water fountains center all of the parks. All of the people are of European decent and the atmosphere is totally European.  Thee are many outside cafes like one would find in Spain or Italy with wide sidewalks. Dinner starts at about 9 PM at the earliest with most people dinning out at 10:30 Pm.  Waiters can be found dressed in fine jackets and exude old world charm.  The food is delicious.  High quality tenderloin, finely prepared salads and wine is the meal of choice. Mendoza has it fair share of Catholic churches and we participated in a service, it was in Spanish.  We had fun practicing our Spanish while out on the town and with our guides.
Tomorrow we started the climb, which was called the normal route.  We started the climb at 9,000 feet from Puente de Inca and each day ascended higher through these night time camping spots:  Confluencia@11,500, then Francia @ 12,800, Then on the fourth day we climbed for nine hour and reached Plaza de Mulas at 14,000.  During these three days to get to Plaza De Mulas we had the wind in our face every day  and it was all up hill and one day the wind probably reached 50 miles per hour.  The nights are cold and will get colder as we reach higher elevations. After reaching Plaza De Mulas we were smoked.  This is the base camp for everyone climbing Aconcagua by the Normal route.  We spent about three days here climbing and getting used to the altitude or acclimatization of the environment.  There was also a Hotel here where we could go to get beer, and higher quality food- so since I am a wimp I was there all the time- why not enjoy life.  In our tents we have seen two avalanches and a rockslide came rolling by my tent only 20 yards away.
One day, we climbed Boneti which stands at 16,800 the climb was brutal – far more difficult than I imagined.  Even though we only gained 2,500 feet in elevation we climbed through penetenties which are ice pyramids that are about six feet tall all day long and this ice plus the elevation crushed me We started climbing at 7 AM and got back at four.  I ran out of water and had to drink from the stream that bubbled out of the ground.

She is a big mountain
It was an amazing day.  From the summit you could look all the way down the valley that we climbed up.  The sky was blue black and air was a warm 10 degrees and that was good.  I fell on the way down and stumbled through a maze of the Penetentes and just rolled and rolled- it was rather funny.
Well tomorrow we were moving upward and leaving the safety of the Plaza De Mulas and establishing base camp higher up. Camp Canada was established at 17,000 feet followed by Nido Condores at 18,400 feet, which was followed by camp Cholera at 19,700.  At night is so cold we urinate in bottles so as not to get out of the tent and our oxygen saturation levels have dropped to 75%.  Our hear rate during the days have averaged 85 to 120 beats per minute and we have not had shores for over ten days very cool I hate them anyway- loved being covered in all that dust and dirt.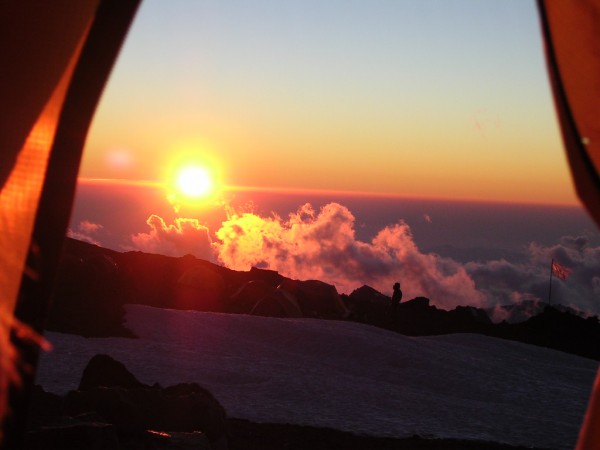 The night before our summit attempt the wind was howling at 100 miles per hour and the temperature reached  30 below zero it was amazing.  Sparks flew from by fingertips and the tent in total blackness came alive with the sparks that flew from my clothes to the sleeping bag and fingers.  My watch that cannot illuminate illuminated I still do not know how that happened .  Our breath froze as it rose and fell back on my face as tiny ice particles.  I developed Chayne Stokes and miserable breathing problem associated with high elevations.  SO it was miserable
When we woke up for the summit attempt at 4 AM we got our gear on and climb in the darkness to Independencies at 20,900 feet.  From here we  hiked up a steep 30 degree ridge line to these rock outcroppings at about 21,800 before the cantilever and then unfortunately the guides said bad weather was coming in and we had to turn back.  So we got to 21,800 feet.  Now the problem was we now had to climb all they way back down to Mulas and this was a major functions I thought we would spend the day in the tents at Cholera.  So we went or down that was with all of our gear and stuff so we arrived in Mulas at about 6 PM and I was so dehydrated I was going to pass out.  I went to the hotel got a six-pack and then another and a room and chugged all the beer.  My nephew came in and I was sprawled out and looked dead.  I eventually got another six-pack to finish the evening and then passed out.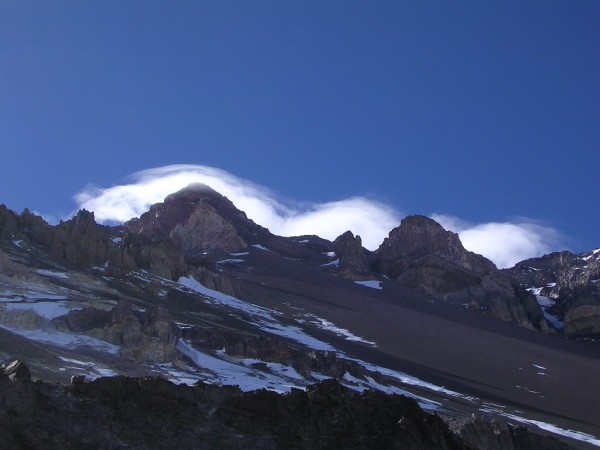 The next day we headed back but by mules- the ones that bring goods up to the hotel.  This was no pony ride, it was a serious adventure with river crossings, climbing on 60 degree slopes sideways, crossing ice bridges that could have collapsed and negotiating 18-inch wide tracks with 100 yard drop offs.  We saw about ten dead horses or mules along the way.  In this one section of dry riverbed we were racing and Ryan's horse did a 360 in by completely rolling.  Thank God Ryan was not killed. The horse was all cut up but he got back in the saddle and onward we went kicking some ass.  We crossed many raging rivers this was scary because we only had the clothes we wore.  My horse went all the way down and another horse almost got sucked away.  It was night when we arrived at Punte De Inca and I could hardly walk.  A true adventure.  So in two days we were off for home
Smoking Cool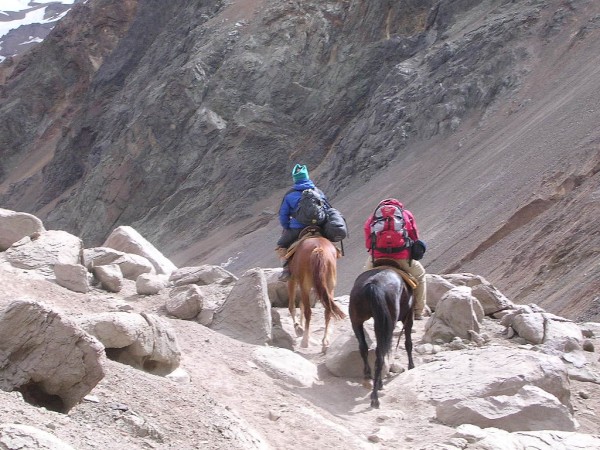 Prayer on Aconcagua
Dear God almighty, I humbly come before You on this mountain top and even though I am unworthy, only say the word and I shall be healed.
Today in the wilderness and on this majestic mountain, I see Your greatness in all that surrounds us and the Heavens proclaim Your glory. The majestic white capped mountains beneath the clear blue skies with the sun's streaming golden rays covering the earth in its warmth and with the twinkling of stars at night, they all display Your handiwork. The rolling hills and the green valley's cut by gushing white water streams below us – they disclose Your awesome presence. The roaring wind that bites at my face let's me know I am alive and of Your awesome power. Your divine voice sails on the wind through all of creation, and it is Your creation alone. You have given me the ability to hear the music of the world on this special day and it proclaims You are in my midst and I am most grateful and thankful for the opportunity to witness these incredible things.
Dear God almighty, You are the most gracious and merciful and all praises and thanks we give to You and it is You alone that reigns over all that exists. You alone are the owner and judge of the day of resurrection and it is You alone that we worship with our entire heart, mind and strength and it is You alone that we ask for help in everything we do, there is nothing but You in our hearts, minds and strength, it is You alone that we owe our life to and we worship You in everything we do.
You that are all infinite and who was begotten and not made, who is the creator of all life, both seen and unseen, known and unknown, we humbly come before You on this most beautiful mountain top on this special day to ask You to bath those that have gone before us in Your warm light and grant them peace. In silent thoughts, we remember fondly and are thankful for the time we were able to share together . We also pray that You will guide, lead and teach us in Your ways so that we can better serve You each and every day by helping those that are sick, the poor and the those that are less fortunate than we. These things we pray and all praise and honor be Yours, Amen .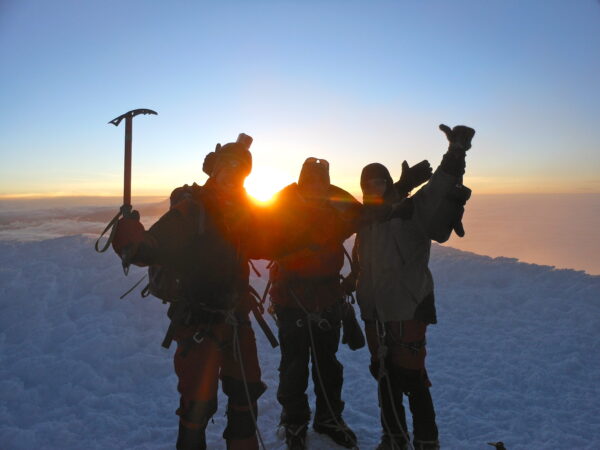 Other photos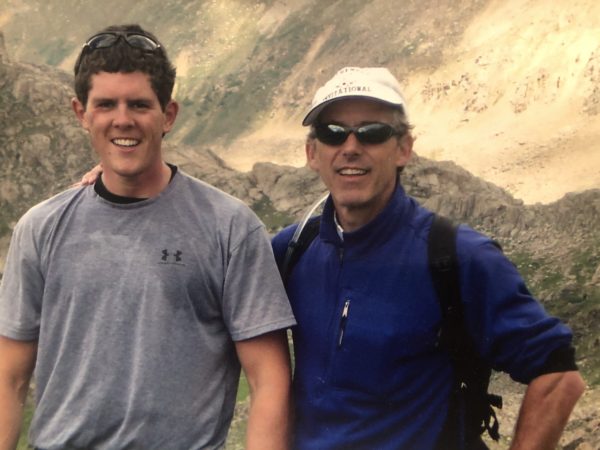 The written story of the climb
Our Climb of Aconcagua 
 Aconcagua is the highest mountain outside the Himalayans at 21,850. I took my nephew down to climb it together and we used Amyara Climbing services.  WE signed up for the early acclimatization program (EAP) through AMYARA and we met our EAP group in Mendoza: Rudi from Germany, Kip a lawyer from Arizona and Aaron from the military.
Mendoza is a beautiful high plains semi-arid town located in the foothills of the magnificent Andes.  It boasts some of the world's greatest activities like: Skiing, fly-fishing, rafting, biking and of course hiking and climbing the big mountains. Mendoza is also known for its Malbec wine and we took a vineyard tour after the climb. While in Mendoza we visited the local museums and old church's and I prayed for those that had gone before us including my brother Tom (I carried his ashes with me).  We walked around the tree lined streets and relaxed in the many city parks with flowers galore and hosting many sparkling fountains.  We dined in many fine restaurants and the fine dining was a bargain but they ate late at night like 10 PM.  In the evening we retired to the fine hotel with pool .
From Mendoza we traveled by bus to Penitenents a small village where we started our climb at about 8,900 feet. Our hostel was called Hotel Penitentes and it would get quite cold at night.  From here we would hike about 30 miles and it would take about 4 days to get to base camp (Plaza de Mulas). Plaza de Mulas sits at 14,000 feet higher than most any mountain in the Continental United States.  On our first day out walking towards Mulas, we passed the climbers graveyard and fell to our knees saying prayers for the deceased climbers and my brother. (At times during my hike my brother was beside me.  The vision was of ecstasy and was like a light of revelation and the vision was of me holding Tom's hand and speaking with him as we walked.
The Scenery was amazing: the early morning golden and amber hues of light and how it stretched out its hand to brush the verdant mountain sides in hues of menagerie of orange and red colors was just incredible and spiritual.  A raging river in madding furry cut through the mountain side and Andean vultures soared overhead and looked like winged beasts from the darkness of the underground where the shadows ran from themselves. I watched the birds rise with the thermals and then they circled the craggy peaks looking for their next kill.
By the end of the first day we reached Confluence situated at about 12,000 feet.  Ryan and I established a camp on a dinosaur backbone of a ridge, away from our buddies and watched the blood orange glow of the setting sun drop below the purple haze that shrouded the magnificent mountains.  As night settled in, the emptiness of the night sky was flawlessly clear.  The stars shimmered in all their glory while we watched satellites fly by.  The moon's glow washed the hillsides in soft cotton and we were awakened at night by the fluttering of wings next to our heads of some demon that taunted us.
The next day we hiked to Plaza Francis and viewed the backside of Aconcagua and its monstrous 10,000-foot precipitance – one of the largest in the world. The land rose to become the sky and they melded together in watercolor strokes of distant snow clouds.  We skirted a massive chocolate colored glacier, infused with stone, dirt, boulders and rock – it was more than 100 yards thick before returning to camp. By evening the clouds were burning crimson red and at times flaming away before being extinguished in pillows of cotton ash.
The next day was a grueling ten-hour trek from Confluence to Plaza de Mullas at 14,100 which is the base camp from which we would attempt the reach the summit about 8 days later.  The verdant mountain sides gave way to dry desert like conditions.  Head winds of 20-40 miles per hour winds pummeled us all day and it drained the liquid in our veins and the energy from our souls. It was cold and we got wet crossing the many streams that snaked its way through the valley floor. We passed the carcasses of horses and mules along the way and passed a human couple that had to turn back due to altitude sickness. At times, I thought I would not be able to go on as I was so exhausted. We finally made it to Mulas and were escorted to the medical tent for review. My  oxygen saturation had dropped to 75% and blood pressure was 180 over 110. I totally freaked out but was told by the medical staff that this was normal and things should improve in the coming days as my body acclimatized. I can tell you people were blowing chow at Plaza de Mulas from the altitude. 
Mulas was the base camp from which all outfitters would start their climb. Each had their territory staked out with their headquarters in a Tyvek style Quonset hut.  There was actually internet service here, beer, showers and toilets.   No one drank alcohol except the porters and the porters and guides would gather in their tents huddled in their down parkas and play their guitars and sing their melodies into the night.  The music wafted through the thin air and lasted well into the night sending us into world of unknown dreams. During the day, we heard the cannonading of avalanches and rock slides from the living mountain that surrounded us and we were reminded that death walked with us.  It could be warm during the day but when the orb closed its tired eye there was a tidal movement of cold air that descended from the ice fields above as temperatures could drop 30-35 degrees quit quickly. Al Plaza de Mulas, this is where we also met our other climbing members – the ones that did not sign up for the Early Acclimatization Program (EAP) program. These individuals came from all over the globe and had climbed many mountains around the world.
Over the next few days we climbed various peaks around Aconcagua to acclimatize and we climber Bonete at 16,700 feet as well as another peak at 18,500 a great accomplishment for us.  On the climb to 18,5000 it was very difficlut for me and I thought I would not make it but we all fought off the desire to quit and made the summit that overlooked Plaza de Mulas.  To sit on the small rock outcropping at the summit was just amazing and all inspiring and it took a total of 11 hours from base to summit to base and we hiked though "Penitenents" that are ice swords/ice spires that stand 6 to 7 feet high and when combined with the steep and narrow paths it made the climb very difficult.  On days like this you feel the presence of God and I thought of my brother Tom and the thoughts and prayers kept me going as well.  
Day after day we crept upward over the scree and ice towards the peak that stood over us – the towering monster and "stone Sentinel". Our first camp was located at about 16,568 called campo Canada.  The camp was nestled in a rocky niche overlooking the valley floor and the visions were breathtaking: ice, clouds, sunrise sunsets.  Upon arrival, I help the porters to gather snow to make tea, soups and dinner. It was here we lost our first person to altitude sickness – constant vomiting and so on so she was escorted back down. 
The next day we hiked up to Nido de Condor (Nest of the  Condor)  situated at about 18,206 feet. This was as difficult day but the EAP group – Rudi, Kip Aaron and Ryan and I did the best. It was here we lost another few climbers due to altitude sickness. Nido de Condor is an interesting place as it is a large flat plateau.  At the far end (away from camp) there was a large outcropping that looked like an old crusader fort from ages long past.  We all walked over and looked at the views all the way to the Pacific Ocean. The firmament was brilliant: dark blue sky, wispy blue sky, wispy clouds with huge nimbuses on the horizon and the air was dry and cold.  It was the coldest day we had experienced but it would get far colder.  I continued to investigate "the fort" and after some time came across a blessed Mary stature that was in a cleft inside this huge boulder. For reasons unknown, I had my brother ashes with me in a small container and a prayer I had written for him.  At that moment, I thought of my brother and all we had done over our lives and with those thoughts I fell to my knees and prayed to God, read the prayer and I was crying the entire time with the memories of my brother.  When I finished, I left the prayer and a small cross I carried – I left them in that stone cleft and walked to my tent thinking of my brother.  We spent another day here hiking around Nido de Condor before hiking to the next camp  – Camp Colera – 19,568 and then hiking to Indeendencia at about 20,931.  We passed camp Berlin because it was contaminated by human waste. I thought the guides were kidding to make us go higher but we could smell it.  We were down to 6 team climbers, down from 12 all due to altitude sickness. 
Indepencencia @ 20,931 was a flat little rocky place and home to the hard land of winter. It was cold and this is where we felt the Storm gods. It started to snow and the wind howled. At first it was wispy and caressed our face like a lover's hand and then it rose like a mighty warrior and descended on us to destroy us. We hiked back down to Camp Cholera @ 19,568 and spent the night and it was like 30 below zero wow that is cold. Hour after hour it howled outside and sounded like a jet engine. Our tents were pummeled and even though the tents were well secured one empty ten for food and gear was ripped apart. That night our thermometer registered 25 below and the winds were about 70 miles per hour in camp and about 100 at the summit. All our water bottles froze in our tents and it was snowing in our tents from the vapor we exhaled. Electrical charges were flying around the inside of the tent caused by the wind and the electrical charges went from my fingertips illuminating the tent in an eerie green glow.  It was as if the tent was on fire.  The storm raged all night and I could not sleep as I developed Cheyne Stokes Syndrome, a nightmarish breathing problem. I forgot to breath then would wake up to panic breathing. At about 4:30 we were awaked by the guides and told we might not make the summit due to the weather but would start. 
The wind was so powerful on our summit attempt that I was knocked down twice. The wind was hostile and relentless. I begged God to let the sun rise to bring some warmth into the darkness and onto hard land of winter and onto the frozen silence, where the shadow run from themselves. Dawn poured over us and the horizon flamed amber and the light washed the rocks and filled the darkness with hues of golden amber light that turned to whitewash the more it rose. The shadow of the mountain reached the pacific in a perfectly posed pyramid.   The struggle was as much mental as physical as the mind became cloudy and confused as I struggled to fill my lungs with every step. We passed the Independence Hut again and it had been blown to shreds from the wind = wow. 
We continued to climb to the next spiny ridge line right before the cantilever at about 21,817 to la Cueva before stopping to catch some air and consultation – now it had warmed to about – negative 5 degrees F.. Our guides said we could not go on because of the weather and the weather was getting worse so with only about 1,000 feet to go we turned around at 21,817 feet just short of the summit. We had been climbing since 4 Am and were tired but still had to dismantle our tents and gear to take back down to Mulas.  Amazingly at Camp Cholera we say a "Patagonia Wolff" rummage through our gear = how could he survive.
Ok so after packing the gear we climbed back down to Plasa de Mulas and after climbing for 14 hours and we were all exhausted.  Rather than camp and having to set up the tent, I went to the highest hotel in the world and got a room with a 6 pack of beer and crashed there.  I was awakened by Ryan a couple of hours later and grabbed another 6 pack and downed it.  Although disappointed we did not reach the summit we were happy for the experience shared and the friends made.  The next day we were to hike all the way out = an all-day event but I came up with a great fun idea of a horseback ride out. 
The horseback ride out was a challenge and dangerous as Ryan flew off the horse full on as the hose fell and we crossed rivers and streams and we could have fallen off cliffs.  Upon arriving at Penitentes we visited the climber's cemetery and gave thanks and praise and prayed for those that had died. WE prayed for my brother as well. I knew my brother would have been happy knowing I took his son Ryan on this adventure and now he is my son.  My brother's ashes rest at Nido de Condor in the niche on the boulder with the Virgin Mary, my prayer and my cross of Jesus and May God watch over Tom and one day we will all be reunited again