on the summit above and another video below
I climbed, summited and skied down from 17,500 with High Summits and thank you Isabel (El Mucho Gusto Roberto Travers a sus ordenez) Isabel and Abraham are simply the best.
This is be below on the summit. I only skied down from the top of the Glacier before the ice fall or large overhang.  I had about 2,000 of verticel of skiing because I was uncertain where to go off the summit and there is a big cliff.  So be safe to do the whole thing again.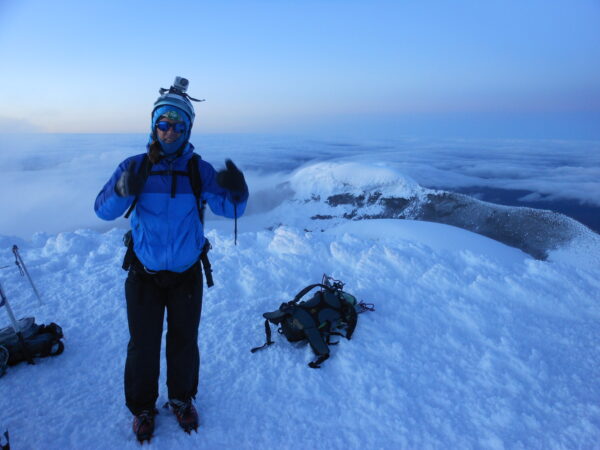 Me on the summit above and with my skies at the hut.  I skied the glacier from the top down or about 17,500 to the end at about 16,000. COOL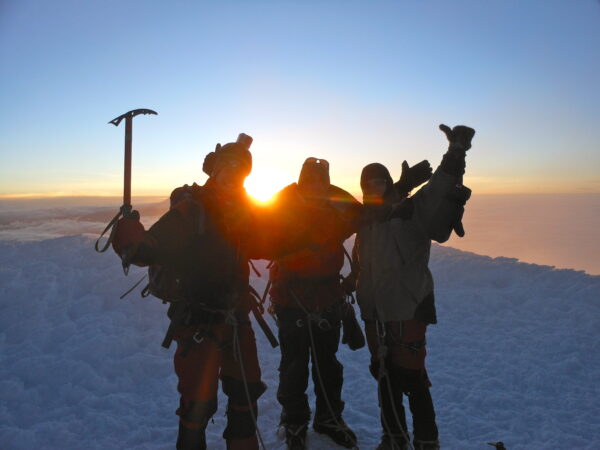 Here is the story.  High Summits is very favorable and reliable firm specializing in Mountain climbing, hiking and travel Ecuador.  I landed in Quito and stayed at the Embassy hotel in Marascal Gringo Land. Very cool town and UNESCO SITE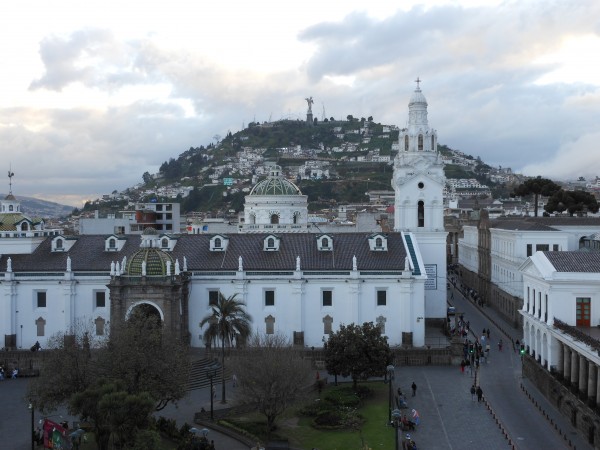 From there we traveled to our famous lodge Cuella De Luna owned and operated by High Summits below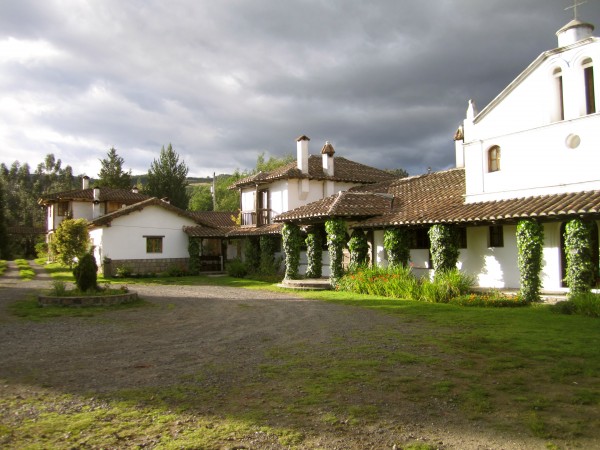 The rooms, food, drinks and friends were awesome with private baths== wow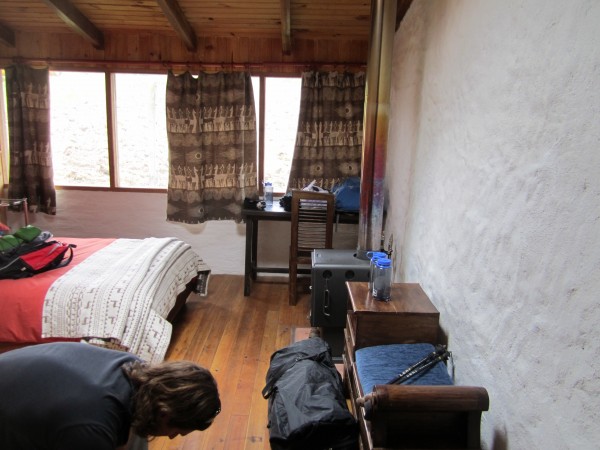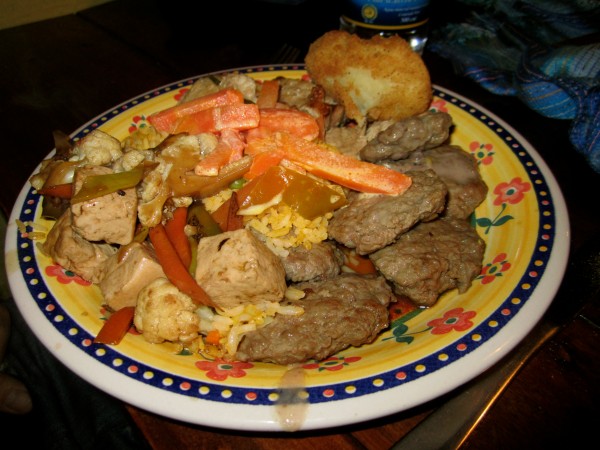 Good food and friends below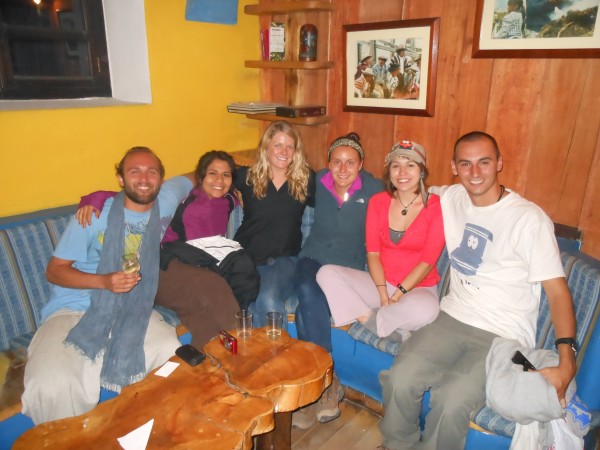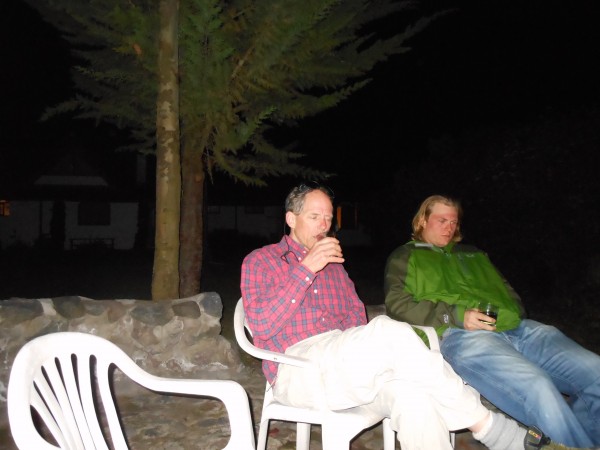 Consuming way to much Wine by the fire but that is ok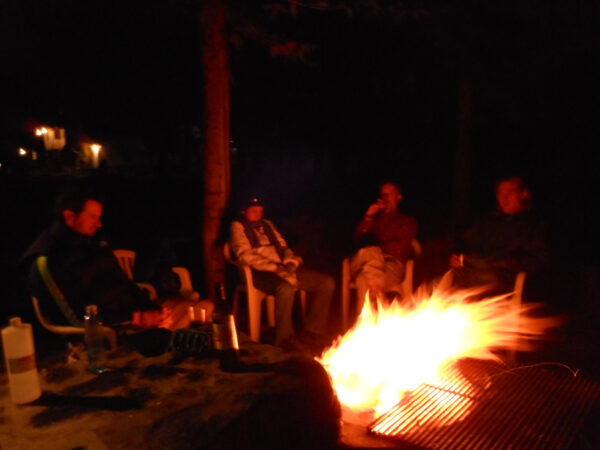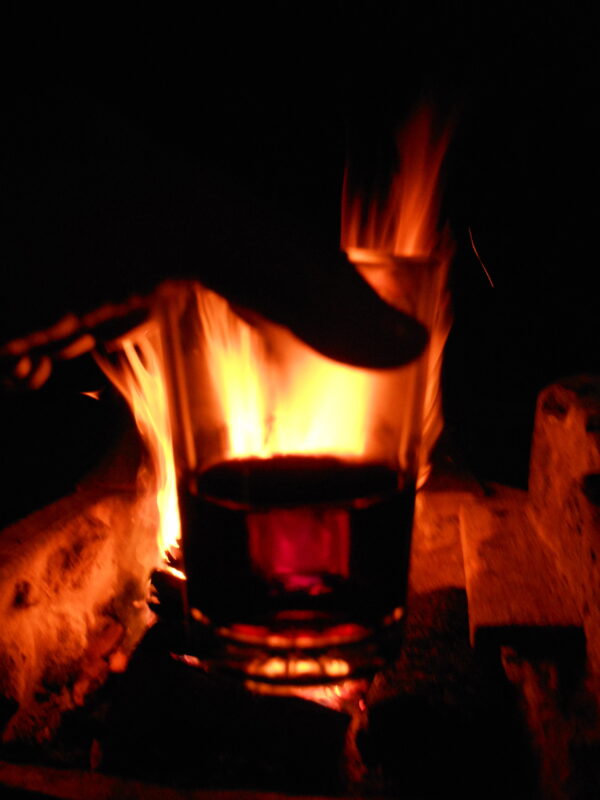 Drinking by the outside fire above not to good at altitude!
THE CLIMBING: We climbed Cotopaxi 19,500, Illiniza 17,300, Corazon 16,000 and Ruminahua at 15,500.   Abraham was our guide and was just tremendous, friendly and above all honest and safety oriented – Thank you Abraham!  Every day we would hike the amazing trails and land in the Cotopoxi National Park.  We saw no people but we saw God's gift and that is nature in all its glory.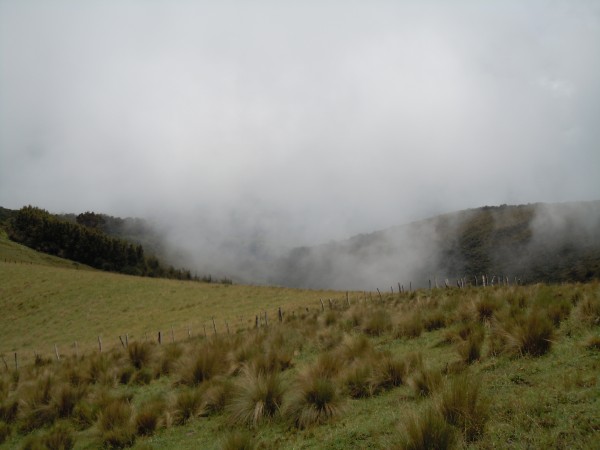 Lakes that reflected the images of the mountains and the lake side and sunsets, rolling hills with tall grasses and then the steep mountain sides covered in ash and brimstone form the active volcanoes.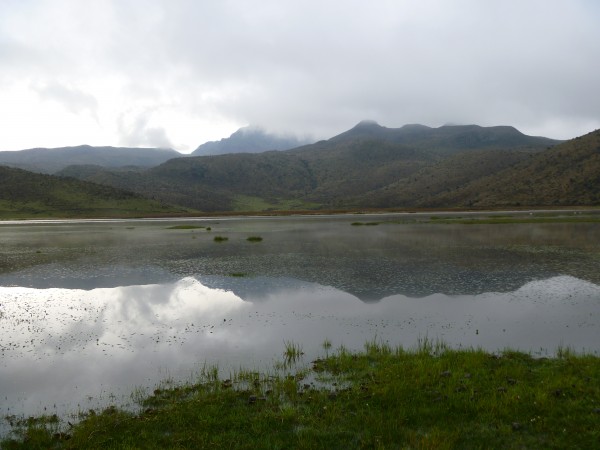 Fauna and Flora:  I was here during the rainy season so everything was lush.  The area was beautiful and is covered in huge verdant valleys and farmland.  The Valley is closed in by Huge Mountains that reach to the sky at 20,000 some thousand feet.  There are also rift valleys that fall away into the Hades that. Consume everything.  These steep and precarious rift valleys lead to huge landslides and one happened when I was there that killed over ten people.  Meanwhile back at the hacienda, I saw hummingbirds dart between the flowering plants. Imagine climbing all day and walking in field after field between beautiful flowers, scented pines and eucalyptus and then watching humming birds dart about.  Very cool.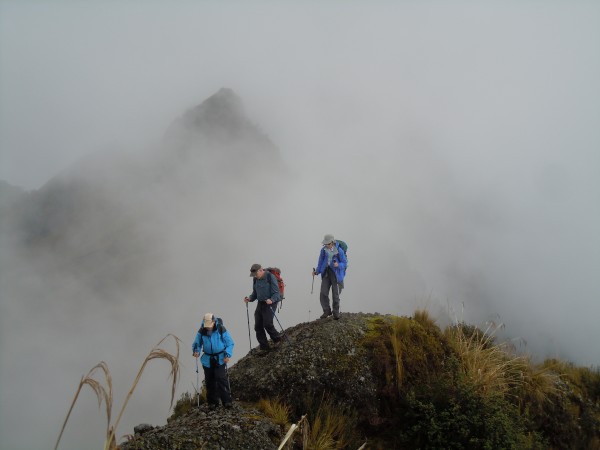 On our way there we hiked through awesome rather large grasslands below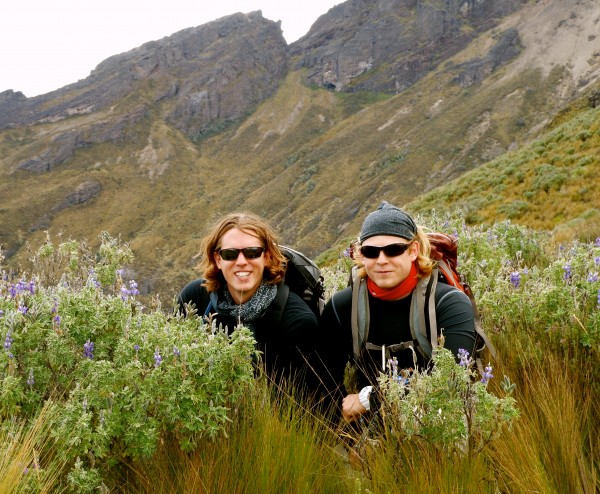 nother climb was Corazon. The green pastureland gave way to tall grass lands that permeated the landscape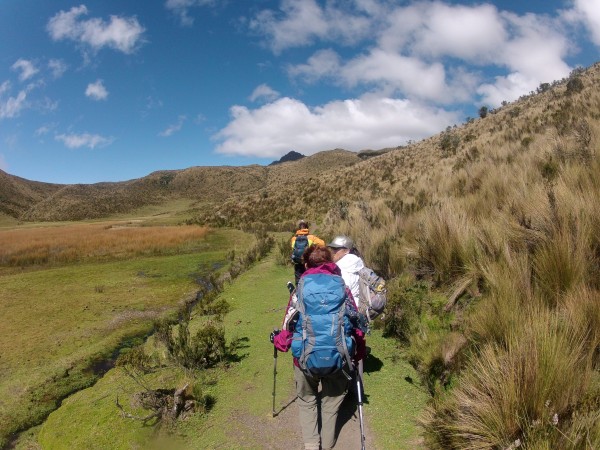 Family and friends below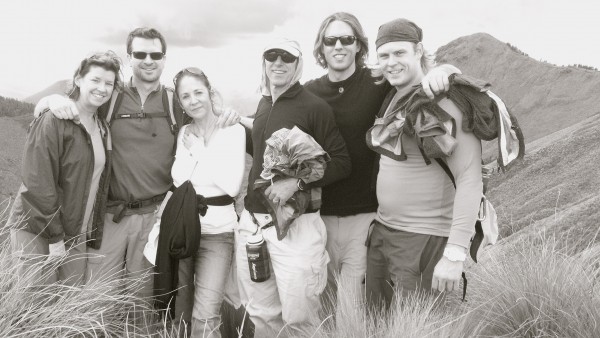 Buddies above and Climbing through snow and ice to reach summit of Illiniza below
As an example this is a note from a days hike.  On Tuesday we hiked for 7 hours from about 12,000 to 17,500 feet.  This was Illiniza below.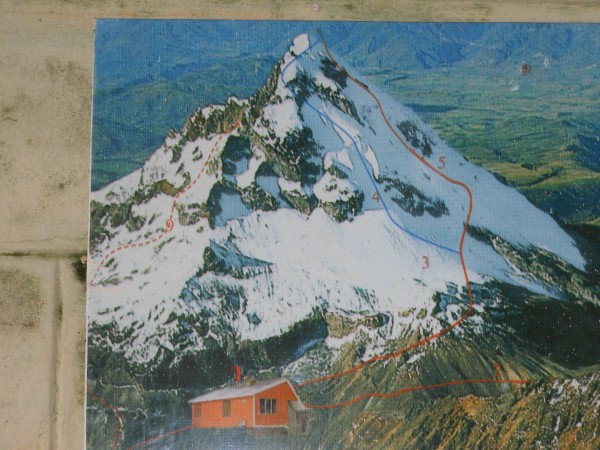 Poster of the climb above and photo of mountain coming down below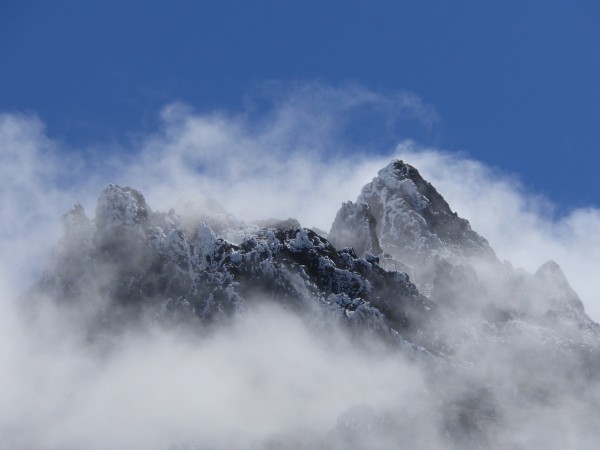 It was a cold, rainy and snowy and an extremely foggy  overcast day.  From 13,000 to 15,000 we passed through lush green pastureland and hillsides, yet it was difficult to see through the blowing fog and light drizzle.  At about 15000 feet we came to the refuge and the scenery changed dramatically.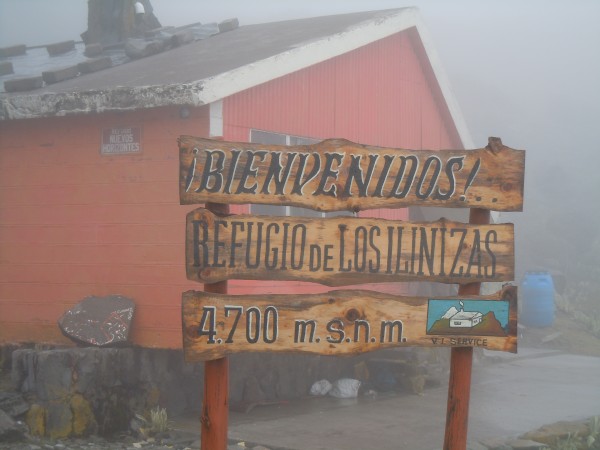 Over 15,000 it got bad high wind and cold.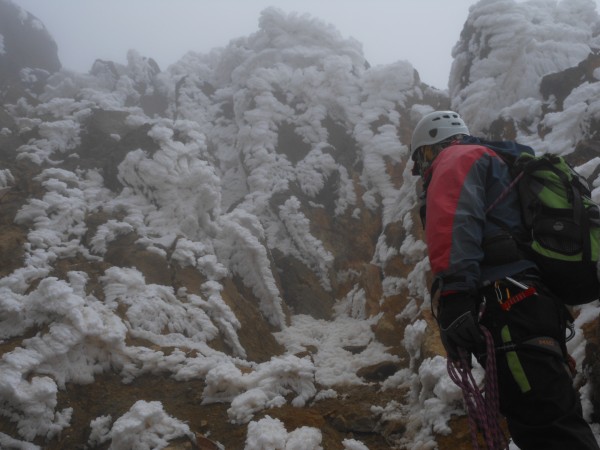 The wind blew the fog about like ghost dancers taunting us and then they disappeared into oblivion. This is me on summit of Illiniza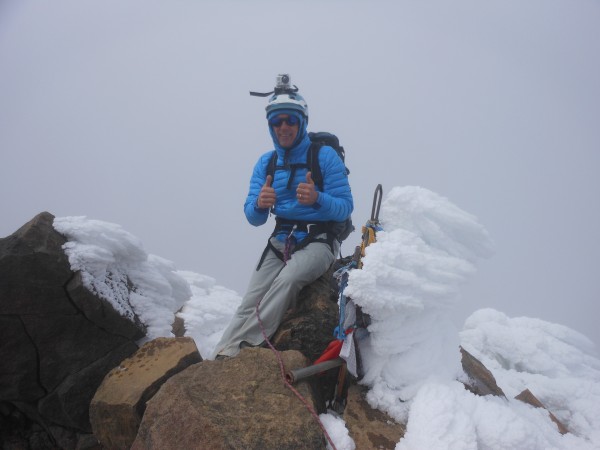 This area is sparsely populated and we never saw another person until late in the afternoon. On our way home, we passed large stands of eucalyptus and pines and they perfumed the already clean and refreshing air.
And the temperature dropped precipitously and the wind blew steady at 20 mph and gusted to 50 pelting us with small snow crystals, rain and ice for the next three hours. This is where it got dangerous.  We climbed a very steep inverted cone (I love Mathematics) through loose volcanic ash infused with beautiful yellow sulfur.  – I was covered in yellow cake. It was very loose and a few times I was surfing the ash downwards up to my knees – not what I wanted.  After about an hour we started a very serious steep 1000-foot climb where the pitch at times was probably like 75 degrees.  This was compounded by the ice and snow and loose scree and fog – I cannot see that great to begin with.
Below is Ruminahua the summit and climb with friends from Germany and Spain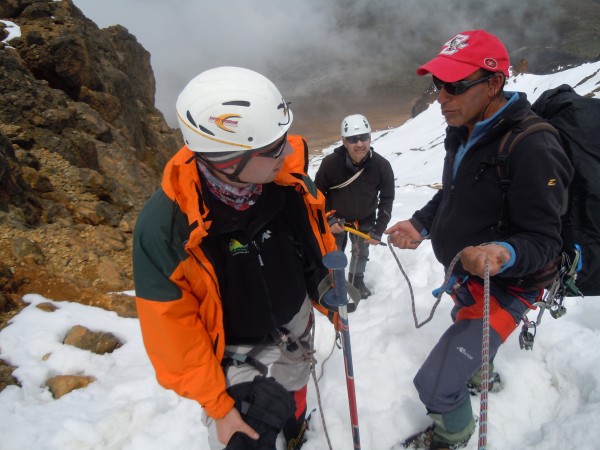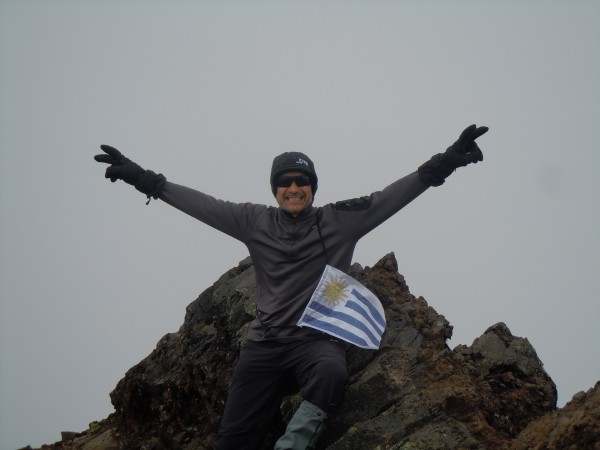 Summit below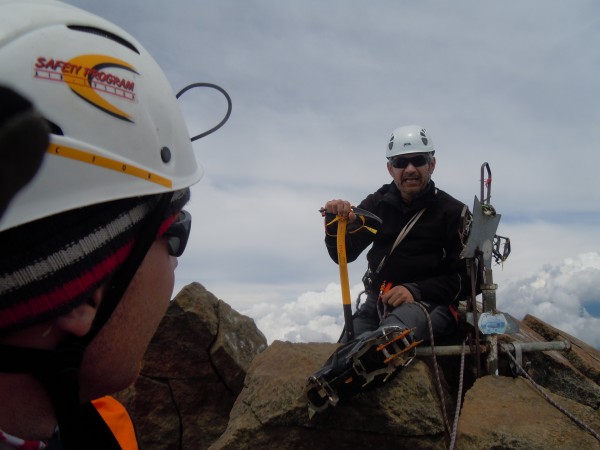 So on on to the summit attempt of COTPAXI
We friends and family traveled to the refuge at about 15,000 a nice lodge at the base of Cotopoxi 20,000.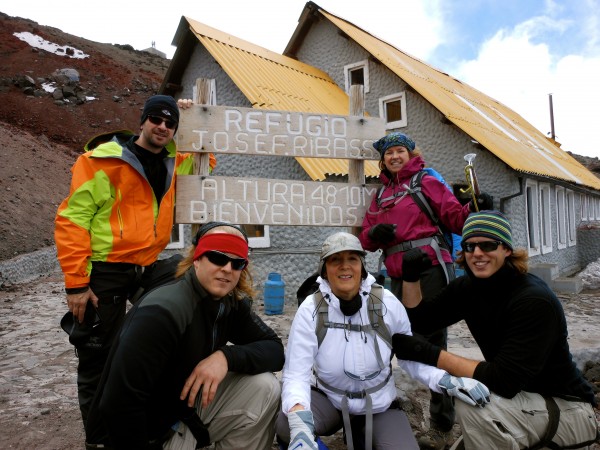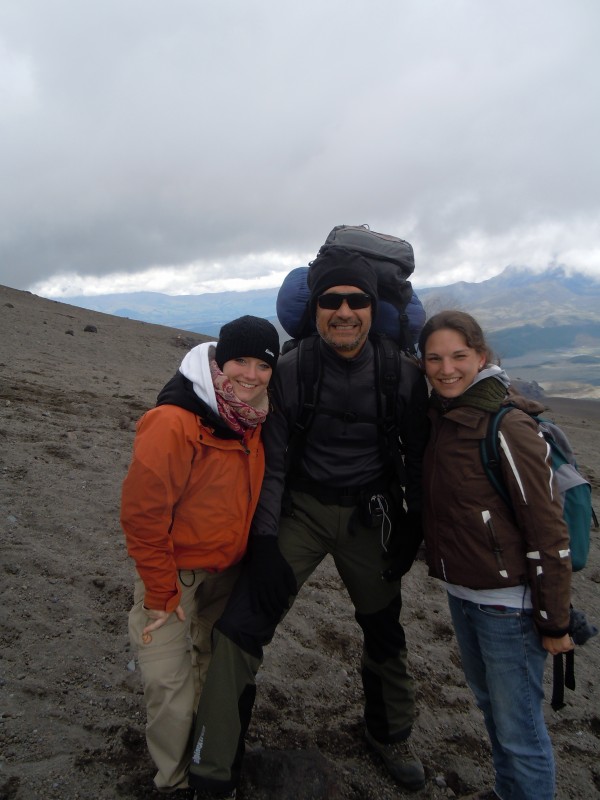 the Refuge above at about 4800 meters and friends below Carolina.  Please come and visit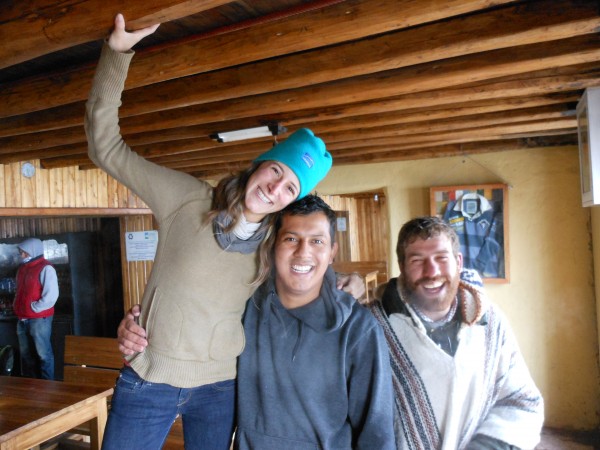 She is so awesome and I hope Carolina visits us in the States and the bunks in the refuge below. Food was great and bunks rooms very clean and friends the best.  The refuge hosted bunk beds and was a very clean and well function refuge.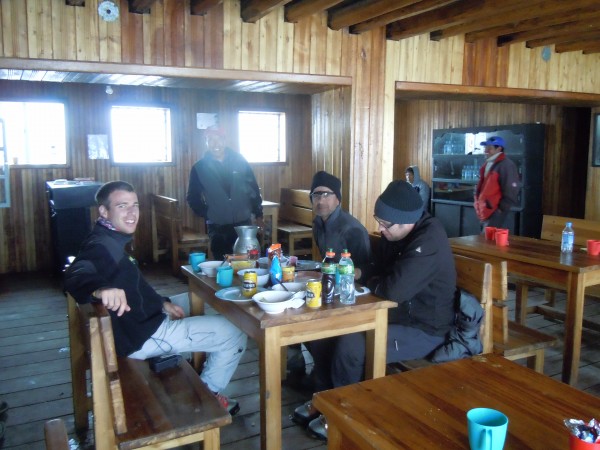 We had a nice meal above at about 6 Pm and at midnight attempted to summit after a light breakfast.  We were dressed in cold weather gear, crampons and ice ax a so on.  We were immediately in snow and ice and had a great time moving up the huge mountain.  And it is huge with crevasse, rifts snow bridges and ice.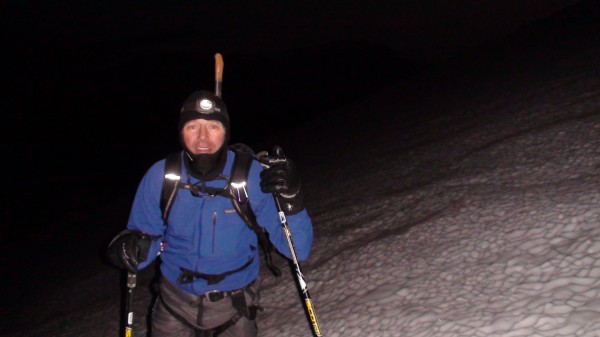 Climbing at night above  on a different mountain above but cool anyway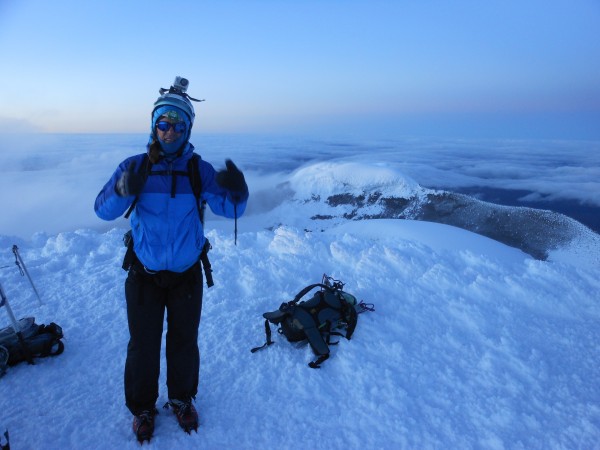 On Summit above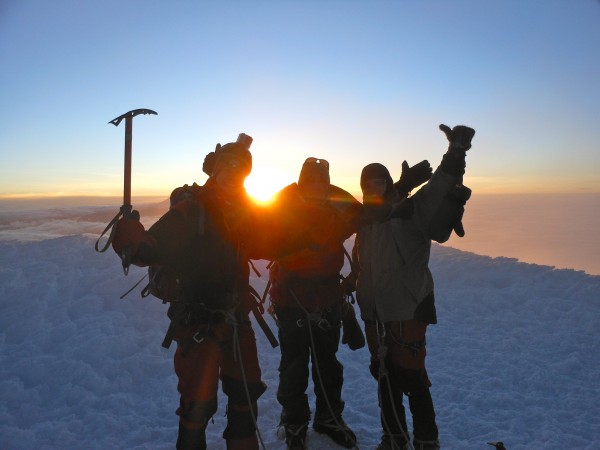 Summit above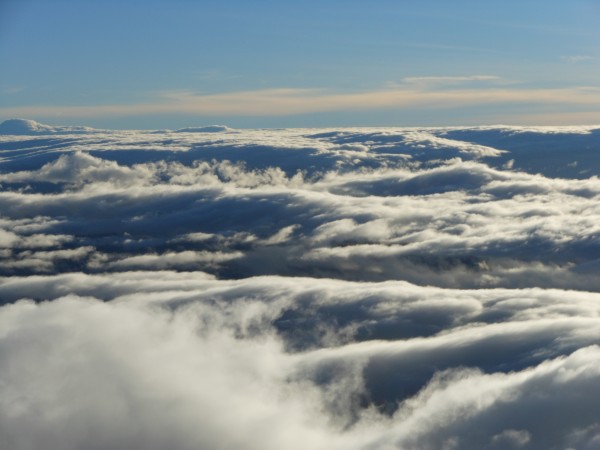 Shots on way down