By Dave Warfield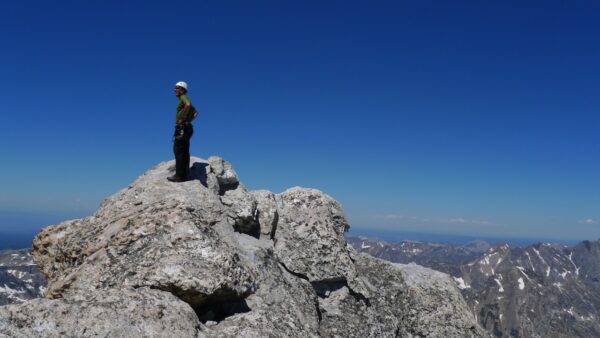 Dave above = bad ass due to the max!!! Well, I apologize to those expecting regular emails from my blackberry, but it didn't work in the Alaskan range, so I thought I would send a final report on my adventure about climbing Denali.  I spent the night in Anchorage before heading up the Talkeetna in a shuttle, in which I was the only American, a couple of French a few Fins and some Canadians. . They all made me realize what in international affair I was in for.
Talkeetna is a one-horse town and wouldn't be more than a trainstop if Bradford Washbour hadn't established the west buttress route up Denali way back in the 50's – main street is the only paved road and dogs run rampant. There are a couple of bars and a great spot for a quick breakfast.
The next day I met Kevin my guide whom I had been climbing with in the Tetons and the White Mountain s for several years. We went through gear and provisions for the 3 week expeditions before hoping a plane to take us to the Kahiltna Glacier Tuesday afternoon. On the glacier is where we established our camp and it was from our camp we watched planes continue to deposit climbers at the "Kahiltna International Airport"
The next morning, we left early to try to beat the heat and began the grunt work of hauling over 100 pounds each or gear and grub up the glacier. We traveled past the 7900 foot tent site and eventually settled in at 9,100 feet where we hung out and watched other climbers trekking up the mountain.  From here we skied with packs and sleds to 14,200 feet = bad ass for certain.
For me,  all my climbing experience had been alpine climbing, where you travel light and are usually at the task of summating in less than 24 hours so this was a new experience. This was a new experience ferrying food and gear up for up to 3 weeks in extremely harsh conditions.
To do this we each had large packs and sleds that attached to our packs. Some groups did many carries which meant they would carry part of their gear up to the next camp, cache it and then return to their original tent site.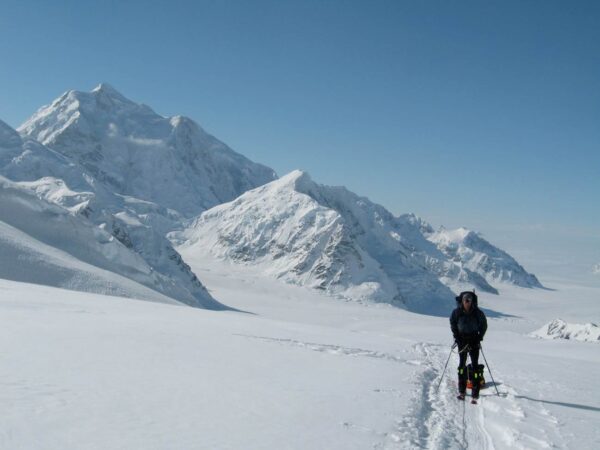 Carry above 
This struck me as climbing the mountain twice so Kevin and I decided to grunt it out with single carries which while harder, got us up the mountain quicker.
From 9,100 we moved to 11,200 and spent a snowy night there before being the first out of camp in the morning to tackle Motorcycle hill, squirrel hill and the infamous windy corner before getting to our goal of the 14,200 camp.
This proved to be very a difficult day and was made harder by having to break a trail in roughly a foot of new snow, see photo above — it was a difficult 8 hours and we did finally arrive at 14,200 dehydrated and exhausted. The benefit was we got relatively high on the mountain quickly in three days which put us in place to acclimatize and prepare for our summit.
One interesting aspect of expedition climbing is that all the work goes into gaining the summit. If you climb in the Teton, you can a summit a day and sometimes more with out all the grunt work and effort, so as a result the stakes become higher on an expedition style climb.
Ok back to the climb. The 14,2000 foot base camp is the most established of the camps and had the largest contingency of climbers coming, going and in general milling around. There were also rangers stationed there – and for us we witnessed the rangers at work our first morning as two climbers who had fallen while descending and this is where most accidents occur and they were flown away by helicopter. 
It can get very cold at 14,200 feet as we had several nights of 20 below temperatures and there were several things we did to help manage this. One was to take a water bottle filled with hot boiling water and put it in our sleeping bags at night and the other was to have a "pee" bottle in our tent to allow relief at night without exciting the tent – this was particularly tough for women who made up about 15% of the climbers.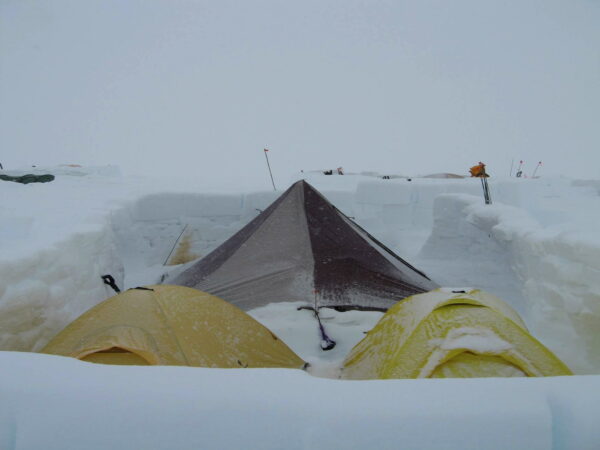 For the first couple of days at 14,200 we rested, established and fortified our camp the best we could and spent a lot of time hanging out, talking to other climbers and this proved to be the most difficult part of the expedition for me the "hanging out"
After two days of rest we did two days of higher elevation climbs to roughly 16,500 and began looking for our window to summit. We needed about two days of reasonable weather to make our summit attempt.
After those two acclimatization hikes, we had a bad weather day, which probably served as a good rest day. Then we went for it climbing to 17,2000 where we camped with a lot of exposure and slept little before heading out for the summit at 8 Am. I will not that at 17,200 we met up with some older Italians who had been there for 5 days but were very cheerful and helped us build our snow walls. Those same folks left with us the next morning and summated with us the next day after roughly 6 hours of breathing thin air and moving slowly.
The air above 16,000 is thin and easily promotes lethargy which means you have to be very determined to continue on – most people tell themselves it isn't worth it and turn around!!!
On the summit bid, you climb 1,000 feet to Denali pass, then continue to push higher until you get to a large plateau know as the football fiend – a large open area, where in difficult conditions many climbers get lost or disoriented . However, we were fortunate with the exception of high winds but had good visibility which revealed a "wall" of about 700 vertical feet that needed to be climbed to get to the summit – this proved to be trying and required great determination.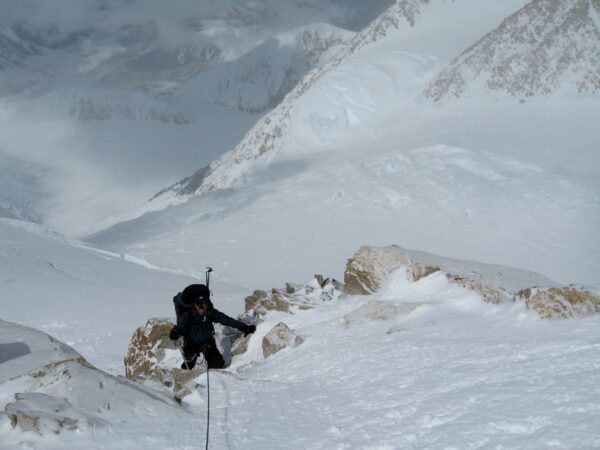 The actual summit was somewhat anticlimactic after the 10 days of effort,  but I was glad to be able to stay on task = he is the man!!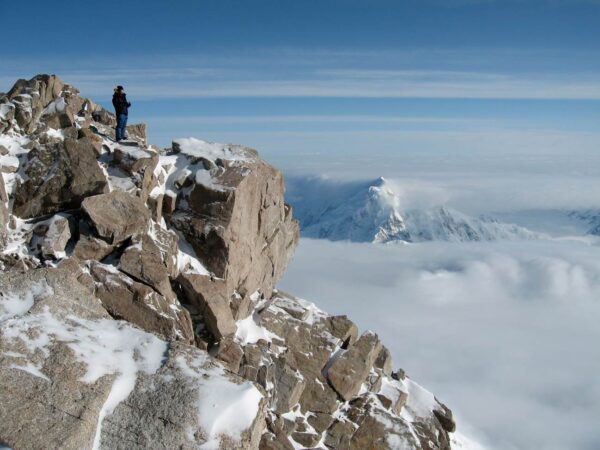 On way to summit above and after summating below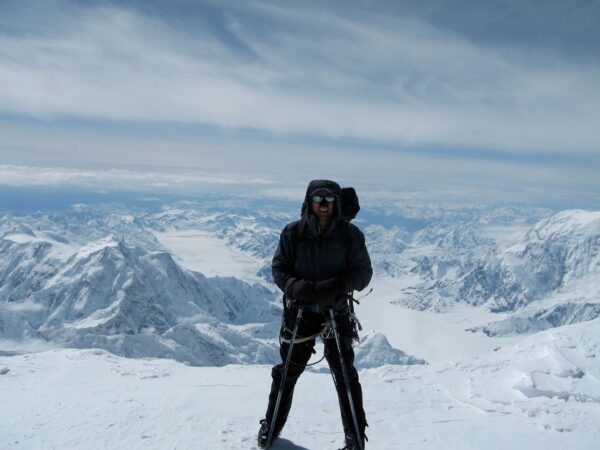 On summit above and then we climbed down to the 17,2000 foot site, had something to eat and took naps before heading back down to the ridge to the 14,2000 foot camp site where we spent the night – it was a 9 hour day of strong effort. – 3,000 foot of vertical up and 6,000 feet of vertical descending.
The next day was Saturday and as we packed and began heading down to the Kahiltna airstrip, I had visions of beer, burgers and flying home to catch the lacrosse finals on Monday. However, the weather had closed in and all air transport was shut down for 3 very long days which tried my patience to the maximum. We eventually got out after being on the mountain for 14 days.
When I checked out at the rangers station in Talkeetna, only 35% of the climbers on the mountain had summated and roughly 1,100 had registered to climb this season.
FYI: It was estimated we burned about 5,000 calories a day
 By Dave W.