The top is 22,615 and this was my worst performance as I only achieved to make 18,500
Ojos del Salado is the second highest summit in the world outside the Himalayas and the highest active volcano on the world.  Aconcagua (the highest) is only 180 feet taller.  (I climbed to the cantilever on Aconcagua about 10 years ago).  Ojos del Salado,  is located in the driest desert in the world (the Atacama) and is on the border with Argentina.  As a matter of fact one can climb from Argentina or Chile- I choose to climb from Chile.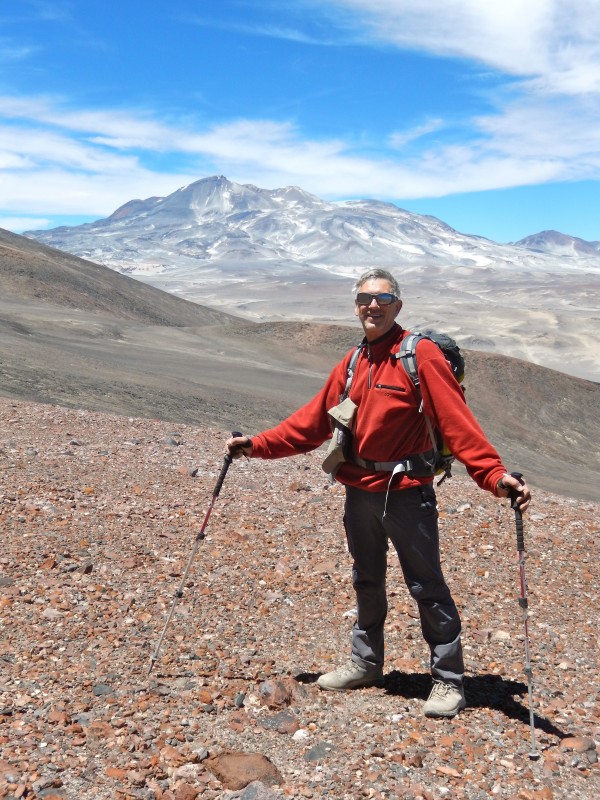 Ojos Above  in the background with my new best friend Joachim.  I did not summit (only mountain I have not to summated) BUMMER only making it to 18,500 feet on another mountain.   This was a great adventure with a great company High Mountain" and a great personal guide Christian and great German climbing friend – Joachim.   I traveled by myself (normal for me).  High Mountain was an incredible company that lived up to and surpassed my expectations and Christian implemented and totally outperformed my expectations. 
Ok I landed in Copiapo's distant airport (above) a one-runway airport in the middle of the desert kind of cool above!!  From there I was transported through the dry desert (below)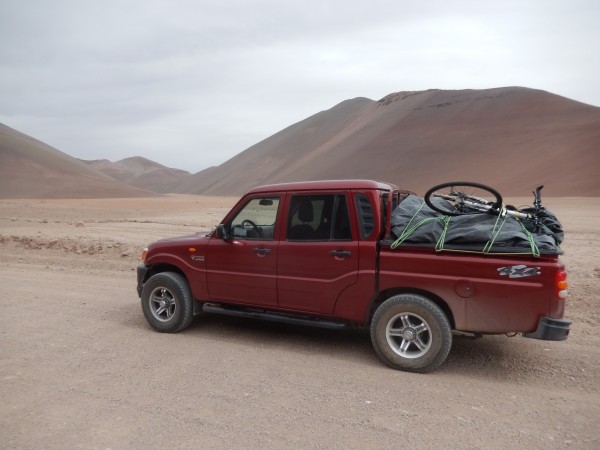 to the mining town of Copiapo.  IT is the most active mining region in South America. 
Our boutique hotel was LA Casona hotel (above) and it was just perfect with a quite garden, nice rooms, good food and so on.  It was from this hotel we started our trip in a 4-wheel drive vehicle.  Wow and did we need it.  The First night we drove to about 9,000 feet in a place called Valle Chico and camped along this small meandering stream surrounded by beautiful boughs of tall grasses (below).
first camp site above and below
The next day we drove through sandy roads to a refuge called Santa Rosa.  Wow it was heaven versus camping and we met new friends from Russia and a team from Brazil and another person from the States. 
Joachim above my German friend and a little cosy in the refuge below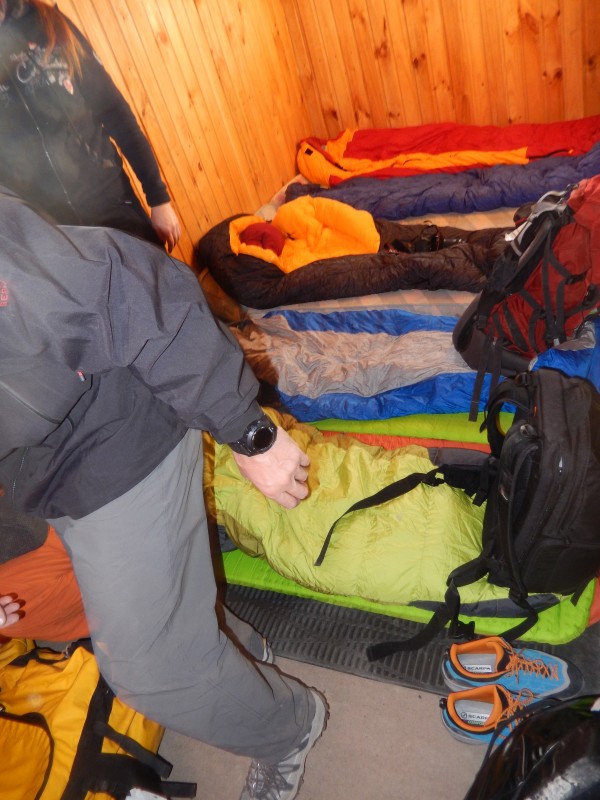 a little cosy in the refuge above – yes very tight and cool evening shots below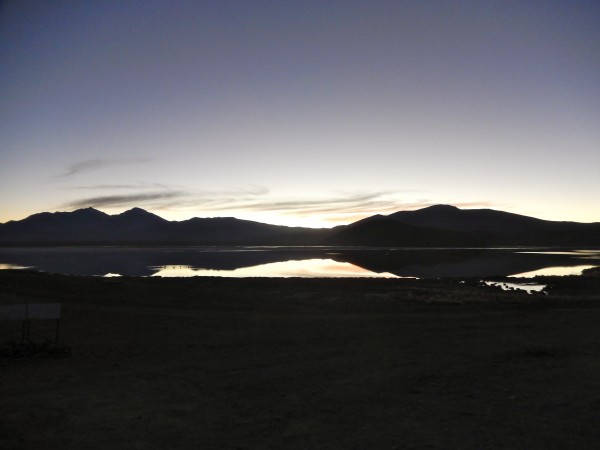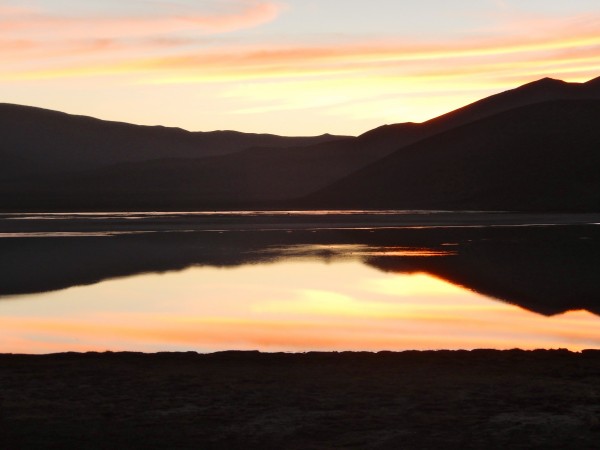 Cool evening shots above and foxes below invaded our camp site (I loved them)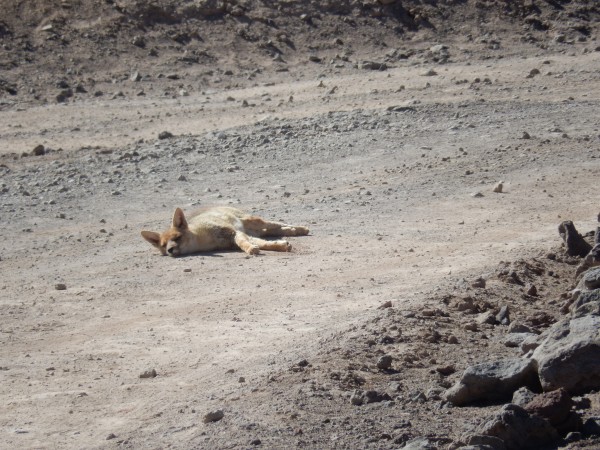 It was here we saw foxes above and  pink flamingoes below 
We climbed the mountain behind us to 4,550 meters or about 15,000 feet. it was awesome fun below.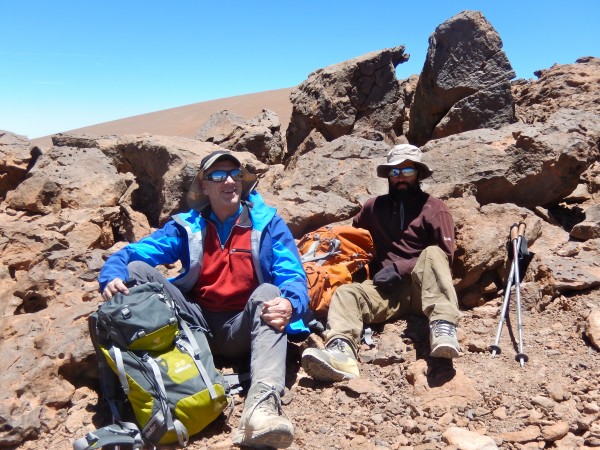 At the summit above and cool shot on way down
Joachim also rode bikes on the salt flats (not quite like Solar De Yuni)  but cool below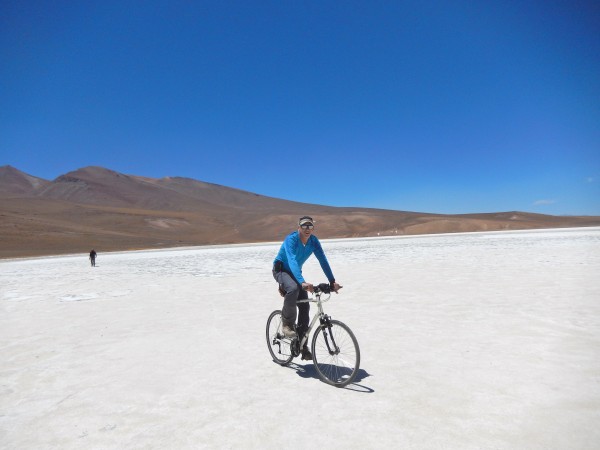 A few shots at Santa Rosa below before leaving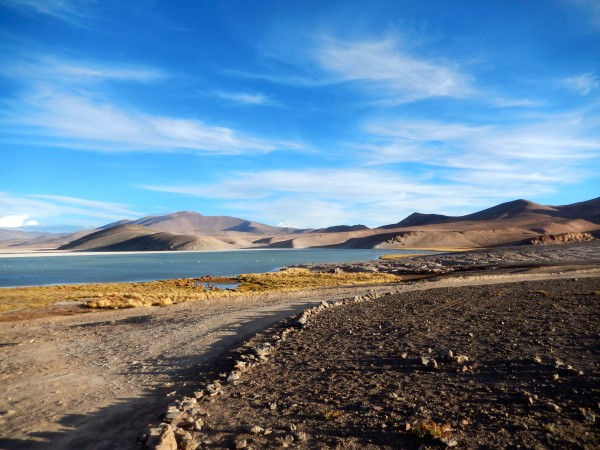 After three days, we traveled to Laguna Verde. At about 14,000 feet.   Laguna Verde is an incredible lake with natural hot springs in which people get into to bath.  I grew up in east coast America and going nude is not allowed so I did not partake but it looked inviting.  Below Laguna Verde and the "hot spring" is to the left of Christian
There were may people there so we decided to go to a refuge called Refuge Claudia Lucero and it was at about 15,000 feet = nice.  It was from we did 2 day hikes.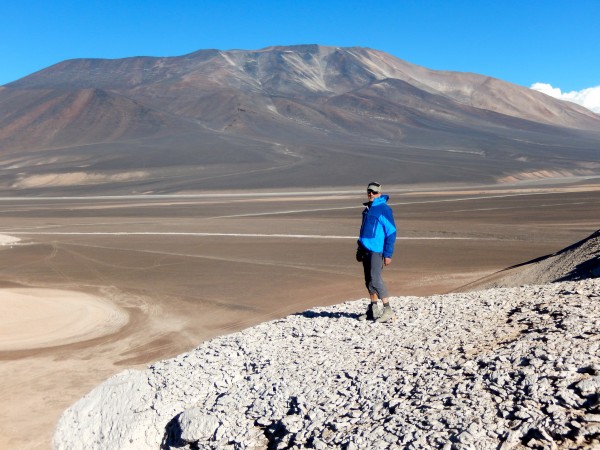 Another shot above on another climb to about about 5,400 hundred meters or about 17,800 feet.  The mountain above was a 5,800 meter peak and we climbed to about 5,400 meters or to about 17,800 and it directly across from the refuge and was a great hike. Above.  
Cerro Vicunas at 6,070 meters or 20,000 feet!!
My last day we attempted Cerro Vicunas at about 20,000 feet or 6,070 meters.  We started at 5 Am and it was a very difficult climb because there was no trail and NO ICE OR SNOW for crampons and only soft loose volcanic sand, dirt and loose scree.  It was difficult for me due to altitude, no trails and loose sand so at 5,600 meters or 18,500 feet I was too tired to go on.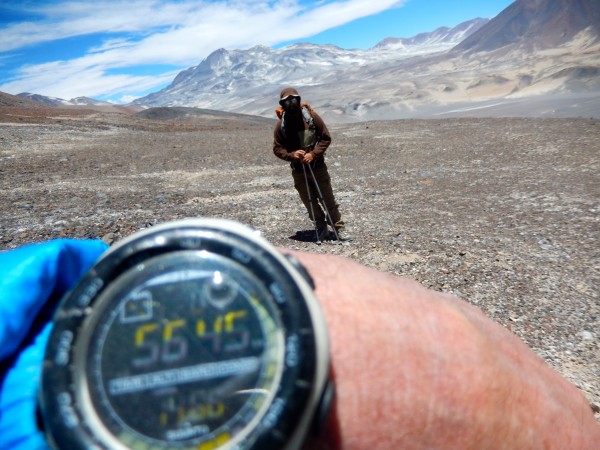 Not certain if this is on Vicuna or not,  but a worthy height of about 18,500 feet
I should have pressed on to the summit but thought I would not be able to do Ojos if I expended so much energy.  When I got down I decided to quit as I thought I might hinder my climbing partner from reaching the summit and I was tired and did not want to carry gear to high base camp.  So unfortunately there ended my awesome trip.  So BUMMER
Below, on my way home below throgh the driest desert in thew world with my new best friend Christian taking great care of me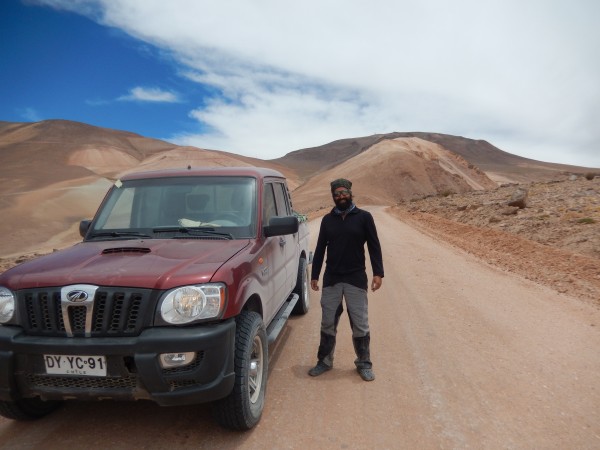 I wanted to thank Christian my guide, my German climbing partner – Joachim and High Mountain (the company for doing a great job, providing great services and I would highly recommend them and please ask for Christian.  Back at Copiapo and another group leaving to take my place below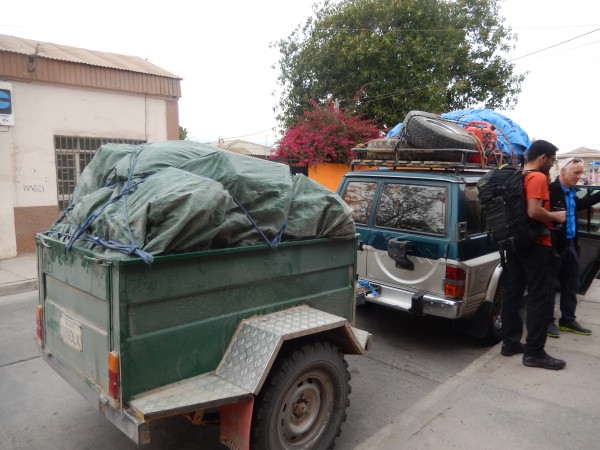 Thank you "High Mountain" and thank you Christian and Joachim this mountain was a real mountain climbing expedition and took me down