Climbed by Dear friend Dave Warfield
You don't have to travel to the other side of the world and to the Himalayas if you want to experience some spectacular peaks. While not quite as big, the Alps are home to some incredible and beautiful mountains that would make anyone go 'wow'. Doing it is another thing and following in Dave's footsteps would be difficult to say the least .  Dave Congratulations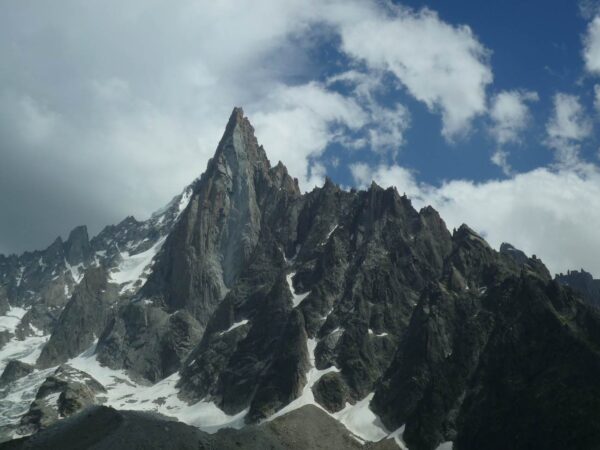 Aiguille du Dru (3,755m) 12,300 feet bad ass above 
Located only a stone's throw away from Mont Blanc, the Aiguille du Dru is home to some of the Alps' hardest climbing routes, with the easiest way up the mountain being rated as a French D (difficult). In 1997, 2003 and 2005, there were major rock falls on the mountain and a lot of the routes were wiped out. Aside from its difficult routes and crumbling walls, 'the Dru' is regarded as one of the most stunning mountains in Europe.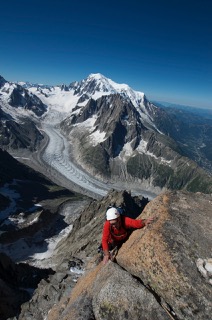 Bad Ass photo above
Petit Dru:The mountain has two summits: the Grande Aiguille du Dru or the Grand Dru at 3,754 metres (12,316 feet) is the higher of the two summits but it is the Petite Aiguille du Dru or the Petit Dru at 3,733 metres (12,247 feet) whose north face is included in Europe's top six challenges. Yes it does below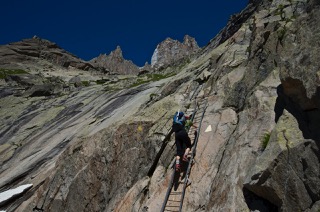 The Grand Dru was first climbed in September 1878 and it was the following year, in August 1879 that the Petit Dru was conquered.
Until 1952, the West Face of the Dru remained unclimbed; unviolated. Its massiveness and the smoothness of its features; its jutting overhangs appeared to offer no hope of a way upwards. It embodied the the dream of many brilliant climbers of the day. No wonder see below and our friend Dave did it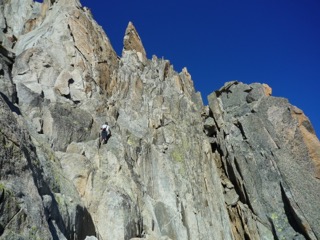 Finally the West face was summitted when Marcel Laine, Adrien Dagory, Luien Barardini and Guido Magnone finally climbed the face in two parts in July 1952.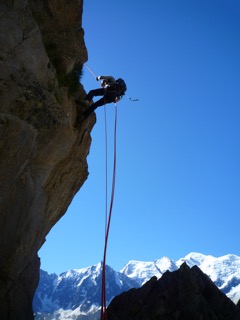 Our dear friend Dave Warfield climbed this bad ass mountain and here are his photos