How Cute is that!. After the ascent of Kilimanjaro we went for a safari in the Tarangire.
In Thailand a little cute elephant almost took me down and  crushed me.  Always beware of danger.  This little guy could take you out.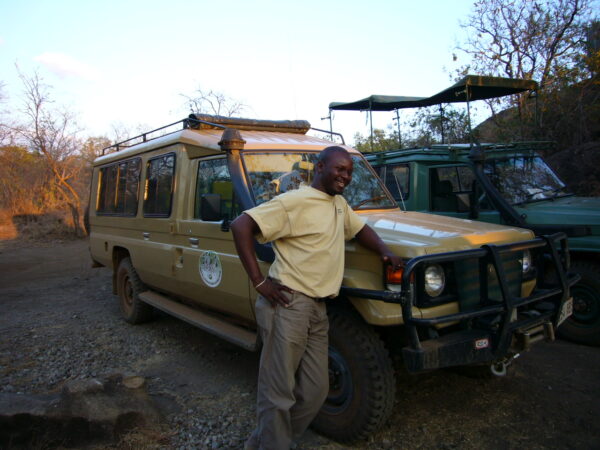 Our Driver above and the landcruiser we rode in.  We Pat and Marshall Miller and Bob and Slater Ottenritter and Ryan and Bob Travers visited the Tarangire, bob and slater traveled onward to the Norangora and Serengeti parks.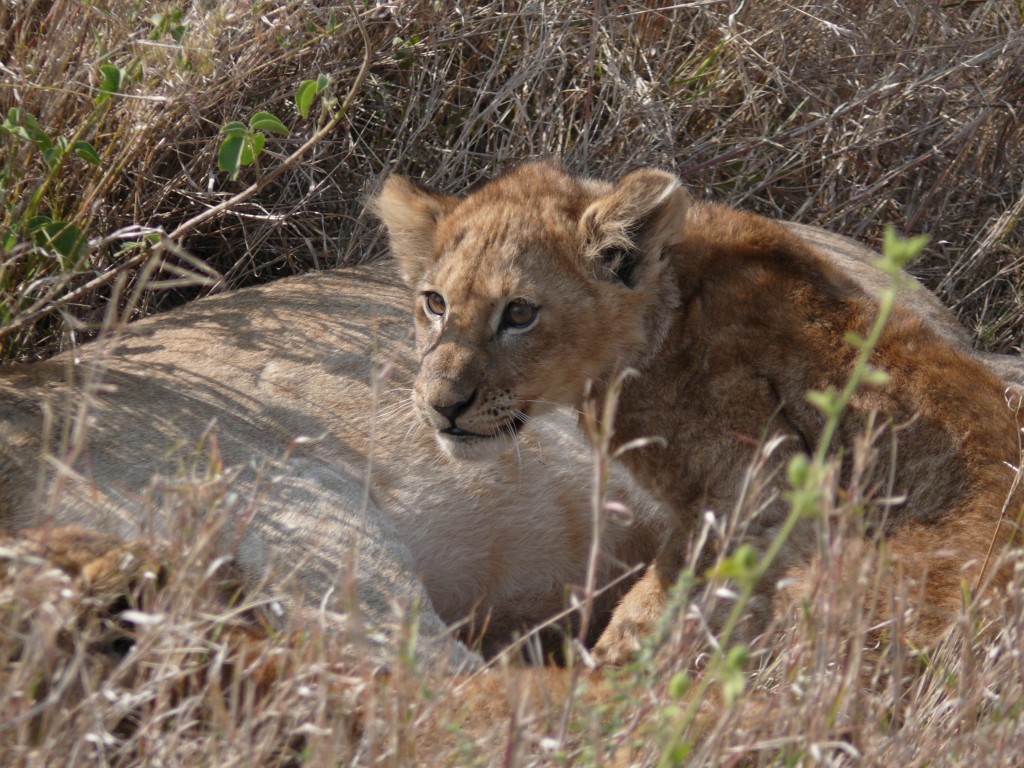 Lions look very cute.  They would take your heart out in a second.  We also saw Chetah or a leoard in a tree will its kill and that was very interesting. Below is Dr. Bob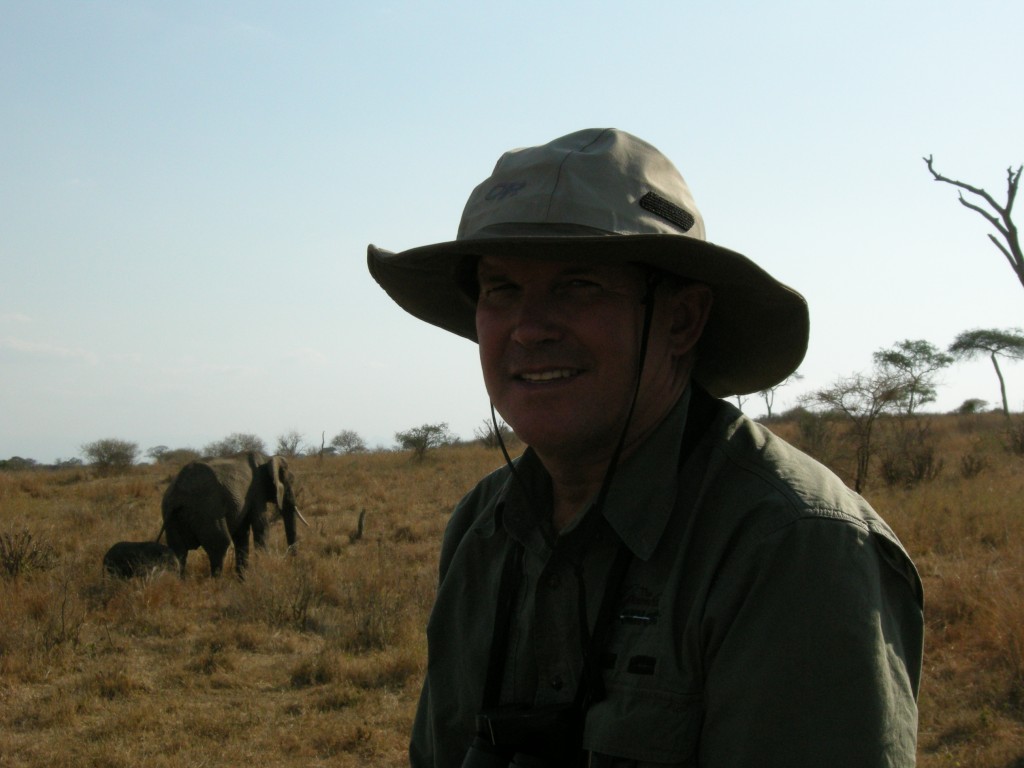 Here is the famous hunter Dr. Bob Ottenritter.  IT was so much fun being with my brother in law.
The Tarengire is a massive grass plains and is the best-kept secret on the northern safari circuit. The panoramas of expansive Savannah grasslands dotted with open acacia woodland are studded with large Baobab trees. The density of game is second to none and it is uncrowded, we saw no one.
This is a year-round park with distinct seasons offering different experiences, from dusty, dry and baking with animals clustered around the rapidly reducing river, to the fecund green season full of new-born animals and chattering birds. The only months to avoid are during the heavy rainfalls of April and May.
After our climb of Kilimanjaro, we went on safari in the Tarangire. Tarangire National Park measures 1,600 squares miles and is Tanzania's fifth largest park. The park is named after the life-giving Tarangire River that provides the only permanent water for wildlife in the area.
The river is a magnet for wildlife during the dry season when massive concentrations of elephant, buffalo, wildebeest and zebra congregate along its banks. Imagine hundreds of zebra stripes reflecting in still waters or the looming silhouette of elephants burnt into the crimson sunset or the sight of ghostly baobab trees scattered across shimmering grasslands. These features are just a taste of what Tarangire is all about!
We were there when the sun has baked all moisture from the surrounding landscapes, so we were lucky that a menagerie of different shapes and sizes of animals are lured to the enticing waters of the Tarangire River and seasonal swampland. The green season in Tarangire can also be incredibly rewarding as there are fewer crowds, many resident animals can still be seen (including large numbers of elephants) and the lush landscape is washed in vivid emerald foliage making a spectacular backdrop for photography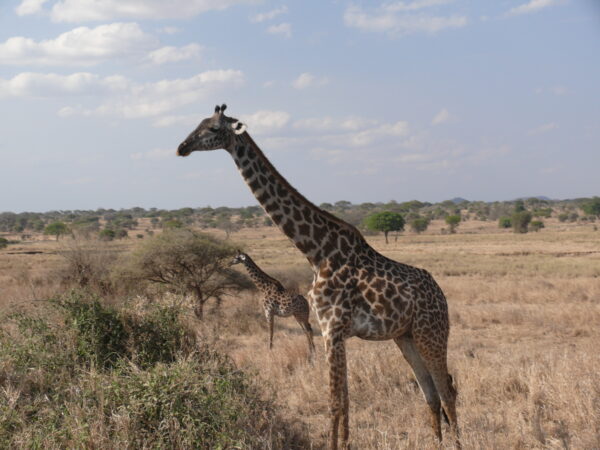 Tarangire boasts one of the most diversified parks in East Africa for birding. The park is especially good for raptors were astounded by the abundance and diversity of these powerful air borne predators.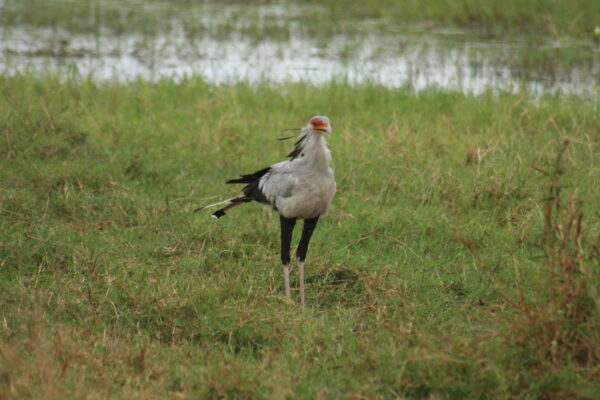 We saw eagle, long-crested eagle, martial eagle, fish eagle and spotted eagle owl.
Tarangire is a hidden wonder of Tanzania that safari enthusiast must visit, especially during its prime in the dry season when huge masses of animals stream into the park for its perennial water supply.
The most spectacular feature of Tarangire is that it serves as a place of refuge for the largest elephant population in northern Tanzania. While out on safari, you will notice that a large proportion of the elephants encountered are less then 10 years old and baby elephants are abundant.
For us set against stunning scenery, the elephant viewing will undoubtedly prove to be one of the biggest highlights for a safari in Tarangire.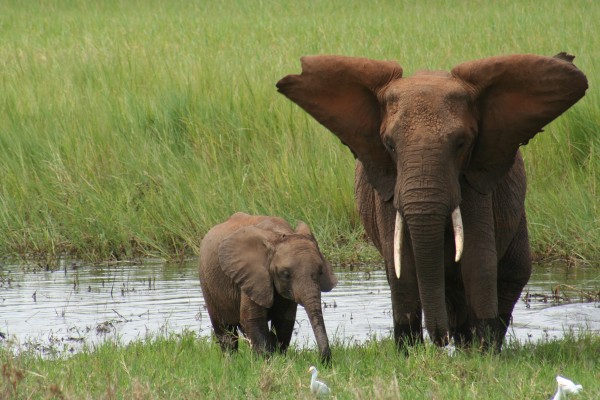 The Tarangire River runs up the center of the park through diverse habitats and varied topography. Gentle rolling hills interspersed with giant baobab trees, open acacia woodlands and seasonal swamps provide a spectacular and picturesque setting. A memorable sight are the mystical baobab trees– giant wonders of nature, these silvery, massive trees seem to dwarf the animals that graze underneath them.

In addition to the migrating herbivores (including buffalo, wildebeest and zebra) there are numerous resident animals that remain inside Tarangire National Park year round.
Resident herbivores that we saw were of course the elephant, mongoose, giraffe, bush buck, rock hyrax, hartebeest, dik-dik, impala, waterbuck, warthog and reedbuck. Primates we saw included olive baboon, vervet monkey and bushbaby.

We saw some large cats, the lion, leopard and hyena. Lions are abundant in Tarangire and are regularly encountered. We saw large prides and a surprisingly good leopard shot in a tree with his prey and they congregate around the remaining rivers and swamps inside the park boundaries.
Tarangire is an incredible park that will reserve a special place in your heart and memories. Rest assured – no matter what time of year you choose to visit Tarangire, you'll certainly be glad you did!

For us we saw Elephants and we saw them  in herds of up to 20 at a time, along with masses of wildebeest, zebra, eland, hartebeest, buffalo and oryx, who, migrate from the dry Maasai steppe to the gleaming Tarangire River in search of water during the dry season. We also saw every large animal the giraffe, lion, Cheetah, monkeys and so many birds I can not describe them.  our accommodations were fantastic.  We had 24 porters for 6 of us.  Wow and at the end they sang us a song of thanks giving and then we sang back to them
http://www.youtube.com/watch?v=bBYyqM1Jgw4&feature=player_embedded
Our beloved group of porters above.  Thank you so much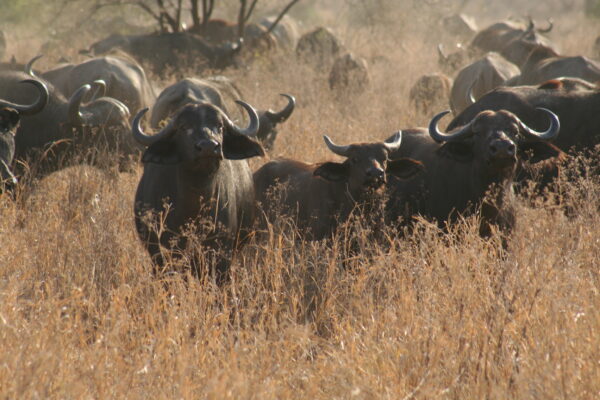 Water Buffalow above shot by Dr. Bob and Slater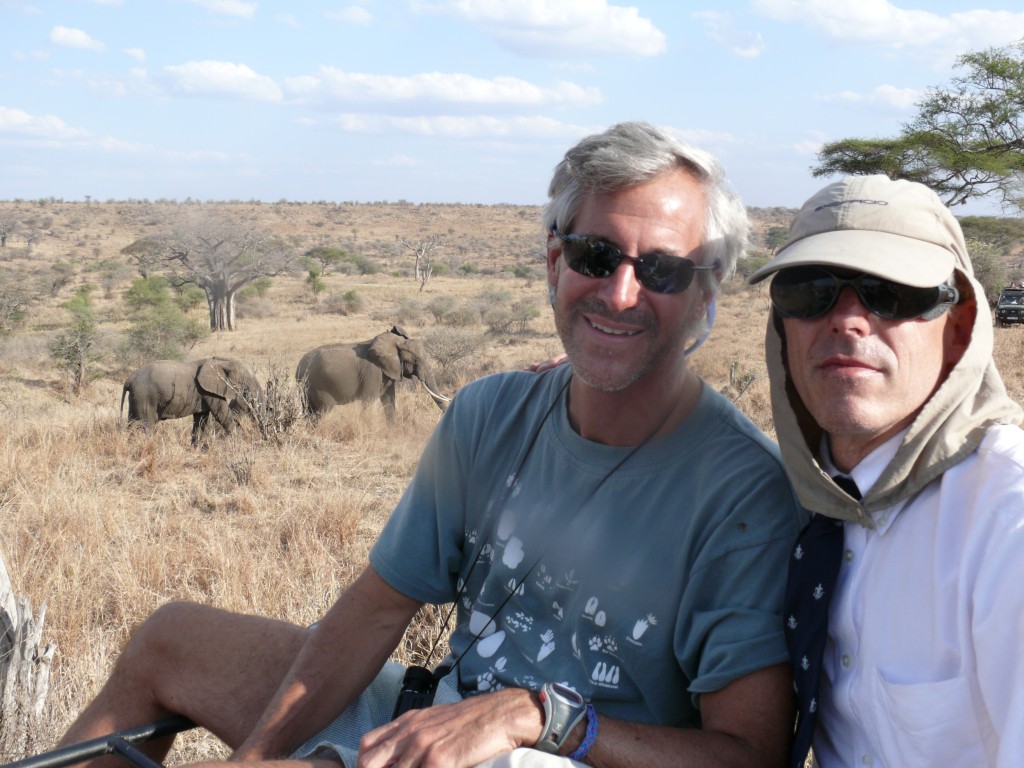 Pat and me on driving out of Taringiri in LandRover and Giraffe below parting shot
Cool Elephant Video