The Rafting on day 3
RAFTING Below
RAFTING CLASS 3 and 4 rapids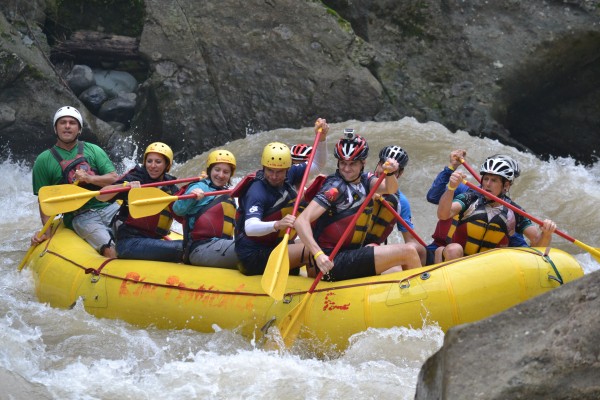 Simon and I in the Raft above and below us!!! Kicking ass and taking names.  All enemies were killed today!!!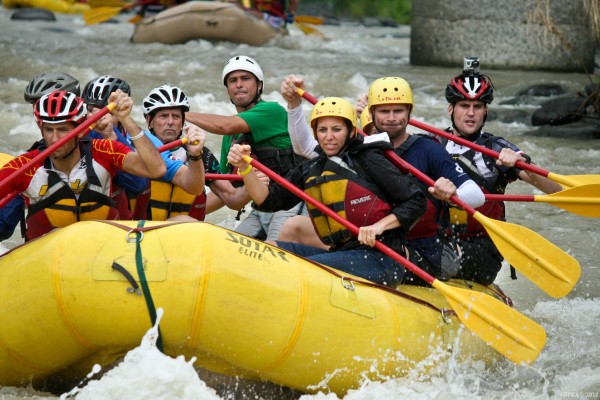 The Pacuare River, or the Rio Pacuare, in Costa Rica has its source in the Cordilleras de Talamanca and flows approximately 108 km to the Caribbean. It is a popular location for white water rafting and kayaking.  The rainforests that surround the river are home to exotic animal species such as Jaguars, monkeys and ocelots and a very large number of birds of course. Also it was considered one of the 5 nicest rivers to practice rafting. On class 3, 4 and 5 rapids with some decent holes to practice in.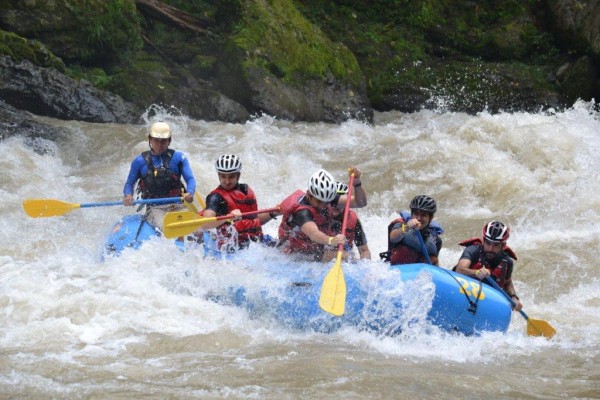 We did the Lower Section – This is the section of class III and IV whitewater that the Pacuare River is most known for.  It flows approximately 23 miles (and dropping approximately 1200 feet) from Finca La Cruz to the town of Squires. The run can be done in a single day trip or as long as a three-day trip- we did thirteen miles in one day. The highlights of this section include the whitewater rapids and the waterfalls that flow into the river in the Huacas River Gorge. The rapids include Upper and Lower Huacas (class IV), Double Drop (class III), Cimarones (class IV) as well as multiple others.
Large cats have been spotted near the river but as always these animals are elusive. Jaguars have been spotted near the Haucas River Gorge. Anteaters, raccoons, river otters, iguanas, monkeys and sloths are all common.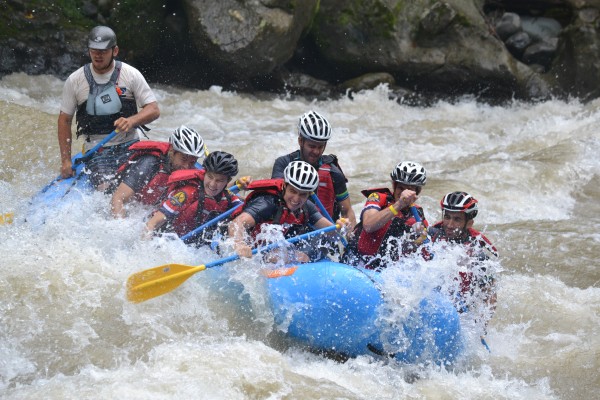 There are five different but common snakes are found in the area. The poisonous ones include the coral snakes and Fer-de-lance.  I ran over a fer-de-lance on my bike.   The Blue Morpho is the most popular butterfly of the area and I saw one biking in the race.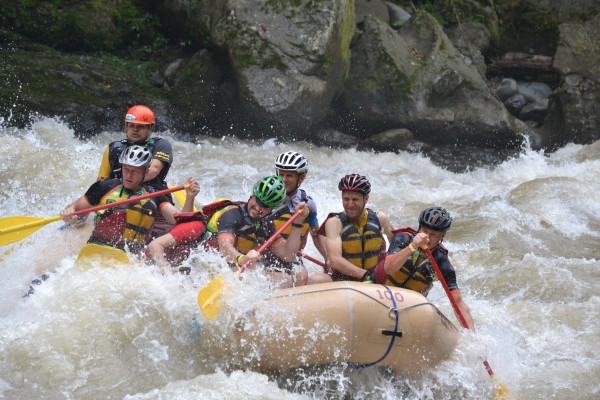 The Chestnut-mandible Toucan and I saw one is most commonly seen when it is raining or foggy on the river.  Parakeets are all over the place.  Other common birds of the area are the Orependula (Oriel), King Fisher, Tiger and Blue Heron, Hawks, Osprey, King Vulture Sun Bird and Snowy Egret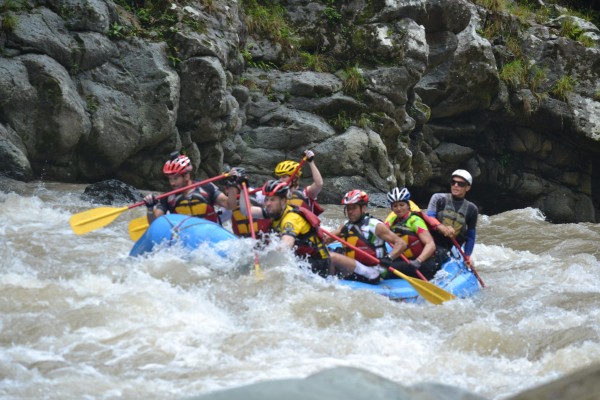 The Pacuare River is rated one of the top rivers in the world for a host of reasons. You'll get to explore the intimate nature of the rainforest from the river perspective. The warm water, cascading waterfalls, and opulently lush rainforest with its brilliantly colored plants, animals, and birds make this trip exquisite for your senses. Add in the exciting Class III -IV whitewater rapids and you have a tropical adventure packed with rich experiences that last long after you've returned home.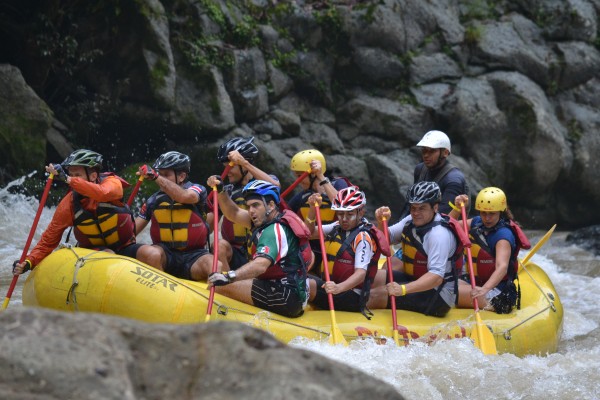 One of the most memorable aspects of the Pacuare trip has always been the put-in. For several years, one outfitter used the original river access plan, wherein local campesinos shuttle rafts, kayaks, equipment, and food down a dirt path on an oxcart. A flood wiped out the road to the river, so the oxcart method of transport had to be abandoned. Although the old road/trail through San Martin has recently been upgraded and improved, most trips now begin at a drive-in access point two miles downstream. Yes the drive in point is scary.  The angle of attack must be 25 to 30%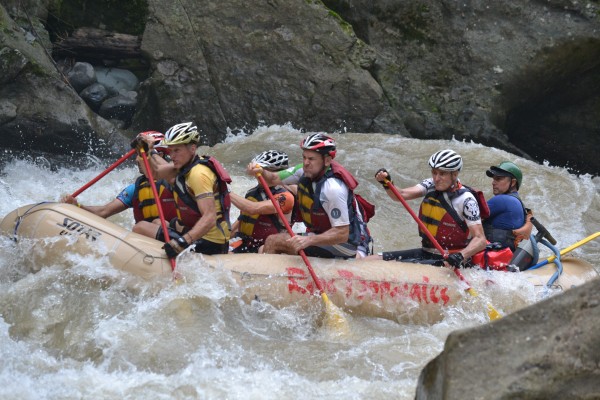 From the put-in to the beginning of the inner gorge, the river drops through numerous Class II-III and IV boulder gardens and simple drops as it becomes sequestered in the ever more verdant rain forest.  Among the more interesting residents of the lowland forest are ocelots and jaguars.  Although the big cats are rarely seen, somehow you just know that they are watching you warily from the dark shadows of the enclosing jungle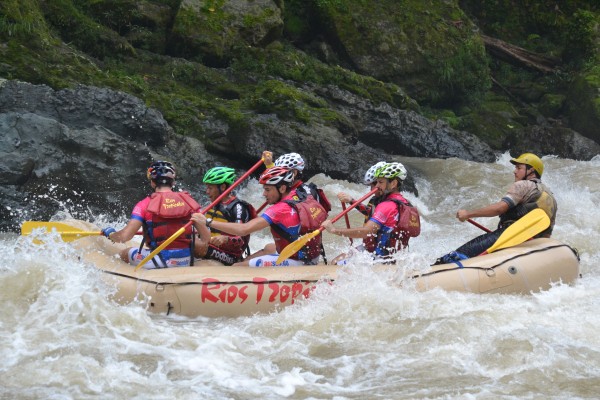 Ok so we started at like 5:30 and ended  at 11Am and it was great fun but I got hypothermic, it was freezing
Here are 2 nice videos rafting first and then la Ruta above