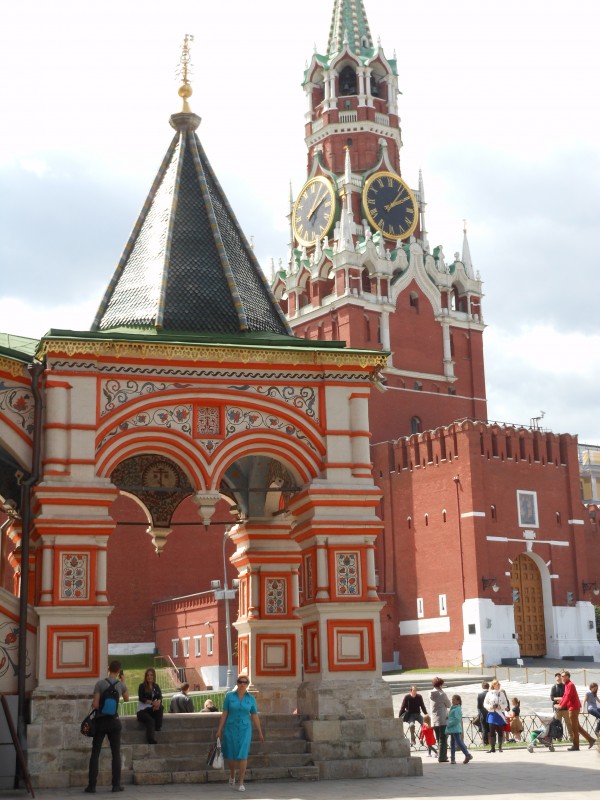 Moscow, is a historic fortified complex at the heart of Moscow, overlooking the Moskva River , Saint Basil's Cathedral and Red Square  and the Alexander Garden . It is the best known of kremlins (Russian citadels) and includes four palaces, four cathedrals and the enclosing Kremlin Wall with Kremlin towers.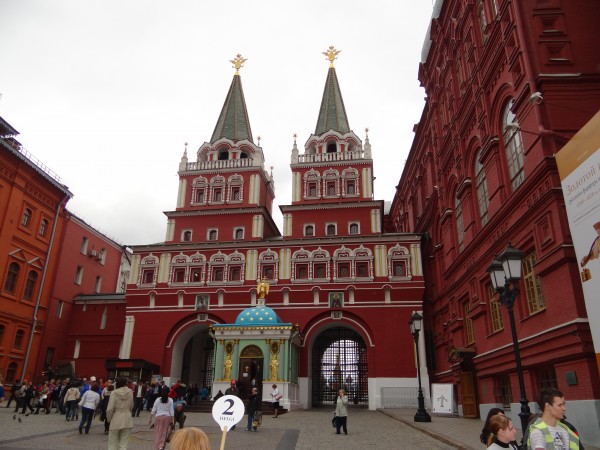 The complex serves as the official residence of the President of the Russian Federation, entry is through one of the gates above.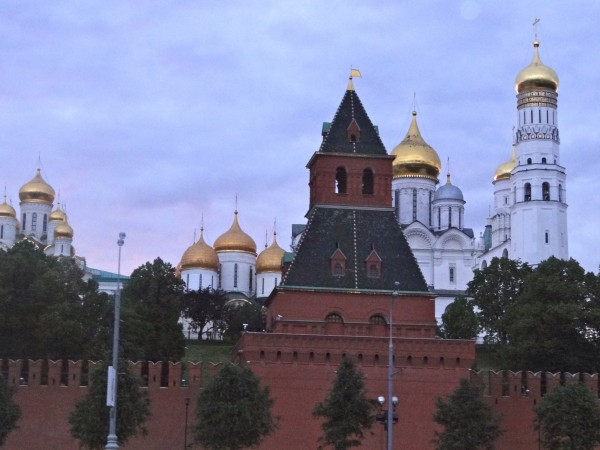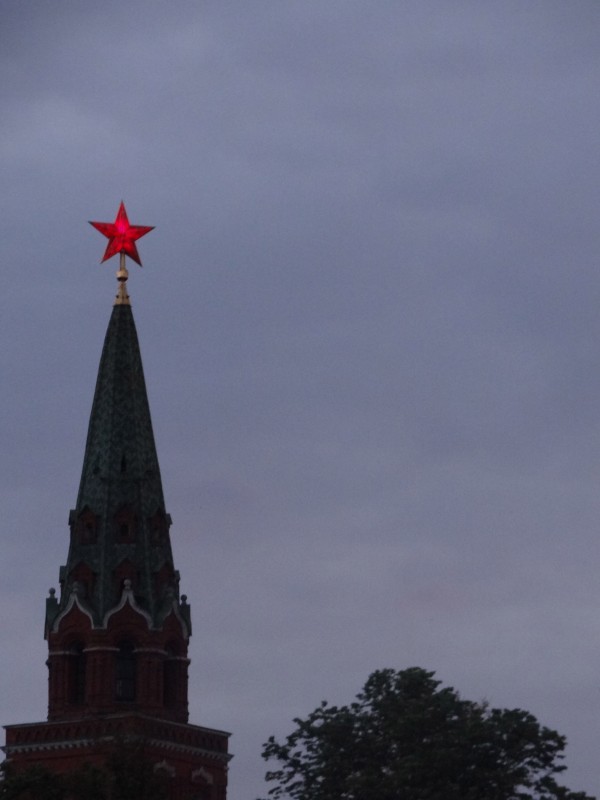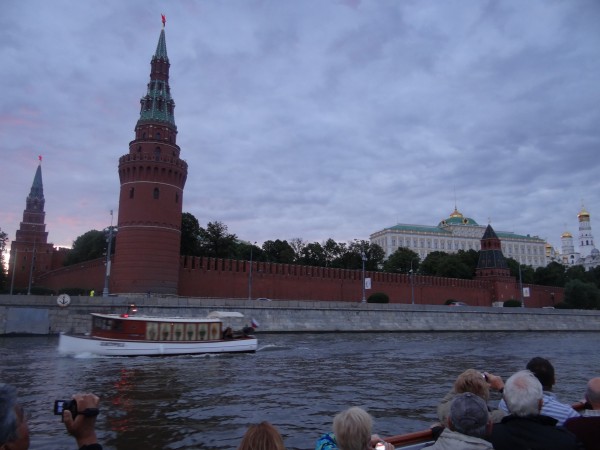 urch of the Deposition of the Robe (1488).There are two domestic churches of the Metropolitans and Patriarchs of Moscow, the Church of the Twelve Apostles (1653–56) and the exquisite one-domed Church of the Deposition of the Virgin's Robe, built by Pskov artisans over the years 1484–88 and featuring superb icons and frescoes from 1627 and 1644.
Church of the Twelve Apostles (1654–56).The oldest secular structure still standing is Ivan III's Palace of Facets (1491), which holds the imperial thrones. The next oldest is the first home of the royal family, the Terem Palace. The original Terem Palace was also commissioned by Ivan III, but most of the existing palace was built in the 17th century. The Terem Palace and the Palace of Facets are linked by the Grand Kremlin Palace. This was commissioned by Nicholas I in 1838. The largest structure in the Kremlin, it cost an exorbitant sum of eleven million rubles to build and more than one billion dollars to renovate in the 1990s. It contains dazzling reception halls, a ceremonial red staircase, private apartments of the tsars, and the lower storey of the Resurrection of Lazarus church (1393), which is the oldest extant structure in the Kremlin and the whole of Moscow.
The northern corner of the Kremlin is occupied by the Arsenal, which was originally built for Peter the Great in 1701. The southwestern section of the Kremlin holds the Armoury building. Built in 1851 to a Renaissance Revival design, it is currently a museum housing Russian state regalia and Diamond fund. We toured the Armoury.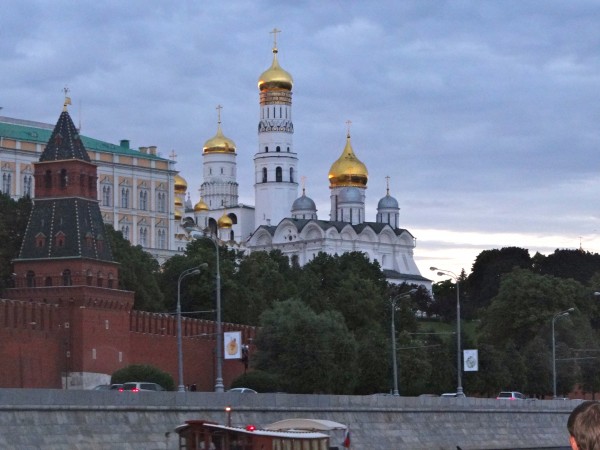 Cathedral Square is the heart of the Kremlin. It is surrounded by six buildings, including three cathedrals. The Cathedral of the Dormition was completed in 1479 to be the main church of Moscow and where all the Tsars were crowned. The massive limestone facade, capped with its five golden cupolas was the design of Aristotele Fioravanti. Several important metropolitans and patriarchs are buried there, including Peter and Makarii. The gilded, three-domed Cathedral of the Annunciation was completed next in 1489, only to be reconstructed to a nine-domed design a century later. On the south-east of the square is the much larger Cathedral of the Archangel Michael (1508), where almost all the Muscovite monarchs from Ivan Kalita to Alexis I of Russia are interred. (Boris Godunov was originally buried there, but was moved to the Trinity Monastery.) Below and above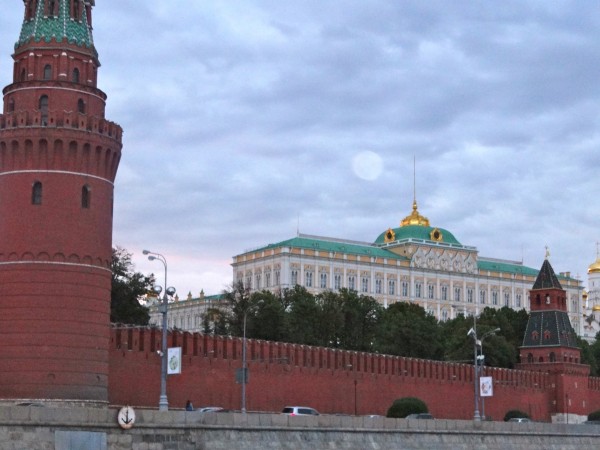 Five double-headed Russian coat-of-arms eagles  substituting the former state emblem of the Soviet Union and the "СССР" letters in the facade of the Grand Kremlin Palace after the dissolution of the USSRThe existing Kremlin walls and towers were built by Italian masters over the years 1485 to 1495. The irregular triangle of the Kremlin wall encloses an area of 275,000 square metres (68 acres). Its overall length is 2235 metres (2444 yards), but the height ranges from 5 to 19 metres, depending on the terrain. The wall's thickness is between 3.5 and 6.5 metres above and below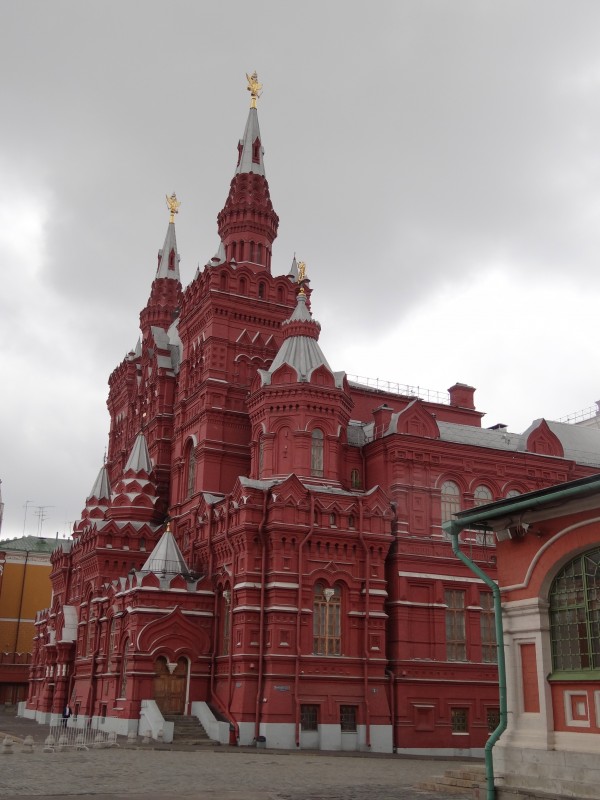 Guard for tomb of Unknown soldier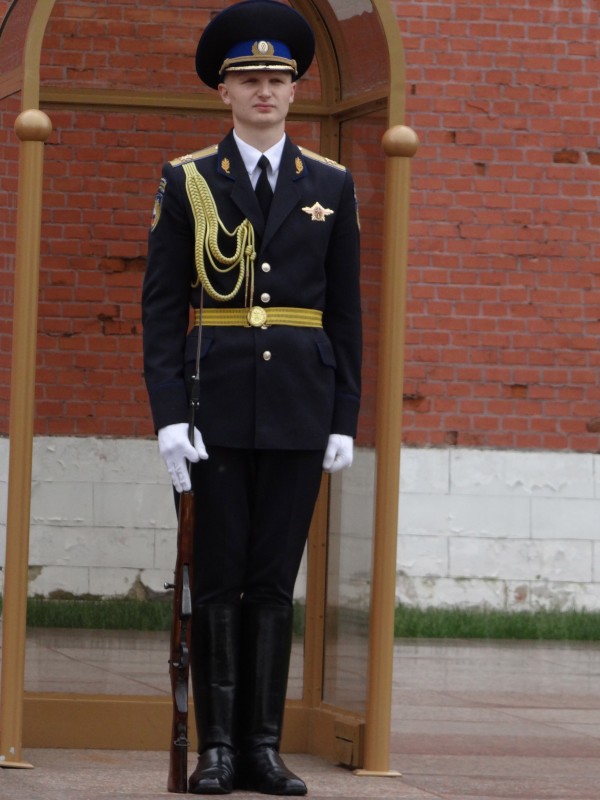 Guard of Unknown  soldier above and below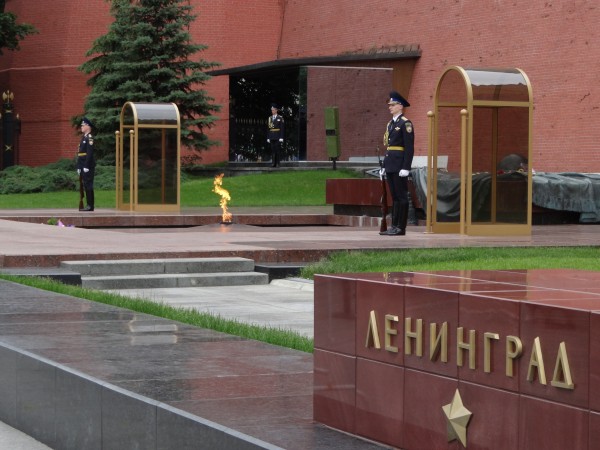 Cool shot of equestrian soldiers below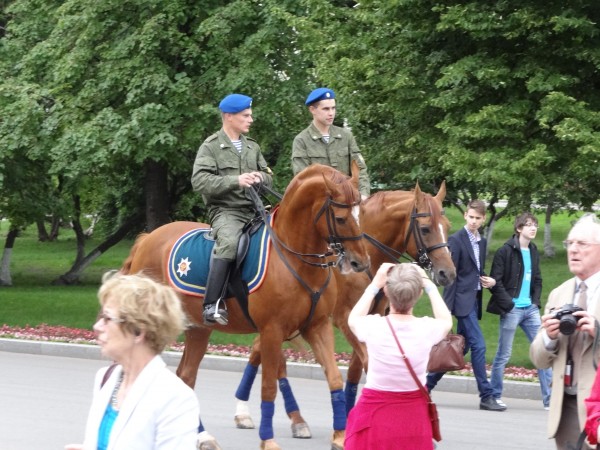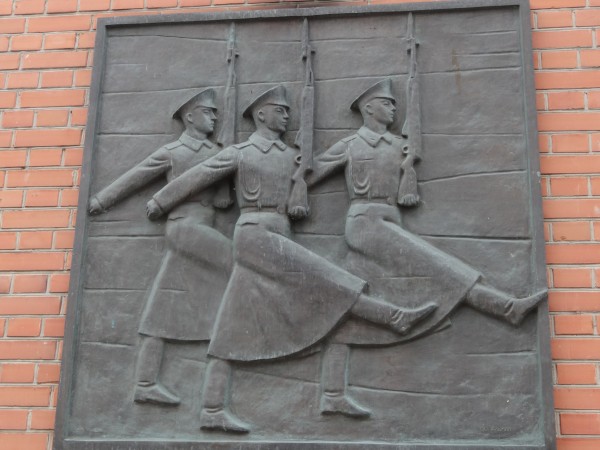 Ok we went to GUMS- department store, ate on Red Square and visited the Armoury and St. Basils and many other sites including seeing an opera at the Bolhshio