The top is 22,850 and we made it to 21,800.  See the story below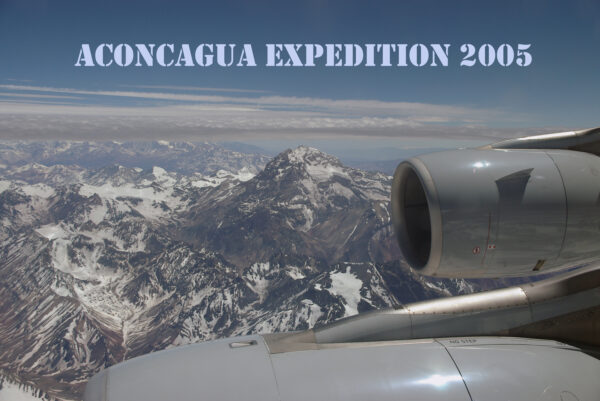 Starting out at the park police checkin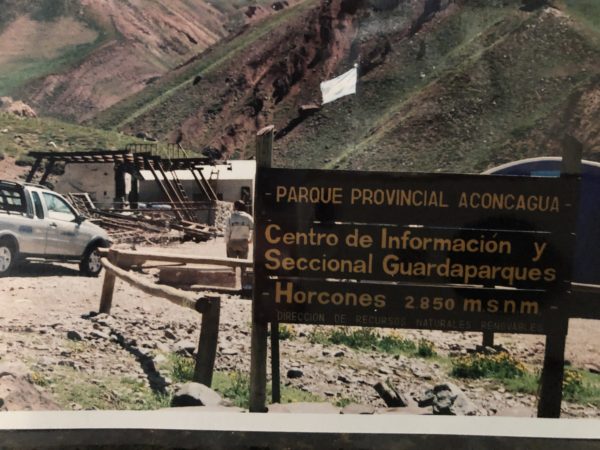 heading up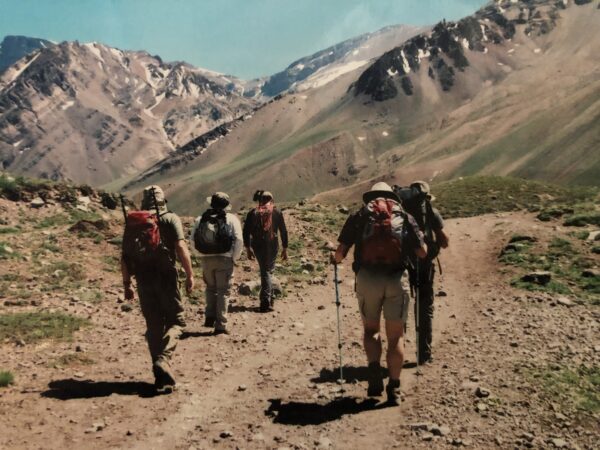 one of the camps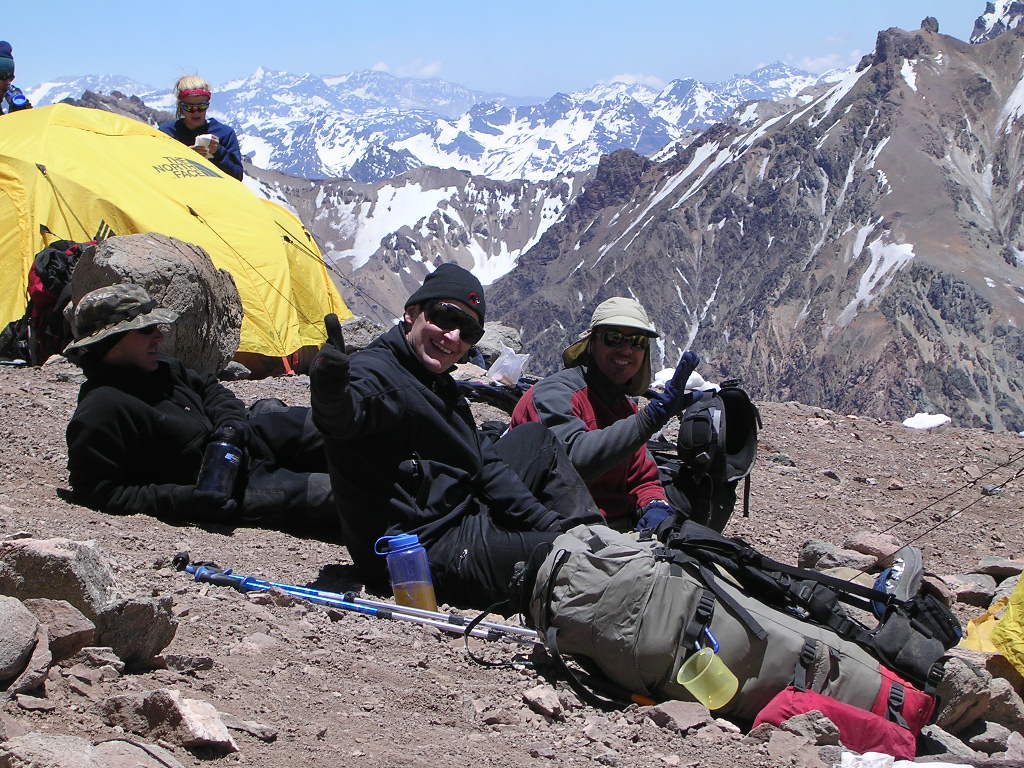 Aconcagua is the highest Mt. in the world outside the Himalayas at 22,841 feet and the last night camping it was 30 below with 80 mile an hour winds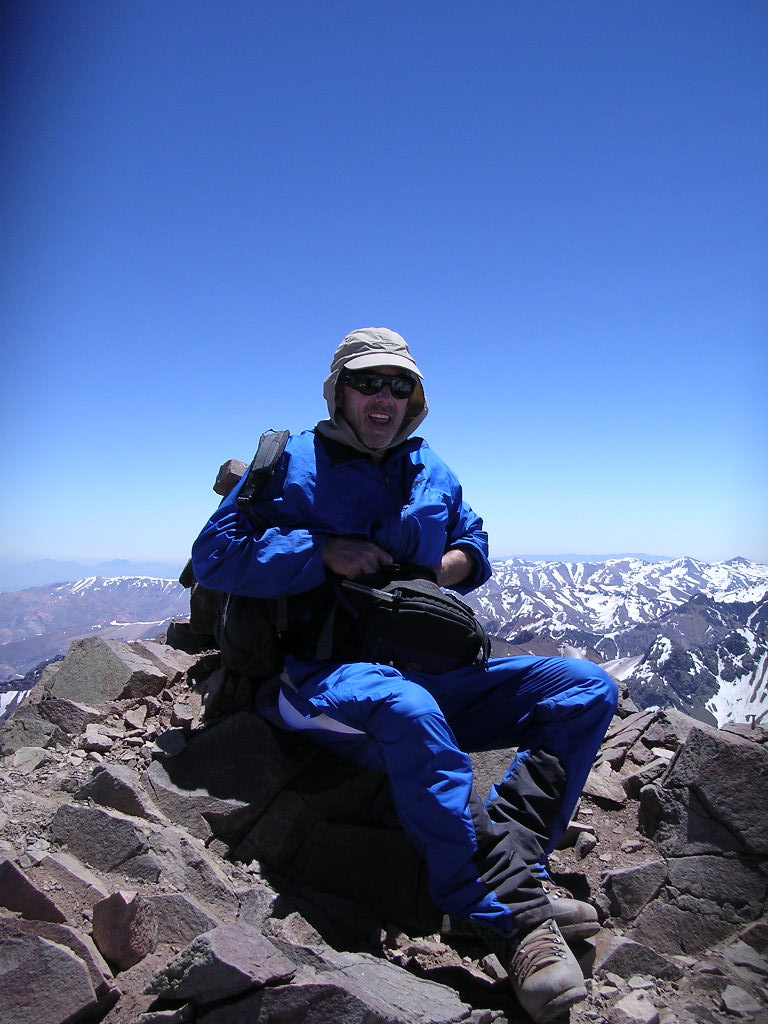 This is me on Bonete at about 18,000 feet. Not bad and still going strong.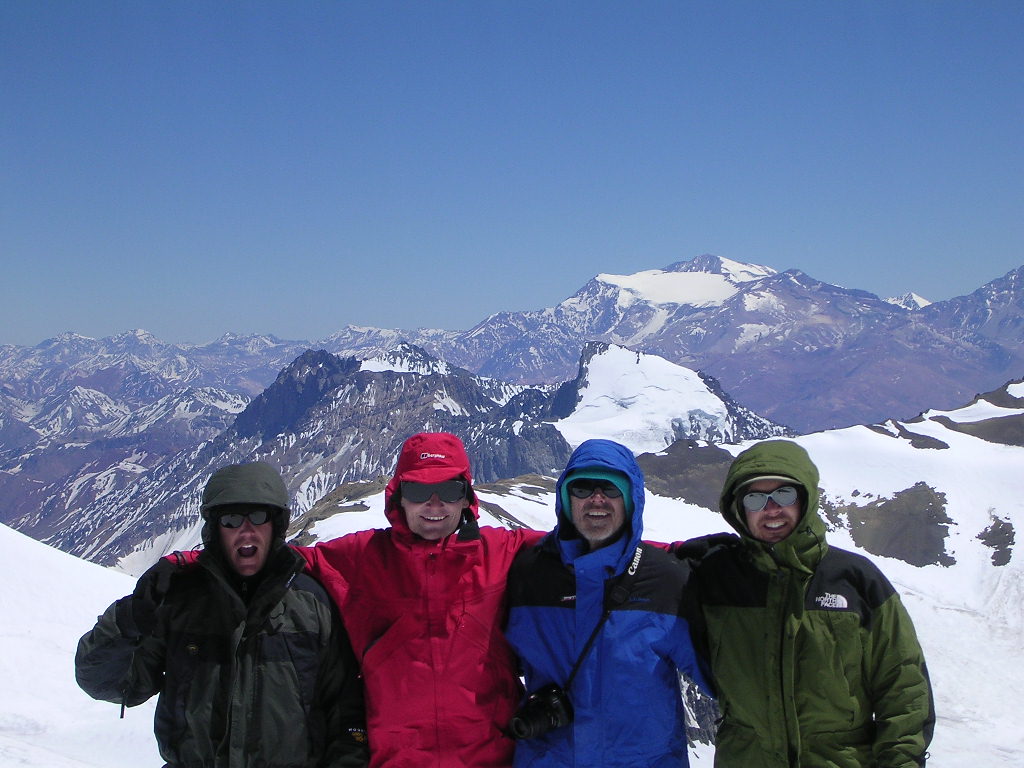 So here are the guys at 17.500 feet at Nido De Condor or the nest f the Condor

Getting good grub form our guides and friends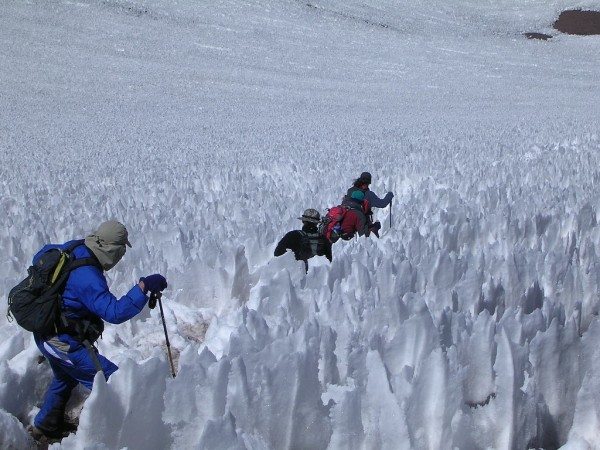 I was on my way to climb Aconcagua the highest mountain in the world outside the Himalayas.  I feel like Bilbo Baggins on my way to an adventure.  I sat back as the plane reached breakaway speed and dreamed of the adventure to come our way.  On the plane trip from Baltimore to Mendoza Argentina we would be stopping in Santiago a very cool town that I will write abut later. On the plane this guy was very nervous so being a wilderness medicine doctor I medicated him with a mild tranquilizer and in half an hour he was done for the night. When we arrived in Mendoza, we were pretty jet lagged and thank God our guides Amyara tours picked us up.  They were awesome the entire trip.
Mendoza is a beautiful Spanish colonial town with very warm dry days like Denver at about 80 degrees.  The city is lined and propagated with many pine majestic trees that shade the city streets and is inundated with many small city parks filled with flowers, shrubbery and trees. The traditional water fountains center all of the parks. All of the people are of European decent and the atmosphere is totally European.  Thee are many outside cafes like one would find in Spain or Italy with wide sidewalks. Dinner starts at about 9 PM at the earliest with most people dinning out at 10:30 Pm.  Waiters can be found dressed in fine jackets and exude old world charm.  The food is delicious.  High quality tenderloin, finely prepared salads and wine is the meal of choice. Mendoza has it fair share of Catholic churches and we participated in a service, it was in Spanish.  We had fun practicing our Spanish while out on the town and with our guides.
Tomorrow we started the climb, which was called the normal route.  We started the climb at 9,000 feet from Puente de Inca and each day ascended higher through these night time camping spots:  Confluencia@11,500, then Francia @ 12,800, Then on the fourth day we climbed for nine hour and reached Plaza de Mulas at 14,100.  During these three days to get to Plaza De Mulas we had the wind in our face every day  and it was all up hill and one day the wind probably reached 50 miles per hour.  The nights are cold and will get colder as we reach higher elevations. After reaching Plaza De Mulas we were smoked.  This is the base camp for everyone climbing Aconcagua by the Normal route.  We spent about three days here climbing and getting used to the altitude or acclimatization of the environment.  There was also a Hotel here where we could go to get beer, and higher quality food- so since I am a wimp I was there all the time- why not enjoy life.  In our tents we have seen two avalanches and a rockslide came rolling by my tent only 20 yards away.
One day, we climbed Boneti which stands at 16,800 the climb was brutal – far more difficult than I imagined.  Even though we only gained 2,500 feet in elevation we climbed through penetenties which are ice pyramids that are about six feet tall all day long and this ice plus the elevation crushed me We started climbing at 7 AM and got back at four.  I ran out of water and had to drink from the stream that bubbled out of the ground.

She is a big mountain
It was an amazing day.  From the summit you could look all the way down the valley that we climbed up.  The sky was blue black and air was a warm 10 degrees and that was good.  I fell on the way down and stumbled through a maze of the Penetentes and just rolled and rolled- it was rather funny.
Well tomorrow we were moving upward and leaving the safety of the Plaza De Mulas and establishing base camp higher up. Camp Canada was established at 17,000 feet followed by Nido Condores at 18,400 feet, which was followed by camp Cholera at 19,700.  At night is so cold we urinate in bottles so as not to get out of the tent and our oxygen saturation levels have dropped to 75%.  Our hear rate during the days have averaged 85 to 120 beats per minute and we have not had shores for over ten days very cool I hate them anyway- loved being covered in all that dust and dirt.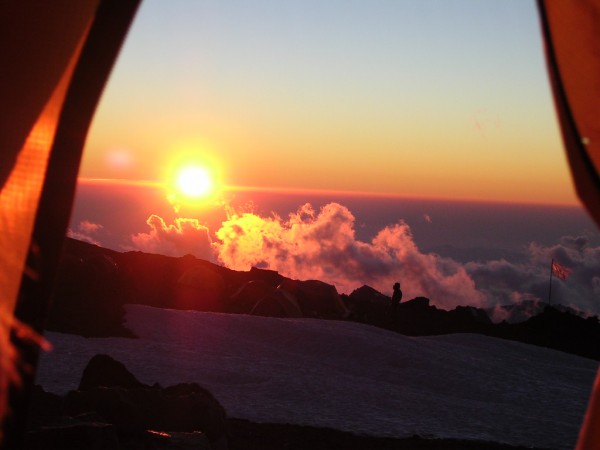 The night before our summit attempt the wind was howling at 100 miles per hour and the temperature reached  30 below zero it was amazing.  Sparks flew from by fingertips and the tent in total blackness came alive with the sparks that flew from my clothes to the sleeping bag and fingers.  My watch that cannot illuminate illuminated I still do not know how that happened .  Our breath froze as it rose and fell back on my face as tiny ice particles.  I developed Chayne Stokes and miserable breathing problem associated with high elevations.  SO it was miserable
When we woke up for the summit attempt at 4 AM we got our gear on and climb in the darkness to Independencies at 20,900 feet.  From here we hiked up the ridge line called Portezuelo Del Viento and we had like 100 mph winds .  The slope was about a 30 degree slope and climbed to the La Cueva at about 21,800 and continued slight more and then and then were told we would have to descend because of the weather coming in and then unfortunately had to turn back.  So we got to 21,800 feet. Idependiencia below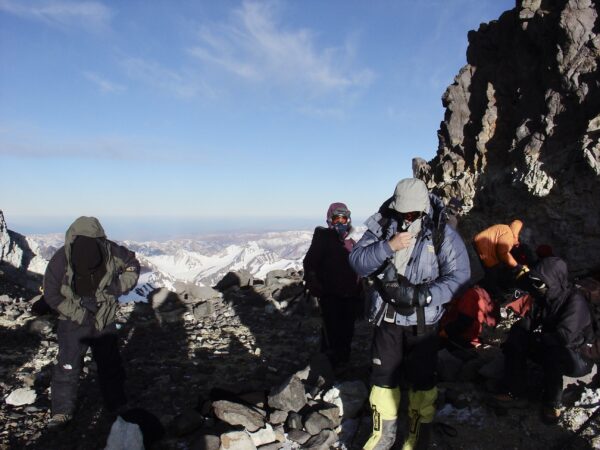 and then we hiked higher and looked back on camp Cholera below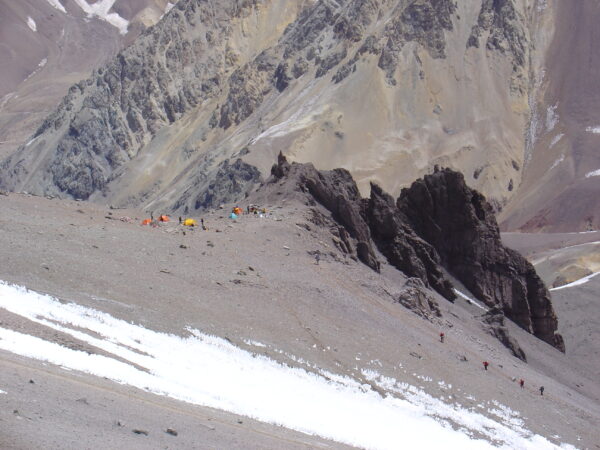 Now the problem was we now had to climb all they way back down to Mulas and this was a major functions I thought we would spend the day in the tents at Cholera.  So we went or down that was with all of our gear and stuff so we arrived in Mulas at about 6 PM and I was so dehydrated I was going to pass out.  I went to the hotel got a six-pack and then another and a room and chugged all the beer.  My nephew came in and I was sprawled out and looked dead.  I eventually got another six-pack to finish the evening and then passed out.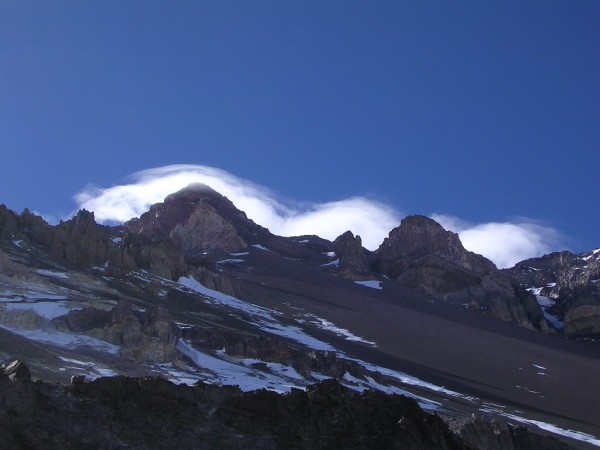 The next day we headed back but by mules- the ones that bring goods up to the hotel.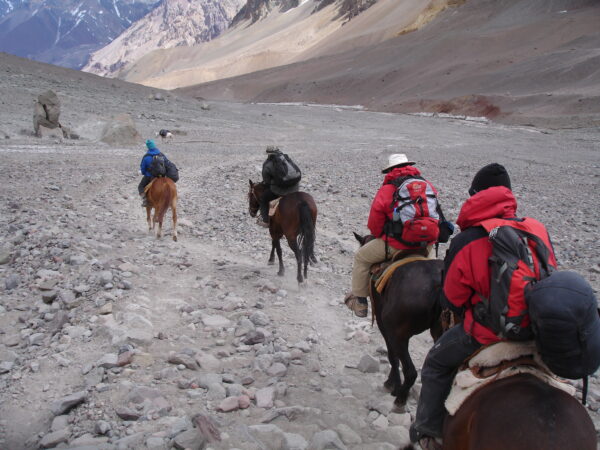 This was no pony ride, it was a serious adventure with river crossings, climbing on 60 degree slopes sideways, crossing ice bridges that could have collapsed and negotiating 18-inch wide tracks with 100 yard drop offs.  We saw about ten dead horses or mules along the way.  In this one section of dry riverbed we were racing and Ryan's horse did a 360 in by completely rolling.  Thank God Ryan was not killed. The horse was all cut up but he got back in the saddle and onward we went kicking some ass.  We crossed many raging rivers this was scary because we only had the clothes we wore.  My horse went all the way down and another horse almost got sucked away.  It was night when we arrived at Punte De Inca and I could hardly walk.  A true adventure.  So in two days we were off for home
Smoking Cool
I carried my brother's ashes and Nido Condores I found a Virgin Mary Statue in this boulder that was rented open and I fell to my knees and said the prayer and left his ashes there
Prayer on Aconcagua
Dear God almighty, I humbly come before You on this mountain top and even though I am unworthy, only say the word and I shall be healed.
Today in the wilderness and on this majestic mountain, I see Your greatness in all that surrounds us and the Heavens proclaim Your glory. The majestic white capped mountains beneath the clear blue skies with the sun's streaming golden rays covering the earth in its warmth and with the twinkling of stars at night, they all display Your handiwork. The rolling hills and the green valley's cut by gushing white water streams below us – they disclose Your awesome presence. The roaring wind that bites at my face let's me know I am alive and of Your awesome power. Your divine voice sails on the wind through all of creation, and it is Your creation alone. You have given me the ability to hear the music of the world on this special day and it proclaims You are in my midst and I am most grateful and thankful for the opportunity to witness these incredible things.
Dear God almighty, You are the most gracious and merciful and all praises and thanks we give to You and it is You alone that reigns over all that exists. You alone are the owner and judge of the day of resurrection and it is You alone that we worship with our entire heart, mind and strength and it is You alone that we ask for help in everything we do, there is nothing but You in our hearts, minds and strength, it is You alone that we owe our life to and we worship You in everything we do.
You that are all infinite and who was begotten and not made, who is the creator of all life, both seen and unseen, known and unknown, we humbly come before You on this most beautiful mountain top on this special day to ask You to bath those that have gone before us in Your warm light and grant them peace. In silent thoughts, we remember fondly and are thankful for the time we were able to share together . We also pray that You will guide, lead and teach us in Your ways so that we can better serve You each and every day by helping those that are sick, the poor and the those that are less fortunate than we. These things we pray and all praise and honor be Yours, Amen .
Going home below and the horse thing was dangerous but we elected to do it