Solar De Uyuni.  

We took the jeep trial from the Atacama Desert in Chile to the Salar De Uyuni in Bolivia- four incredible hard days of non stop driving.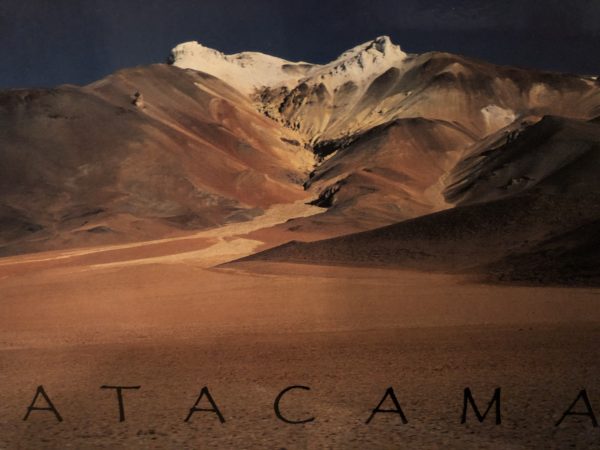 This area is the cocaine and auto theft trail of South America as well as an incredible trek into no mans land.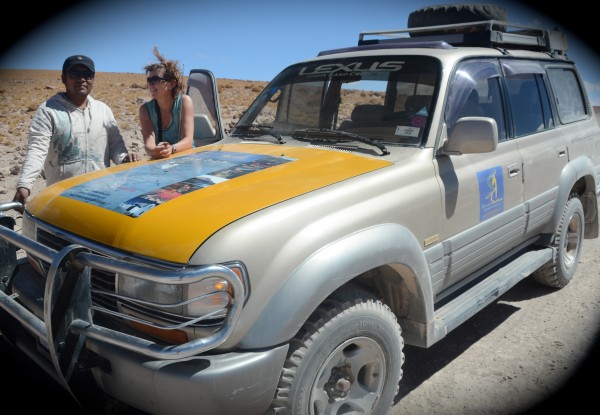 The Altiplano where the average elevation is about 13,000 feet and we traveled towards and into the Salar de Uyuni which is the world's largest salt flats totaling about 7,000 square miles of high plains desert. The Altiplano is in Chile, Argentina, Peru and Bolivia is the most extensive area high plateau outside of Tibet. Its height averages about 14,000 and it is dominated by over 150 massive active volcanoes like Tutupaca at 19,900 feet high which we view outside our window. This is the driest area on the planet.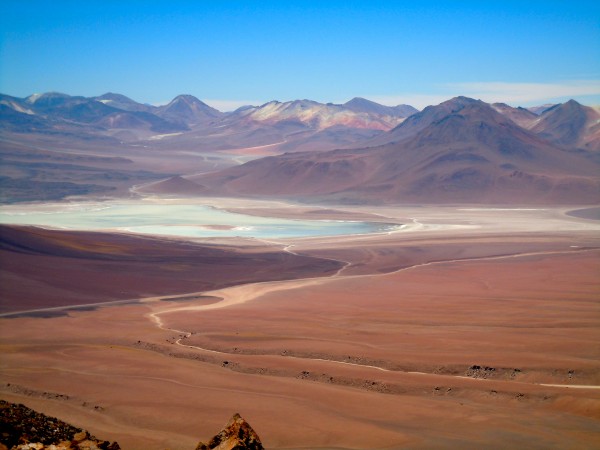 the  Salar De Uyuni in Bolivia, where we are traveling to, is located in southwest Bolivia. It is covered to a depth by 30 feet of crystal white salt crust that is as flat as a pancake that floats over a pool of salt water.
Sometimes a vehicle breaks through. When I say flat, the average altitude variations of Uyuni in Bolivia which covers an area over 4,000 square miles, averages less than three feet, WOW.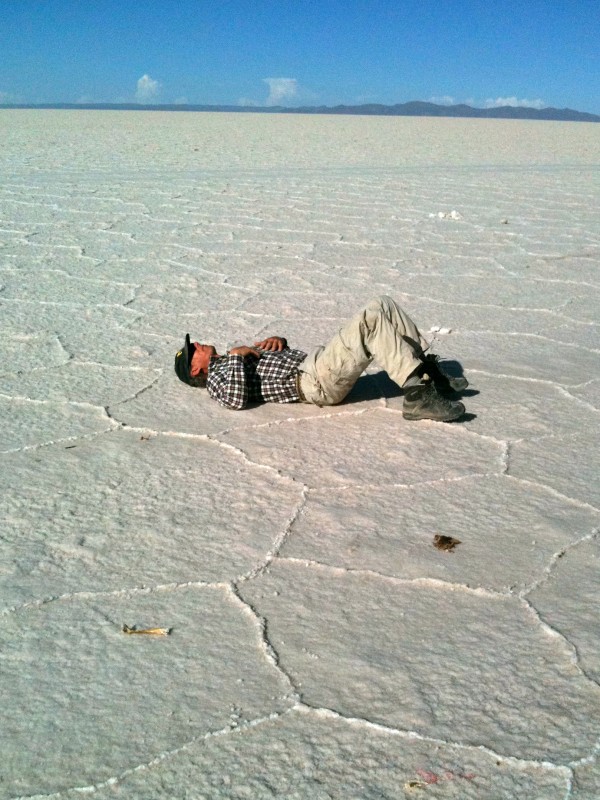 The large area, clear skies and exceptional surface flatness make the Salar an ideal place for photographic opportunities like no other place in the world.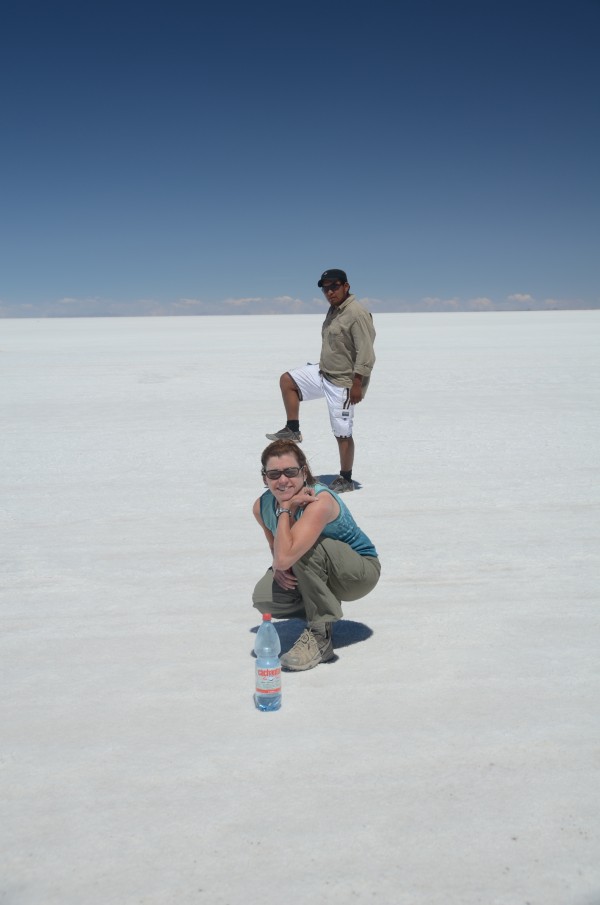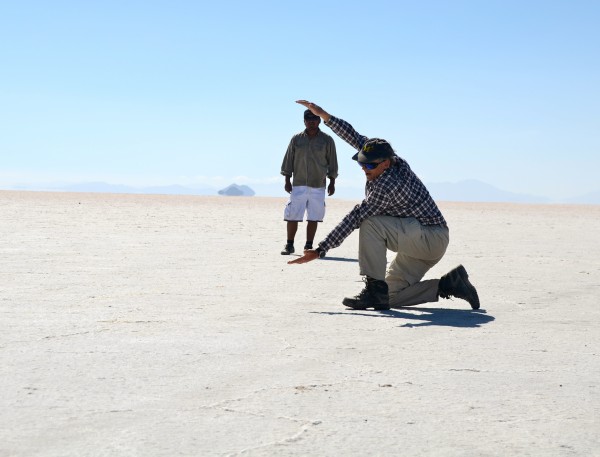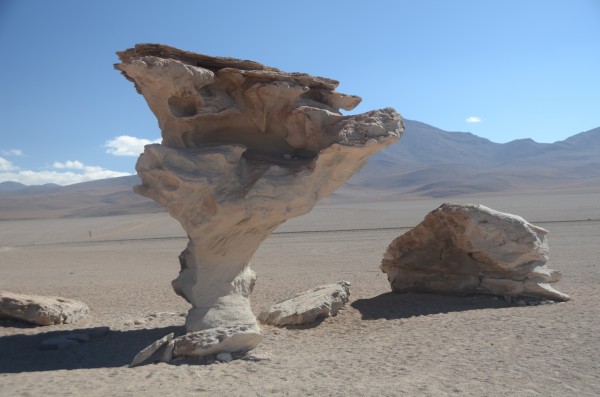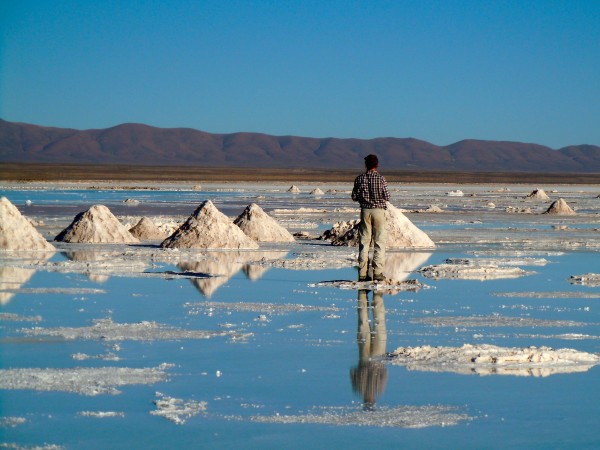 The Salar serves as the major transport for narco smuggling and is a major breeding ground for several species of pink flamingos.
The area has a relatively stable average temperature of about 60 degrees during the day but the nights are cold throughout the year with temperatures that can dip to below zero.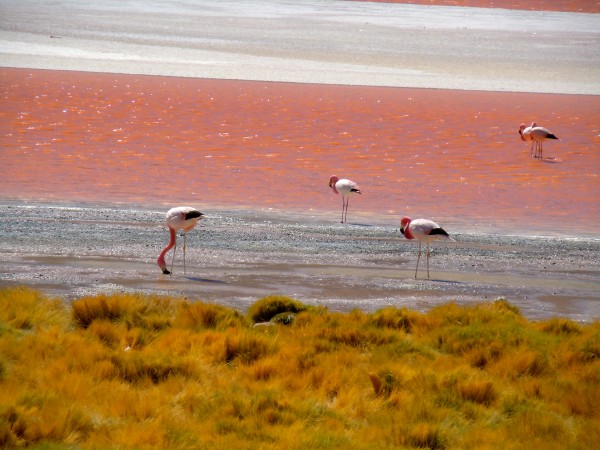 Getting there from our small single lane dirt town in Chile, in a four wheel drive Toyota Land Cruiser is a living nightmare that will kick your butt, test your nerves and personal fortitude. So this is our story.
http://www.youtube.com/watch?v=08BUFnIVq0g
We had been advised against it for many reasons some do to the extreme terrain, high elevation averaging about 14,500 feet, temperatures that drop to below zero at night, the severely rugged single track rocky jeep trail, the isolation from any town or person for that matter, the lack of any services or the lack of anything for that matter. It is incomprehensible to most people, so that is why we traveled the cocaine smuggling trail to the Uyuni as well as for some extreme photographs.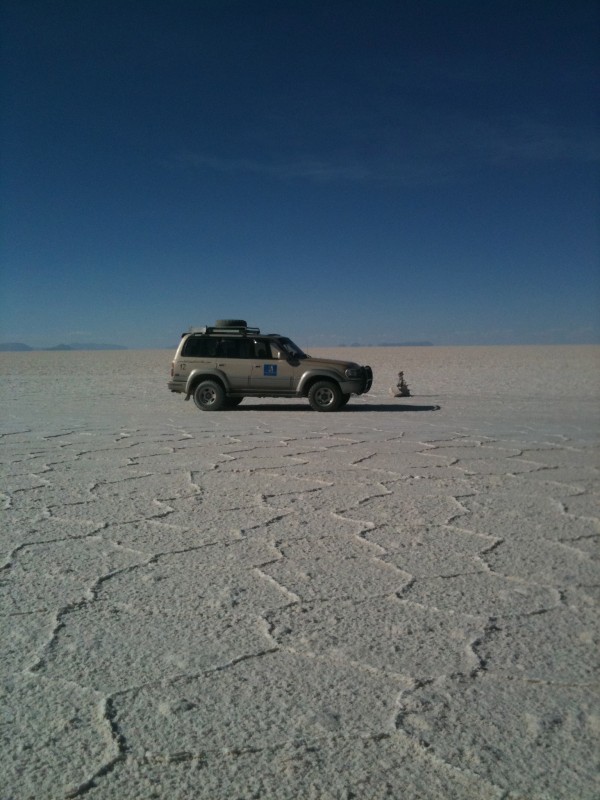 We carried everything we needed in our back pack for this four day and night excursion. As we left San Pedro we drove to a 16,000 foot pass that dropped us down into the Bolivian high plains desert. We cleared the Bolivian outpost – I could have walked around it – I offered him a 10 dollar note to speed the process. This always works and it did again and then we boarded a Toyota Land Cruiser with locking hubs and onward we traveled on this rocky, sandy and dirt single track path.
The "road" reminded me of the Loch Raven jeep trails except we were traveling at 15,000 plus feet for over eight hours per day. Everything was empty; nothing grew here except a few desert shrubs. We traveled between barren active volcanoes that reached for the heavens at 20,000 plus feet. These active volcanoes were covered various hues of minerals and their colors painted the volcanoes in muted hues of browns, reds, oranges, greens and yellows.
Between the mountains was an ocean of golden sand that stretched to eternity. It covered everything and we sailed across it following a serpentine desert track in our lonely land cruiser. This ocean of sand was punctuated by the huge volcanoes, hard pan and the occasional lagoons of color green volcanic waters.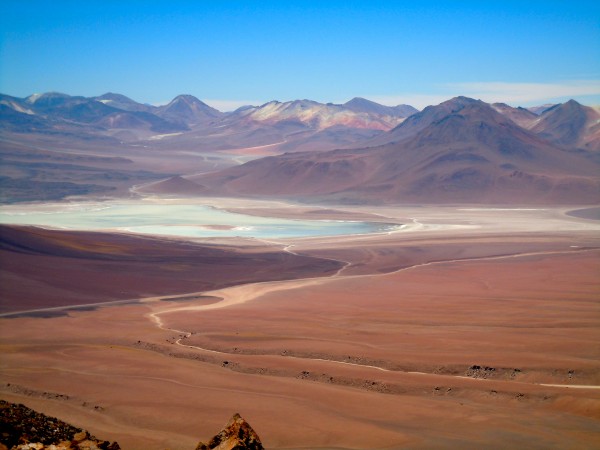 There were geysers that blew steam to the sun, and mud blow holes that stunk of sulfur as well as funky streams that appeared out of nowhere and if you combine this with the blinding piercing sun overhead you have Dante's Inferno. The blinding sun overhead bleached everything and drained the life out of all the living beings that inhabited this place. We saw the occasion Llama, Vicuña, a huge rabbit like creature, a large flamingo population that called home to these bubbling lagoons as well as predatory raptors that roamed the skis like Ring Wraiths from lord of the rings looking to consume all in its domain.
This awe-inspiring wilderness owned us, ate us, spit us out at its will and we were its prisoners, yet it was beautiful in every imaginable way and we were grateful to witness such remote beauty. After ten hours of brutal driving we saw at the most four vehicles in the vast desert and finally the blinding sun was now closing its tired eye and we finally came across the first structure and it was our hotel, The Flamingo.
It was a small four room structure that burned Llama dung for fuel we had no heat in our room and we ate Llama meat and boiled potatoes for our dinner- it was good to be alive. The wind was howling and angry and the temperature dropped well below freezing life was hard for everything. Arden and I were glad we were in the safety of the hotel. The hotel shook under the powers of Diablo but Sunrise brought safety and warmth and started another day of ten plus hours of driving in the night mare's highway. This is a view of our hotel.  Now hotel is an awesome word here.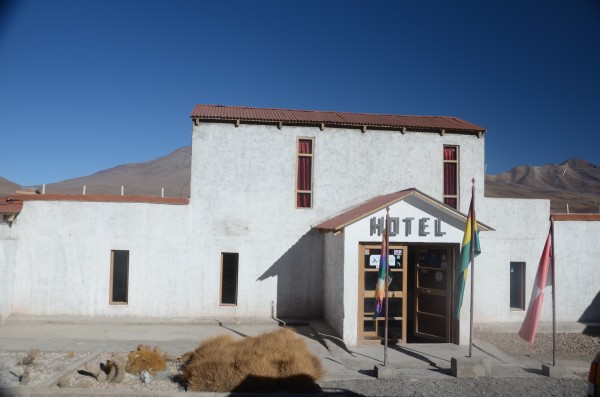 The hotel from across the pristine lake that glistens in the moonbeams that stream down from the heavens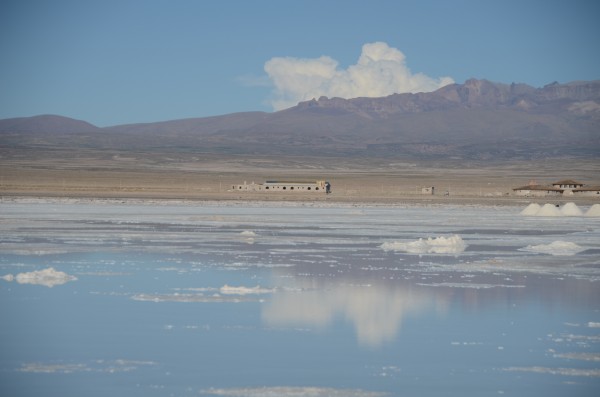 We crossed some streams in which water entered the cab, traveled down steep hillsides, and traveled through areas totally devoid of all life to partial shrub coverage. The scrub in the early morning light covered the land in fire flaming red colors and we visited the many lakes along the way to the Salar.
We came across DEAD people that were buried in mud tombs that were now open.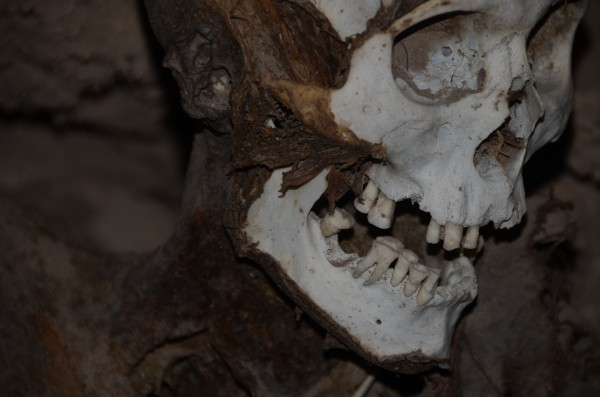 "Dead dudes" that came out of their tombs.  Sign me up for another life.  Flesh still looked attached because it is so dry and the salt preserved it.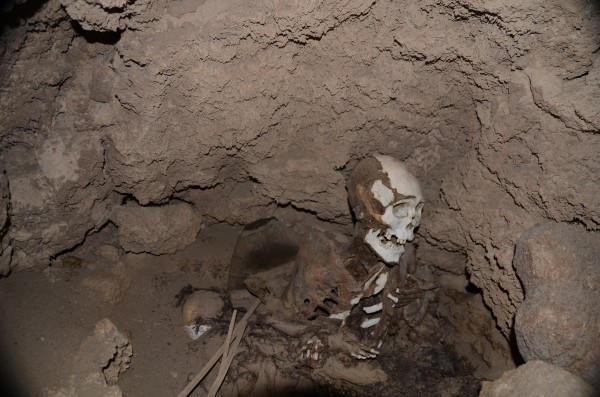 We finally reached the Salar, the crystalline salt pond of 4,000 square miles. It was blinding, flat yet beautiful.
http://www.youtube.com/watch?feature=player_embedded&v=cyv6NmUUGf0
The photos are incredible.  We celebrated with the exiler of life Coca drink. A nice taste and good buzz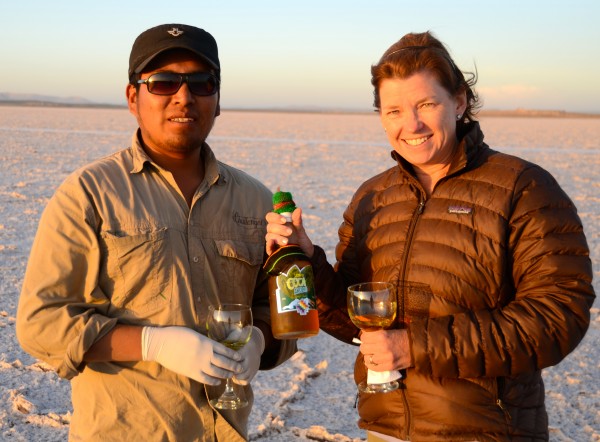 It was here that the problems started. Drinking the Coca liquor.
Our guides disappeared with everything we owned; we were in a gateway town – prostitutes, crime bosses, cocaine smugglers, scam artists and basically a toilet town to say it mildly. Our hotel here was a roach invested hostel that reeked of insecticide with no toilet paper or food or anything but it was not bad- really. The town was great if you were a smuggler or a military police taking bribes or a crime boss or prostitute.  
So when we were abandoned, with nothing and nowhere to go and little money we thought about the embassy but everything finally worked itself out- it is hard to explain here. After changing drivers we still had over 36 hours of non stop driving through the night and into the next day to make the border crossing – well we made it I am exhausted and totally smoked and so I will finish this later but these are my preliminary notes and we are off to Santiago Chile tomorrow for Mountain Biking before heading out to Argentina.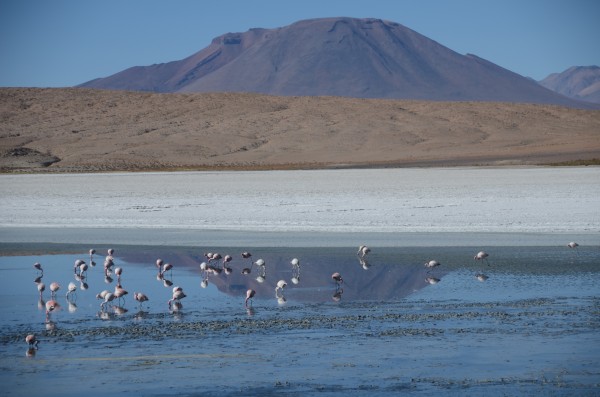 One of the townies where the dead people are from below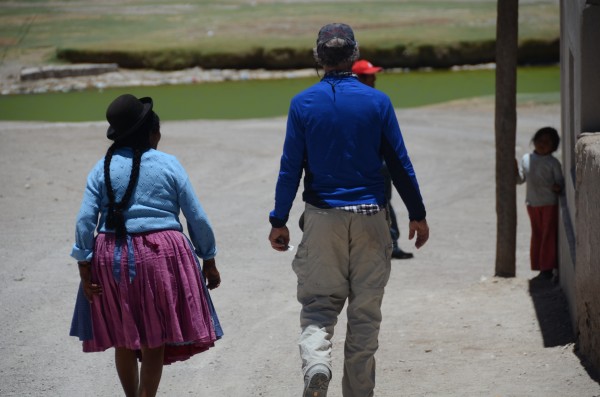 Me with a new friend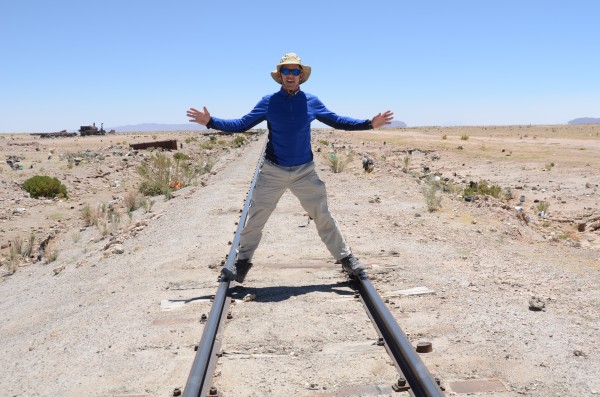 Here I am on the train I wanted to take through the desert but I ran out of time,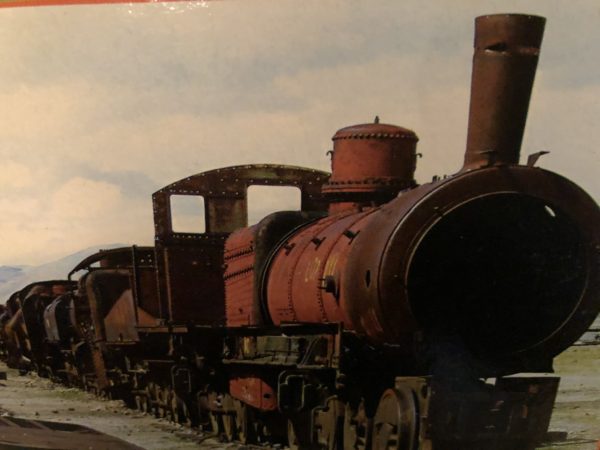 that is always the problem.
http://www.youtube.com/watch?feature=player_embedded&v=0_HXg4kX0sk
This is me driving in the Solar
http://www.youtube.com/watch?feature=player_embedded&v=JPKl3fJxF8E
Ok dudes we are on our way home to Chile over the closed border.  It was a good price we paid to open the border that was closed. Remember a tip goes a long way to open that which is closed.
http://www.youtube.com/watch?v=uVvik0USotw&feature=player_embedded