Just incredible and no risk of rain impacting your vacation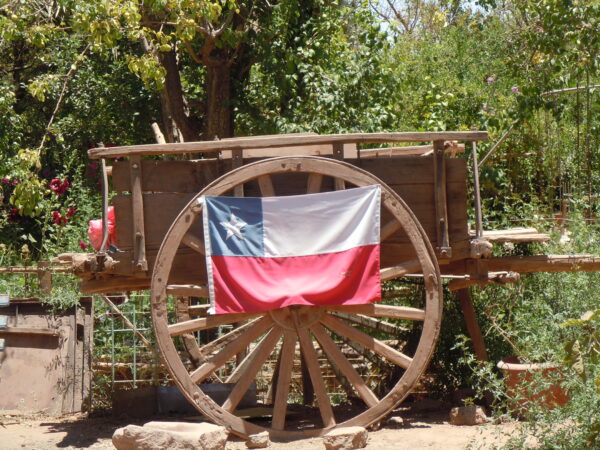 We left Baltimore on Saturday Morning for the Atacama, the driest desert in the world that ranges in elevation between 8,000 to 21,000 feet – it is dry, barren, hot and bitter cold nothing lives here. We traveled from sea level to 14000 before descending into the town of San Pedro Chile at 8,000 feet , a lot of elevation gain. We arrived in San Pedro at the Tierra de Atacama hotel on Sunday in Chile at 5 pm, fairly well beat up and exhausted after 36 hours of non stop travel. The Altitude created a fire in my brain. It was like a red hot knife that entered my brain through my eyes, so I self administered 5 mg of hydro-morphine (morphine) with 200 mg of Advil.
I forgot how seductive sister morphine is. She is like a new lover, her warm and inviting smile draws you to her and then she runs her soft hands through your hair as you feel her lips upon yours and then you embrace. Anything is possible now that she has taken me back. Many call sister morphine a demon but I think she has the sweet disposition of Kuan Yin.
She is like a mystic, that merely clarifies the mind and provides a world of vision. As I lay in the bed in the hotel, our blood flowed together and she held me tight our bodies entwined in pure blissfulness and then I drifted into a sea of sweat dreams. I was transported home into a thick verdant forest in a grove of trembling pines. Overhead a few golden eagles were circling in broad-winged silent grace and their squelch carried across the wilderness. Huge cobwebs of lichens trailed from tree to tree in the vast forest. The roots were deeply embedded in the black-green moss, in a sea of fungus. A muggy vegetable air hung under the countless firs.
I awoke in the morning an my headache was gone in one of the finest hotels. The Tierra Atacama is a boutique hotel on the edge of San Pedro de Atacama.
It is one of the finest eco-tourism boutique hotels in Chile for a vacation in one of the world's unique destinations, in the Altiplano of the Atacama Desert in northern Chile. Tierra Atacama Hotel and Spa offers guided Atacama adventures, Altiplano excursions and bird-watching; as well as luxury spa services, fine dining and boutique hotel hospitality… all in one of the earth's most beautiful locations, San Pedro de Atacama.
It was created by the Purcell family, long time owners and operators of the Ski Portillo, famous in Chile for its excellent skiing, food and warm hospitality. Tierra Atacama provides guest experiences that combine outdoor adventure and sports with indoor comforts, hospitality and excellent service.
The architecture, interiors, grounds and spa of Tierra Atacama were designed by Chilean professionals with an aim of preserving local cultural influences while also creating a place that allows guests to relax, spoil themselves and enjoy the good-life in this unusual part of the earth. The ambiance is casual and friendly- yet I wear a coat and tie to dinner in this elegant hotel with superb views of the Andes.
After every day completing an excursion; horseback riding, climbing, mt biking or hiking, Arden and I gather in the hotel living room, library or bar for drinks of fine wines and hors de vourses, or sit outside around the swimming pool, in the gardens or on the terrace watching the sunset.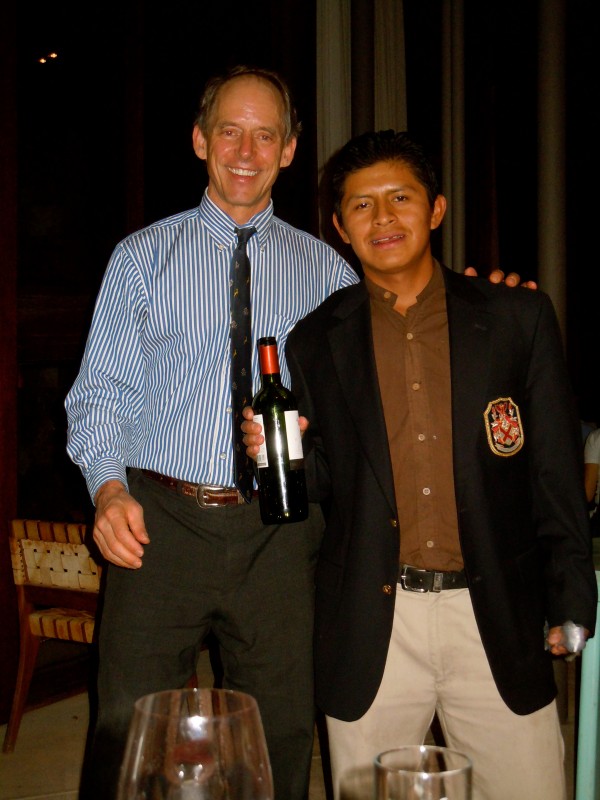 Before and after dinner the bar is a meeting place for new friends. The boutique hotel has great views, so we watch the sun set while drinking pisco sours. After a fine dinner of scrumptiously prepared European foods we enjoy one of the private corners of the hotel by one of the terrace fire pits, or a chaise lounge next to the pool, or one of the outdoor shady decks or watch the brilliant stars cover the night sky before retiring to bed.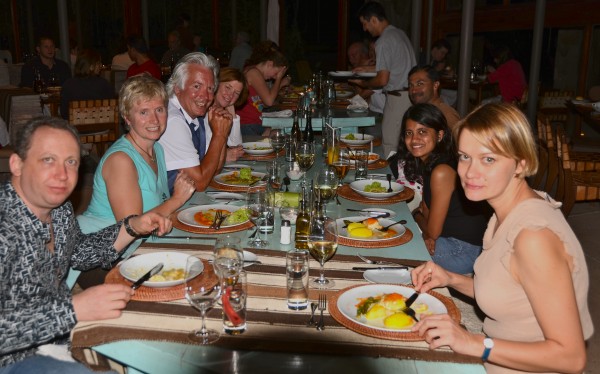 One day we head out for 4 hours of serious horseback riding on the hard scrabble in the driest desert in the world. We ride Chilean horses on Chilean saddles, a mix of western and English styles and these mighty steeds tower above all else. They are true kings of their domain are powerful and elegant. They snort fire and brimstone at will and can fly on the wind, they are the kings and we ride at their pleasure. We head out on the hard pan that is comprised of boulders, stone, scree, dirt and sand. Everything is baked.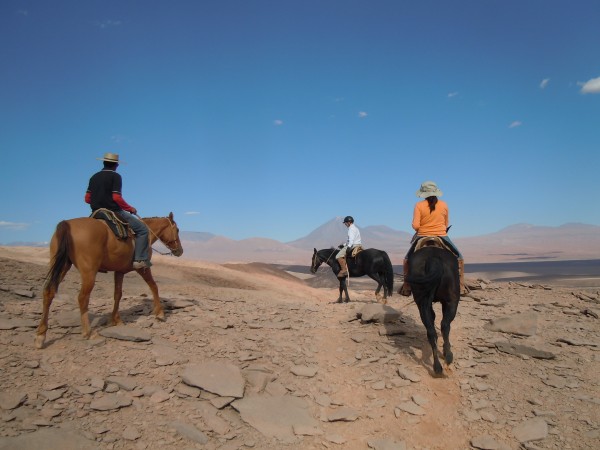 Even the colors have evaporated because the omnipresent sun has drained the life blood out of everything. All that is left are the muted shades of gray that brush the mountains and hillsides until sunset. We saw demons ride across the desert floor, dust devils and they roared as they passed. As quickly as they visited us they disappeared into nothingness.
We rode the narrow spine knife edge ridge lines with precipitous drop offs into oblivion hundred meters below us and some fairly steep descents through narrow rocky channels, yes it could have gone badly- this is not your back yard pony ride. We entered a slot canyon whose walls towered above us with angles between 70 to 110 degrees. At times I was concerned as boulders were poised to drop from these precarious overhands. Some of the overhangs formed tunnels that we had to travel through. We had some 3 to 5 foot jumps offs from sharp ledges in the dry river bed that we had to negotiate and thank God, these strong steeds pick the fine lines – the drop offs scared me.
Like a metronome, their hoofs moved through the sand and it lulled one into a dream like state after a few hours of riding. As the sun lowered its tired eye, the desert came to life. Shades of rose, oranges, pinks and browns brushed the hills and the rocks glowed in their glory. A cool breeze swept the desert floor it was inviting. Birds danced through the sky above a river that appeared from the aquifers underground and it snaked its way through the hard land. The river, It was the giver of life for the town and this valley and green blanketed the floor. Trees lined the stream banks and offered shade for the river life. We finally returned to the safety of our hotel exhausted but exhilarated.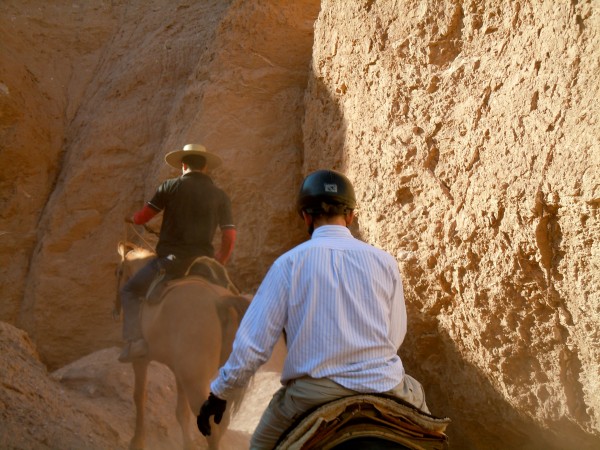 At the hotel, the night sky filled the heavens in all their brilliant glory of quaking stars billions upon billions and they were diamonds shining brilliantly. A cool breeze had descended upon us and I lay peacefully on the couch across from the warm fire and watched it's orange glow run towards me. The orange glow from the warm fire shrouded me in its warmth and the sharp crackle of the wood fire was now peacefully muffled, it was dream like and I fell into a sweet slumber.
Today we started the day with Coca tea, it is legal here and is used for our 7 hour climb, all at high elevations. Coca is the accelerant, the pure oxygen for the fire in ones heart. It empowers you to perform at the highest levels. Everything is possible with this elixir of life and nothing can stop you. There are no hunger pains nor sleep required under its spell, one can climb the highest peaks and walk the tightest knife edge ride lines. So after our Coca tea we set out and hiked through the most incredible wasteland I have ever seen, nothing lived here, it was devoid of anything living. We started at 15,000 feet and climbed to 18,600 feet on a volcano then dropped down all the way to 12,000 feet in 7 hours. It was really hard being that we started at 9,000 feet and topped out at 19,000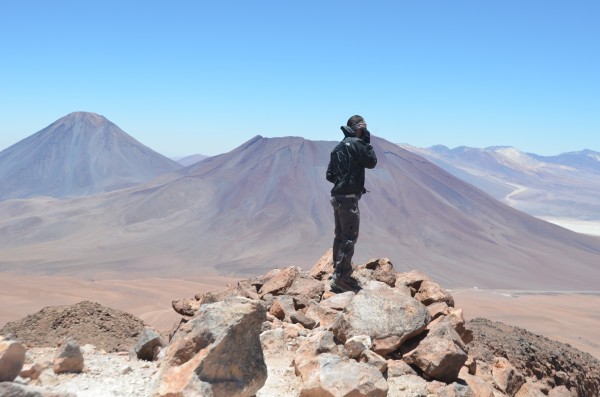 On our way down we crossed small steams which were forced up from the underground aquifers. We saw a few llamas and that was it. Life here is hard and the life would drain out of you in a day or two without water, the elixir of life.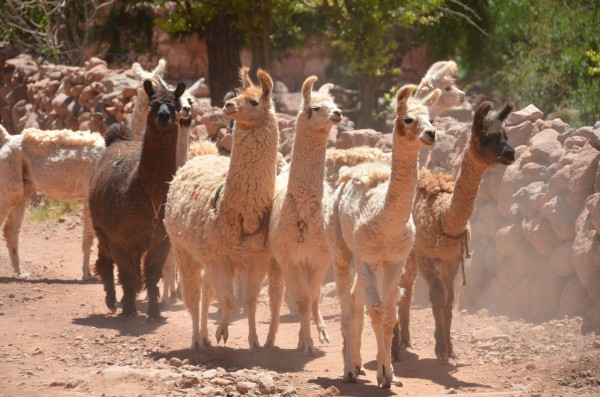 Arden submitted, a 19,000 volcano, what a great achievement and then used the premier services of this fine hotel's incredibly rewarding spas
Mountain biking tomorrow and then we are off to Bolivia in a few days, we were advised against it, but it will be the most incredible part of the trip. No toilets, showers, change of clothes. We will sleep in our clothes for four days and nights and at night in the summer it can drop to 10 degrees F. Cold and windy
The Town: San Pedro is the little desert farming town we are staying in, it is a block four lane very cute little town.  Every house is adobe and the boutique hotels are adobe, wood and glass.  Because Chile is home to at least two of the worlds most powerful earthquakes ever measured, everything here is one story. There are no paved roads only dirt lanes lined by the gnarly hardened desert trees or cacti.
This is the land of Dante's inferno.  There are a 150 active volcanoes and old mother earth spills its bowels through these cones that rise from the desert floor.  The volcanoes across from our hotel are spewing smoke and ash and a small cloud hovers above its peak.  I was thinking of its volume and at 1/3 h Pi R squared I think the volume is something like 3000* 6,000 squared* 1/3 you do the math and When will it explode?
We set out for our bike ride on one of the "roads" simply nothing more than a trail in the early morn of soft amber light when the breeze caresses ones face with her soft hand,  we are lulled into the seductiveness of the early morn of the desert it is welcoming. Our steel steeds are somewhat tired from the abuse of the hard land but do their jobs as we gallop them through the desert floor.  The trail is hard pan, like hardened concrete and fine sands, dirt and dust blanket it.  Salt infiltrates everything here and covers the gray landscape in shades of white and it is blinding.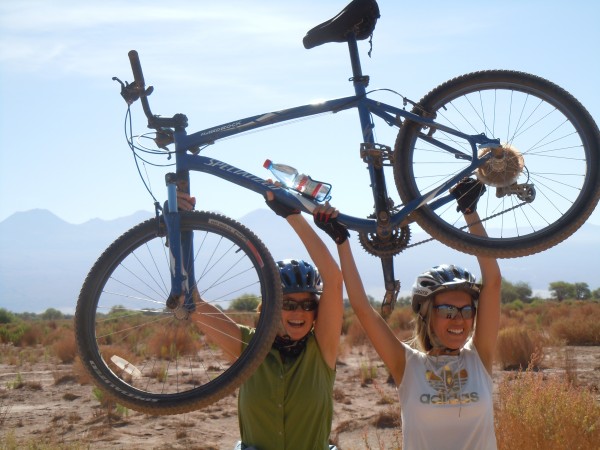 After a few hours we reach a beautiful blue green salt lagoon and I go swimming. The saturation of slat is higher here than anyplace in the world.  It is so high that I can not come close to sinking.  I try diving down into its depths but am pushed upwards, the liquid burns my eyes like acid.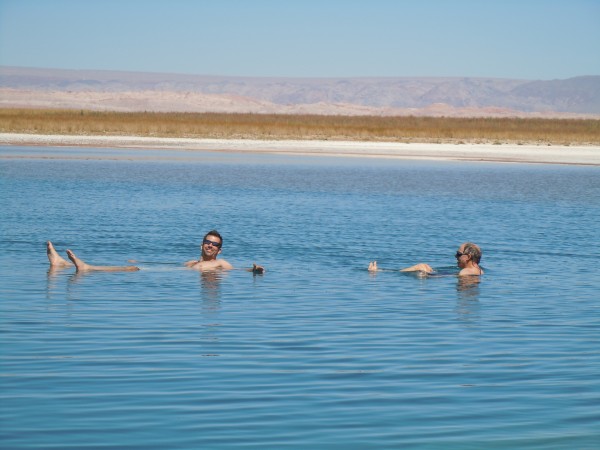 As we head back to town the sun is overhead and has us it its grips and will not let us go.  It drains the water and energy from your body and our lips are parched and we are baking in this hard land. Dust devils arise from nowhere and dance demonic dances all around us.  They are driven by the convection of the land, the waves of energy flowing from the sun and the rotation of the earth.  They rise some 200 meters for the hard pan and suck up all that are in its grips. In my madness, I aim my iron steed directly into one of thee beast and as I approach I here the demon laugh and I'm consumed.  I am shaken to the core. Sand and dirt wash me in totality and I am knocked about on my powerful iron horse. The Dust devil laughs at me and it tries lift me but the demon spits me out like a small seed from the other side.  The demon as quickly as it was created in this place of Hades disappears dismembering itself into a double helix of DNA strands; yes life might have begun here.
After recovering from the bike ride we went trekking into a very steep slot canyon for a few hours.  Green grasses lined the banks of the small stream that snaked its way through the canyon floor.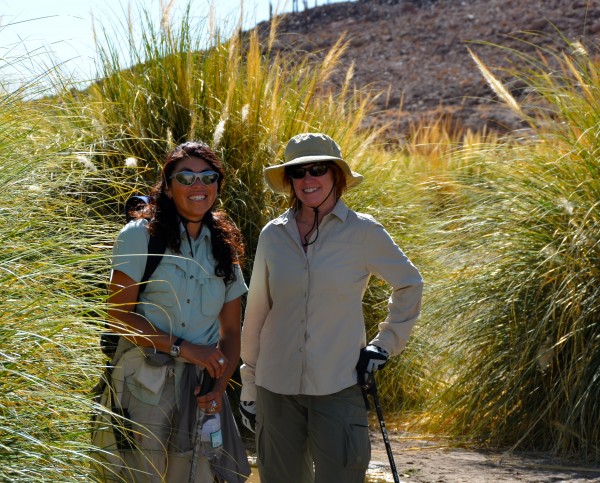 Ok I have to go now; I am going sand boarding and doing an extreme tm bike trip this afternoon.
There are no doctors here so I have had to treat some people.  One for a bacterial wound bronchial infection zithromyicin bed rest and salt gargle for that person, the other has a 2 ml deep and 3 centimeters in circumference wound with a black core surrounded by puss.  Keflex 500 Mg 2 times per day for 7 days and wound treatment was my treatment.  One person had high elevation headache, treatment was Advil and Coca tea, and they thanked me a lot.  }}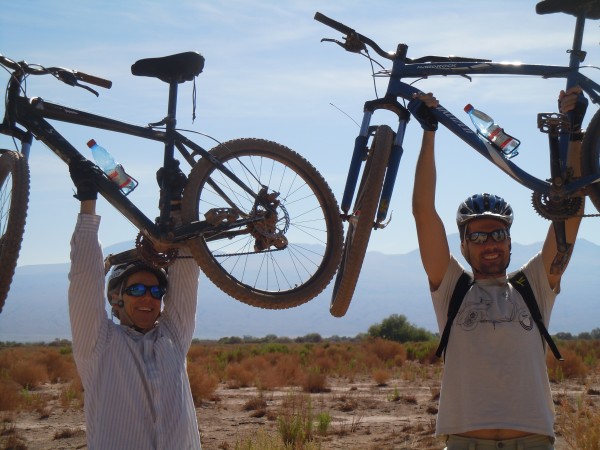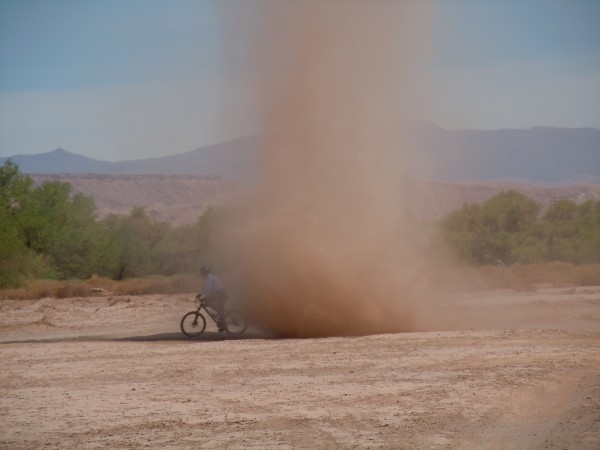 This is a true smoking Dust Devil or small Tornado that I rode through
The last day we went Sand Surfing and it was really fun gliding down the 500 foot mountains of sand.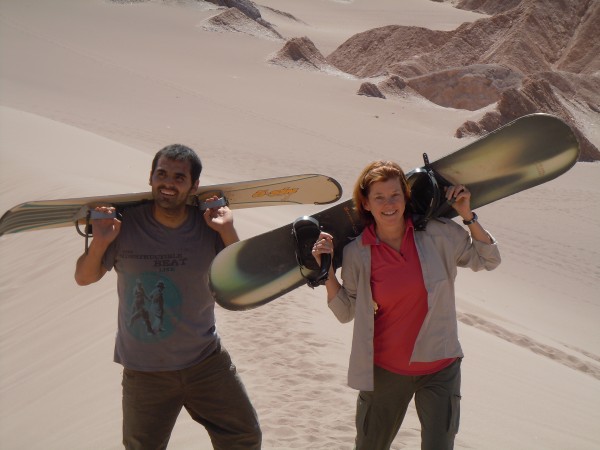 That is me Arden as I am about to travel down the Sand slopes – very cool but have to walk it up again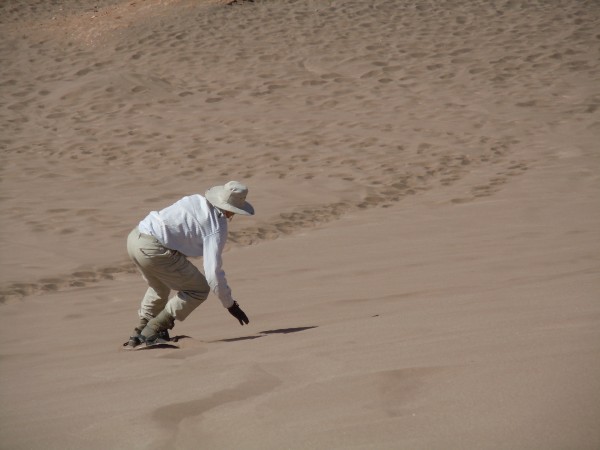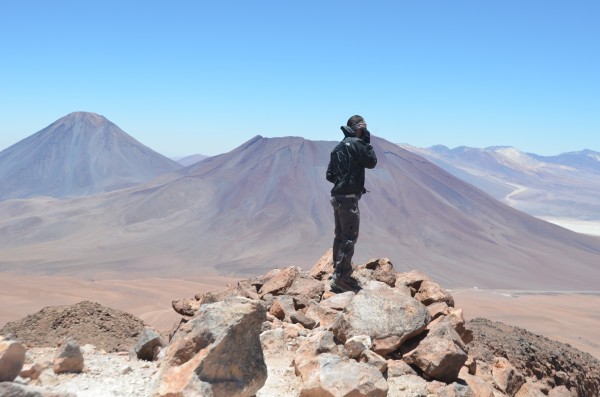 a 18500 foot Volcano we summited above and Bolivia is across the way.
sand boarding above