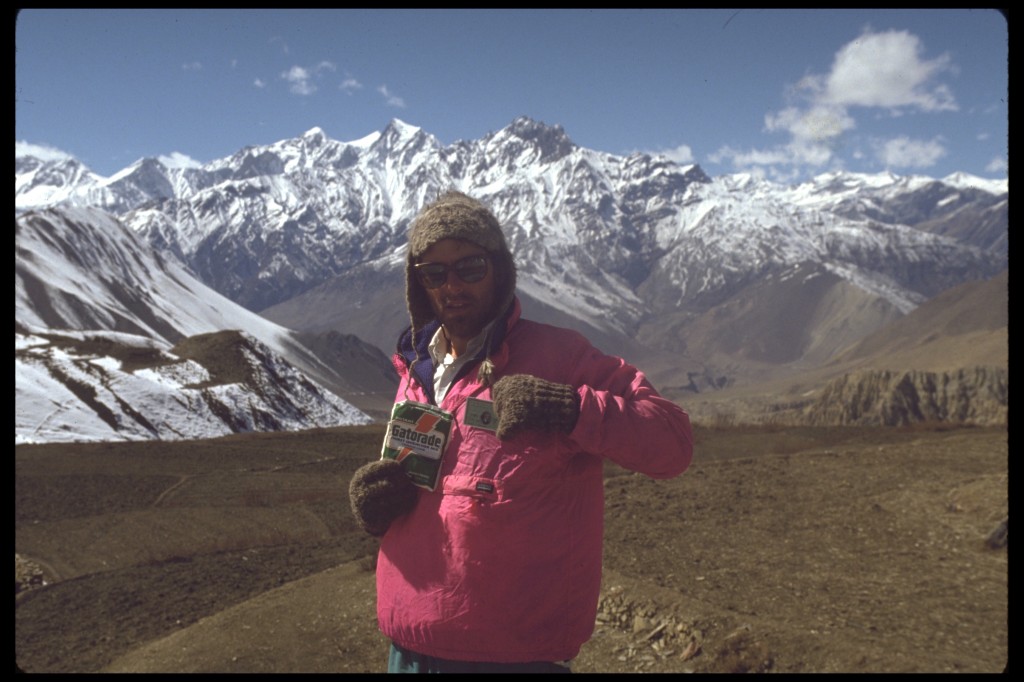 The start of our trek
We started our trek by leaving Katmandu on the roof of a bus, so we could jump off before it would roll off the cliff sides – the driver was a crazy man.  So for 100 miles and ten hours we nested in the luggage on the roof of the bus – it was miserable but safe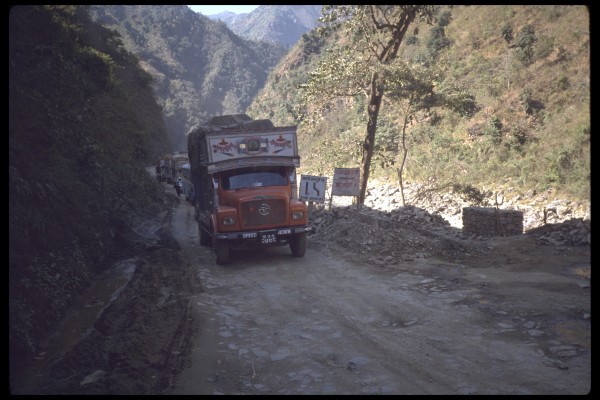 We landed in Pokhara ten hours later after a nightmare 100-mile ride and got a room over looking Phewa Lake.  Wow it was a great hippy hangout during the 60's and for us it was a relaxing time before heading out on our trip. We relaxed and ate Yak burgers and fish form the lake.  our room overlooked the lake and one day we sailed on it with rudimentary sail boats.  I loved the YAK burgers but my frined passed out in a pile of throw up and poop from under-cooked bad food- he never forgave me.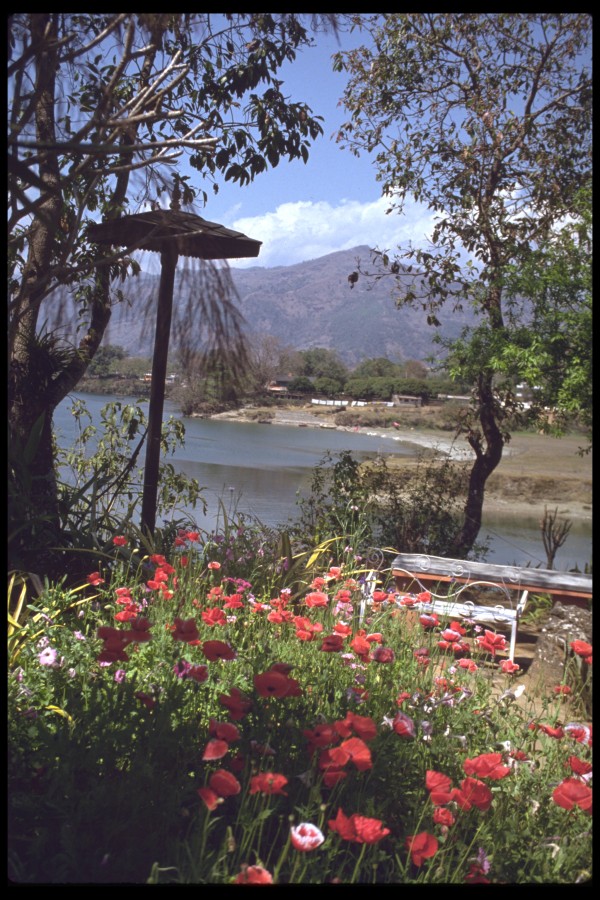 It was from here that we did the Annapurna Circuit.  We did this with no guides and or support and we saw another traveler on a few occasions because it was winter. Various shots are below of the trail.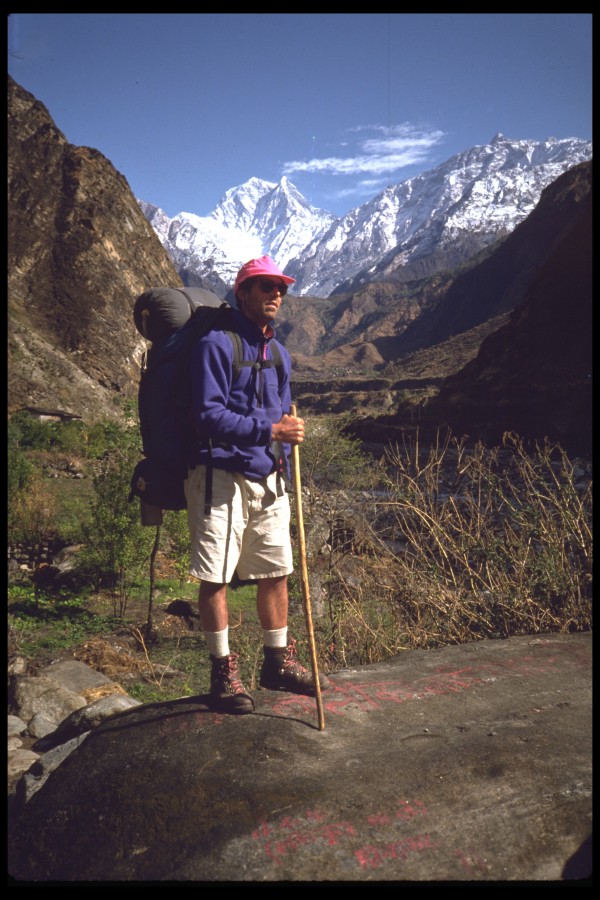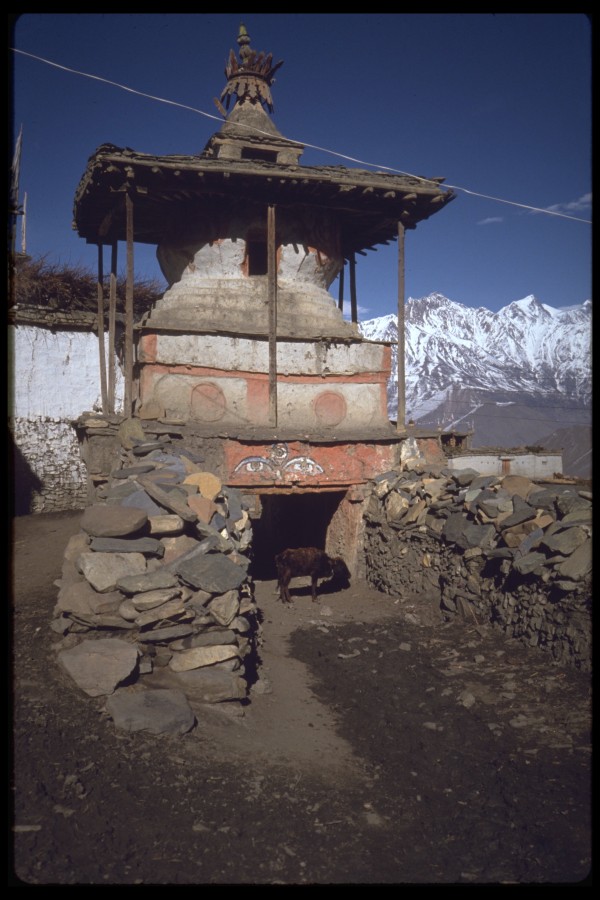 This circuit is considered one of the best treks in the world with some of the best scenery imaginable, taking us through distinct regional scenery of rivers, flora, fauna and above all – mountains: It took us about 20 days to do the entire trek and we stayed at very cool guest houses along the way.
This is a "teahouse trek," meaning there are villages with lodges and restaurants to eat and stay in along the entire route. You are expected to eat breakfast and dinner in the same lodge where you are spending the night. Prices of rooms are seemingly inexpensive because of this (100-300Rs for a double) – lodge owners make more money on the food and drinks they are selling you than on the room where you are sleeping. The rooms were bare wooden single beds that we slept on with our sleeping bags.  One of our favorite towns was Tatoponi -this means warm water and Simi was our host. The lodge are small and back then the villages were probably no more than about ten houses if that.  Beds were wooden slats and bathrooms were holes in the ground.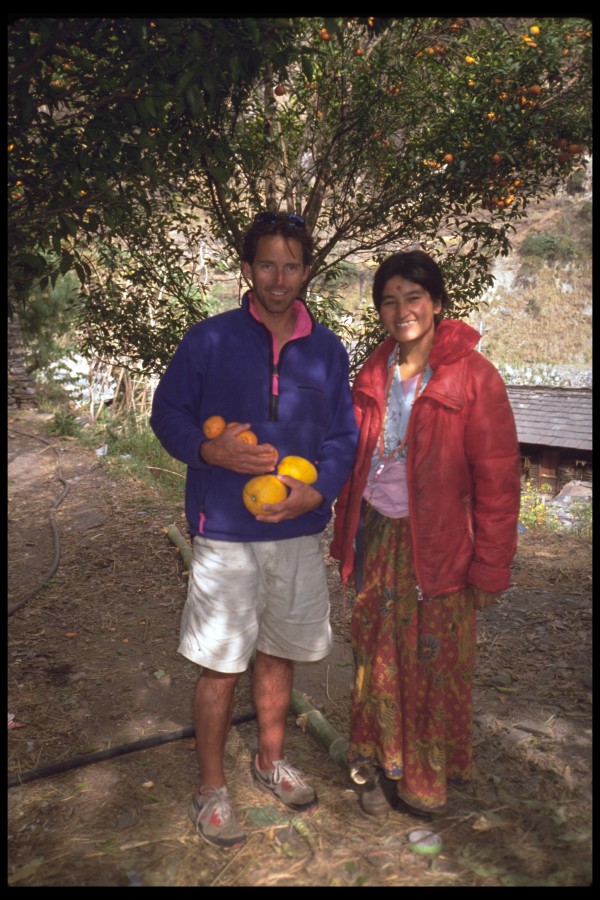 We relaxed in the hot springs in Tataponi and had good meals at Simi's lodge.  Tataponi was low in elevation so we had oranges and grapefruit.  Arden and I were also both in a PHD study from Berkley.  It was about the effects of tourism on the locals.  We wanted to bring Simi to the States.
Well on to the trek.
The lower elevations are lush green subtropical valleys with villages and terraced farming. Here the families took care of themselves.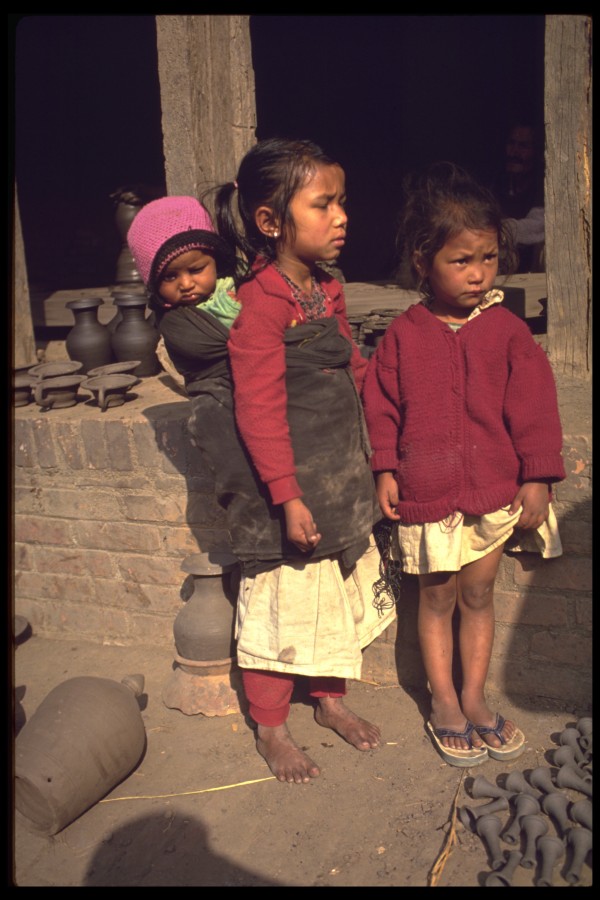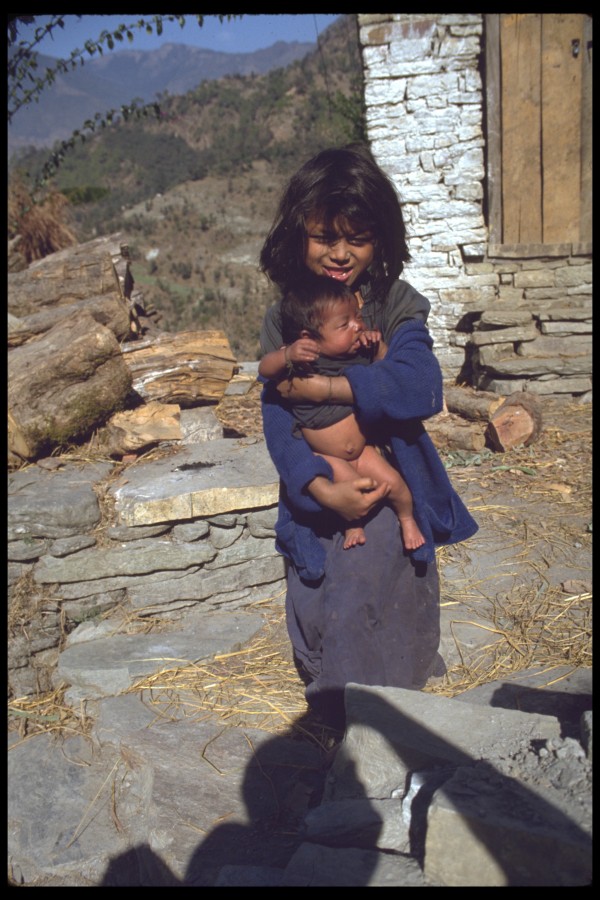 Our trek went continually upward over time passing through forest and rhododendrams as well and water falls and tiny villages – it was enchanting. We reached the end of the journey on the summit of Thorung La (pass) at the height of 17,769 feet. The route goes past the following mountains: Manaslu (an 8,000-plus meter peak), Langtang Himal, Annapurna II and IV, Annapurna III and Gangapurna, and, of course, Annapurna I and Dhaulagiri — passing through the world's deepest gorge in between those two 8,000-plus meter peaks.
Along the way one day, we rose early one day to climb to the top of Poon hill, which afforded us views of those two mountains, as well as South Annapurna and "Fishtail Mountain."  Below is Poon hill and Lars a friend who died from cancer.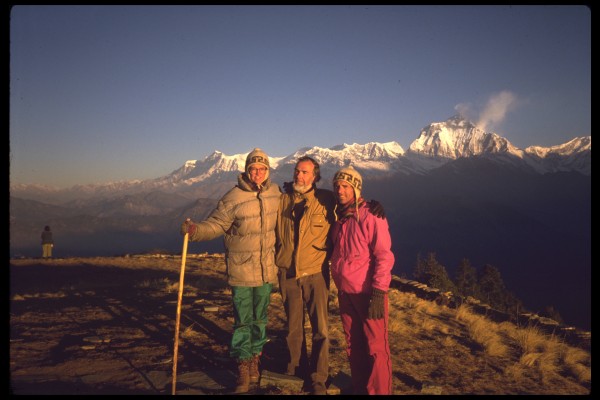 Above Poon Hill and the hat exchange in Johmson.  Jomson was the military Garison that closed the off limits areas and watched them.  the Area going to Mustang was closed because of a CIA operation called "SHADOW CIRCUS"  shadow Circus was a CIA operation in which we trained Tibetan Khampas in recon, small arms and demolition in leadville Colorado and then they were returned to Mustang and Kalipong for further transport into china where they BLEW Stuff up.  Good intell was learned actually from this operation but Nixon shut it down and the CIA mercenary Tibeten force was killed in Western Nepal by the Gurkas when they refused to lay down arms.  I interviewed some of the fighters in some of their "CAMPS" and BBC did a special a few years ago and a doc. was made about this operation called "SHADOW CIRCUS" It is worth while seeing.
Traded my Baltimore Country Club hat for his hat from nearby China. very cool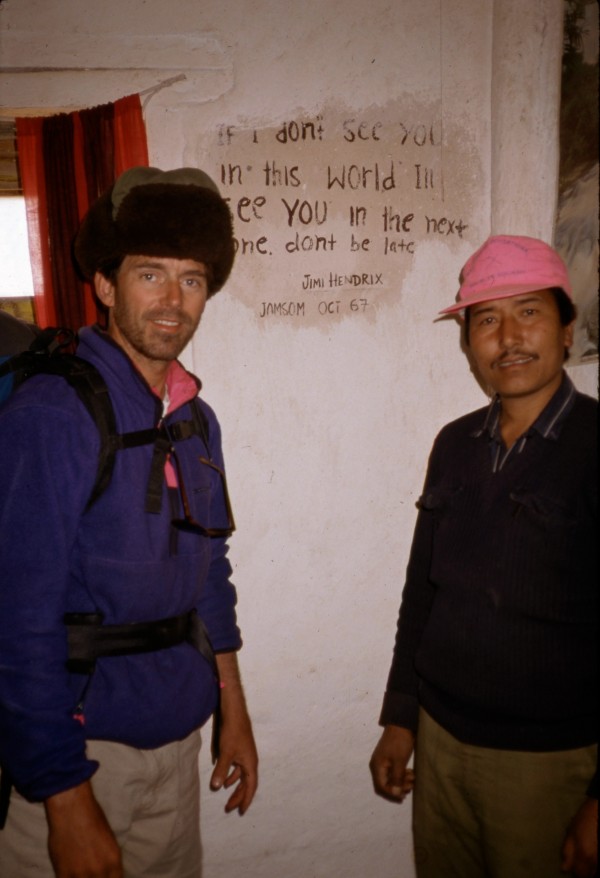 Below is a vendor selling crushed grains and then I cooked the stuff along the way.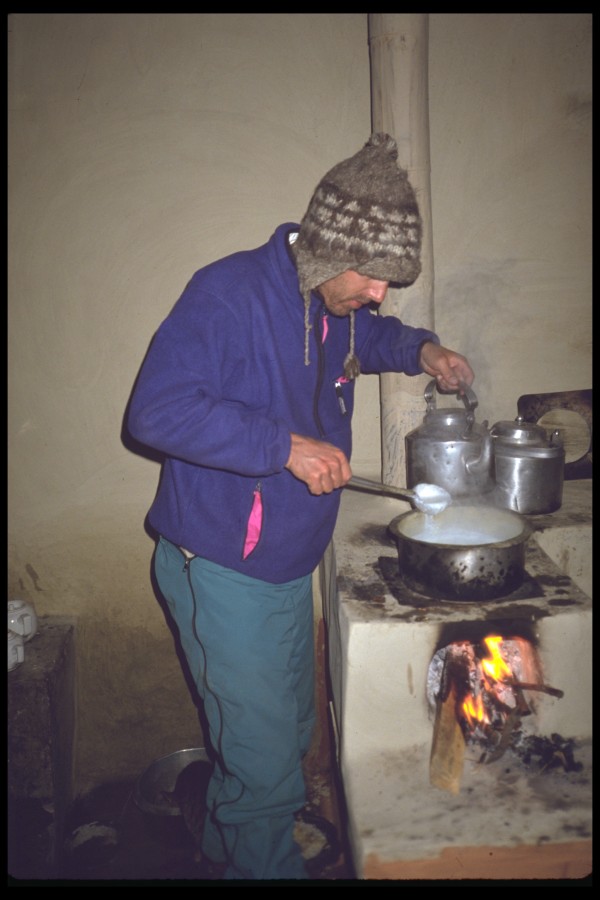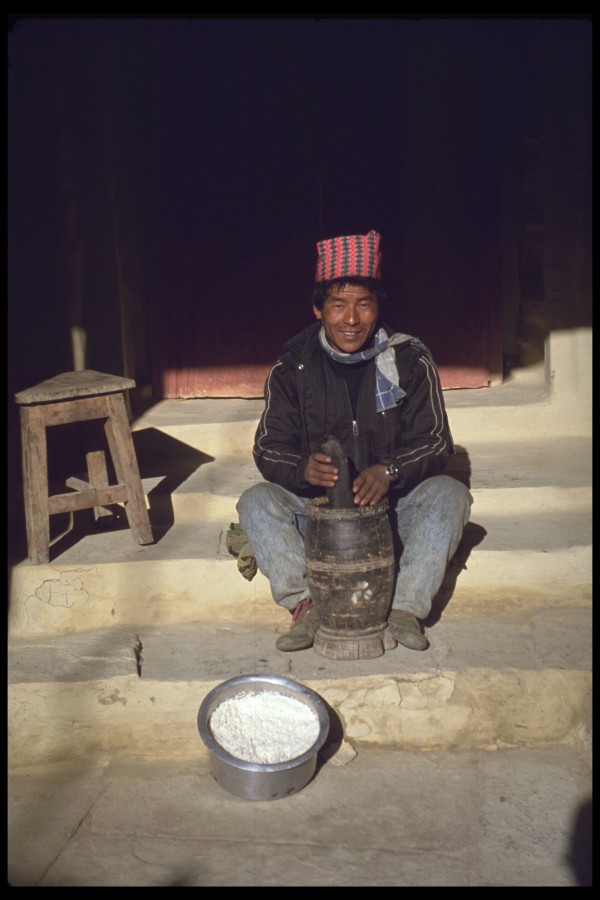 The trek also goes through Buddhist villages and Hindu holy sites, most notably the Below is the village of Muktinath, a holy site for both Buddhists and Hindus, and Braga, one of the oldest monasteries in the region.
We saw the place where fire burns in water at Muktinath and I saved a Sadu priest from freezing and gave him food. .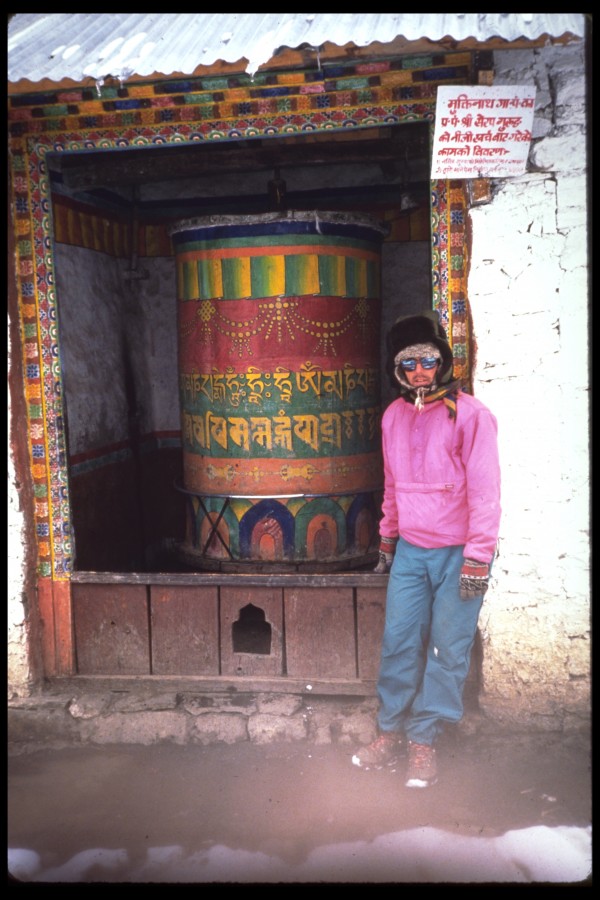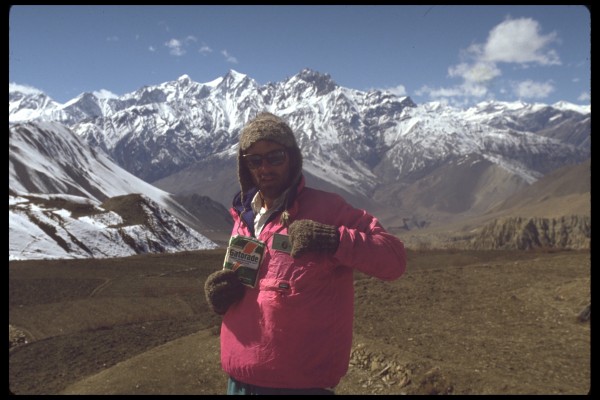 Above Mukniath and looking for funding form American Express and Gatoraide
WE slept in   Kagbeni next to the monastery the eastern portion of the trek follows the Kalikondoki River upstream almost to Mustang our intended illegal goal.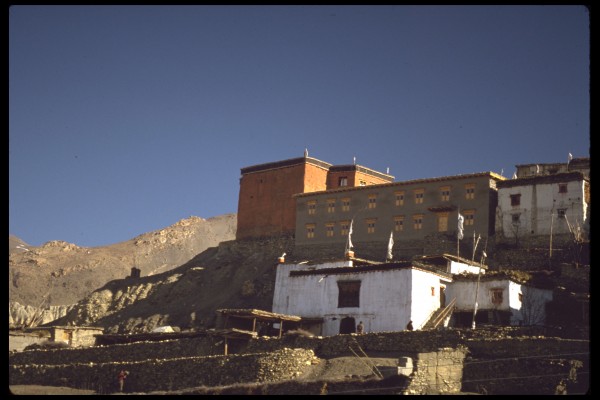 This is the GOMPA at Tengebe or Kagbeni and To get there many days of up-hill and down hill hiking are required and they can be arduous.  Then the route goes over the pass Thorong frm Muktinak , a grueling day of hiking, and back down the other side.  It was from here we traveled back to Johmson and attempted (after a recon) the trip to Mustang. Although we did not make it to Mustang (we made it half way), here is a short story about it.  We brought a white scarf from Baltimore to give to the King of Lo Montang or Mustang.  Our trek officially left from the Town of Jomson and required sneaking around the military posts there.  I was good at recon and had the plan totally covered. I talked another person into going so Arden would not be scared (she thought I took risks) and quite honestly to give me some support if something bad went down.  After about 7 hours into the wilderness the guy and Arden balked and teamed up on me and thought this was way to dangerous and turned around.
I told then to go well I won't say it here but words were spoke  and they went on thinking I would cave and follow them.  After a few minutes of moving up the river basin,  I turned flew down the Kalicondoki river valley and grabbed Arden and told the girly man to go packing home – I can not believe he bailed.  Arden and I then traveled up the wilderness river valley surrounded by huge mountains and had to cross the flowing river with backpacks and all our gear passing Kagbenie along the way at some time early on –our last drop off point.
This was at 12,000 feet and it was now cold.  The first night we made tangebe and the town fired a gun in our direction to scare us away. After I reconed the area, I brought Arden up and with bribe money we secured a dirt floor to sleep on a second floor of a Tibetan home with Dzoos beneath us.  We were served hot tea and we ate some of the provisions we brought Yak cheese) it was smoking good being starved.
That night from the red Gompa, chanting from the monks wafted through the thin air well into the early morning. During the night some Khampa came into the room and I pulled my Gurka knife out for safety – the guy was rather big but nothing happened. The next day we booked out and secured another dirt floor (now only one town from Mustang (our goal).  In the morning I had bloody diarrhea and was really sick.  So our recon and investigation of mustang ended here and I was lucky to make it out.
restricted Areas below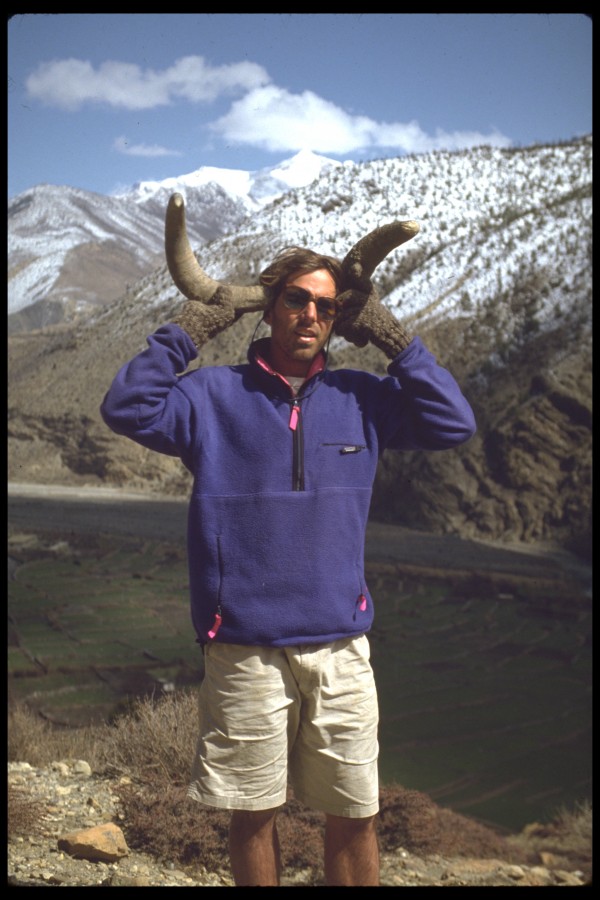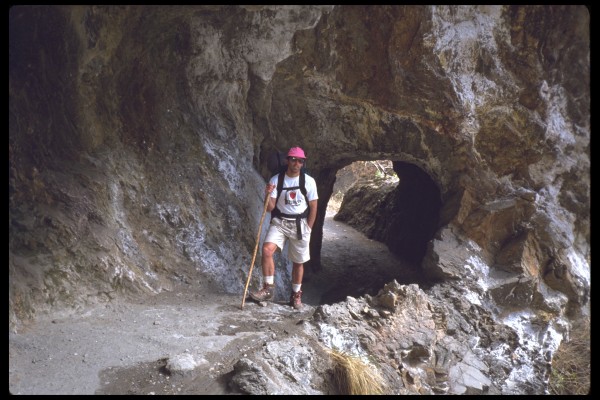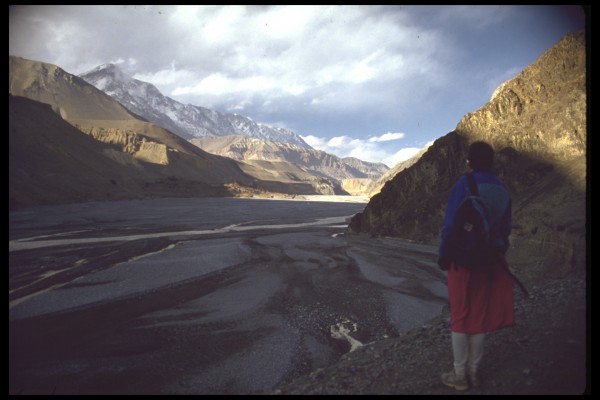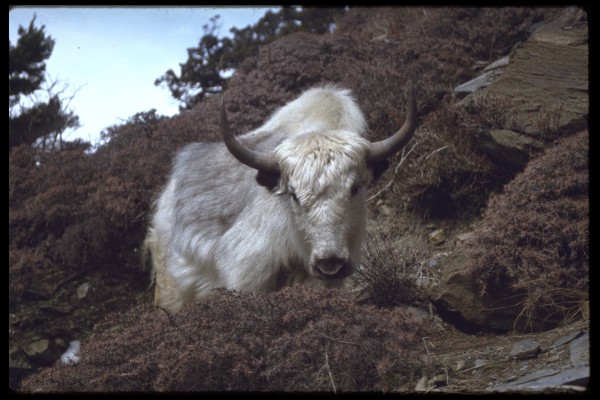 it all ended well and I made it out from Johmson and flew to Phokara and then by bus to Chitwan National Park or the Terri.