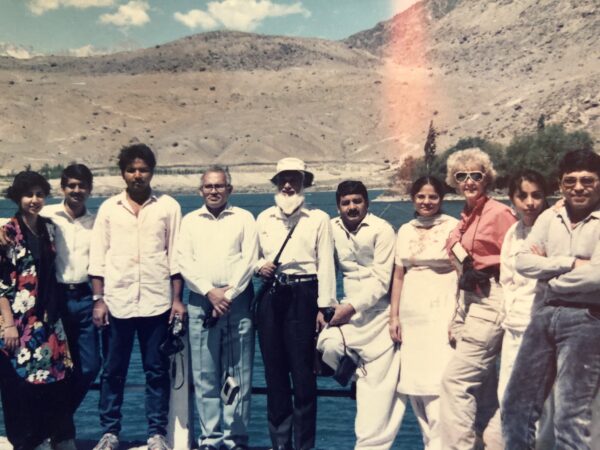 My mom went to Pakistan by herself , the blond above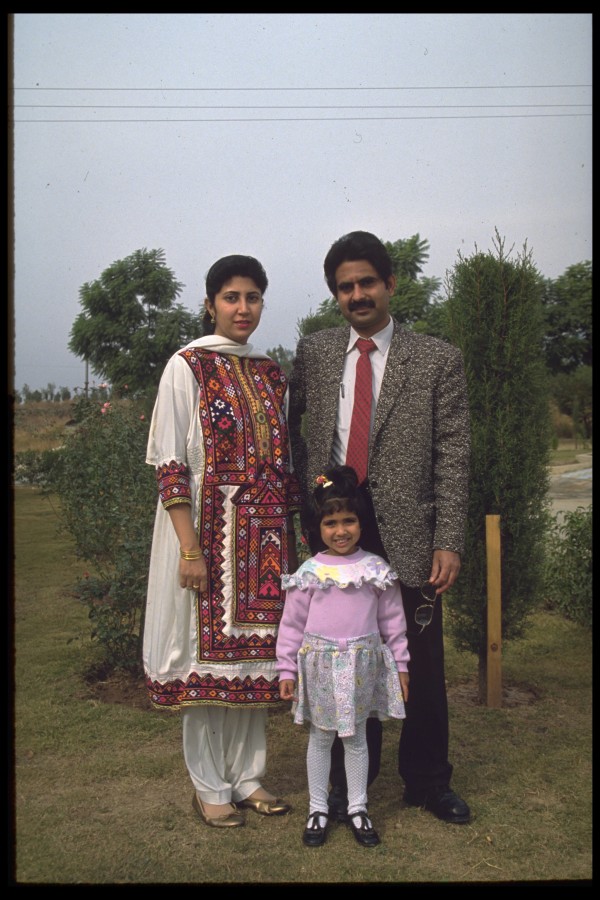 I was invited to my friends wedding above Arshad but missed it but did come to visit later .  The wedding invite is below

The mosque in Islamabad below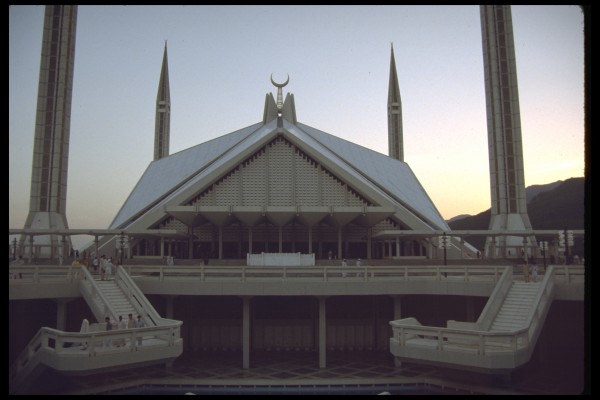 My Friend A. M. and Islamabad Mosque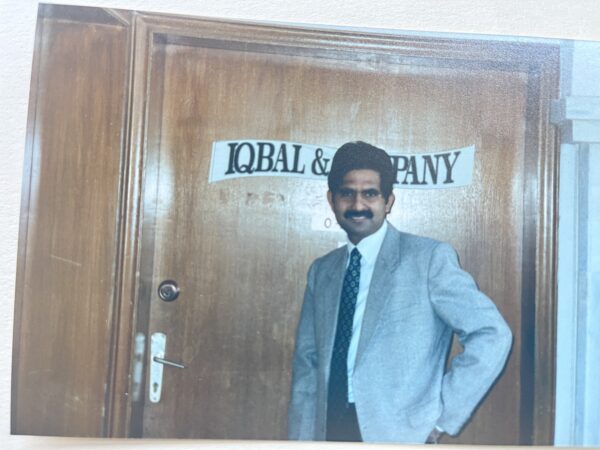 My trip to Pakistan was back in 1990 at the end of the Russian War and then again in 1993 or 1994 at the time of the Warlord and rise of the Taliban.  The day I left, the Taliban hung a Warlord in Khandahar on a tank turret.
My travels took me from the very western edge in India where we say a camel caravan loaded with a chemical that changed Opium into Heroin, to the deep south to the town of Karachi and then up to Islamabad,  then to Peshawar by train, then into the Tribal areas by armed car and finally from there briefly into Afghanistan and all the way to Marden and up the Karakoram Highway into China proper.  I later came back down from Kyrgyzstan crossing over into China over the Tourgut pass and traveled down the KKH towards Pakistan a decade later.
So here is the story.  I left New York on PIA and before we got off the ground U.S, undercover federal police raided the plane and took a couple of Pakistani's off. This was a nice start to an exciting adventure.  We landed at Islamabad before heading out to Karachi. Karachi is the largest city, main seaport and the main financial center of Pakistan.  It is also the capital of the Sindh province. At about estimated 20 million people it the largest city in Pakistan and possible the world.  Karachi is Pakistan's premier centre of banking, industry, economic activity and trade and is home to Pakistan's largest corporations and research.
It was the original capital of Pakistan until the construction of Islamabad (I visited this as well) and is the location of the Port of Karachi and Bin Qasim. The city is located in the south of the country, along the coastline meeting the Arabian Sea. It is the birth and burial place of Quaid-e-Azam Muhammad Ali Jinnah Founder of Pakistan and you see his picture on the currency. As one of the most rapidly growing cities in the world, Karachi faces challenges that are central to many developing metropolises, including traffic congestion, pollution, poverty and street crime. These problems continue to earn Karachi low rankings in livability comparisons unless you were like us, at the upper end of the pay scale.  Here life was great, as you will see below.
Upon landing in Karachi I was greeted by a 6 or 8 man military honor guard dressed in all military whites.   Yes it is nice to have friends in high places, especially customs.  I did not have to go through customs or immigration or anything but was escorted to a private greeting room with tea and crumpets.  I and my friend R. A.  had a lovely time with his brother (head of all of customs) catching up on family matters and so on, before leaving in an armed escort to the Sind Club. The Sind Club is an incredible club.  I have been to many great private clubs around the world and I can say the Sind Club is a diamond and it was a great relief to be able to stay here.  It was an exclusive club for the Europeans until the independence of Pakistan in 1947. The first of the Sind Club buildings, which now houses the ladies bar and the dining room, was designed in a southern Italian style. The building fits comfortably in its spacious grounds, the club buildings are set back from the road, creating a feeling of exclusiveness – which it is.  The Sind Club was exclusively a men's club. Women were only allowed in to attend a ladies' dinner held every two months and the celebrated Sind Club Ball organized once a year. Facilities at the Sind Club include a swimming pool; tennis and squash courts; a billiards room; an outdoor barbecue; a full bakery; a sauna; guest rooms and a newly built fitness center. Although the province of Sindh is now spelled Sindh, the Sind Club still uses the old spelling given by the British.  It is near the Hockey Club, the Bagh Polo Club, The Government house, The United States consulate and the Intelligence Colony.
One can get some inside scoop here that I promise,  like D– (Name not mentioned on purpose still operating here)  and the stinger missile repurchase from Hektymyer out of Peshawar. Also our guys (the U.S.) took out a 100 camel caravan that was carrying a boatload of hash into the towns of Gwadar and Pasni from either Baluchistan or Iran.  Great place for Intel. Now this is where we stayed for close to a week as we watched the World Squash Championships, which were held at the Naval base.  A normal day was to awake, play some squash, breakfast, then go and watch the squash matches.  At the end of the day we would play squash or tennis and then go out for dinner in the busy town.  It was truly a great experience and I am grateful to my Pakistani guardians and friends.
From here I went to Lahore to visit and spend time with more family and friends.  We had parties (no alcohol) with fine food and camaraderie. These new friends were so hospital – thank you again. Lahore is known as the City of Gardens. Many gardens were built in Lahore during the Mughal era, some of which still flowering and in good standing.  There is also a Zoo (we did not go there) is the second oldest zoo in the South Asia and has been a source of amusement and recreation for families for more than a 100 years.
From here I traveled over night (now by myself) to Rawalpinndi and then into Islamabad proper on a bus to Rawalpindi then by private car to Islamabad.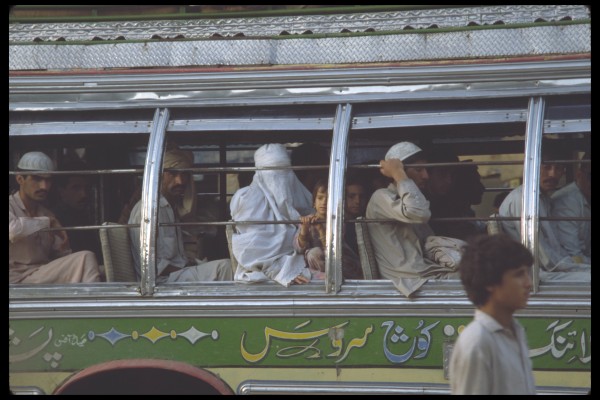 .
Wow I landed at 2 AM in total darkness and my man was not there.  Thank God I was dressed like a Taliban so I did not stand out.  Eventually my friend showed and all was good as we sped through the Islamabad checkpoints to his home of great magnitude.  Wow – huge huge home, cooks, drivers, maids and so on.  It was a return of the Raj. For me thank you A.M.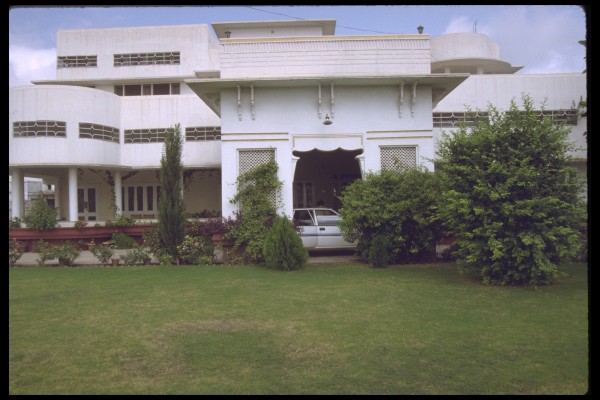 In Islamabad we played squash and went to dinner with friends and talked men with men about things going down.  Very insightful.  One day an ISI guy was found outside our home and he told us he was monitoring stuff going down. –Not certain what that was.- I think it was the potential tank sales from Israel to Pakistan via a third party vendor –kind of cool. I think the third party was Poland I can not remember.   Thank you my dentist friend.
From Islamabad we traveled to Peshawar on the train and this is when things got interesting.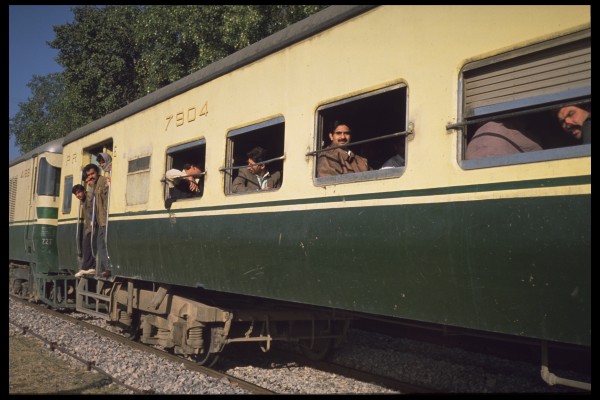 Open market for food and heroin seller in back ground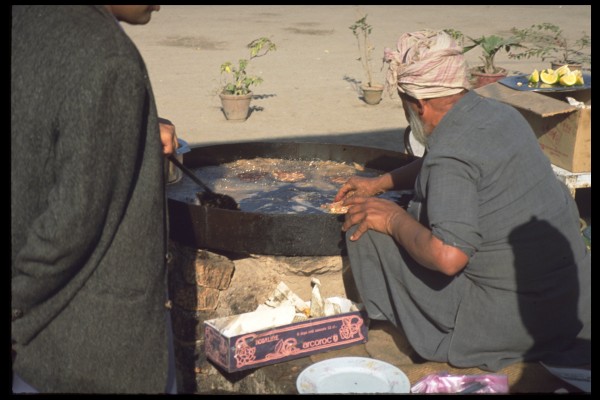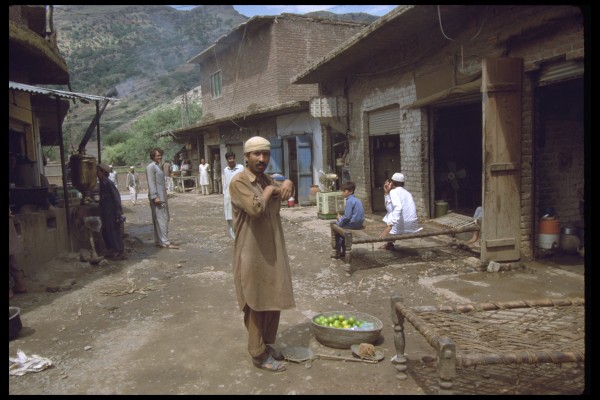 Heroin seller above
Peshawar is considered the most strategic city for Pakistan and the United States in the war against terror, because the supplies for NATO and US Forces are sent via Peshawar, as it is located 200 kilometers from Kabul, the capital city of Afghanistan. Here one can get all the smuggled goods one want.  The goods are smuggled into Afghanistan at Torkum or Khandahar and then smuggled back into Pakistan on camels into the tribal areas where there is no tax and then smuggled into Pakistan proper. Wow great Intell here.  D—( name is still there deleated) on a  seed project spent 9 million quickly but  was they were really buying Stingers from our good friend Gul Hektemyer.  I have a photo of him up close with Byriani and just to think I could have bagged him for a cool 20 million U.S. dollars –very cool.
The western mountains of Peshawar contains the roadway to Afghanistan, through the area known as Khyber Agency, which is part of the settled areas of Peshawar.  In the winter, the mountains can be often seen covered with snow and clouds- I was in snow and at night it was cold. The northern part of Peshawar valley is the mountainous region of Khyber. The southern part of the valley is a broad range of mountains, which goes from Peshawar to Kohat through Darra Adam Khel, a settled area of Peshawar and Kohat, and then to the tribal areas called Kurram and Orakzai Agencies.  Dudes this is the area to go:  no oversight:  guns, hash, Heroin just free trade.  Hotel Incognito. Very good Intel about the U.S. site on the Pak. Afghan. border at Torkum. Also, there was great currency changing gong on with Pak. U.S. and Chinese money very very cool.  Some of our fighters with AK's.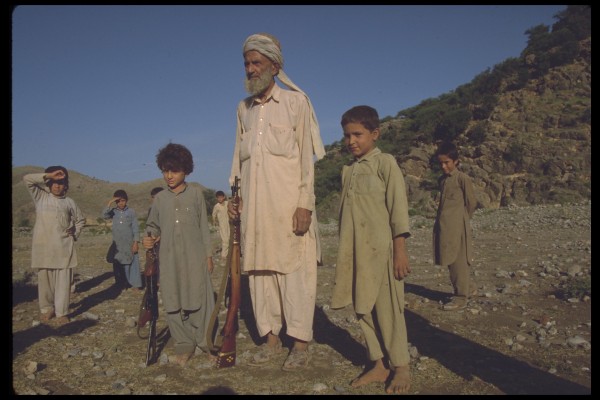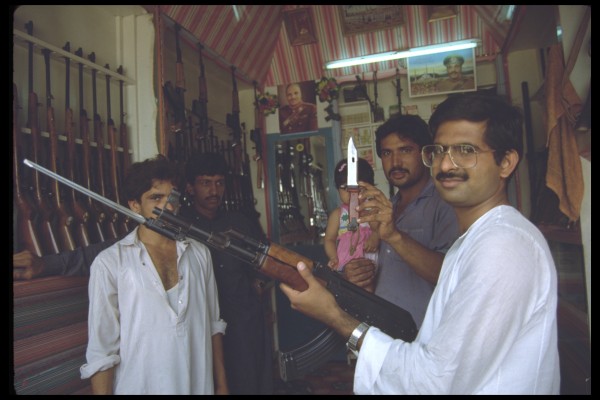 good guns for sale in Tribal areas. Ok so we we walked pass the U.S. consulate down the road from the railway stations and went to this very Incognito house with some very cool coding equipment inside with some secret military listening post people.  It was walled-in and everyone had guns,  very cool.  So we picked up a dude with ties to the tribal areas and off we went.  We also got Afridi's nephew as a safety blanket.  So we traveled through Dara and Khot and then to torkum this is very cool.  I visited the Afridi home and was shown the heroin labs and so on.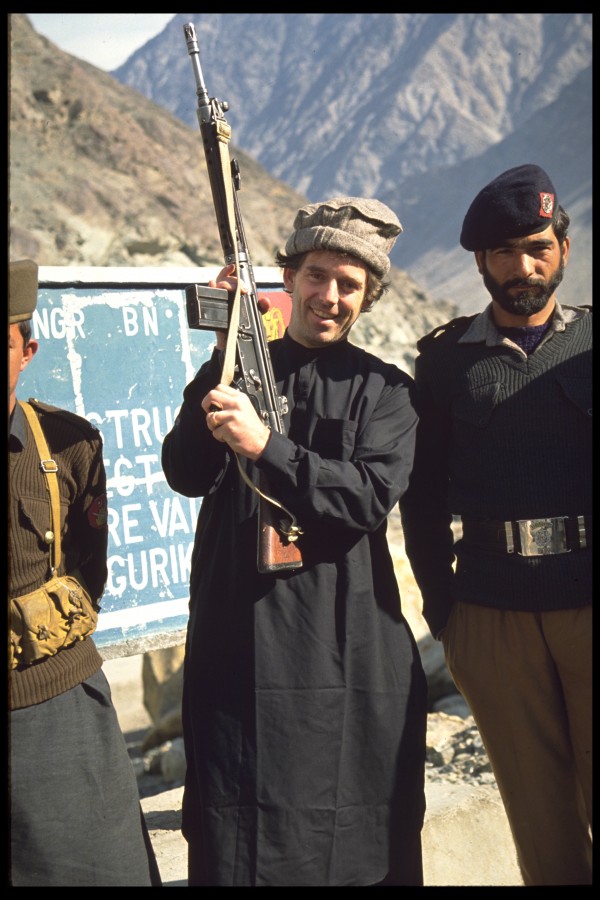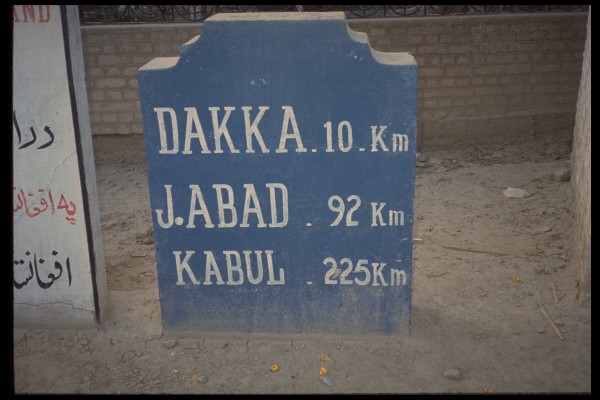 Torkum gate and smuggling area.  IT is good to have friends here money can be made.
We ended up spending the night some place before heading up to Mardan and Mignora.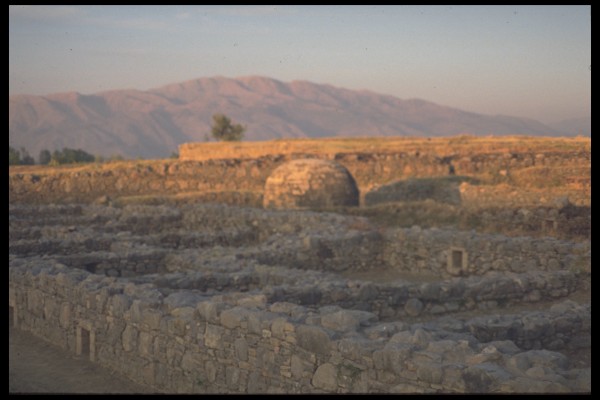 Above is the Buddhist town an archaeological site at I think Mardan- it has been some time. Then we traveled up the KKH all the way to and briefly into China.
The Karakoram Highway (KKH) is the highest paved international road in the world. Cool road shots below on way to top and the stops along the way.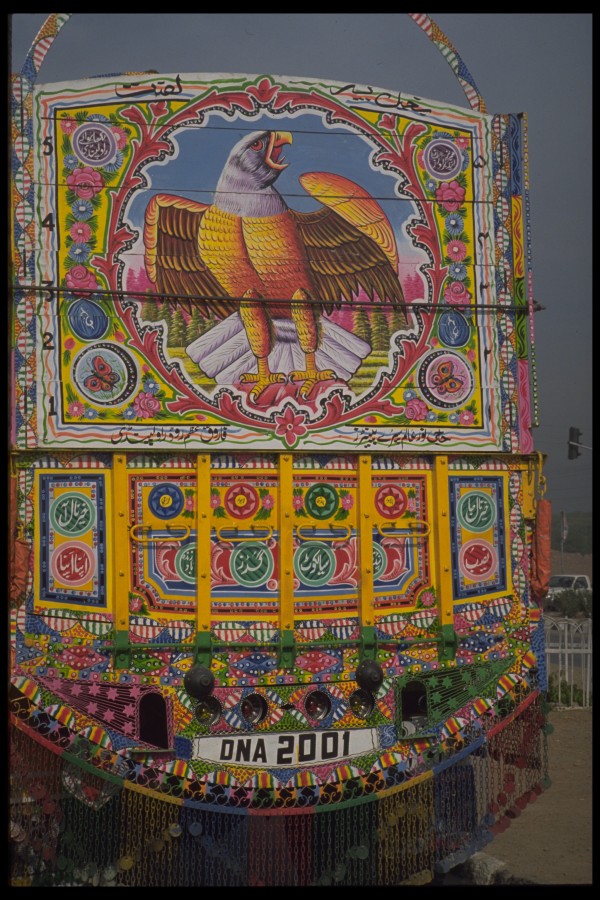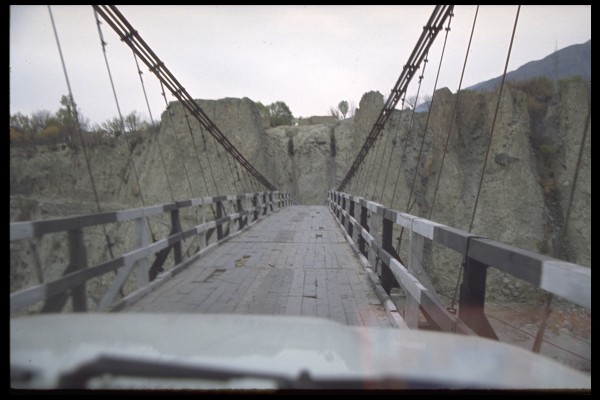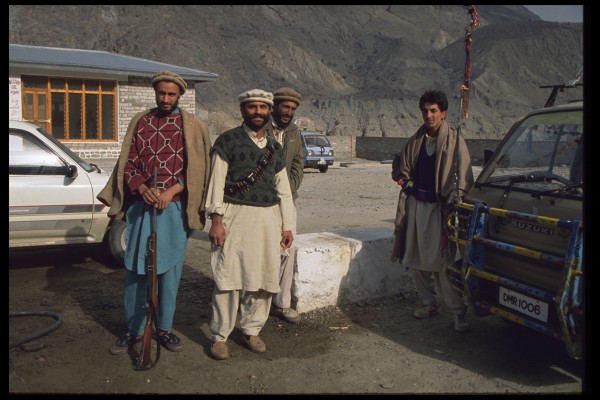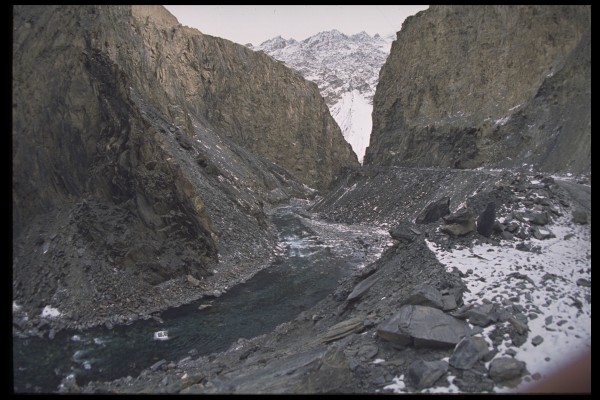 It connects China and Pakistan across the Karakorum Mountains Range and reaches a peak of 15,397 ft.  I made it driving all the way going through the check posts speaking Urdu- this was very cool. I spent the night at some top hotels and had some great food.  Seriously, I thought about coming back and buying a guest house and going for it but Arden was not into it.  So the plan failed.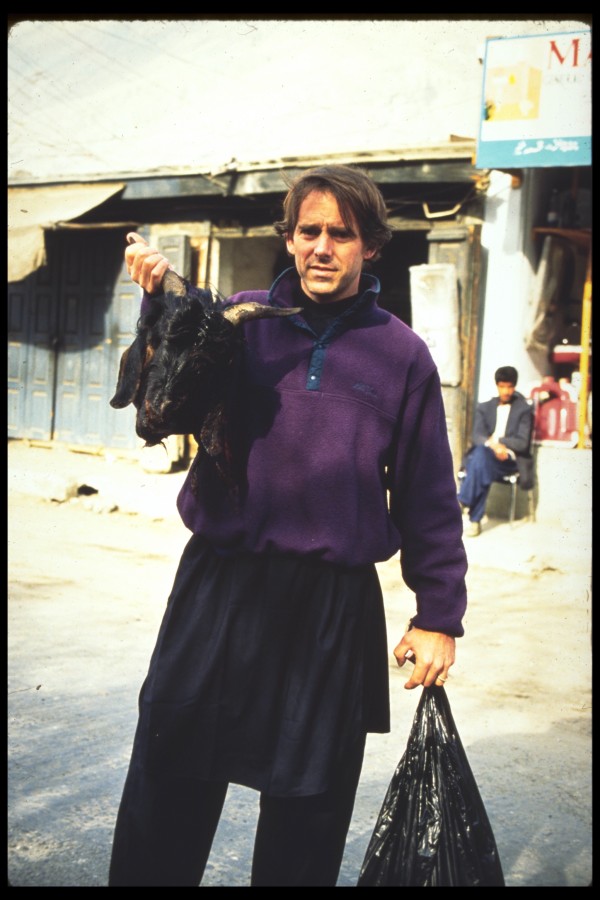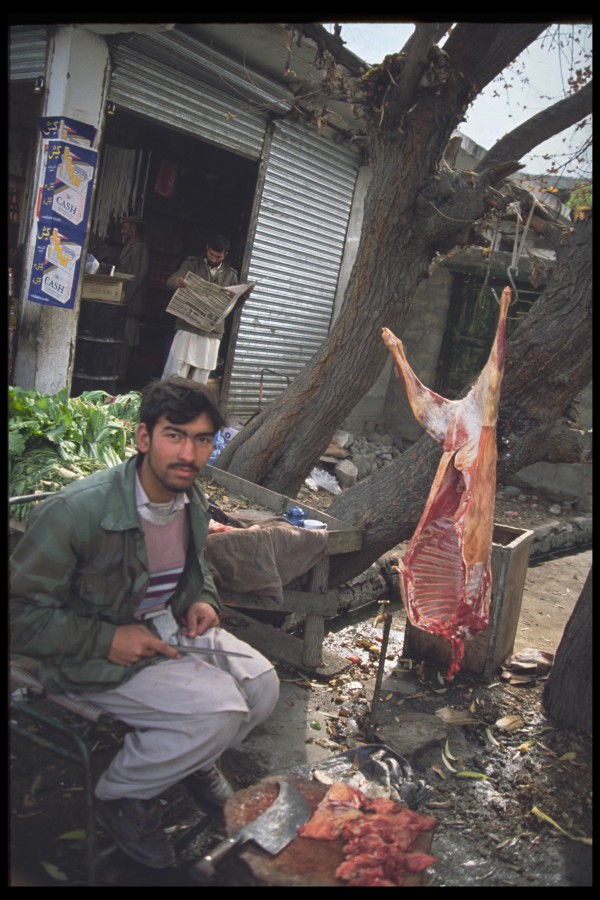 Great room below,keeps the wind out.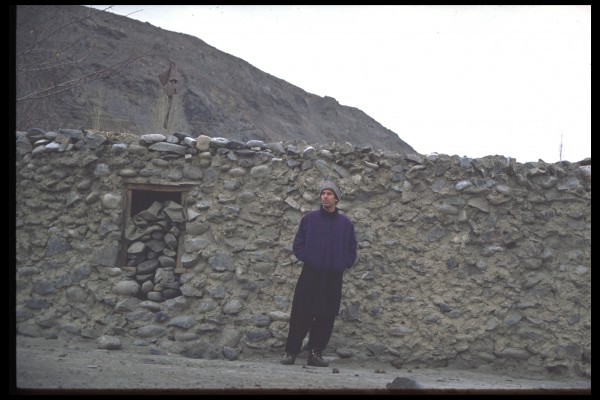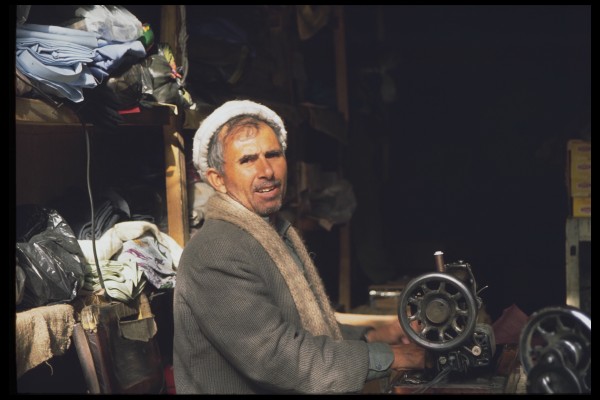 China Pakistan border below this was very cool lost between countries no mans land.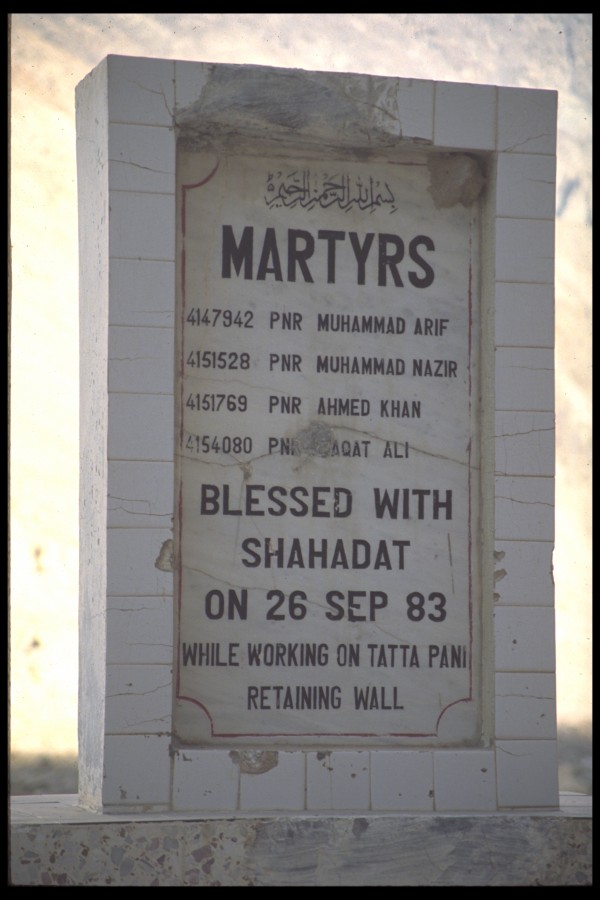 We had a wreck in the car on the KKH near the top on the way down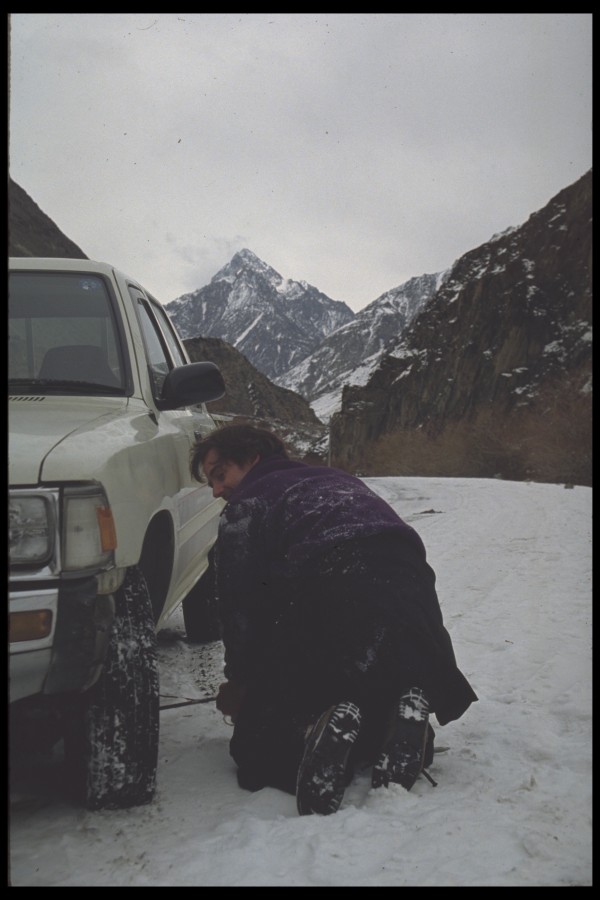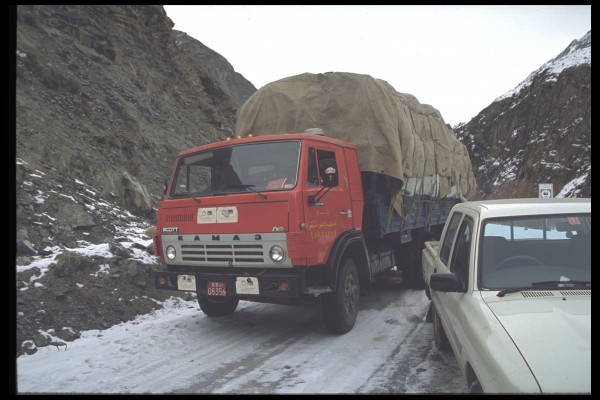 and then I took photos of a military convey smuggling weapons in form China.  I was interviewed for this photos- they were shot from around a dirt home.
Ok so we made it out and it was all great fun before returning via Skardu and Abbottabad.  In Skardu we saw a religious festival and stayed at the beautiful ShagriLa. Now in Skardu we saw some religious festival and stayed at the famous Shangri La hotel on the lake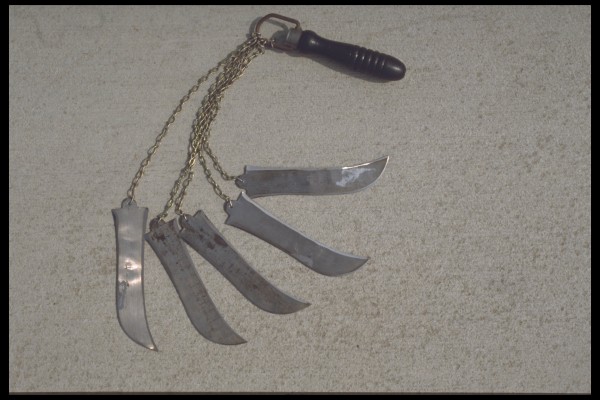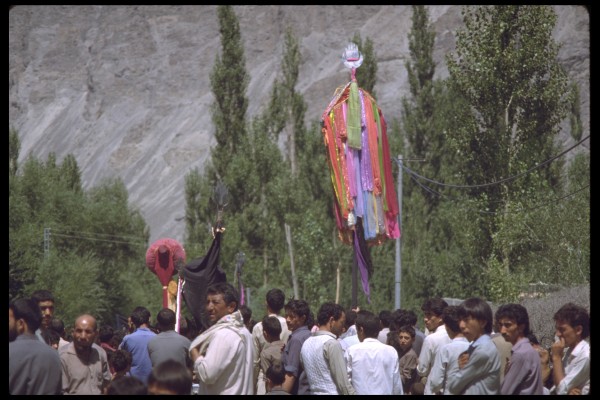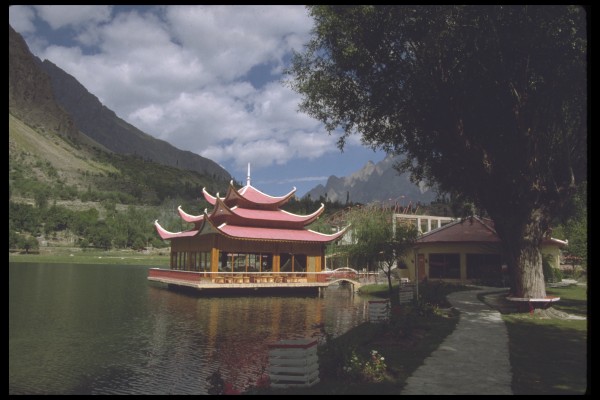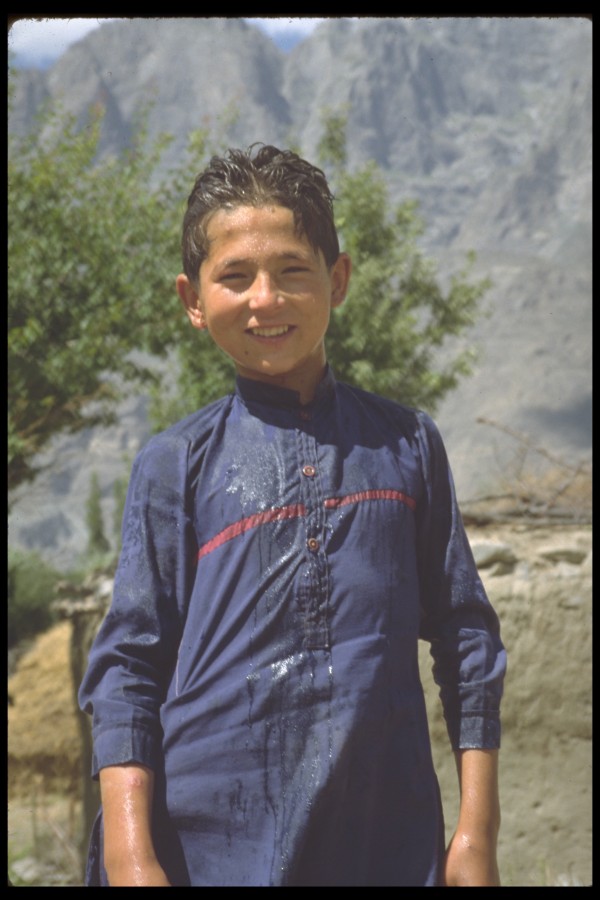 Shangri La above and local boy- has blood from Greece in his genes. Beautiful lake in India border just down the road.  ISI ran operations out of here or condoned some actions of–I forget the name but it went into India on the Glacier. We had lunch comming down from Skardu and I wanted to try some wine ( illegal) but I thought they might make it .  In the little restaurant I ask and things went bad – we blew out of the restaurant it was going to be bad.  Don't ask for alcohol. Also in Abbottabad it was a little weird.  A lot of open air gun shops  and it was late at night and people looked serious.. The guns so they were for the militants to use against India.  .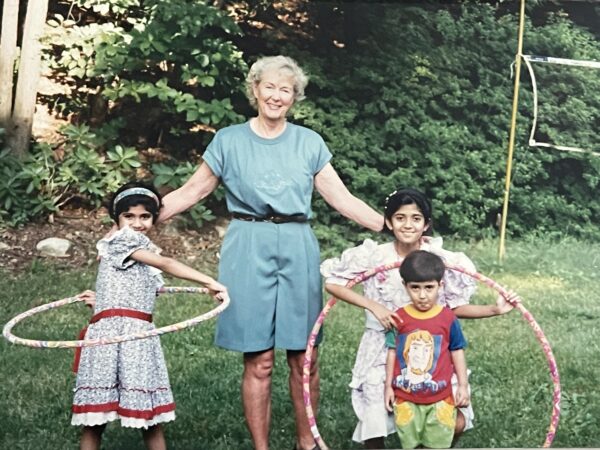 I want to do the Whakkan corridor next.
Click a name below, or on the main navigation to the left.