We went to the Biltmore to see a Van Gogh exhibition.  It is the 

Largest

 house in the United States below 
The Biltmore was awe-inspiring.  Please take the time to be inspired by the relaxed elegance of George and Edith Vanderbilt's 250-room family home and country retreat in Asheville, NC. a 250,000 square foot mansion. Discover more about the lives of people who lived, worked and visited Biltmore House during George Vanderbilt's day by visiting my blog in this section and it is the first post.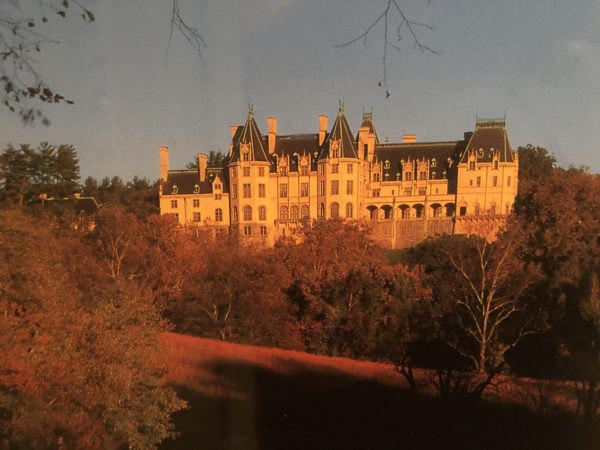 ON to the Vincent Willem van Gogh exhibit:  He was born 30 March 1853 – 29 July 1890) was a Dutch painter who became one of the most famous and influential figures in art history. In a decade, he created about 2,100 artworks, including around 860, most of which date from the last two years of his life. They include and are characterised by bold colours and dramatic, impulsive and expressive brushwork that contributed to the foundations of modern art
. Not commercially successful, he struggled with 
depression and poverty, eventually leading to suicide
 at age thirty-seven.
Born into an upper-middle-class family, Van Gogh drew as a child and was serious, quiet, and thoughtful. As a young man, he worked as an art dealer.  His early works, contain few signs of the vivid colour that distinguished his later work. In 1886, he moved to Paris. As his work developed he created a new approach to still lifes and landscapes. His paintings grew brighter as he developed a style that became fully realised during his stay in the South of France in 1888. 
Van Gogh suffered from psychotic episodes leading him
 to spend  time in psychiatric hospitals
. After he discharged himself and moved back to
 Paris and h
is depression persisted, and on 27 July 1890, he shot himself in the chest with a revolver, dying from his injuries two days later. After his suicide he only became famous and he came to be seen as a misunderstood genius.  His reputation grew in the early 20th century and he attained widespread critical and commercial success over the ensuing decades, and is remembered as an important but tragic painter whose troubled personality typifies the romantic ideal of the "tortured artist.  Today, Van Gogh's works are among the worlds most expensive and his legacy is honoured by a museum in his name, the Van Gogh Museum in Amsterdam, which holds the world's largest collection of his paintings and drawings