Here is Ski Alta Snowbird post and I highly recommend the Rustler Lodge as it has a great fitness center, spa, pool yoga room and is in the ski area with its own lift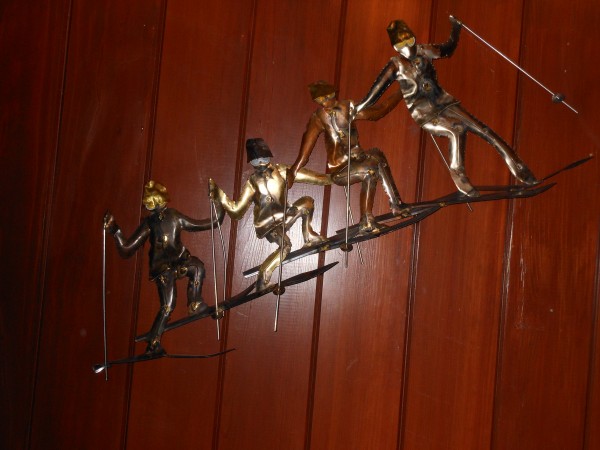 The Rustler Lodge Metal Art Above:
OK so this was  a father son trip:  Seth, Jack, Reid, Ken, Gillis, Russell, John, Steffens, Tom , Thomas, David and me.  I am without children, so I am the adopted Uncle.  We traveled to Alta and stayed at the Rustler Lodge.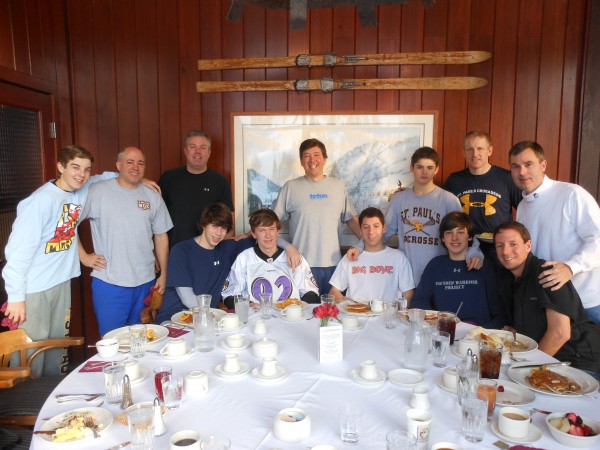 Alta's Rustler Lodge is at the base of the Alta Ski Resort, which boasts of 500 inches of "the greatest snow on Earth" annually. Alta is one mile from the Snowbird ski resort and within 90 minutes of Park City and 5 other local ski areas. I Skied Alta, Snowbird this trip as well as the Canyons and Park City on another trip.  they are great with Alta and Snowbird being thee best.  Alta's Rustler Lodge has 85 guestrooms, making it the premiere lodge in Alta.. For 65 years, the Rustler Lodge has taken pride in a tradition of excellence, providing unsurpassed dining, the finest in accommodations and attentive service- this they did at the highest levels.  The day started at 7 AM with Yoga provided for one hour, instructed by Julie a professional or one took a Eucalypti infused Steam or worked out at the Gym or just read the paper and other periodicals.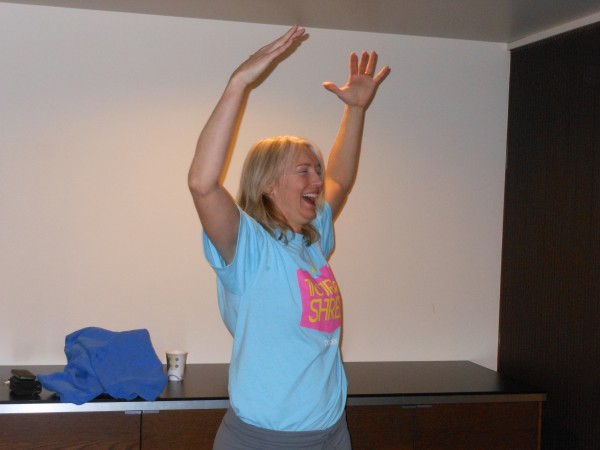 Julie above teaching Yoga.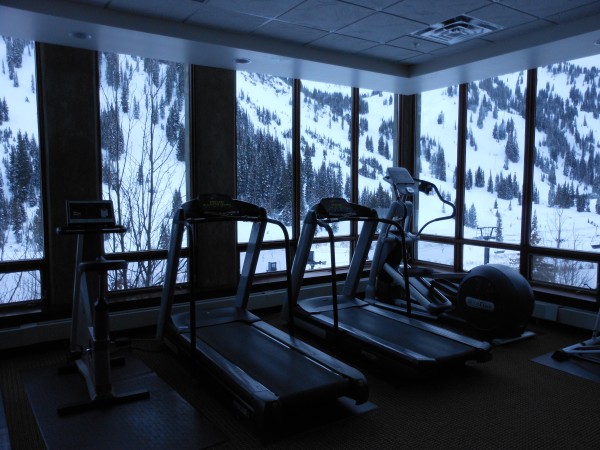 The Gym where Tom found himself getting caught up with making the necessary steps he needed in his wager against a rival- you go Tom!!  Then one was enticed to a scrumptious breakfast before heading out for the days skiing.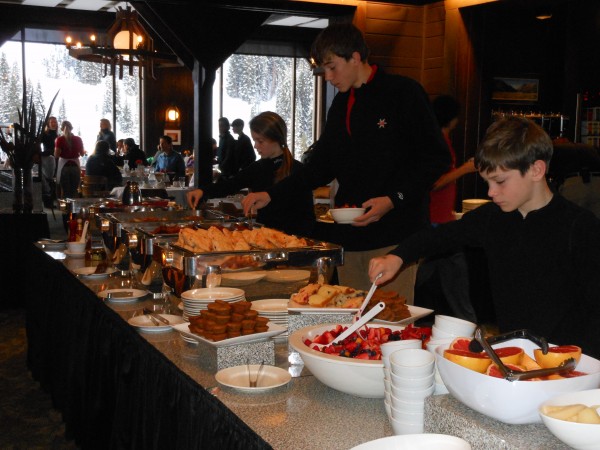 wow look at the breakfast above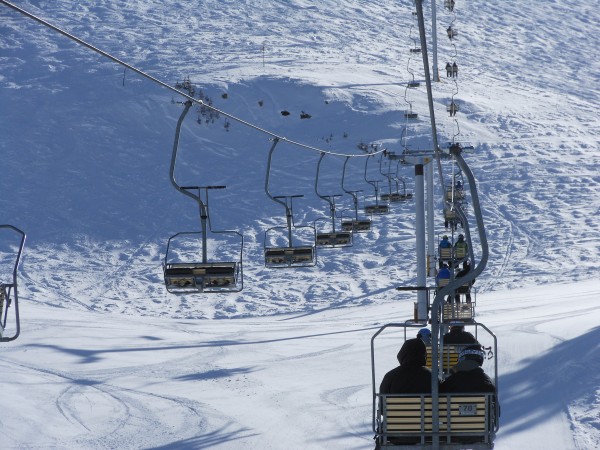 On to a day of skiing above before settling in for lunch below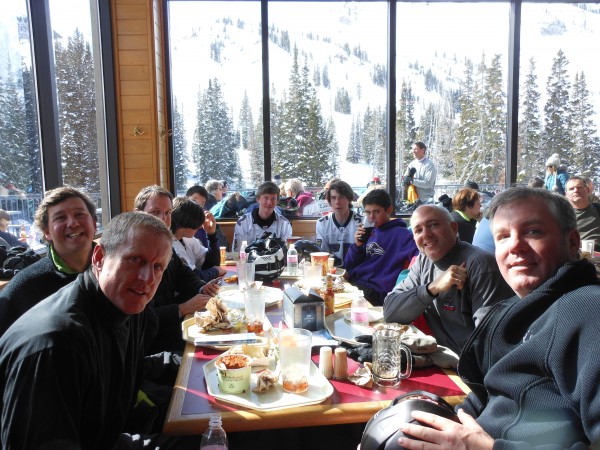 great grub for breakfast, lunch or dinner.  Wow had to have gained weight look at all of that great grub above. Also, experience the "Greatest Snow on Earth" and Alta's Finest!  This is a fact and everything was spectacular!! After a delightful day of skiing, we unwound in the outdoor heated pool or large Jacuzzi inside pool below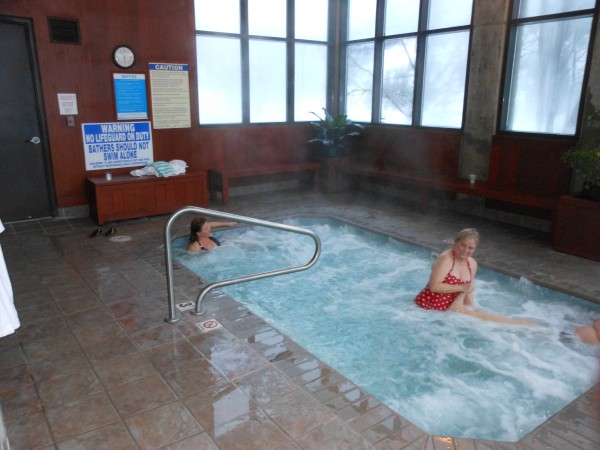 all overlooking the mountains- wow very cool!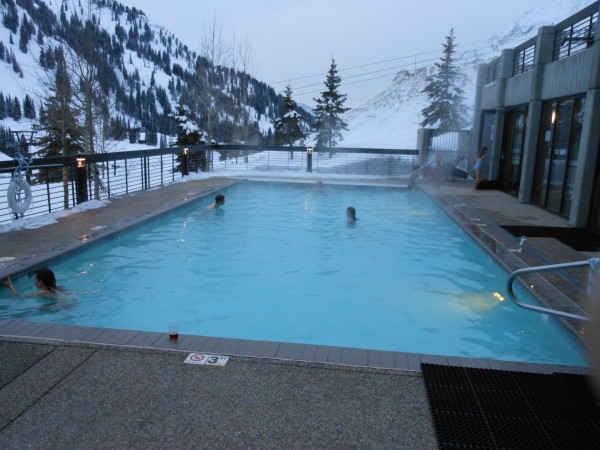 They also had a eucalyptus steam room. In the evenings we enjoyed a spectacular Alta sunset by one of the fireplaces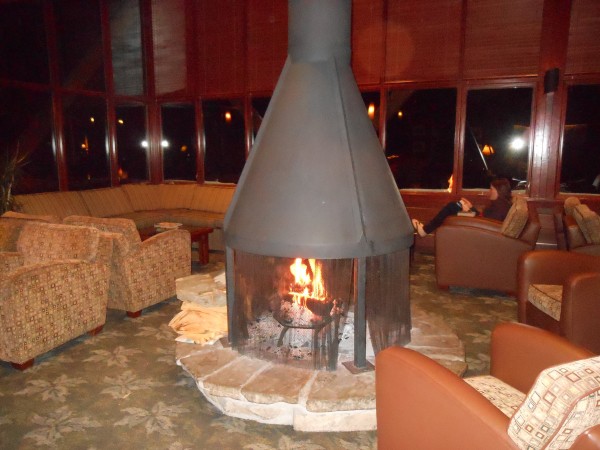 Fireplace above now how awesome is this sipping cocktails above by the fire.
OK so we and had probably to many cocktails while mingling with other very cool professional guests from all over the world. The Rustler dining room is noted for its excellent cuisine and for its magnificent views and it lived up to that statement. It was a most memorable ski vacation.
As far as skiing goes, Alta is for you, whatever your ability! They have deep powder snow, rugged steep terrain and spectacular scenery making a world class. Our best-kept secret is the combination with a pass to the adjacent Snowbird Ski Area.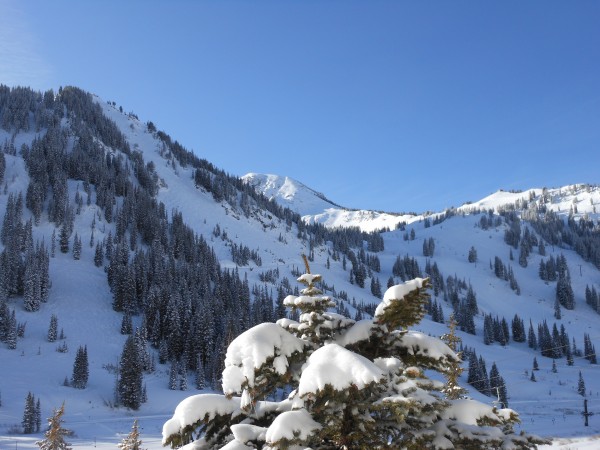 World class views and skiing.
You can cross over at the pass or  the Rustler provides complimentary shuttle to and from Snowbird daily. There is also the Wasatch Powderbird Guides one of the world's most renowned helicopter skiing and snowboarding operations. WPG is nestled between Alta and Snowbird ski resorts. The custom built heliport commands a spectacularly scenic site in Little Cottonwood Canyon. Since 1973 they have offered one of the most exciting recreational adventures anywhere.
OK on to skiing:  So all of the young adults wore Raven's jerseys and they all skied together most of the time.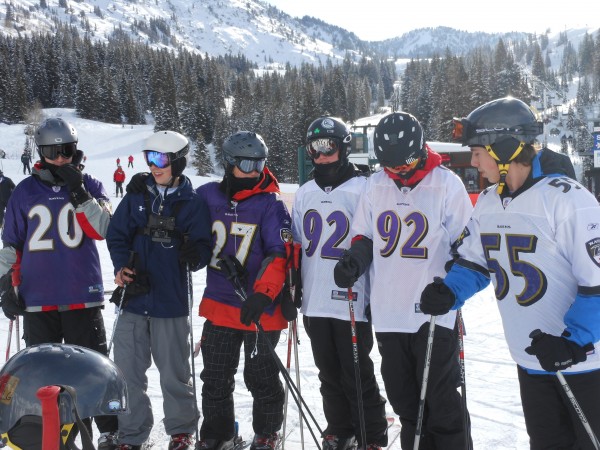 They are very good skiers and did some jumping,, steep runs and just had a blast with their dads.  They smoked their Dads most of the time on the slope.  Wow they are unbelievable- go get em guys!!! They created their own runs called Naraina and so on and they had just such a great time.
I love to ski Snowbird, so I mostly skied by myself and one day it was 0 degrees at the base in the morning and by 10AM it had risen to a warm 2 degrees wow now that was cold.  The wind was howling up top and riding the lift was painful.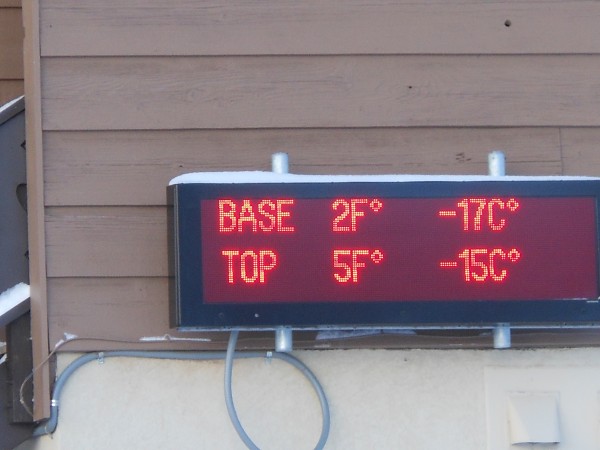 The howling wind sent the snow swirling about like ghost dancers spinning in and about the pine trees.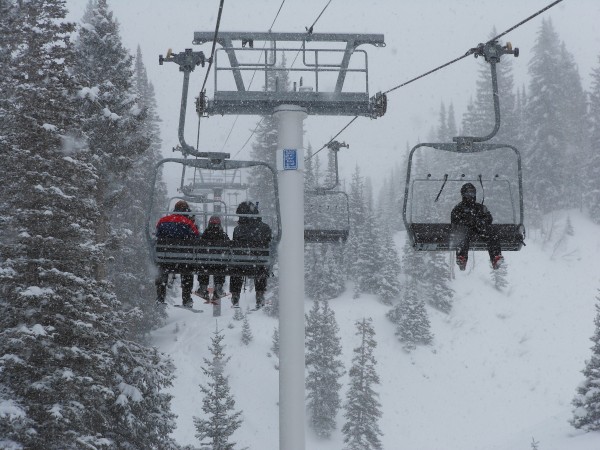 These old pines were worn and stunted from the constant pounding of the elements and high elevation and the limbs were all pointing one way from the constant windward flow.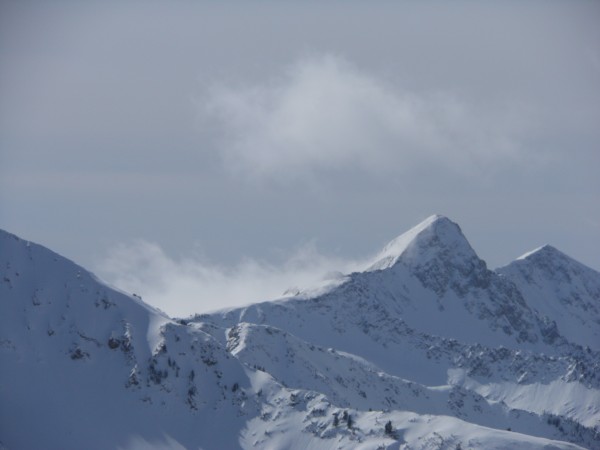 Ok so I like to ski it steep,  so from the top of the lifts I climbed to the top of Mt Baldy to 12,500 feet. below are some shots from the climb up to the top.  Never fearful of signs tat warn you off just keep going deeper.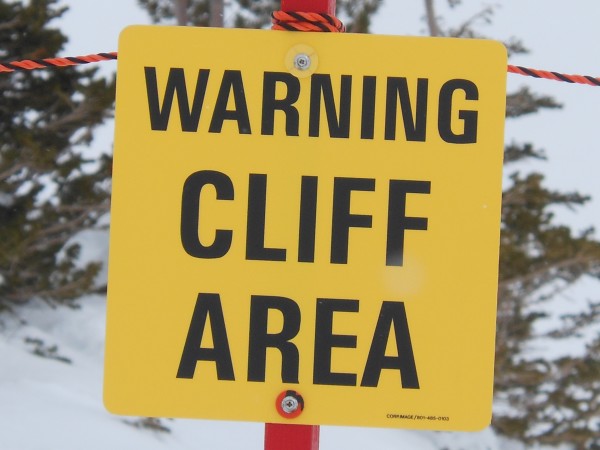 It was a little dicey at times without crampons but I loved the climb.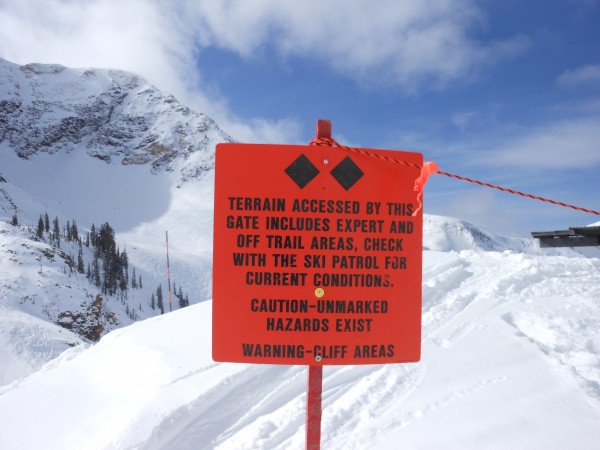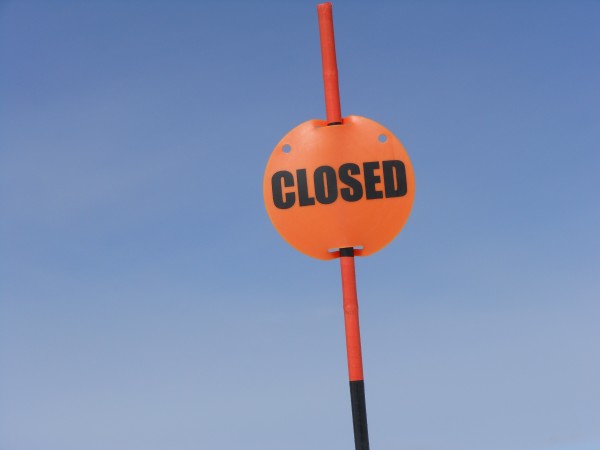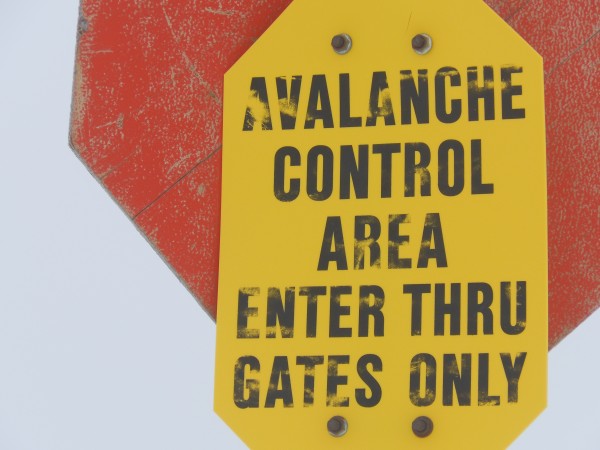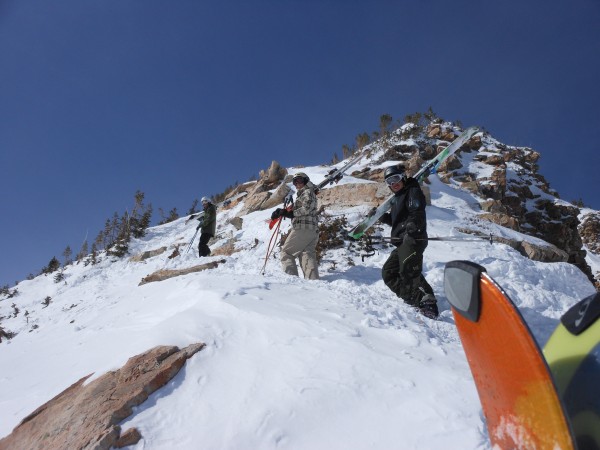 OK so on the way to the summit not fearful but elated to see the edge, a little steep without crampons on the rock face and ice!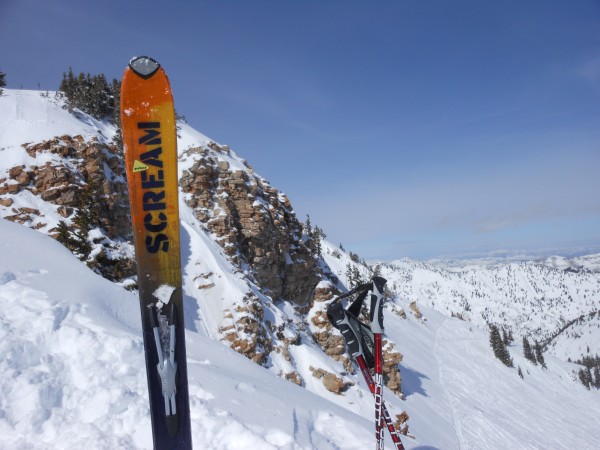 A view with my skies showing.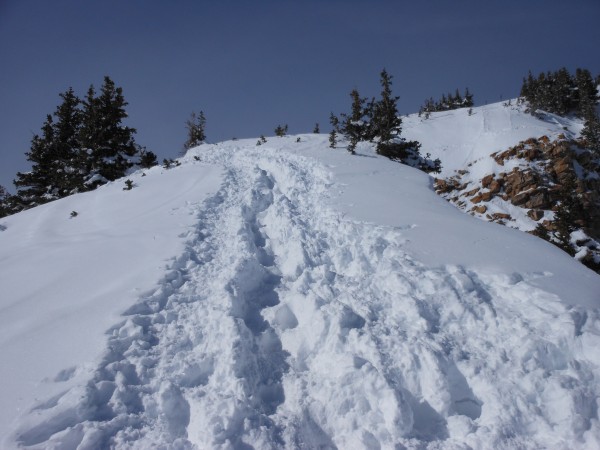 Slope is leveling out above maneuvering around the rock face above,  cool shot of infinity.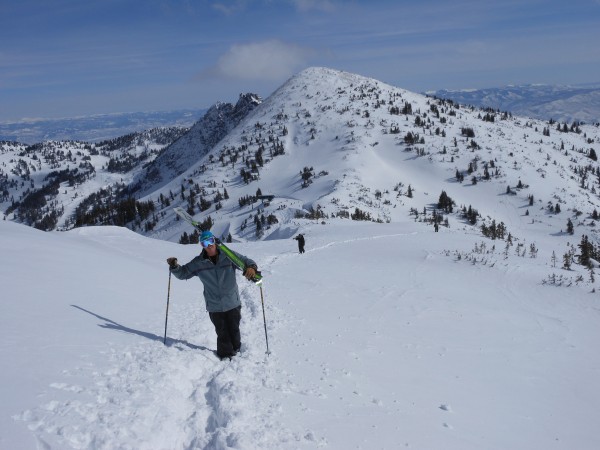 After rounding the rock face, I had a nice climb over a gently sloping field above and below.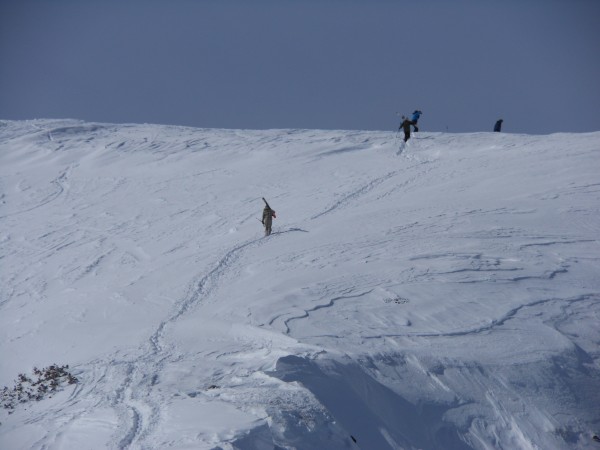 I carried my skies without a backpack and below is the top.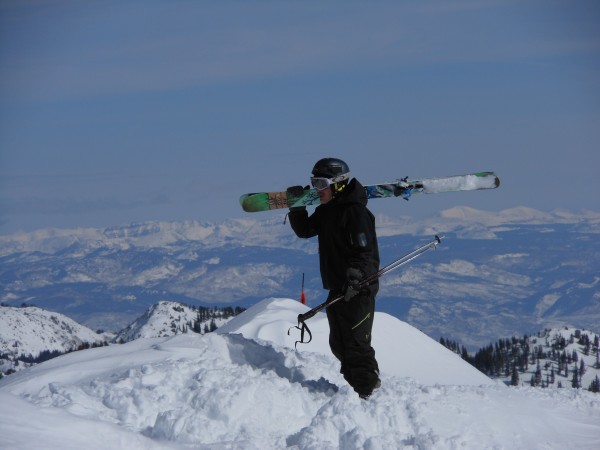 This is the summit above and from here one could descend into Snowbird or Alta.  From the Alta side one could only take the Chutes.  They were fairly steep.  Below is the Main Chute that was the only way down. From here I did the main chute down the face: it was very steep and at its narrowest about 15 feet wide with a lot of loose snow that hit me coming down.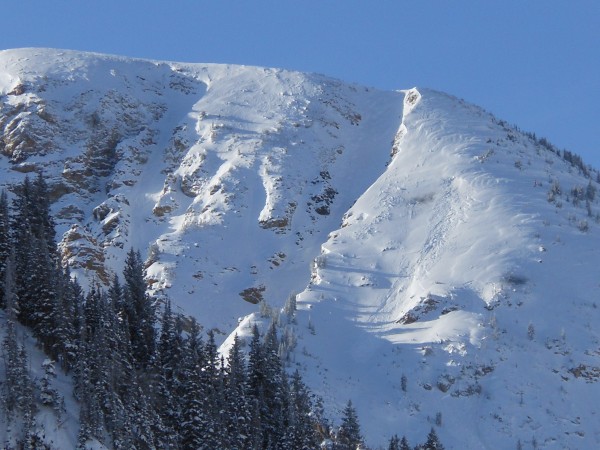 Main chute above the only way down after a nice climb. Some of the other runs I did that required hiking or traversing were: Ballroom, Eagles Nest, Rustler, Gunsight, Catherine and so long.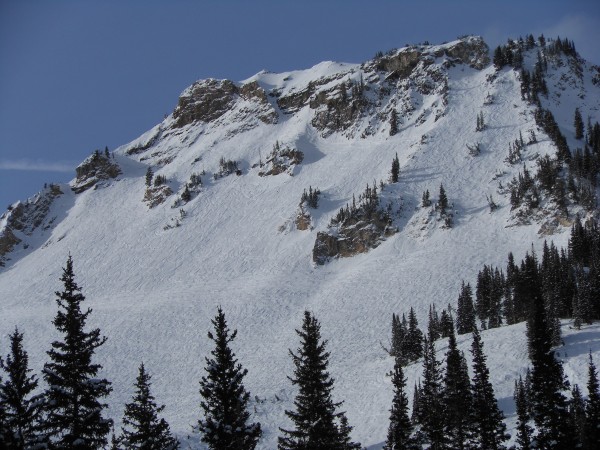 I also climbed here as well to get onto this awesome slope.
OK to on to Snowbird looking into Snowbird above: the top of resort is 11,000-foot Hidden Peak and the lowest point on the mountain is bottom of Baby Thunder chairlift at 7,760 feet.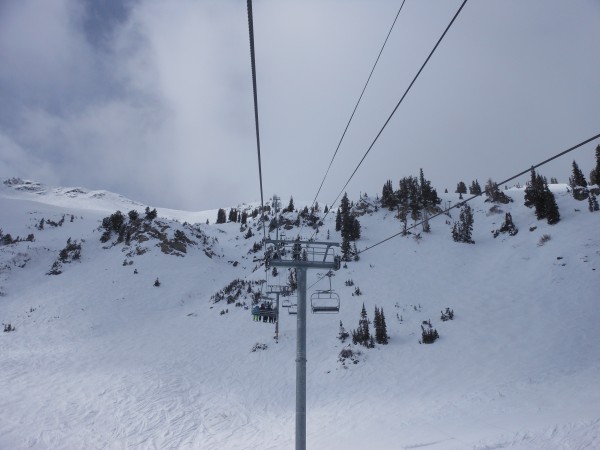 The 125-person Tram covers 2,900 vertical feet in approximately seven minutes with the longest run being Chip's Run at 2.5 miles.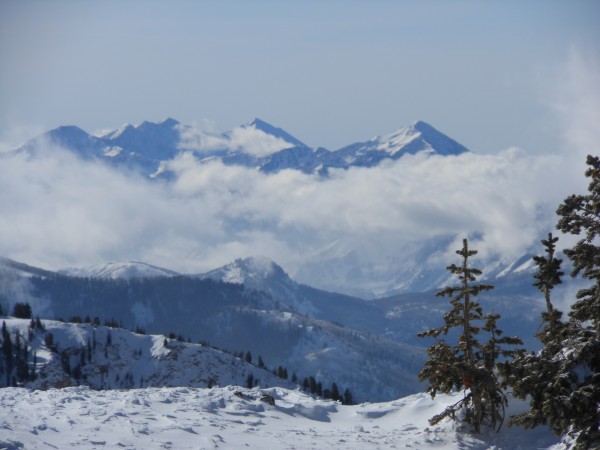 Great Shot from the Top of Snowbird. Snowbird currently has 11 ski lifts (4 High-Speed Quads, 6 Doubles, and a surface lift), an aerial tram, and a 600-foot (180 m) tunnel enclosing a one-way conveyor lift connecting Peruvian Gulch to Mineral Basin allowing easier access for beginners and intermediates to new terrain.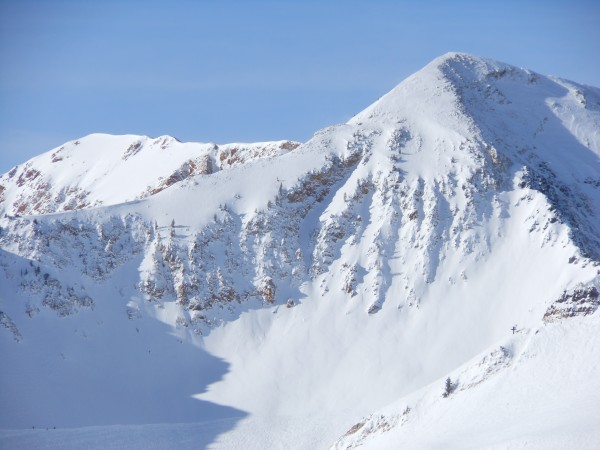 The tunnel, the first of its kind in North America,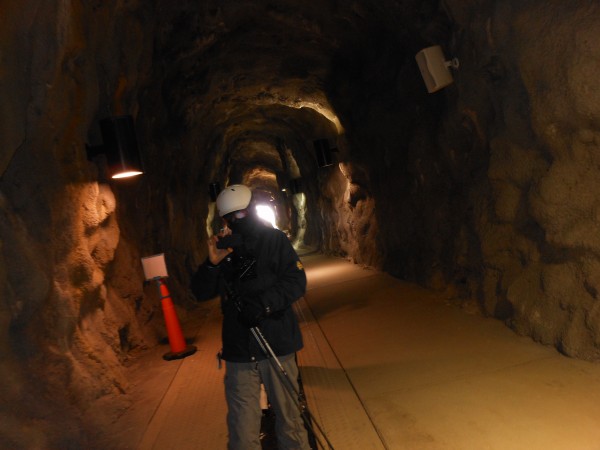 The Tunnel above, also allows for skier transport when winds require the closing of the aerial tram.  Snowbird also offers one of the most accessible mountain meeting destinations in North America.
I skied Mineral Basin, Gad and Chips run or some variation on the way to the bottom.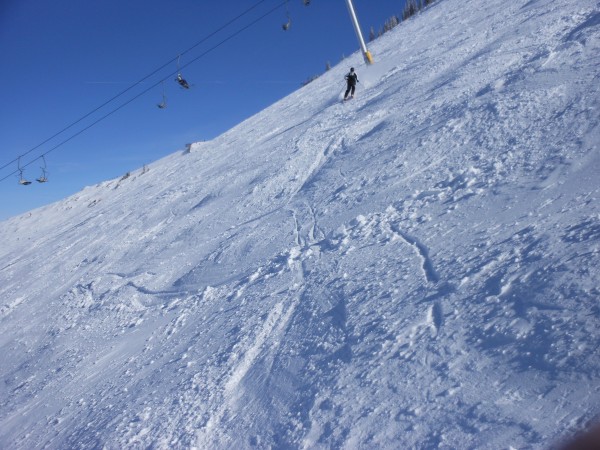 This is Seth above smoking the slopes on Fire on Mineral basin,  wow!  Awesome and one of the finest resorts in the world = Rustler Lodge
Going home with the guys and a lasting shot – bummer, bummer, bummer but hopefully another day will come to ski!!