Blue Ridge Parkway: 470 miles and 50,000 vertical feet of climbing
We have all biked the Skyline Drive so we thought it fitting to bike the Blue Ridge Parkway.  Our motley crew below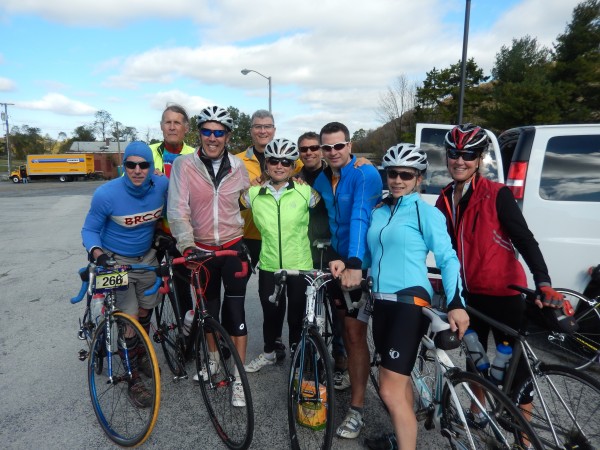 Bob, Dave, Dave, Alan, Trish, Ken, Charlie, Brandy and Daly
The two roads (Skyline drive and Blue Ridge Parkway) were built to connect Shenandoah National Park to the Great Smoky Mountains National Park and what a great riding experience it was this October 2014. 
Construction of the parkway took over 52 years to complete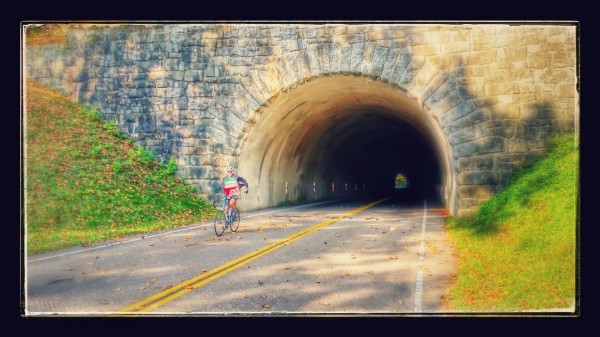 with a total of 26 tunnels through solid rock.  Wow that was scary riding through them.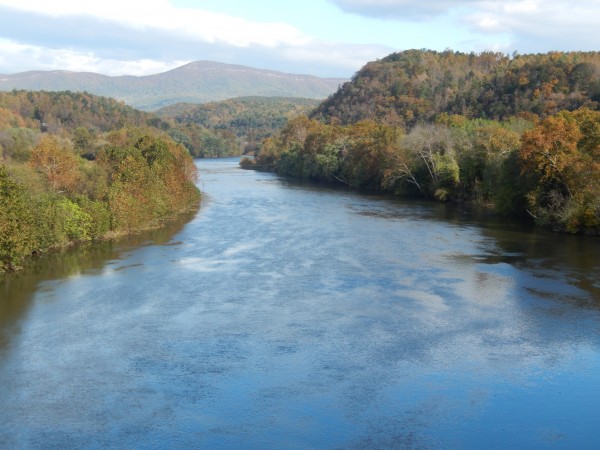 The parkway travels across streams, railway ravines and cross roads by 168 bridges and six viaducts.  
The Blue Ridge Parkway is a National Parkway  noted for its scenic beauty. The parkway is 470 miles long and travels through twenty-nine Virginia and North Carolina counties combined.  We started from the southern terminus of the Sky Line Drive in Virginia and biked all the way to the end to  at Oconaluftee in the Great Smoky Mountains in North Carolina.    Our van and bikes below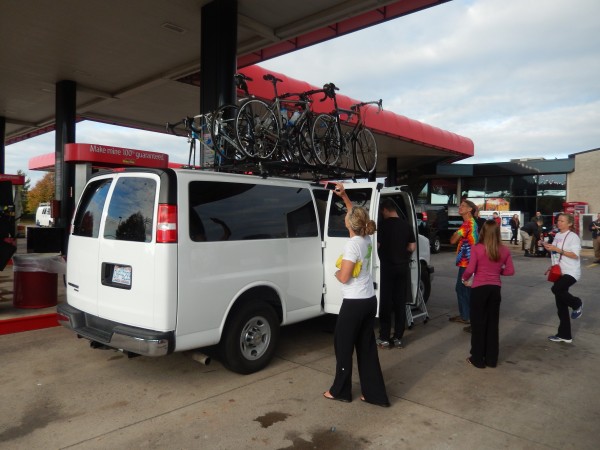 Mileposts along the parkway start at zero at the northeast end in Virginia and count to 470 at the southern end in North Carolina.  The mileposts can be found on the west side of the road. Major towns and cities along the way include:  Waynesboro, Roanoke, Boone and Asheville.  In Asheville the BLue Ridge Parkway runs through the Biltmore Estate.  Wow the Biltmore Estate is simply amazing.
Mount Mitchell (the highest Mountain in the Eastern United States) is accessible from the Parkway. On this trip Brandy and Charlie were the only ones to climb this impressive mountain.  Dave and Myself have done it before and it is a feat to be proud of.  Photo below from my previous climb.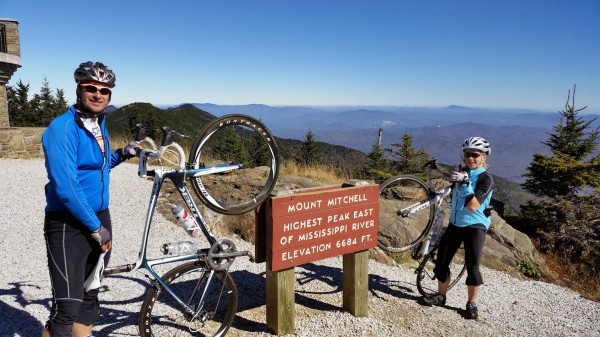 Brandy and Charlie at top of MT. Mitchell, the only ones on the group to make it up this time!!!!
All along the route one will be blessed to view flowering plants of all kinds including rhododendrons, mountain laurel and dogwoods.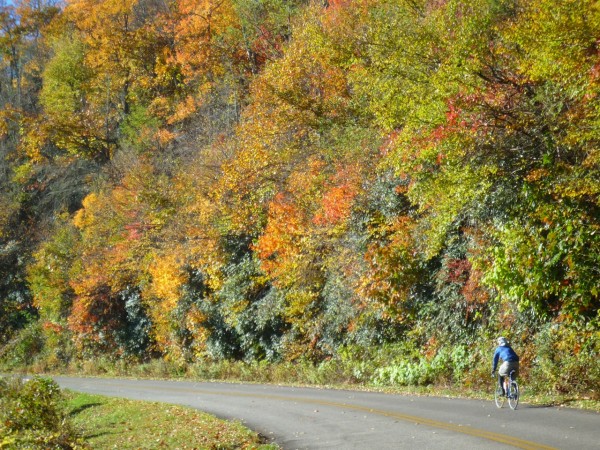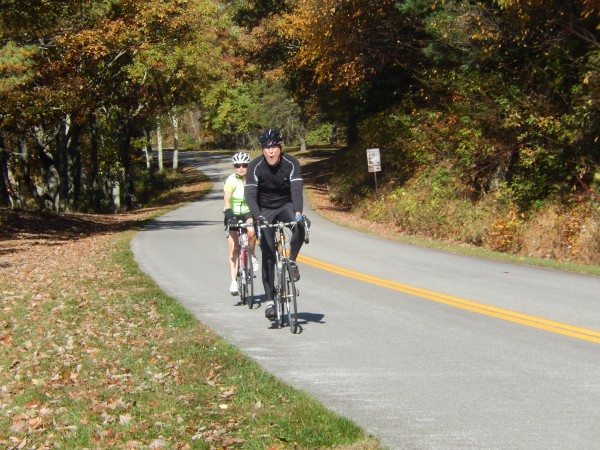 October is especially dramatic, as the leaves are in full color and stand out boldly.
 Ok so this was our adventure.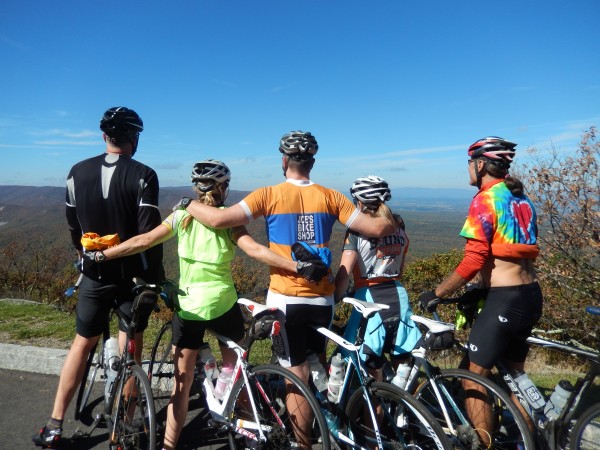 Part of our group above all excited to ride:  
Day 1: We (nine of us) drove a van to RockFish Gap unloaded our bikes (southern Terminus of the Skyline drive) and biked to Indian gap (huge sweeping downhill into Lexington Virginia) 50 MPH was hit. We stayed at the Budget inn and I was scared as I like "high-end" .  Budget Inn below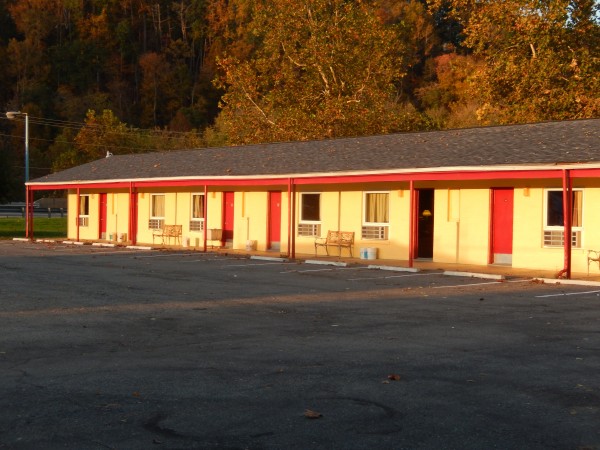 The bar below at the Budget Inn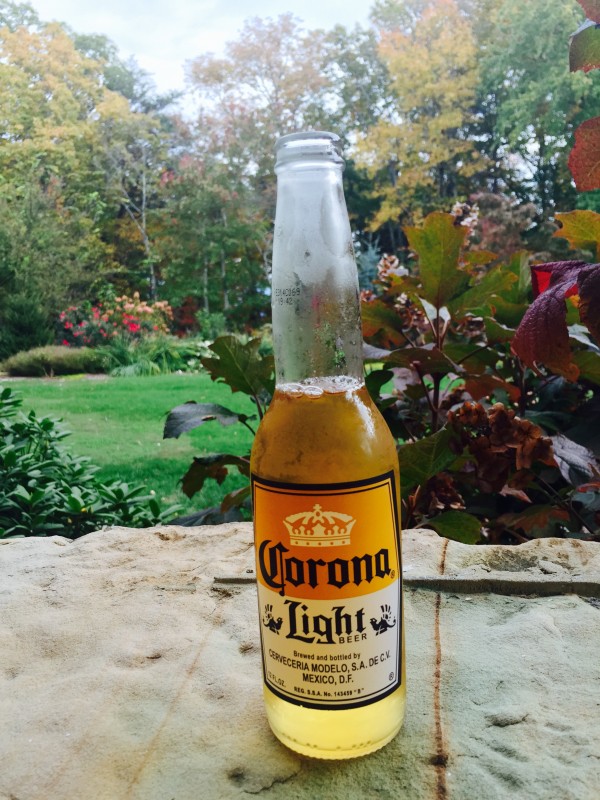 We all met at the Budget Inn below and figuring it all out with Dave and Ken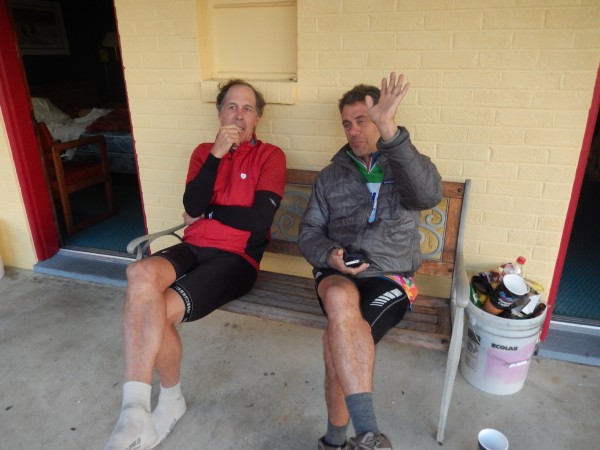 Lexington Virginia is where Robert E Lee,  Stonewall Jackson and Traveler (robert E Lee's horse are all buried here and Samuel Jackson's birth place is here .  It is home to Virginia Military Institute and the Washington and Lee University .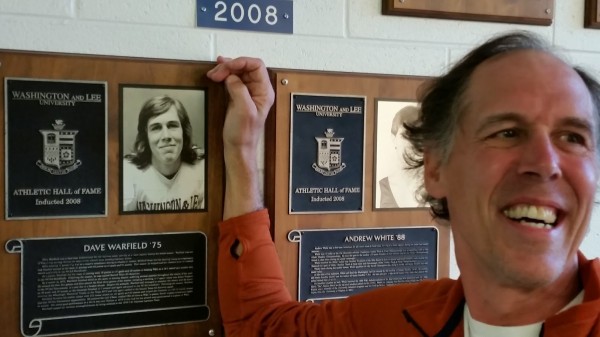 Dave put this trip together and is an extreme athlete.  Dave is in the hall of fame here -in 1975 was a four-year letterwinner for the lacrosse team, serving as a team captain during his senior season.  Dave scored 213 career points for the Generals and still ranks fifth on the school's all-time scoring list. His 131 goals currently rank fourth all-time, while his 82 assists are eighth-best all-time. His seven-goal performance in a 15-14 win over Towson in 1975 is also tied for the second-most goals scored in a game. Warfield earned Second Team All-America honors following both his junior and senior seasons and he received the Wheelwright Memorial Trophy as the Team MVP following his senior campaign. During his four seasons, Warfield helped lead the Generals to a 52-12 overall record and four NCAA Tournament appearances, including three trips to the NCAA Semifinals. Dave:  what an honor and congratulations.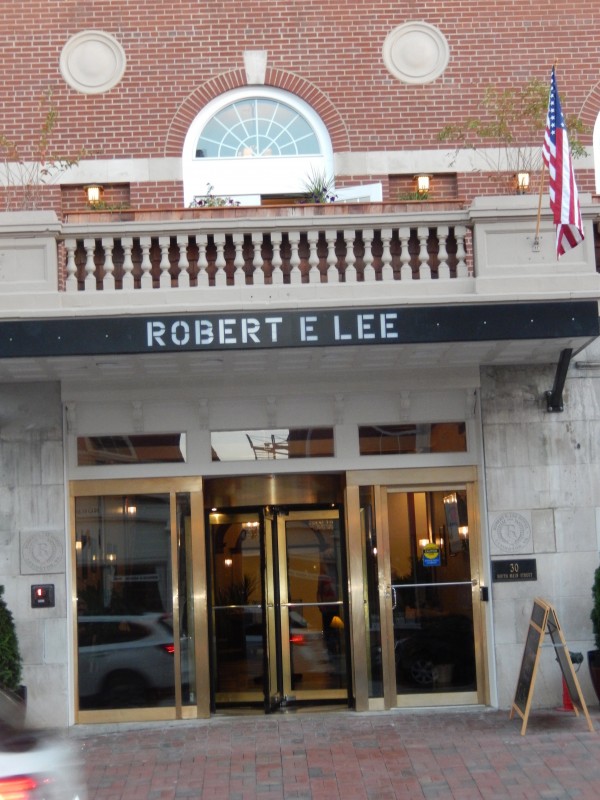 Day 2: The next day we biked from here to Vinton Virginia and I was rejuvenated in that we stayed in the famous and high-end "The Hotel Roanoke" wow this was spectacular with elegant reception areas, finely appointed rooms, fine dinning and classical dancing with Fox Trot, box step and waltz .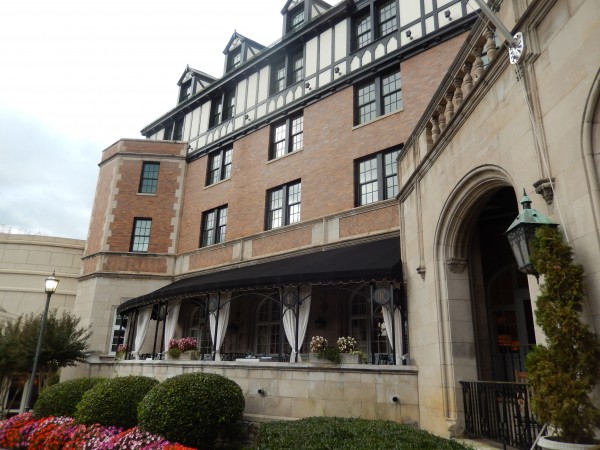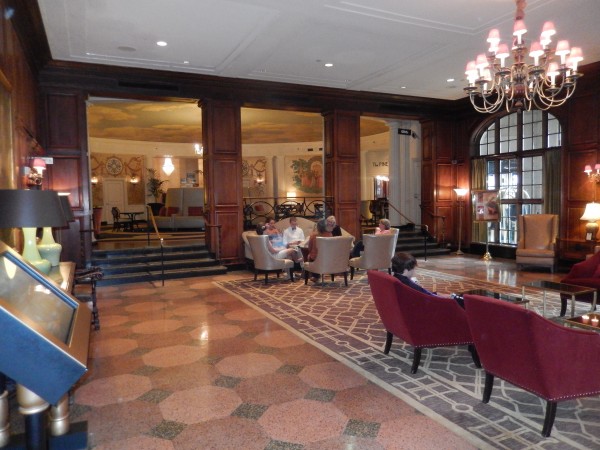 Incredible hotel and partying in our finely appointed rooms below before heading out  for dancing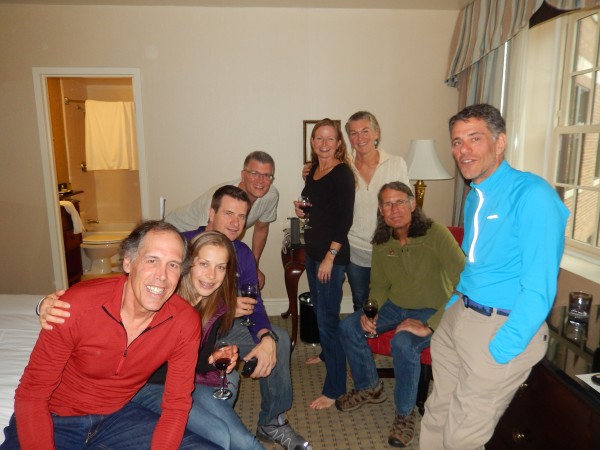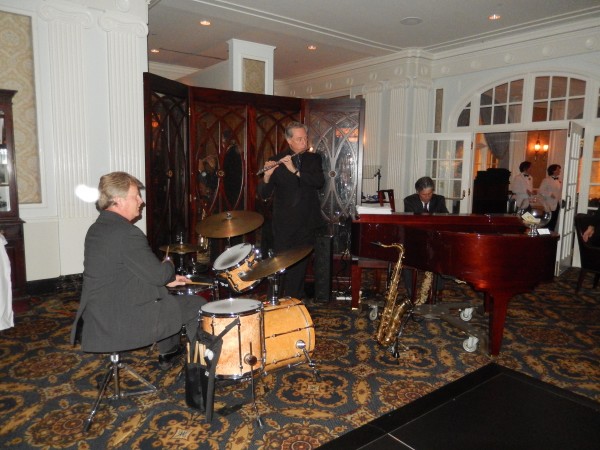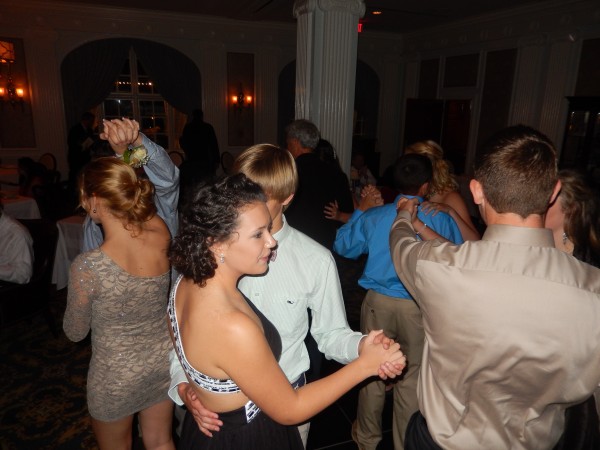 During this days ride in Virginia,  we traveled from the lowest 649 to the highest point 3,950 on the Blue Ridge Parkway (in Virginia) wow it was difficult. (we also rode to the highest point on the parkway but that was ion North Carolina).  Before we left the next day, I went to church to give praise and thanks for the life we have been given.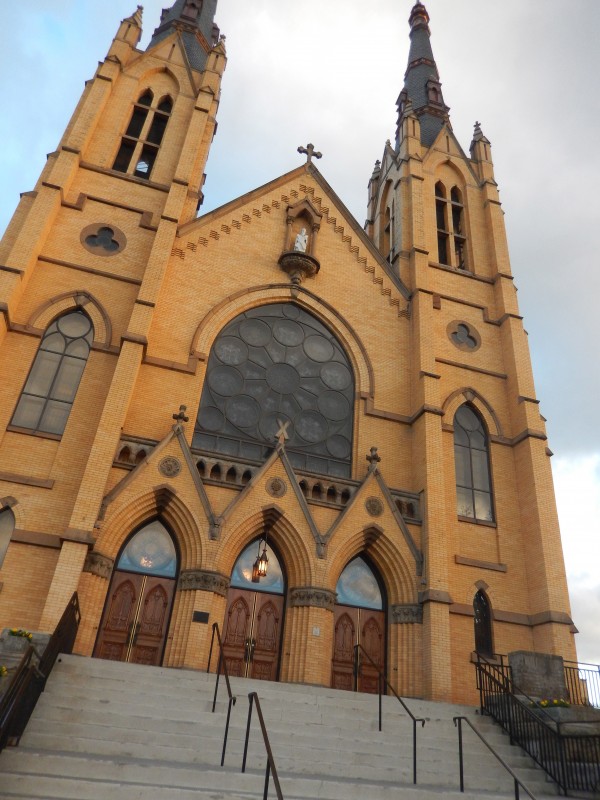 It was a beautiful service in a  beautiful Catholic church. 
Day 3: From Roanoke we biked 77 miles to Doe Run Lodge.  The scenery every day was spectacular.  We saw incredible rhododendrons, mountain laurel as well as pines and deciduous trees below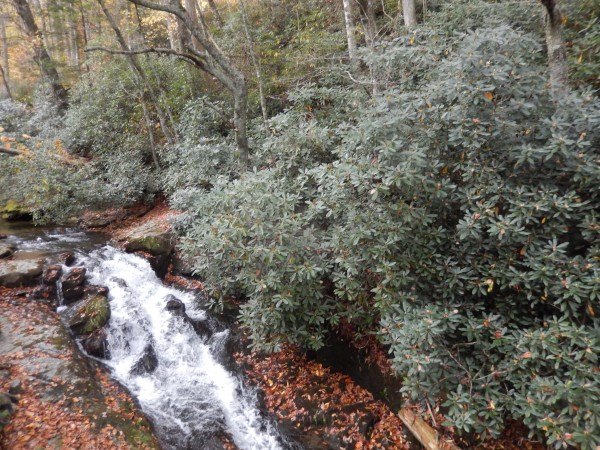 It was very cold but exhilarating on our way to Doe Run Lodge.  The cabins here were fantastic and we had a fire pit outside and sat around telling stories and drinking fine wines and beers.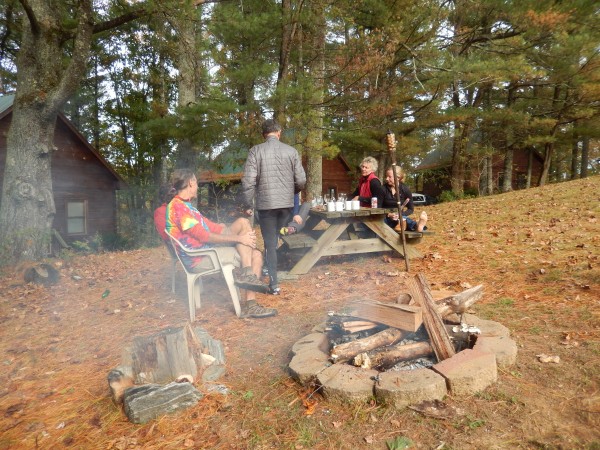 Nice fire at Doe Run above
Day 4: we rode to Mountain view Lodge.  Wow what a place.  It had fine cabins, outdoor tennis courts security gates and personnel.  We had a party in Charlie, Brandy's, Alan's and Trish's room.  Again Fine wines, craft beers, hors D'oeuvres and fine cuisine all provided by Brandy!!! A photo of the Mountain View condos we stayed in below.  I found a cat on the roof of one of them.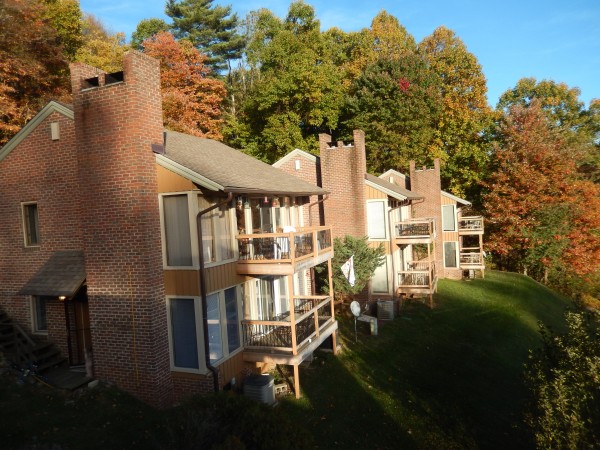 Day 5&6:  The ride from Mountain View Lodge to Little Switzerland again took us into the cold. I left early to ride by myself to experience God's gift of Nature.  The Sunrise took your breath away.  Some shots of the riding below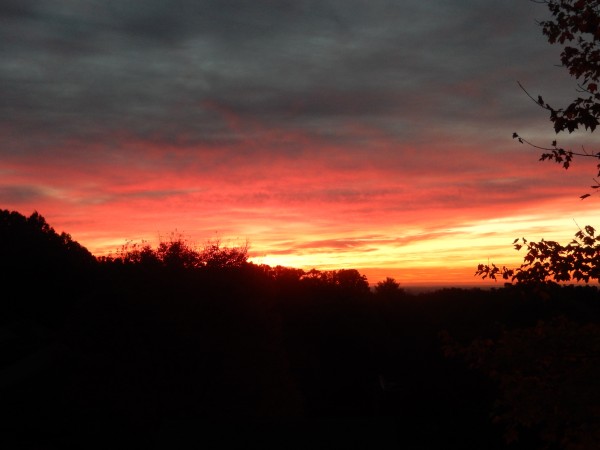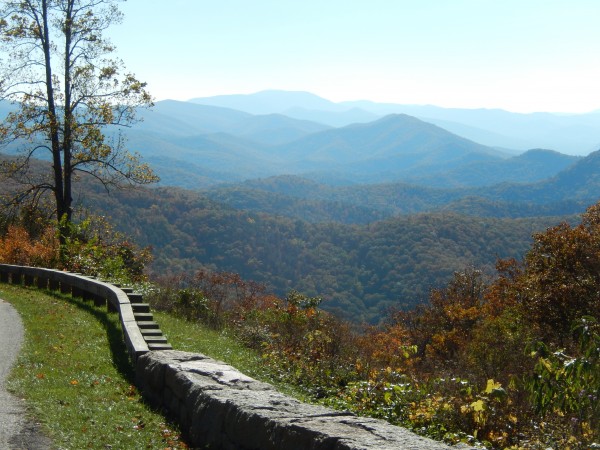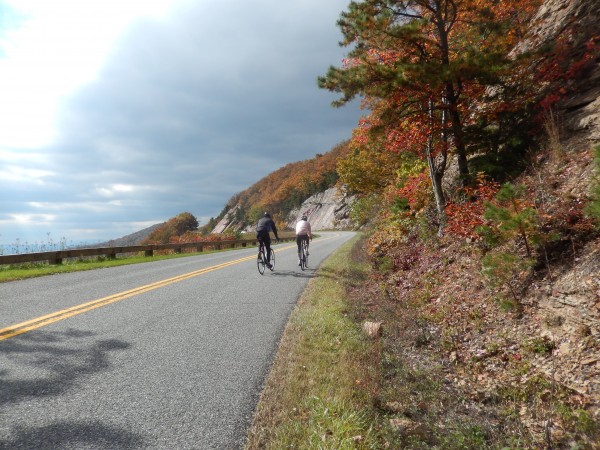 It was a difficult day as we had to ride about 90 miles to Little Switzerland – a top of the line establishment below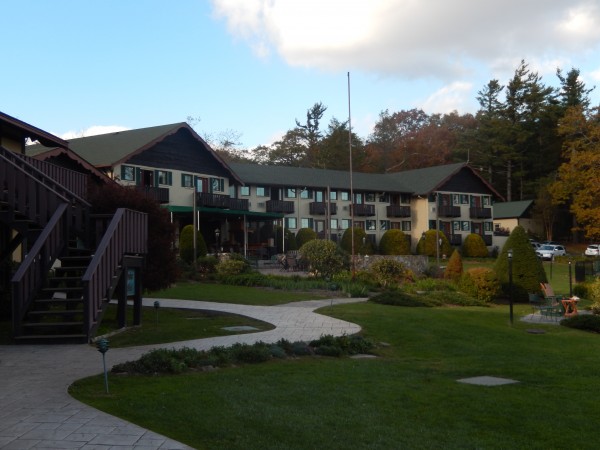 with fine food.  Cuisine below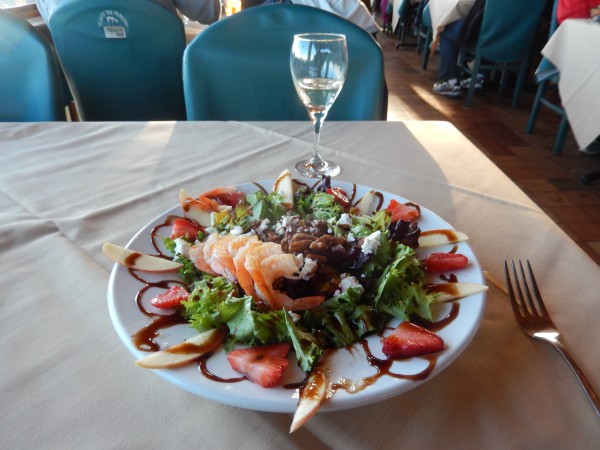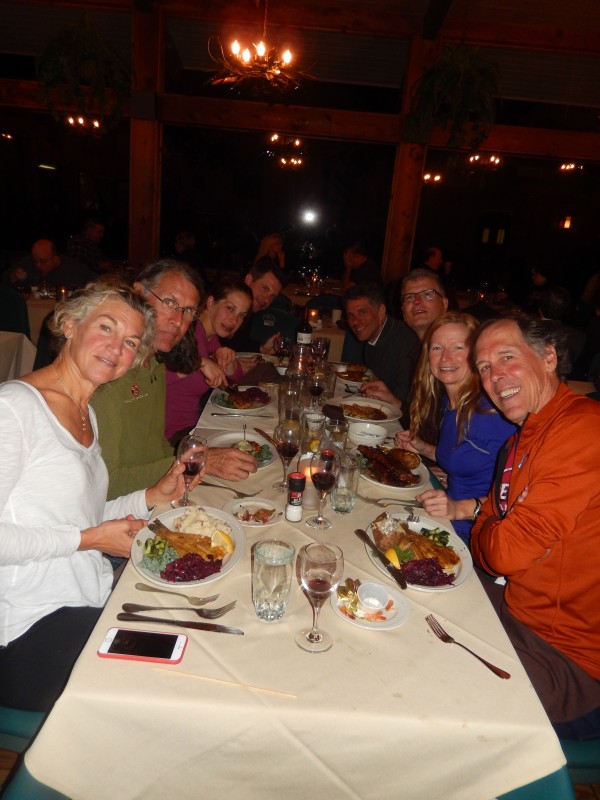 We spent 2 days here.  The rooms were high-end, the food was scrumptious and the facilities top end with outside hot tubs.  
I surprised some of our late night party riders with some reveling photos above.  
 Day 7: We rode from Little Switzerland to the famous Pisgah Inn.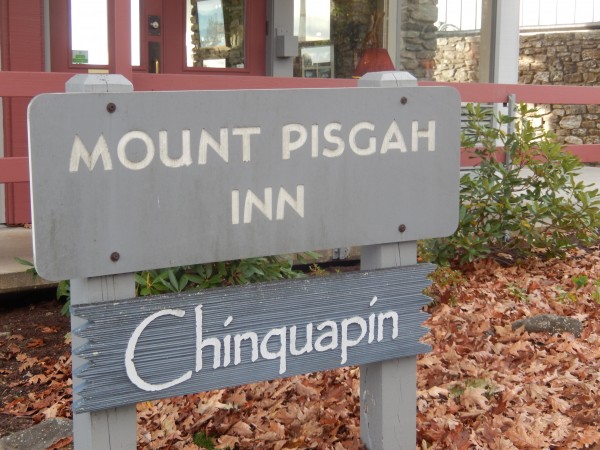 Again top end food and resort with stunning views  
Day 8: We rode to the end of the parkway and then sagged back to Asheville for a plane ride home.  Shots from along the road below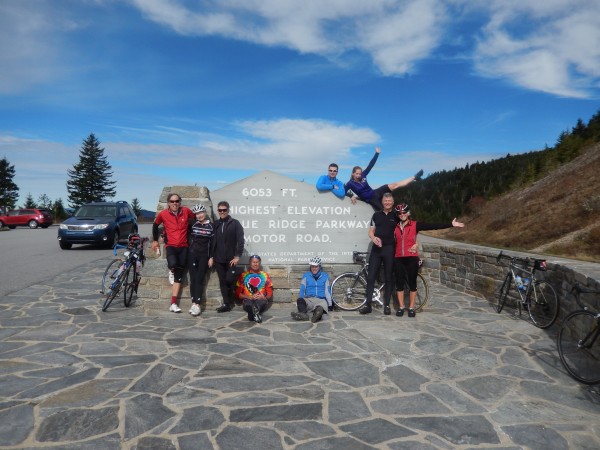 Highest point on the Blue Ridge PArkway above – yea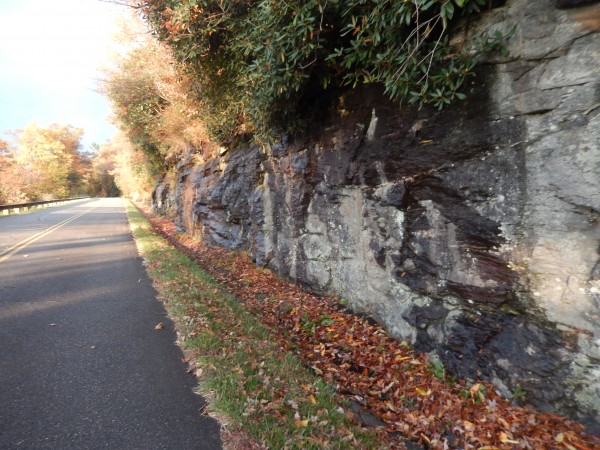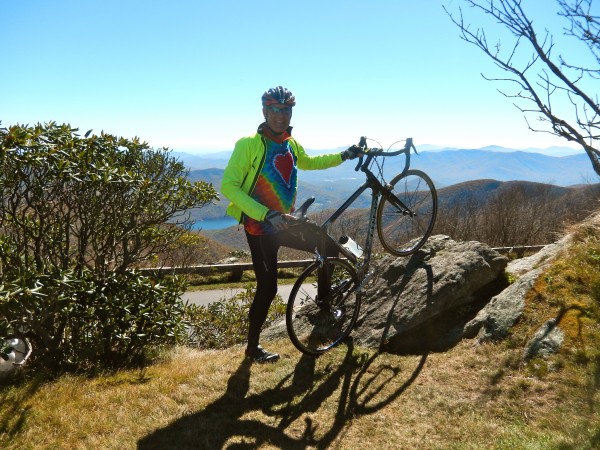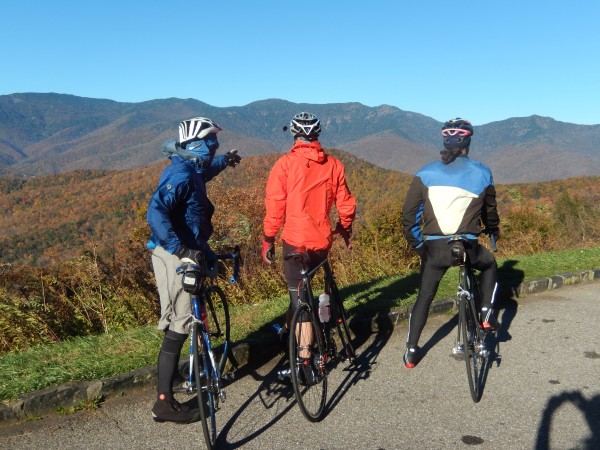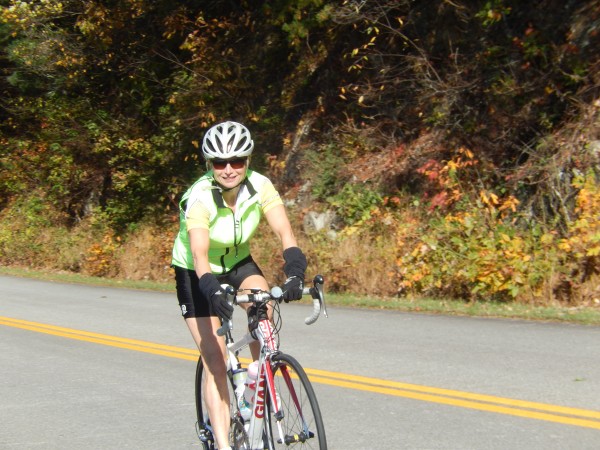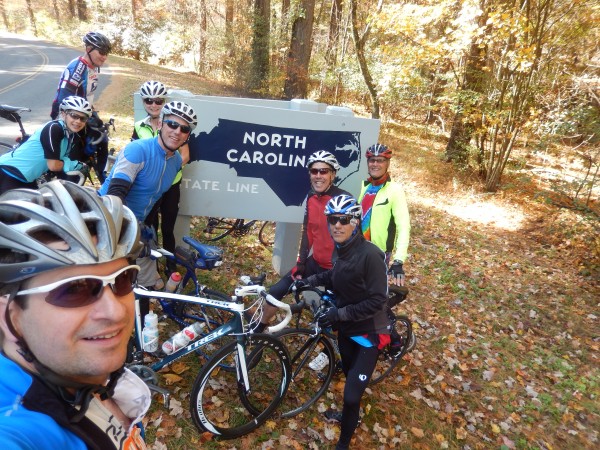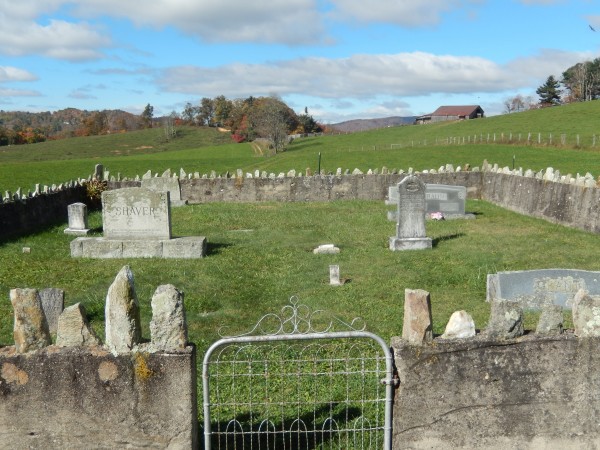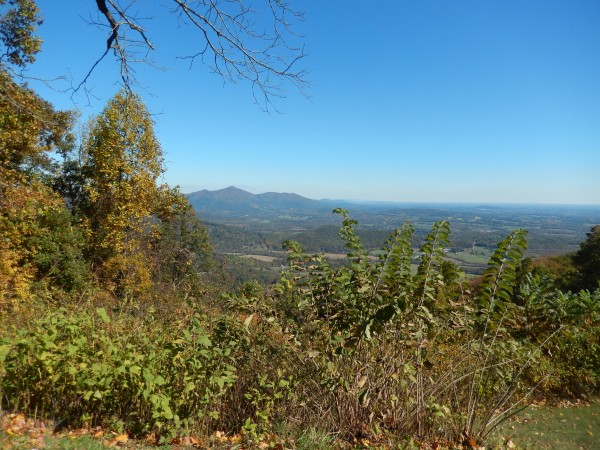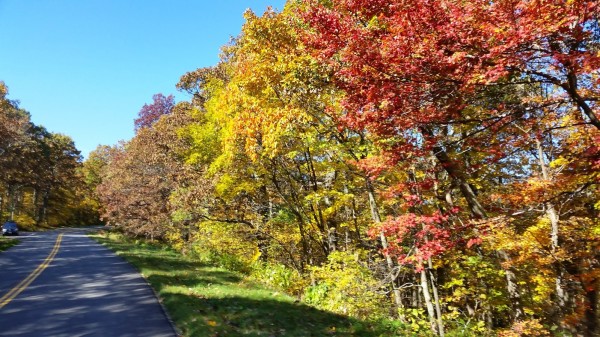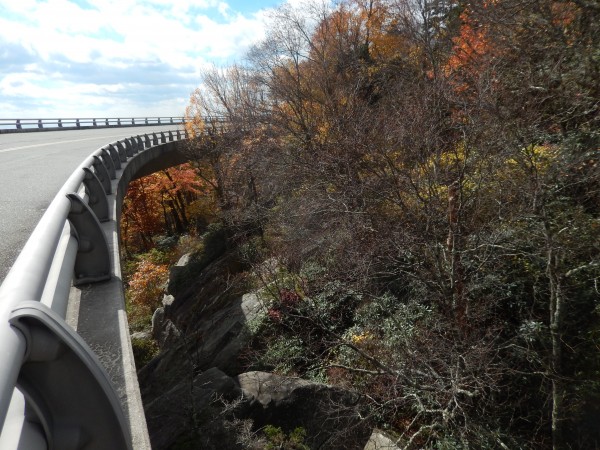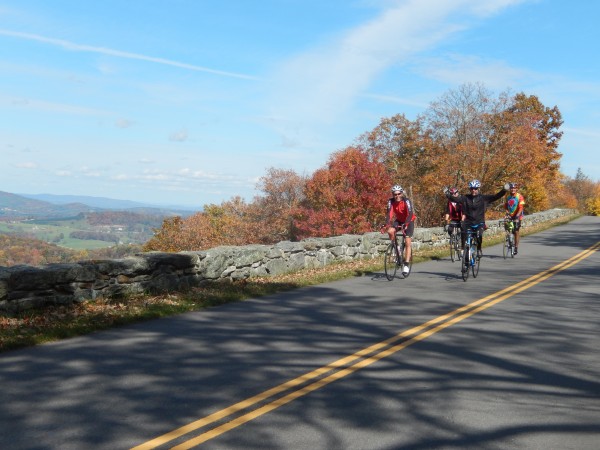 A great event with great friends – thank you all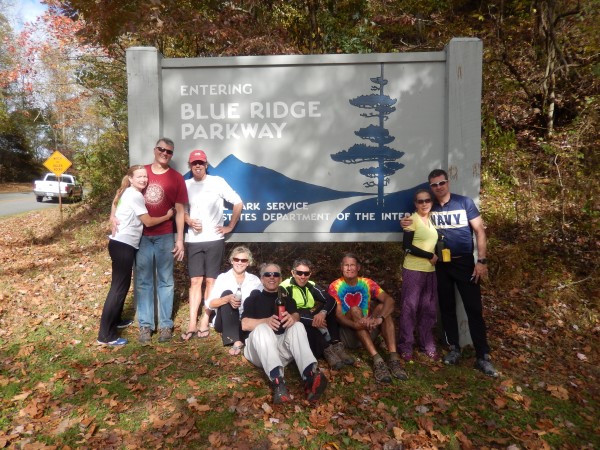 October is especially dramatic, as the colored leaves stand out boldly and the conifers perfume the air with their scent of pine and the golden needles line the road ways.  Crystal streams cut through the mountains and Rhododendrons and mountain Laurel line the sides of those streams,  while they cascade into the valley below.